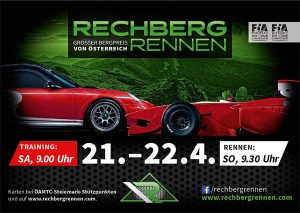 The European Hillclimb Championship moved to Austria for the Rechbergrennen. Part of the track had received a new surface. This new tarmac was more slippery than the old and made setups very difficult. It also resulted in a number of crashes. Dan Michl was the most well-known driver who got caught out on the new surface.
Christian Merli achieved one of his most impressive victories of his career. The Italian was more than 3 seconds a race quicker than everybody else. He had won the last two editions but never with a gap like this. Simone Faggioli struggled with the grip on his Norma M20 FC. Still he finished second overall and scored maximum points in the E2-SC class. Marcel Steiner drove a fast and consistent race. He completed the course in less than two minutes on both races. It was enough to secure third overall.
In fourth place we find the best Austrian driver. Christoph Lampert kept improving his times throughout the weekend. In the second race he set his personal best time of 1:59,9. This made him the fourth and last driver who went under 2 minutes. Winner of the first round Sebastien Petit finished fifth overall. He faced the same problems as Faggioli regarding the grip on his Norma M20 FC.
As expected Karl Schagerl was the fastest touringcar driver. The Austrian finished an amazing 10th overall. He also gave new meaning to the words "Flying Finish". At the end of the second race Schagerl spun his mighty Volkswagen Golf Rallye and crashed past the finishline before exiting the track. Luckily he received a time for this race and the car suffered only cosmetic damage.
Marek Rybnicek was second fastest touringcar pilot. The Czech was 6 seconds per race slower than Schagerl but he did win the E2-SH class. Third best was his countryman Veroslav Cvrcek. The Skoda Fabia pilot also competes in the Slovak championship were he narrowly beat Igor Drotar.
The GT class was won by Pierre Courroye. He remains in the championship lead together with Group A winner Lukas Vojacek. Laszlo Hernadi remains undefeated in S2 but then again he is the only driver… Competitions is highest in Group N. Peter Jurena scored a narrow victory over Dieter Holzer. However the Austrian was not entered in the European Championship.
21-22/04/2018 – Rechbergrennen

| Pos. | Last Name | First Name | | Car | Cl. | Final |
| --- | --- | --- | --- | --- | --- | --- |
| 1 | Merli | Christian | | Osella FA30 | E2-SS 3000 | 3:47,948 |
| 2 | Faggioli | Simone | | Norma M20 FC | E2-SC 3000 | 3:54,538 |
| 3 | Steiner | Marcel | | LobArt LA01 Mugen | E2-SC 3000 | 3:58,761 |
| 4 | Lampert | Christoph | | Osella FA30 | E2-SS 3000 | 4:00,450 |
| 5 | Petit | Sebastien | | Norma M20 FC Mugen | E2-SC 3000 | 4:01,731 |
| 6 | De Gasperi | Diego | | Osella FA30 | E2-SS 3000 | 4:02,217 |
| 7 | Neveril | Dusan | | Norma M20 FC | E2-SC 3000 | 4:04,782 |
| 8 | Bormolini | Fausto | | Reynard K02 | E2-SS 3000 | 4:05,559 |
| 9 | Napione | Renzo | | Reynard K02 | E2-SS 3000 | 4:15,468 |
| 10 | Schagerl | Karl | | Volkswagen Golf TFSI-R | E1 +2000 | 4:15,589 |
| 11 | Szasz | Laszlo | | Reynard Zytek | E2-SS 3000 | 4:16,416 |
| 12 | Vondrak | Petr | | Osella PA21/S EVO | E2-SC 2000 | 4:19,066 |
| 13 | Vitek | Petr | | Osella PA30 | E2-SC 3000 | 4:21,029 |
| 14 | Trnka | Petr | | Ligier JS53 E2 | E2-SC 2000 | 4:24,528 |
| 15 | Vondrak | Martin | | Tatuus Master | E2-SS 2000 | 4:24,946 |
| 16 | Bormolini | Andrea | | Osella PA20/S | CN 3000 | 4:25,594 |
| 17 | Amann | Peter | | Osella PA2000 | E2-SC 2000 | 4:25,680 |
| 18 | Rybnicek | Marek | | Ford Fiesta | E2-SH +3000 | 4:27,581 |
| 19 | Cvrcek | Veroslav | | Skoda Fabia | E1I +2000 | 4:27,766 |
| 20 | Drotar | Igor | | Skoda Fabia | E1I +2000 | 4:28,155 |
| 21 | Zlatkov | Nikolay | | Audi Quattro S1 | E1I +2000 | 4:28,801 |
| 22 | Courroye | Pierre | | McLaren MP4-12c GT3 | GT +3000 | 4:29,926 |
| 23 | Ondrej | Tomas | | Tatuus PY012 | E2-SC 2000 | 4:30,136 |
| 24 | Schwaiger | Rupert | | Porsche 911 Bi-Turbo | E1 +2000 | 4:31,528 |
| 25 | Madrian | Ferdinand | | Norma M20F | E2-SC 3000 | 4:31,772 |
| 26 | Capucci | Marco | | Osella PA21/S | CN 2000 | 4:32,801 |
| 27 | Bouduban | Fabien | | Norma M20 FC | E2-SC 3000 | 4:33,228 |
| 28 | Stankovic | Vladimir | | Dallara T2 | E2-SS 2000 | 4:33,582 |
| 29 | Los | Jiri | | Mitsubishi Lancer EVO IX | E2-SH +3000 | 4:34,667 |
| 30 | Ramler | Peter | | Audi S1R | E2-SH 3000 | 4:35,982 |
| 31 | Waldy jr. | Hermann | | Dallara F306 | E2-SS 2000 | 4:36,127 |
| 32 | Holzmann | Thomas | | Mitsubishi Lancer EVO IV | E1 +2000 | 4:36,155 |
| 33 | Stollnberger | Andreas | | Dallara F302 | E2-SS 2000 | 4:37,215 |
| 34 | Boric | Lukas | | Tracking RC01 | E2-SH 1600 | 4:38,507 |
| 35 | Strasser | Thomas | | Volkswagen Scirocco | E1 2000 | 4:38,606 |
| 36 | Sternad | Diethard | | Alfa Romeo 156 STW | E1 2000 | 4:39,130 |
| 37 | Schmitter | Philippe | | Renault RS01 | E2-SH +3000 | 4:39,171 |
| 38 | Maly | Jaromir | | Mitsubishi Lancer EVO VIII | E2-SH +3000 | 4:41,211 |
| 39 | Seidl | Manuel | | Porsche 997 GT3 Cup | E1 +2000 | 4:41,430 |
| 40 | Wilhelm | Philipp | | Norma M20 | E2-SC 3000 | 4:42,796 |
| 41 | Halbartschlager | Jürgen | | Volkswagen Golf I | E1 2000 | 4:45,591 |
| 42 | Hartl | Roland | | Mitsubishi Lancer EVO VI | A +3000 | 4:46,308 |
| 43 | Milon | Jan | | McLaren GT 650S | GT +3000 | 4:46,632 |
| 44 | Kramer | Gottfried | | Tatuus S2000 | E2-SS 2000 | 4:47,929 |
| 45 | Wels | Michael | | Volkswagen Scirocco | E1 2000 | 4:48,246 |
| 46 | Weberhofer | Thomas | | Opel Omega Bi-Turbo | E1 +2000 | 4:48,306 |
| 47 | Jerman | Martin | | Lamborghini Gallardo GT3 | GT +3000 | 4:48,571 |
| 48 | Lustig-Jungwirth | Dietmar | | Ford Escort Cosworth | E1 +2000 | 4:49,242 |
| 49 | Duller | Benjamin | | Mitsubishi Lancer EVO VI | A +3000 | 4:49,454 |
| 50 | Fuchs | Manfred | | Mitsubishi Lancer EVO VIII | A +3000 | 4:50,090 |
| 51 | Auer | Michael | | Volkswagen Scirocco GTR | E2-SH 2000 | 4:50,352 |
| 52 | Roider | Franz | | Ford Mondeo STW | E1 2000 | 4:50,809 |
| 53 | Jurena | Peter | | Mitsubishi Lancer EVO IX | N +3000 | 4:52,885 |
| 54 | Holzer | Dieter | | Mitsubishi Lancer EVO VIII | N +3000 | 4:52,928 |
| 55 | Mayer | Patrick | | Volkswagen Golf I | E1 2000 | 4:53,252 |
| 56 | Schneider | Christian | | Peugeot 205 E2 | E1 1600 | 4:53,454 |
| 57 | Speckl | Christian | | Volkswagen Golf I | E1 1600 | 4:53,835 |
| 58 | Migliuolo | Antonio | | Mitsubishi Lancer EVO IX | N +3000 | 4:54,037 |
| 59 | Muhvic | Tomislav | | Mitsubishi Lancer EVO IX | E1I +2000 | 4:54,155 |
| 60 | Gradischnig | Bernhard | | Osella PA20/S | E2-SC 3000 | 4:54,347 |
| 61 | Vavrinec | Tomas | | Mitsubishi Lancer EVO IX | N +3000 | 4:54,903 |
| 62 | Dall'Oglio | Alberto | | Norma M20 FC | CN 2000 | 4:55,045 |
| 63 | Fiausch | Heiko | | Opel Astra STW | E1 2000 | 4:56,395 |
| 64 | Probhardt | Peter | | Mitsubishi Lancer EVO IX | N +3000 | 4:56,503 |
| 65 | Frank | Alexander | | PRC S4 | CN 2000 | 4:56,577 |
| 66 | Lenz | Bernhard | | BMW M3 E36 | E2-SH 3000 | 4:57,603 |
| 67 | Vojacek | Lukas | | Subaru Impreza WRX | A +3000 | 4:58,759 |
| 68 | Ambruz | Peter | | Mitsubishi Lancer EVO IX | N +3000 | 5:01,018 |
| 69 | Tarmann | Josef | | Dallara F302 Mercedes | E2-SS 2000 | 5:01,917 |
| 70 | Juhas | Martin | | BMW M3 | E1I +2000 | 5:03,789 |
| 71 | Maier | Helmut | | Volkswagen Golf Spiess | E1 1600 | 5:03,806 |
| 72 | Duboczi | Jaroslav | | Seat Leon TDi | E1I +2000 | 5:04,401 |
| 73 | Müllner | Andreas | | BMW M3 E36 | E1 +2000 | 5:04,492 |
| 74 | Reiter | Nicolas | | Ford Escort MK1 | E1 2000 | 5:05,716 |
| 75 | Mayer | Chris-Andre | | Honda Civic Type-R | A 2000 | 5:05,789 |
| 76 | Strasser | Michael | | Toyota Corolla AE86 | E1 1600 | 5:06,025 |
| 77 | Fehr | Roger | | PRC S4 | CN 2000 | 5:06,337 |
| 78 | Pyringer | Florian | | Volkswagen Golf I | E1 1600 | 5:07,696 |
| 79 | Windbacher | Rudolf | | Honda S2000 RS | E2-SH 2000 | 5:07,918 |
| 80 | Hutter | Gregor | | Alfa Romeo 145 | E1 1600 | 5:08,961 |
| 81 | Trammer | Patrick | | Volkswagen Golf I E2 | E1 2000 | 5:09,991 |
| 82 | Galli sr. | Hubert | | Tork BRS | E2-SC +3000 | 5:10,356 |
| 83 | Datzreiter | Stefan | | Volkswagen Polo Kit-Car | E1 2000 | 5:11,198 |
| 84 | Taus | Kerstin | | Subaru Impreza WRX | A +3000 | 5:12,497 |
| 85 | Dedek | David | | Alfa Romeo 147 | A 2000 | 5:17,412 |
| 86 | Zuurbier | Luca | | Honda Civic Type-R | A 2000 | 5:18,576 |
| 87 | Harrer | Helmut | | Honda Civic Type-R | A 2000 | 5:19,079 |
| 88 | Ogris | Stephan | | Alfa Romeo 147 JTD | E1I 2000 | 5:19,335 |
| 89 | Hernadi | Laszlo | | Mitsubishi Lancer EVO IX R4 | S2 +3000 | 5:19,659 |
| 90 | Krivac | Stanislav | | Peugeot 306 | E1I 2000 | 5:19,993 |
| 91 | Cambal | Mojmir | | Citroën Saxo VTS | E2-SH 1600 | 5:19,996 |
| 92 | Kozar | Yevhen | | Renault Megane RS | N +3000 | 5:20,194 |
| 93 | Marc | Peter | | Mitsubishi Lancer EVO IX | N +3000 | 5:21,196 |
| 94 | Cuden | Matevz | | Renault Clio | E1I 2000 | 5:21,530 |
| 95 | Grossauer | Jürgen | | Suzuki Swift S1600 | A 1600 | 5:21,727 |
| 96 | Cossu | Tonino | | Honda Civic Type-R | A 2000 | 5:22,073 |
| 97 | Demeter | Matej | | Citroën Saxo | E1I 2000 | 5:22,391 |
| 98 | Vlha | Vladimir | | Mitsubishi Lancer EVO IX | N +3000 | 5:23,564 |
| 99 | Purs | Patrik | | Honda Civic | E1I 2000 | 5:25,222 |
| 100 | Podmajersky | Vladimir | | Peugeot 206 RC | A 2000 | 5:25,587 |
| 101 | Tomcsany | Tamas | | Lada VFTS | E2-SH 1600 | 5:26,515 |
| 102 | Schutting | Wolfgang | | Renault Clio Williams | N 2000 | 5:28,829 |
| 103 | Theimer sr. | Jiri | | Peugeot 306 Maxi | E2-SH 2000 | 5:29,680 |
| 104 | Raith | Markus | | Honda Civic Type-R | N 2000 | 5:30,394 |
| 105 | Kremener | Mario | | BMW M3 | E1 +2000 | 5:31,373 |
| 106 | Kretz | Michal | | Ford Focus ST | E2-SH 2000 | 5:34,974 |
| 107 | Schwendinger | Robert | | Arcobaleno | E2-SS 2000 | 5:35,561 |
| 108 | Paireder | Franz | | Peugeot 206 RC | A 2000 | 5:36,154 |
| 109 | Schauperl | Karl-Heinz | | Volkswagen Beetle | E1 +2000 | 5:37,112 |
| 110 | Osmera | Jiri | | Volkswagen Scirocco | E2-SH 2000 | 5:37,198 |
| 111 | Ogris | Gottfried | | Alfa Romeo 147 GTA | E1 2000 | 5:37,282 |
| 112 | Flechl | Patrick | | Opel Astra F GSi | N 2000 | 5:37,701 |
| 113 | Pucher | Martin | | Citroën Saxo | A 1600 | 5:39,555 |
| 114 | Hudy | Vladimir | | Honda Civic Type-R | A 2000 | 5:40,323 |
| 115 | Pavlik | Denis | | Peugeot 208 VTI R2 | A 1600 | 5:40,878 |
| 116 | Heusleitner | Christoph | | Mazda 323 GTR | A +3000 | 5:42,685 |
| 117 | Grossauer | Thomas | | Suzuki Swift Sport | N 1600 | 5:43,108 |
| 118 | Oberdorfer | Dietmar | | Fiat Bravo | E1 +2000 | 5:46,418 |
| 119 | Ruzzier | Patrik | | Fiat Cinquecento E2 | E1I 2000 | 5:47,722 |
| 120 | Jaunig | Lukas Rene | | Renault Megane Cup | A 1600 | 5:49,030 |
| 121 | Likovic | Franz | | MG ZR 105 | E1I 2000 | 5:50,525 |
| 122 | Strnad | Petr | | Skoda 130 LR | E2-SH 1600 | 5:52,009 |
| 123 | Kacvinsky | Peter | | Honda Civic Type-R | N 2000 | 5:52,966 |
| 124 | Ehrmann | Pascal | | Peugeot 207 RC | A 3000 | 5:53,097 |
| 125 | Sailer | Daniel | | BMW E30 | E1 +2000 | 5:54,763 |
| 126 | Huber | Birigt | | Renault Clio Sport | N 2000 | 5:57,906 |
| 127 | Schwendinger | Christian | | Volkswagen Golf III | A 2000 | 5:57,932 |
| 128 | Kurz | Walter | | Simca Rallye II | E1 1400 | 6:00,765 |
| 129 | Blecha | Johann | | Suzuki Swift GTI | E1 1400 | 6:02,385 |
| 130 | Salon | Peter | | Seat Leon Supercopa | E1I +2000 | 6:15,040 |
| 131 | Barath | Alexander | | Honda Civic VTI | N 1600 | 6:43,804 |
| 132 | Ambruz | Anna | | Honda Civic Type-R | N 2000 | 7:22,902 |
| E | Blasl | Hermann | | Opel Kadett C | E1 2000 | |
21-22/04/2018 – Rechbergrennen (Historic)

| Pos. | Last Name | First Name | | Car | Cl. | Final |
| --- | --- | --- | --- | --- | --- | --- |
| 1 | Bonucci | Uberto | | Osella PA9/90 | 4/D8 | 4:58,782 |
| 2 | Turriziani | Roberto | | Osella PA9/90 | 4/D7 | 5:03,678 |
| 3 | Glinzner | Gerald | | Porsche 911 Carrera | 3/C3 | 5:09,692 |
| 4 | Czapka | Marian | | Porsche 928 | 3/C3 | 5:16,076 |
| 5 | Sonnleitner | Reinhard | | Volkswagen Golf G60 | 4/D6 | 5:19,688 |
| 6 | Kubicek | Jiri | | Skoda 130 RS | 3/C1 | 5:23,347 |
| 7 | Rutter | Christian | | PRC S2000 | 4/D7 | 5:23,585 |
| 8 | Ciliak | Miroslav | | Metalex MTX 1-06 | 5/E2 | 5:24,310 |
| 9 | Ulz | Patrick | | Alfa Romeo Sud Ti | 3/C4 | 5:25,304 |
| 10 | Aigner | Franz | | Volkswagen Golf 17 | 3/C4 | 5:28,847 |
| 11 | Pieber | Wolfgang | | BMW 323i | 4/D3 | 5:31,321 |
| 12 | Stranner | Karlheinz | | Fiat 131 Abarth | 3/C2 | 5:36,962 |
| 13 | Mikes | Jaroslav | | Skoda 130 RS | 2/B3 | 5:39,225 |
| 14 | Renner | Karin | | Reynard 893 | 5/E5 | 5:40,837 |
| 15 | Trimmel | Christian | | Ford Escort RS2000 | 2/B5 | 5:41,467 |
| 16 | Kljun | Dorijan | | Volkswagen Golf I GTI | 3/C2 | 5:46,385 |
| 17 | Stejskal | Milan | | Lada VFTS | 4/D4 | 5:48,058 |
| 18 | Renner | Franz | | Van Diemen RF77 Ford | 5/E2 | 5:52,687 |
| 19 | Kmet | Frantisek | | Metalex MTX 1-03 | 5/E2 | 5:53,916 |
| 20 | Pauscher | Michael | | PRF FF | 5/E2 | 5:54,266 |
| 21 | Konicar | Vladimir | | BMW 2002 Ti | 1/A5 | 5:54,693 |
| 22 | Sedlacek | Michael | | Fiat Ritmo 130 TC | 4/D2 | 5:55,784 |
| 23 | Neumann | Dominik | | BMC Mini Cooper S | 3/C1 | 5:59,868 |
| 24 | Kotlusek | Igor | | Fiat 128 Coupé | 2/B3 | 6:00,503 |
| 25 | Freudenschuss | Willi | | BMW 323i | 4/D3 | 6:02,399 |
| 26 | Lena | Enrico | | Lancia Fulvia Coupé HF | 2/B4 | 6:03,050 |
| 27 | Mössler | Harald | | Puch Formula Baby | 5/E2 | 6:05,620 |
| 28 | Labner | Reinhard | | Austin Mini Cooper S | 1/A3 | 6:07,923 |
| 29 | Olsacher | Werner | | BMW 2002 | 2/B5 | 6:11,388 |
| 30 | Sporer | Rudolf | | Alfa Romeo Giulia Super | 2/B4 | 6:12,407 |
| 31 | Deutsch | Bernhard | | Steyr Puch 650 TR | 1/A1 | 6:14,131 |
| 32 | Stietka | Walther | | Volkswagen Beetle 1302S | 2/B4 | 6:15,311 |
| 33 | Strozic | Bojan | | Autobianchi A112 Abarth | 3/C1 | 6:16,247 |
| 34 | Neubauer | Herbert | | Lancia Delta Integrale | 4/D6 | 6:16,601 |
| 35 | Korosec | Matjaz | | BMW 325i | 4/D6 | 6:23,721 |
| 36 | Windsteig | Werner | | Citroën AX Sport | 4/D4 | 6:23,832 |
| 37 | Rottonara | Florian | | Fiat Giannini 650 NP | 2/B1 | 6:24,426 |
| 38 | Fischer | Gerd | | Ford Escort GT | 2/B3 | 6:27,578 |
| 39 | Zimmermann | Bernhard | | Porsche | 5/E2 | 6:35,211 |
| 40 | Prugger | Georg | | Alta Sports | 1/A5 | 6:43,206 |
| 41 | Seethaler | Alexander | | Steyr Puch 650 TR | 1/A1 | 6:57,061 |
| 42 | Esterbauer | Johannes | | Steyr Puch 650 TR | 1/A1 | 7:16,488 |
| 43 | Jud | Hans | | Jaguar XK120 | 1/A6 | 7:23,139 |
| 44 | Pagliarello | Giovanni | | Abarth 1000 Bialbero | 1/A2 | 7:30,327 |