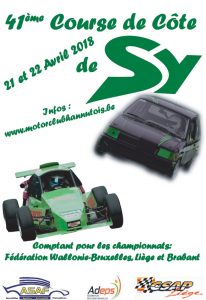 The Course de Côte de Sy was the second round of the Belgian Regional Hillclimb Challenge. The event attracted almost twice as many competitors as the opening round. They were greeted by the most ideal weather conditions.
A two-way fight for victory erupted between Jacques Marchal and Didier Boemer. Quickiest in practise was Boemer, but his rival Marchal was just .08 seconds behind. In race 1 the roles were reversed. The reigning national champion was more than a second quicker as Boemer. In race 2 Boemer went even quicker and retook the lead. Everything would be decided in the third and final race of the day. Here showed his class and set fastest time of the day. This proved to be enough for overall victory. Third in division 4 was for the leading kart-cross pilot Denis Delrue.
Winner of the opening round Olivier Dubois continued his winning form in Sy. It went somewhat easier than two weeks ago as Dewulf, Le Nouvel and Cricus were all absent this Sunday. Quentin Guilbert steered his impressive Nissan Skyline to second place. He was no match for Dubois in the smaller Lotus and finished 7 seconds behind. The winning Lotus Elise also finished third at the hands of Michel Dubois.
22/04/2018 – Course de Côte de Sy

| Pos. | Last Name | First Name | | Car | Cl. | Final |
| --- | --- | --- | --- | --- | --- | --- |
| 1 | Marchal | Jacques | | Van Diemen FX | 4/15 | 2:21,32 |
| 2 | Boemer | Didier | | Dallara F394 | 4/16 | 2:21,41 |
| 3 | Dubois | Olivier | | Lotus Elise | 3/13 | 2:29,57 |
| 4 | Delrue | Denis | | Panthera Kart-Cross | 4/14 | 2:29,74 |
| 5 | Collard | Bruno | | BRC B-49 | 4/15 | 2:30,66 |
| 6 | Milone | Anthony | | Panthera Kart-Cross | 4/14 | 2:30,98 |
| 7 | Matagne | Benoit | | BRC Kart-Cross | 4/14 | 2:32,28 |
| 8 | Gouders | Cedric | | Kamikaze II Kart-Cross | 4/14 | 2:34,05 |
| 9 | Piette | Valere | | Peters Kart-Cross | 4/14 | 2:35,53 |
| 10 | Guilbert | Quentin | | Nissan Skyline | 3/13 | 2:37,33 |
| 11 | Dozot | Valentin | | PRM Kart-Cross | 4/14 | 2:37,82 |
| 12 | Dubois | Michel | | Lotus Elise | 3/13 | 2:37,96 |
| 13 | Schrooten | Colla | | Citroën Xsara | 3/12 | 2:40,01 |
| 14 | Deminne | Philippe | | Ford Ka | 4/15 | 2:40,77 |
| 15 | Lejeune | Didier | | Mitsubishi Lancer | 3/13 | 2:41,24 |
| 16 | Junius | Lionel | | Peugeot 205 GTI | 3/12 | 2:42,77 |
| 17 | Dierckx | Daniel | | Citroën AX | 3/11 | 2:43,50 |
| 18 | Vandeweyer | Jurgen | | Opel Kadett | 3/12 | 2:43,53 |
| 19 | De Busser | Jef | | BMW Compact | 3/13 | 2:44,48 |
| 20 | Delhoune | Arnaud | | Volkswagen Golf I | 3/12 | 2:45,78 |
| 21 | Lamy | Nicolas | | Citroën C2R2 | 3/11 | 2:47,92 |
| 22 | Grosjean | Stephane | | Peugeot 205 GTI | 3/12 | 2:47,97 |
| 23 | Cravillon | Laurent | | Renault Clio RS | 2/7 | 2:47,97 |
| 24 | Leysen | Steve | | Ford Escort | 3/12 | 2:48,19 |
| 25 | Hermanns | Mario | | Peugeot 205 GTI | 3/11 | 2:48,66 |
| 26 | Loodts | Rudy | | Opel Corsa | 3/12 | 2:48,78 |
| 27 | Blavier | Jacques | | Volkswagen Golf | 3/13 | 2:49,30 |
| 28 | Duchesne | Jean | | Ford Escort | 2/7 | 2:50,57 |
| 29 | Cornet | Vincent | | Opel Ascona | 3/13 | 2:51,35 |
| 30 | Hellings | Philippe | | Ford Escort RS | 3/12 | 2:51,85 |
| 31 | Wampach | Benjamin | | Citroën C2R2 Max | 2/6 | 2:51,96 |
| 32 | Schrooten | Sanne | | Citroën 2CV | 3/10 | 2:51,99 |
| 33 | Vieujean | Raphael | | Peugeot 106 | 2/6 | 2:54,54 |
| 34 | Dormal | Mathieu | | Ford Fiesta | 2/6 | 2:55,01 |
| 35 | Hebrant | Maxime | | Opel Manta | 2/8 | 2:55,30 |
| 36 | Gilles | Geoffrey | | Volkswagen Polo G40 | 2/8 | 2:55,39 |
| 37 | Re | Gino | | Westfield SEi | 2/7 | 2:55,61 |
| 38 | Cornet | Bernard | | Volkswagen Beetle 1303S | 3/13 | 2:56,19 |
| 39 | Durieu | Denis | | Volkswagen Golf | 1/3 | 2:56,95 |
| 40 | Chacon-Ruiz | Eduardo | | Volkswagen Golf | 2/8 | 2:58,23 |
| 41 | Wilms | Tim | | Honda Civic | 2/7 | 2:59,61 |
| 42 | Les | Maxime | | Peugeot 106 | 2/5 | 2:59,75 |
| 43 | Czaplicki | Dylan | | BMW 2002 | 2/7 | 3:00,24 |
| 44 | Czaplicki | Philippe | | BMW 2002 | 2/7 | 3:00,94 |
| 45 | Barthelemy | Quentin | | Opel Corsa | 2/6 | 3:01,42 |
| 46 | Chacon-Ruiz | Maxime | | Volkswagen Golf | 2/8 | 3:02,26 |
| 47 | Moreau | Kevin | | Citroën AX GTI | 3/10 | 3:02,41 |
| 48 | Chacon-Ruiz | Anthony | | Volkswagen Golf II | 2/6 | 3:02,71 |
| 49 | Blanche | Marc | | Peugeot 106 | 2/5 | 3:03,85 |
| 50 | Saussus | Julien | | Ford Fiesta | 1/2 | 3:04,98 |
| 51 | Devaux | Marc | | Citroën Saxo | 1/2 | 3:06,13 |
| 52 | Rodriguez | Miguel | | Ford Fiesta | 1/2 | 3:07,88 |
| 53 | Daniels | Jean-Claude | | Renault Clio RS | 1/3 | 3:07,88 |
| 54 | Mathy | Alexis | | Peugeot 106 | 2/5 | 3:09,76 |
| 55 | Derenne | Gauthier | | Volkswagen Golf II | 2/5 | 3:11,72 |
| 56 | Hellings | Francis | | Ford Escort RS | 2/7 | 3:12,91 |
| 57 | Bouche | Alexandre | | Ford Puma | 2/7 | 3:12,91 |
| 58 | Paepen | Stijn | | BMW E36 Compact | 2/6 | 3:15,36 |
| 59 | Collard | Arnaud | | BMW E30 | 3/13 | 3:18,23 |
| 60 | Marion | Benoit | | Citroën 2CV | 3/9 | 3:48,26 |