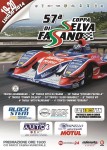 The Italian Hillclimb Championship visited the northern tip of the country in Trento just two weeks ago. This weekend the competitors had to travel to the other side of the country for the Coppa Selva di Fasano. This legendary hillclimb was at its 57nd edition this year. In front of a large and enthusiastic crowd Christian Merli (Osella PA2000) won the event for the first time in his career.
There was never any doubt that championship leader Merli would not win the Coppa Selva di Fasano as he was fastest right from first practise to the last session of the day. Francesco Leogrande (Osella FA30) was never closer to Merli this year but he still had to settle for second place. Domenico Scola jr. (Osella PA2000) completed the podium. Vincenzo Conticelli had some gearbox problems in his Osella PA30 but still finished fourth. Carmelo Scaramozzino on the other had was happy with the performance of his new Lola Dome, he finished fifth. Sixth place was for best CN driver Rosario Iaquinta who now has a little points gap over his rival Omar Magliona (both Osella PA21/S).
In the touringcars Marco Gramenzi was not present and drops in the standings. Fulvio Giuliani (Lancia Delta Integrale) made the long trip south but a retirement in the first race session did not make it worth his while. Pietro Nappi (Ferrari F550) had a relatively easy road to victory now and takes over the points lead in the E1 class. Second best touringcar at Fasano was surprisingly Carmine Tancredi driving in a Ford Escort Cosworth. Roberto Di Giuseppe (Alfa Romeo 155) completed the podium. Click on 'More' to see the final results.