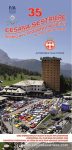 The European Historic Hillclimb Championship visited Italy this weekend for the Cronoscalata Cesana – Sestriere. Only three international drivers were among the 100+ entry.
The race was dominated by the brothers Di Fulvio, Stefano and Simone. Stefano was the fastest of the two and he repeated his 2015 victory. On top of that he also steered his Osella PA9/90 to a new trackrecord. His time of four and half minutes was two seconds quicker than the 1992 race winning time of Andrés Vilariño. Behind Simone Di Fulvio came Piero Lottini in third. Lottini was happy to make the finishline as his Osella PA9/90 suffered a clutch failure in the final metres.
Andrea Fiume was the best driver in Group 3. With his Osella Pa8/9 sportscar he was faster than the two Porsche 935 driven by Mario Massaglia and Jean-Marie Almeras. Group 5 for singleseaters was won by Antonio Angiolani after a close fight for victory with Emanuele Aralla and Alessandro Trentini. Guido Vivalda was victorious in Group 2 while Vittorio Mandelli captured victory in Group 1.