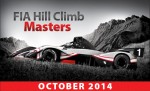 Today the FIA has decided the date and venue of the FIA Hillclimb Masters 2014. This new event will bring together the best Hillclimb drivers from all over Europe.
On 11 & 12 October the small town of Eschdorf (click here to see the trackmap) in Luxembourg will celebrate the first edition of this event. The FIA deliberately picked a short venue, in order to attract British drivers. The United Kingdom has a big hillclimb scene, but its short racetracks are too different from those in the rest of Europe. With 1850 metres, Eschdorf has one of the shortest races in continental Europe, which should suit the British cars just fine.
The Hillclimb Masters will not affect the European Hill Race 2014. That race is still scheduled for 3 & 4 May 2014 and will count for the Luxembourg & German Championships and also for the Berg-Cup.