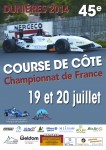 The French Hillclimb Championship was cut short at the Course de Côte de Dunierès this weekend as heavy rains forced an end to race after just one timed race. A hard blow for the organisers as the same thing happened last year and the race is not that popular to begin with.
Not more than 90 drivers attempted the one and only race session, many of them at a very easy and secure pace. This put the results table upside down as some drivers were more bold than others. Some drivers who did not take too many risks finished well down the order. For example Martine Hubert in 43rd, Alban Thomas in 64th and Patrick Watin in 69th. Geoffrey Schatz took more risks but he slided his Reynard 95D off the track and scored no time at all. His big brother Nicolas was also not in his best element. Winner of the first 8 races, for the first time this year he was not allowed to climb the highest step of the podium. His rival Sébastien Petit was now, finally, the quickest and overall winner. In between the two Norma M20 FC drivers was Marcel Sapin. Although he scored his best results ever in the Mygale F3, he will retire the car and switch to a sportscar.
The touringcars were of course better suited to the wet conditions than the open cockpit sportscars and single seaters. Unique for French Hillclimb was the fact that no less than 6 touringcars ended up in the top 10 overall. The highest finishing third overall. Although Nicolas Schatz was beaten this time, his namesake and touringcar points leader Nicolas Werver fared a whole lot better. The Porsche 997 GT3 Cup driver drove excellent in the rain and earned a well deserved victory. Second was Dominique Vuillaume in another Porsche 997 GT3 but an RS version rather than a Cup. Another surprise in third place with Pascal Guiot who perhaps benefitted from the 4-wheel-drive in his Ford Escort Cosworth. He also won the Group N category. Philippe Polge scored an excellent victory in Group A as the Peugeot 306 Maxi driver defeated many more powerful Seat Leon Supercopa's. Click on 'More' to see the full results.