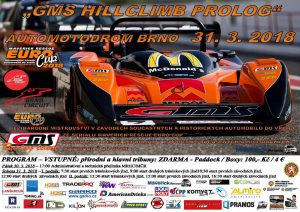 Milos Benes is the first winner of the year in the Czech Republic. At the GMS Hillclimb Prolog Benes was the quickest in three of the four race sessions. Only the first race of Fase B went to Vaclav Janik by .01 seconds. It was enough for Benes to claim victory in both Fases and take home maximum points. Benes and Janik were also the only drivers to complete the course in under one minute. The podium was completed on both occasions by David Komarek.
The touringcars saw a battle between Marek Rybnicek and Igor Drotar. The Czech was fastest in the first race of Fase A but from then on Drotar was faster. On aggregate time Rybnicek still claimed victory in Fase A. Just like last season Bronislav Formanek used this event to test his Lamborghini Huracan before the circuit championship starts. In Fase A Formanek was third fastest but in Fase B he made a small mistake and was only 12th. The final podium spot instead went to Oskar Benes. Driving his familiar Ford Fiesta he was 8 seconds slower than runner-up Rybnicek but also 7 seconds quicker than fourth placed Martin Jerman.
Laszlo Szasz was the winner of the Maverick Rescue Euro Cup. The Hungarian would have classified fifth overall if he had competed in the national championship.
31/03/2018 – GMS Hillclimb Prolog

| Pos. | Last Name | First Name | | Car | Cl. | Fase A | Fase B |
| --- | --- | --- | --- | --- | --- | --- | --- |
| 1 | Benes | Milos | | Osella FA30 | E2-SS 3000 | 1:56,44 | 1:57,17 |
| 2 | Janik | Vaclav | | Norma M20 FC | E2-SC 3000 | 1:58,40 | 1:57,53 |
| 3 | Komarek | David | | Norma M20 FC | E2-SC 3000 | 2:00,25 | 2:02,43 |
| 4 | Spalek | Jiri | | Norma M20F | E2-SC 3000 | 2:10,01 | 2:07,55 |
| 5 | Vondrak | Martin | | Tatuus Master | E2-SS 2000 | 2:14,98 | |
| 6 | Novicky | Michal | | Ligier JS49 Honda | E2H-SC 2000 | 2:17,43 | 2:16,51 |
| 7 | Svoboda | Milan | | Norma M20F | E2-SC 2000 | 2:18,18 | 2:16,72 |
| 8 | Neckar | Libor | | Ligier JS53 E2 | E2H-SC 2000 | 2:19,82 | 2:18,40 |
| 9 | Svoboda | Jiri | | Norma M20F | E2-SC 2000 | 2:20,29 | 2:18,41 |
| 10 | Drotar | Igor | | Skoda Fabia | E1 +3000 | 2:22,20 | 2:19,71 |
| 11 | Rybnicek | Marek | | Ford Fiesta EVO | E2-SH +3000 | 2:21,77 | 2:20,31 |
| 12 | Krakovic | Radek | | Fiks 09RK | E2H-SS 1400 | 2:21,09 | 2:21,25 |
| 13 | Formanek | Bronislav | | Lamborghini Huracan ST | E1 +3000 | 2:25,11 | 2:41,51 |
| 14 | Myszkier | Tomasz | | Skoda Fabia | E1 +3000 | 2:27,36 | |
| 15 | Chudoba | Zdenek | | Norma M20F | E2H-SC 2000 | 2:28,44 | 2:28,11 |
| 16 | Benes | Oskar | | Ford Fiesta | E1 +3000 | 2:33,51 | 2:28,83 |
| 17 | Kracmar | Zdenek | | Demon Car | E2H-SC 1400 | 2:29,25 | 2:28,84 |
| 18 | Zmeskal | Milos | | Ralt RT32 | K5/E9 | 2:39,31 | 2:35,95 |
| 19 | Jerman | Martin | | Lamborghini Gallardo GT3 | GT +2000 | 2:38,00 | 2:36,43 |
| 20 | Vojacek | Lukas | | Subaru Impreza STi | A +3000 | 2:38,08 | 2:36,65 |
| 21 | Sajlerova | Gabriela | | Mitsubishi Lancer EVO X | N +3000 | 2:38,09 | 2:37,31 |
| 22 | Vojacek | Petr | | Mitsubishi Lancer EVO VIII | A +3000 | 2:38,68 | 2:37,57 |
| 23 | Tykal | Petr | | MTX 1-03 | K5/E3 | 2:37,72 | 2:51,46 |
| 24 | Bohac | Milan | | Renault Clio Sport | E1H 2000 | 2:39,24 | 2:38,39 |
| 25 | Los | Jiri | | Mitsubishi Lancer EVO IX | E2-SH +3000 | 2:39,35 | |
| 26 | Sajler | Filip | | Mitsubishi Lancer EVO X | N +3000 | 2:41,32 | 2:39,45 |
| 27 | Hubacek | Karel | | BMW M3 GTR | E1 +3000 | 2:46,86 | 2:40,24 |
| 28 | Grüner | Frantisek | | BMW 327i | E1H +2000 2WD | 2:43,40 | 2:41,42 |
| 29 | Dohnalek | Josef | | Citroën C2 VTS | E1H 1600 | 2:41,90 | 2:42,88 |
| 30 | Vymetal | Lubomir | | BMW M3 | E1H +2000 2WD | 2:44,21 | 2:43,63 |
| 31 | Osmera | Jiri | | Volkswagen Scirocco | E2-SH 2000 | 2:46,53 | 2:45,08 |
| 32 | Loubal | Lubomir | | Volkswagen Golf IV TDi | E1 3000 | 2:50,10 | 2:45,85 |
| 33 | Dedek | David | | Alfa Romeo 147 TS | A 2000 | 2:46,10 | 2:46,64 |
| 34 | Pluhar | Jindrich | | Nissan Sunny | E1H 2000 | 2:48,52 | 2:48,14 |
| 35 | Dolezal | Lubomir | | MTX 1-06 | K5/E7 | 2:49,08 | 2:50,70 |
| 36 | Mach | Jan | | Skoda Octavia Cup | E1 2000 | 2:50,24 | 2:49,28 |
| 37 | Malik | Lukas | | Opel Astra OPC | E1H 2000 | 2:50,37 | 2:51,75 |
| 38 | Kminek | Zdenek | | Nissan 350Z | GT +2000 | 2:51,09 | 2:52,65 |
| 39 | Winter | Jaroslav | | Honda Civic Type-R | E1H 2000 | 2:53,62 | 2:54,09 |
| 40 | Jezek | Radim | | Skoda Felicia | E2-SH 1400 | 2:57,89 | 2:54,44 |
| 41 | Sedlacek | Michal | | Fiat Ritmo 130 TC | K4/D3 | 2:58,94 | 2:59,41 |
| 42 | Stejskal | Milan | | Lada VFTS | K4/D5 | 3:03,50 | 2:59,22 |
| 43 | Vozdecky | Dominik | | MTX 1-03 | K5/E3 | 3:04,99 | 3:00,45 |
| 44 | Kopecek | Jiri | | Opel Astra | E1H 2000 | 3:01,65 | 3:02,46 |
| 45 | Zoufaly | Karel | | Skoda Felicia Pick-Up | E1H 1600 | 3:05,09 | 3:08,70 |
| 46 | Machova | Tereza | | Suzuki Swift | E1 1400 | 4:07,88 | 3:06,77 |
| 47 | Chmelik | Martin | | Peugeot 206 SRC | E1H 2000 | 3:14,75 | 3:10,34 |
| 48 | Gruntorad | Frantisek | | Renault Clio RS | A 2000 | 3:12,66 | 3:10,63 |
| 49 | Vojvodik | Ivan | | Lada Samara | K4/D4 | 3:23,22 | 3:15,22 |
| 50 | Malkova | Simona | | Ford Fiesta | E1 1600 | 3:33,42 | 3:32,08 |
31/03/2018 – GMS Hillclimb Prolog (Maverick Rescue Euro Cup)

| Pos. | Last Name | First Name | | Car | Cl. | Fase A | Fase B |
| --- | --- | --- | --- | --- | --- | --- | --- |
| 1 | Szasz | Laszlo | | Reynard F3000 | E2C +2000 | 2:09,56 | 2:11,24 |
| 2 | Svorc | Roman | | Lucchini P3 | E2C +2000 | 2:18,11 | 2:20,68 |
| 3 | Wilhelm | Philipp | | Norma M20F | E2C +2000 | 2:19,28 | 2:19,60 |
| 4 | Klus | Adam | | HSS Audi Turbo Can-Am | HA2 | 2:21,29 | 2:19,55 |
| 5 | Ferstl | Christian | | Lola B06/50 | E2C +2000 | 2:23,57 | 2:23,67 |
| 6 | Frank | Alexander | | PRC S4 | E2C 2000 | 2:32,78 | 2:36,61 |
| 7 | Schoegler | Sigrid | | Formula Renault | E2C 2000 | 2:40,37 | 2:36,80 |
| 8 | Jelinek | Libor | | BMW CSL | HA1 +2000 | 2:46,34 | 2:48,80 |
| 9 | Osladil | Jan | | Van Diemen | E2C 1600 | 2:48,29 | 2:46,67 |
| 10 | Makes | Michal | | Renault Clio Cup | E1 +2000 2WD | 2:48,48 | 2:49,66 |
| 11 | Srahulek | Petr | | Skoda 130 RS EVO | E1 1400 | 2:51,15 | 2:49,73 |
| 12 | Valasek | Milan | | Ginetta G50 GTR | E1 +2000 2WD | 2:50,59 | |
| 13 | Neubauer | Herbert | | Lancia Delta Integrale | HA1 +2000 | 2:54,33 | 2:50,61 |
| 14 | Macek | Vojtech | | Skoda 110R | E1 1600 | 2:52,28 | 2:51,46 |
| 15 | Kaspar | Vilem | | Skoda Fabia RS | E1 +2000 2WD | 2:53,16 | 2:51,62 |
| 16 | Fillova | Kristyna | | Mitsubishi Lancer | S1 +2000 4WD | 2:58,89 | 2:51,72 |
| 17 | Krupica | Lukas | | Skoda 130 LR | HA1 1300 | 2:52,59 | 2:54,20 |
| 18 | Cakl | Filip | | Skoda Fabia RS | S1 +2000 2WD | 2:54,04 | 2:52,80 |
| 19 | Azsoth | Ladislav | | Ford Focus | S1 2000 | 2:54,12 | 2:54,96 |
| 20 | Homola | Tomas | | BMW E30 | E1 +2000 2WD | 2:57,64 | 2:54,23 |
| 21 | Vratil | Pavel | | Opel Kadett GSi | HA1 2000 | 2:54,76 | 2:55,12 |
| 22 | Sustr | Miloslav | | Skoda Favorit | E1 1600 | 2:57,38 | 2:58,93 |
| 23 | Karbas | Roman | | Honda Civic | E1 1400 | 3:02,76 | 2:58,29 |
| 24 | Lemon | Petr | | BMW E30 | S1 +2000 2WD | 3:02,13 | 2:59,39 |
| 25 | Dobry | Petr | | BMW Compact | E1 +2000 2WD | 3:08,53 | 3:03,59 |
| 26 | Sytar | Jakub | | Renault Clio Sport | E1 2000 | 3:05,27 | 3:03,72 |
| 27 | Porazil | Dominik | | Honda Civic | E1 1600 | 3:08,42 | 3:05,32 |
| 28 | Drmota | David | | Ford Fiesta | E1 1400 | 3:18,33 | 3:07,45 |
| 29 | Podpera | Zdenek | | Honda Civic | E1 1400 | 3:12,99 | 3:07,79 |
| 30 | Mirovsky | Zdenek | | Skoda Felicia | E1 2000 | 3:18,08 | 3:08,41 |
| 31 | Strosz | Milan | | Skoda Fabia | E1 1400 | 3:08,02 | 3:09,49 |
| 32 | Osladil | Jan | | MTX 1-06 Mondial | HA2/ZST 1600 | 3:08,62 | 3:12,36 |
| 33 | Oravec | David | | Skoda Fabia | E1 1400 | 3:12,15 | 3:10,93 |
| 34 | Kadlecek | Jiri | | Honda Civic VTI | S1 1600 | 3:18,14 | 3:12,68 |
| 35 | Bartunek | Daniel | | Ford Fiesta | E1 1400 | 3:18,81 | 3:24,89 |