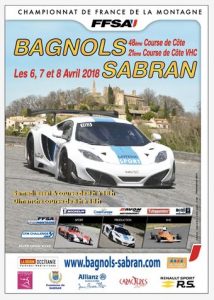 Next week the French Hillclimb Championship starts with the Course de Côte de Bagnols Sabran. 141 drivers have entered so far but the deadline has not yet passed.
Two new important classes were added to the Championship this year. It is now finally possible to drive with FIA eligible E2-SC sportscars. Reigning champion Sébastien Petit has taken up the challenge and will use his Norma M20 FC Mugen. Martine Hubert has converted her Norma M20F BMW to the international regulations and is the second competitor. Cyrille Frantz and Benjamin Vielmi will join the championship at a later date as their Osellas are not yet ready.
The second new class is D/E 8 for the Tatuus Master. Sadly it seems like Marcel Sapin is the only entrant so far. However when the championship moves north later this year, Sapin should get some competition.
With 20 entries the CN2 class is also in 2018 the biggest. Belgian Corentin Starck and Jérémy Debels are the only drivers who use an Osella, all the others are opting for the Norma.
In the touringcars champion Pierre Courroye returns. Last season this was one of only three races he did not manage to win. Christian Schmitter was the winner here last year and he will be of course hoping to repeat that achievement. His brother Philippe has dropped his Lamborghini Gallardo GT3 for an even more unique car. This year he will attempt to win the championship in a Renault RS01. It will be the second silhouette car as Pierre Beal returns in the beautiful Volvo S60 TC10.
A final mention should go out to Francis Dosieres. The multi-champion starts in a brand-new Seat Leon MK3 Cup, still painted in his famous Yacco colors.
07-08/04/2018 – Course de Côte de Bagnols Sabran

| Pos. | Last Name | First Name | | Car | Cl. | Final |
| --- | --- | --- | --- | --- | --- | --- |
| 1 | Petit | Sébastien | | Norma M20 FC | E2-SC | |
| 2 | Hubert | Martine | | Norma M20F | E2-SC | |
| 3 | Schatz | Geoffrey | | Norma M20 FC | CN+ | |
| 4 | Meillon | David | | Norma M20 FC | CN+ | |
| 5 | Sapin | Marcel | | Tatuus Master | D/E 8 | |
| 6 | Ritchen | Billy | | Dallara F312 | D/E 5 | |
| 7 | Thomas | Alban | | Dallara F303 | D/E 5 | |
| 8 | Louvet | Sarah | | Dallara F303 Mercedes | D/E 5 | |
| 9 | Thomas | Raynald | | Dallara F308 Volkswagen | D/E 5 | |
| 10 | Breda | Emeline | | Dallara F305 | D/E 5 | |
| 11 | Guillaumard | David | | Dallara F312 Mercedes | D/E 5 | |
| 12 | Cholley | Patrick | | Dallara F306 | D/E 5 | |
| 13 | Guth | Samy | | Dallara F306 Mercedes | D/E 5 | |
| 14 | Cholley | Ludovic | | Dallara F308 Mercedes | D/E 5 | |
| 15 | Giet | Christopher | | Dallara F308 Mercedes | D/E 5 | |
| 16 | Vidal | Miguel | | Dallara F397 | D/E 5 | |
| 17 | Clausi | Thomas | | Dallara F302 | D/E 5 | |
| 18 | Verdier | Nicolas | | Dallara F302 | D/E 5 | |
| 19 | Vian | Pierre | | Dallara F305 | D/E 5 | |
| 20 | Flandy | Corinne | | Dallara 301 | D/E 1 | |
| 21 | Flandy | Fabrice | | Dallara 305 | D/E 1 | |
| 22 | Petit | Kevin | | Tatuus FR2000 | D/E 7 | |
| 23 | Chaumont | Didier | | Tatuus FR2000 | D/E 7 | |
| 24 | Cammares | Marie | | Tatuus FR2000 | D/E 7 | |
| 25 | Clausi | Melody | | Tatuus FR2000 | D/E 7 | |
| 26 | Pomaret | Sébastien | | Tatuus FR2000 | D/E 7 | |
| 27 | Errard | Fred | | Tatuus FR2000 | D/E 7 | |
| 28 | Gelly | Romain | | Tatuus FR2000 | D/E 7 | |
| 29 | Millier | Bruno | | Tatuus FR2000 | D/E 7 | |
| 30 | Roche | David | | Osella PA20/S | CN3 | |
| 31 | Poulet | Nicolas | | Osella PA20/S | CN3 | |
| 32 | Starck | Corentin | | Osella PA21/S | CN2 | |
| 33 | Augusto | Olivier | | Norma M20 FC | CN2 | |
| 34 | Francais | Julien | | Norma M20 FC | CN2 | |
| 35 | Thomas | Serge | | Norma M20 FC | CN2 | |
| 36 | Pereira | Dimitri | | Norma M20F | CN2 | |
| 37 | Cotleur | Maxime | | Norma M20F | CN2 | |
| 38 | Louvet | Jean-Jacques | | Norma M20F | CN2 | |
| 39 | Basset | Maxime | | Norma M20F | CN2 | |
| 40 | Avellaneda | Jérémy | | Norma M20 FC | CN2 | |
| 41 | Pic | Sébastien | | Norma M20F | CN2 | |
| 42 | Debels | Jérémy | | Osella PA21/S | CN2 | |
| 43 | Mallemanche | Cyril | | Norma M20F | CN2 | |
| 44 | Carifi | Anthony | | Norma M20F | CN2 | |
| 45 | Etienne | Christian | | Norma M20F | CN2 | |
| 46 | Lauret | Jérôme | | Norma M20B | CN2 | |
| 47 | Nogret | Alain | | Norma M20F | CN2 | |
| 48 | Pernot | Etienne | | Norma M20 FC | CN2 | |
| 49 | Vautrin | Eric | | Norma M20B | CN2 | |
| 50 | Poulet | William | | Norma M20 Honda | CN2 | |
| 51 | Tosetto | Frédéric | | Norma M20B | CN2 | |
| 52 | Ferretti | Thierry | | Radical Prosport | CN1 | |
| 53 | Ceschi | Thibault | | Radical SR3 | CN1 | |
| 54 | Delorme | Bernard | | Radical Prosport | CN1 | |
| 55 | Bourgeon | Fabien | | Tracking RC01 | CM | |
| 56 | Taponard | Simon | | Tracking RC01B | CM | |
| 57 | Depierre | Gilles | | Tracking RC01 | CM | |
| 58 | Scussel | Mickael | | Tracking RC01 | CM | |
| 59 | Monziols | Cédric | | BRC CM05 EVO | CM | |
| 60 | Felgerolles | Pascal | | BRC CM05 EVO | CM | |
| 61 | Marcillan | Arnaud | | BRC CM05 EVO | CM | |
| 62 | Peyreplane | Jean-Pierre | | BRC CM05 EVO | CM | |
| 63 | Sobrevia | Christian | | BRC CM05 EVO | CM | |
| 64 | Gontier | Michel | | BRC B-49 | CM | |
| 65 | Recordier | Jean-Marie | | BRC B-49 | CM | |
| 66 | Mejean | Loic | | Jema GFA | CM | |
| 67 | Theophile | Elie | | PRM Funboost | CM | |
| 68 | Courroye | Pierre | | McLaren MP4.12c | GTTS4 | |
| 69 | Schmitter | Christian | | Porsche 997 GT3 | GTTS4 | |
| 70 | Schmitter | Philippe | | Renault RS01 | GTTS4 | |
| 71 | Poinsignon | Yannick | | BMW M3 E92 | GTTS4 | |
| 72 | Werver | Nicolas | | Porsche 997 GT2 | GTTS4 | |
| 73 | Beal | Pierre | | Volvo S60 TC10 | GTTS4 | |
| 74 | Garces | Ronald | | Porsche 997 Cup | GTTS3 | |
| 75 | Lestienne | Jean-Michel | | Mit-Jet | GTTS1 | |
| 76 | Tissot | Jean-Marc | | Mit-Jet Tork | GTTS1 | |
| 77 | Bartaire | Florian | | Mit-Jet | GTTS1 | |
| 78 | Gudet | Cindy | | Mit-Jet | GTTS1 | |
| 79 | Drouillat | Edouard | | Mit-Jet | GTTS1 | |
| 80 | Plantier | Jérôme | | Mit-Jet | GTTS1 | |
| 81 | Reutter | Paul | | Porsche 997 | GT2 | |
| 82 | Marion | Philippe | | Porsche 997 GT2 | GT2 | |
| 83 | Santarelli | Frédéric | | Porsche Cayman S Cup | GT2 | |
| 84 | Di Cioccio | Serge | | Opel Speedster | GT2 | |
| 85 | Cazalens | Joël | | Lotus Exige Cup 260 | GT2 | |
| 86 | Dosieres | Francis | | Seat Leon MK3 | A5 | |
| 87 | Janny | Jérôme | | Seat Leon Supercopa | A5 | |
| 88 | Uny | Antoine | | Seat Leon Supercopa | A5 | |
| 89 | Derre | Pascal | | Seat Leon MK2 | A5 | |
| 90 | Plan | Guillaume | | Mitsubishi Lancer EVO IX | A5 | |
| 91 | Leo | Laurent | | Seat Ibiza Trophy | A4 | |
| 92 | Machka | Yann | | Renault Clio Cup IV | A4 | |
| 93 | Durand | Arnaud | | Citroën Saxo | A2 | |
| 94 | Cat | Pascal | | Renault Megane RS | N4 | |
| 95 | Granjon | Louis | | BMW M3 E36 | N4 | |
| 96 | Ganevat | Jean-François | | BMW M3 E36 | N4 | |
| 97 | Gervais | Franc | | Renault Megane RS | N4 | |
| 98 | Dumas | René | | BMW M3 E36 | N4 | |
| 99 | Savary | Vincent | | BMW M3 E36 | N4 | |
| 100 | Gaudin | Jacques | | BMW M3 E36 | N4 | |
| 101 | Godard | Jimmy | | Renault Clio RS | N3 | |
| 102 | Grand | Damien | | Volkswagen Golf GTI | N3 | |
| 103 | Villain | Stéphane | | Renault Clio RS | N3 | |
| 104 | Ravel | Vincent | | Peugeot 106 S16 | N2 | |
| 105 | Ermann | Jimmy | | Peugeot 106 | N2 | |
| 106 | Pierrat | Brice | | Renault Clio RS | F2000 / 3 | |
| 107 | Baylet | Gilles | | Renault Clio | F2000 / 3 | |
| 108 | Bonhomme | Didier | | BMW Serie 1 | F2000 / 3 | |
| 109 | Samani | Richard | | Renault 5 GT Turbo | F2000 / 3 | |
| 110 | Peloux | Guillaume | | Peugeot 206 Maxi | F2000 / 3 | |
| 111 | Durassier | Samuel | | Honda Civic Type-R | F2000 / 3 | |
| 112 | Cesco-Resia | Kevin | | Honda Civic | F2000 / 2 | |
| 113 | Poinsignon | Christophe | | Simca CG Turbo | FC4 | |
| 114 | Filippi | Toussaint | | Jide J40 | FC4 | |
| 115 | Ribot | Joel | | Simca Rallye III | FC2 | |
| 116 | Ferrando | Jean-Louis | | Simca JLF | FC2 | |
07-08/04/2018 – Course de Côte de Bagnols Sabran (VHC)

| Pos. | Last Name | First Name | | Car | Cl. | Final |
| --- | --- | --- | --- | --- | --- | --- |
| 1 | Debeaune | Jean-Marc | | Van Diemen RF82 | 8-9 | |
| 2 | Toupence | Roger Serge | | Martini MK32 | 8-9 | |
| 3 | Schyrr | Marc André | | Crossle 12F | 8-9 | |
| 4 | Bonnot | Jacky | | Axone 1600 FL | 8-9 | |
| 5 | Ritzenthaler | Michel | | Martini MK15 | 8-9 | |
| 6 | Massu | Jean-Charles | | Tiga SC81 | 6-7 | |
| 7 | Ferretti | Pascal | | Marcadier JF01 | 6-7 | |
| 8 | Cayrier | Bernard | | Le Gallen LLG8 | 6-7 | |
| 9 | Almeras | Jean-Marie | | Porsche 935 | 5 | |
| 10 | Lejeune | Gabriel | | Jide Original | 5 | |
| 11 | Robalo | Joaquim | | Porsche 914/6 | 4 | |
| 12 | Torcat | Michel | | Porsche 911 RS | 4 | |
| 13 | Duret | Bernard | | Alpine A110 | 4 | |
| 14 | Agostini | Christian | | Porsche 911S | 3 | |
| 15 | Rieu | Norbert | | Porsche 911 SC | 3 | |
| 16 | Bonnardel | Viviane | | Volkswagen Scirocco | 2 | |
| 17 | Hoffmann | Jean-Pierre | | NSU TT | 2 | |
| 18 | Riehl | Christian | | BMW 323i | 2 | |
| 19 | Riehl | Nicolas | | BMW 2002 | 2 | |
| 20 | Toral | Gérard | | Renault 8 Gordini | 2 | |
| 21 | Louis | Daniel | | Opel Commodore GSE | 2 | |
| 22 | Fargier | Mathieu | | Talbot Samba Rallye | B | |
| 23 | Gaillard | Jean-Claude | | Renault 5 GT Turbo | N | |
| 24 | Pinchinat | Philippe | | BMW 323i | CL | |
| 25 | Plaisant | Michel | | Porsche 911 | CL | |