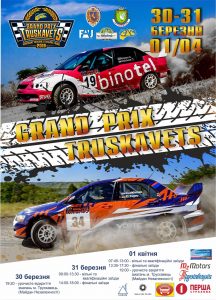 This Saturday the Ukrainian Hillclimb Championship started with the Truskavets Grand Prix. The track was changed somewhat this year. Instead of the drifting pylon there was now a large chicane. The weather was dry but still quite cold.
After the long winter break the drivers needed some time to warm up again. Last year's champion Volodymyr Petrenko was the quickest in free practise. Everyones times improved a lot from then on. In timed practise Anton Korzun went almost 12 seconds faster than Petrenkos free practise time. However it was Boris Ganja who was the quickest in Race 1. His lead did not last long as Korzun took back control in the second race. With another great time in the third race he extended his lead. It was enough to claim the first victory of the season.
Denis Lohman made his debut in the Mitsubishi Lancer at Truskavets. He finished just behind Ganja in third. Petrenko was very fast in Truskavets but he made too many small mistakes. It certainly cost him a podium spot. Volodymyr Apostolyuk again drove a great race. After two races he was third overall! However his day came to an early end after Apostolyuk clipped a curb and ripped a wheel of his Lada Samara. Still he was classified fifth overall and best 2-wheel-drive car.
David Holland became the first foreign participant in the Ukrainian Hillclimb Championship and the Brit was also the first participant in the new A5 class for cars up to 4500cc. He was not that quick but gave the spectators quite a show. Holland steered his Ford Escort G3 to 14th overall.
31/03/2018 – Truskavets Grand Prix

| Pos. | Last Name | First Name | | Car | Cl. | Final |
| --- | --- | --- | --- | --- | --- | --- |
| 1 | Korzun | Anton | | Mitsubishi Lancer EVO IX | A4 | 4:19,63 |
| 2 | Ganja | Boris | | Mitsubishi Lancer EVO IX | A4 | 4:26,05 |
| 3 | Lohman | Denis | | Mitsubishi Lancer EVO IX | A4 | 4:34,46 |
| 4 | Petrenko | Volodymyr | | Mitsubishi Lancer EVO IX | A4 | 4:35,60 |
| 5 | Apostolyuk | Volodymyr | | VAZ 2113 | A3 | 4:35,83 |
| 6 | Babak | Sergiy | | VAZ 21083 | A2 | 4:41,63 |
| 7 | Zinoviev | Dmitry | | Mitsubishi Lancer EVO IX | A4 | 4:41,69 |
| 8 | Serov | Ruslan | | VAZ 11193 | A3 | 4:46,04 |
| 9 | Zakharov | Dmitry | | VAZ 11193 | A2 | 4:46,89 |
| 10 | Kutsyna | Ivan | | Ford Escort | A3 | 4:47,53 |
| 11 | Zhovtonoh | Valery | | Ford Fiesta | A2 | 4:50,48 |
| 12 | Romanchuk | Roman | | VAZ 21083 | A2 | 4:53,05 |
| 13 | Zamula | Ilya | | VAZ 11194 | A2 | 4:53,62 |
| 14 | Holland | David | | Ford Escort G3 | A5 | 4:54,94 |
| 15 | Slezinskiy | Oleg | | Opel Kadett GSi | A3 | 4:55,00 |
| 16 | Verlanov | Sergey | | VAZ 2105 | A9K | 4:59,88 |
| 17 | Kril | Lyubomir | | Mitsubishi Lancer EVO IX | A4 | 5:10,10 |