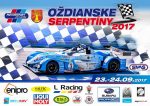 The Slovakia Hillclimb Championship ended three weeks ago with the Oždianske Serpentíny. The race was added very late to the calendar which is why it completely slipped under my radar. But you can now view the results below.
On Saturday the race was complicated by an afternoon rainshower. But in the end the results on both days were largely the same. Jozef Beres was once again unbeatable. With two victories the Tatuus PY012 pilot extended his lead in the overall championship. Beres also wins the Category 2 title. Runner-up on both days was Igor Drotar. The multiple Slovak champion added another Category 1 title to his palmares. At the Oždianske Serpentíny he was closely challenged by his rivals "Dubai" from Poland and Veroslav Cvrcek. However both drivers retired early on Sunday, "Dubai" after a spin and Cvrcek after gearbox issues.
Tomas Ondrej was not present in Ožďany. This meant that 16 year old Denis Pavlik still had a chance for the Group A title. The young driver was very quick in the rain on Saturday but made a costly mistake in the second timed race. This saw his Peugeot 208 R2 stranded on the side of the road and retirement followed. After his second place on Sunday he did finish with more total points than Ondrej, but Pavlik also had to drop 18 points versus zero for Ondrej. To make matters worse Pavlik also lost the Junior title to Denis Suja.
Miroslav Ciliak is the new historic champion. Peter Jurena is the new champion in Group N. Jan Milon is the new champion in Group GT. Igor Drotar is also the Group E1 champion and Jozef Beres also wins the Group D/E championship.
23-24/09/2017 – Oždianske Serpentíny

| Pos. | Last Name | First Name | | Car | Cl. | Fase A | Fase B |
| --- | --- | --- | --- | --- | --- | --- | --- |
| 1 | Beres | Jozef | | Tatuus PY012 | D/E 2000 | 3:04,309 | 2:50,293 |
| 2 | Drotar | Igor | | Skoda Fabia R5 | E1 +2000 | 3:05,595 | 2:51,982 |
| 3 | "Dubai" | | | Mitsubishi Lancer | E2-SH +2000 | 3:07,026 | |
| 4 | Cvrcek | Veroslav | | Skoda Fabia S2000 | E1 +2000 | 3:07,381 | |
| 5 | Juhas | Martin | | BMW M3 | E1 +2000 | 3:27,431 | 3:11,715 |
| 6 | Ambruz | Peter | | Vauxhall Vectra ST | E1 2000 | 3:34,289 | 3:13,013 |
| 7 | Baran | Roman | | Mitsubishi Lancer | E1 +2000 | 3:13,171 | |
| 8 | Duboczi | Jaroslav | | Seat Leon Supercopa | E1 +2000 | 3:31,500 | 3:17,884 |
| 9 | Purs | Patrik | | Honda Civic | E1 1600 | 3:42,002 | 3:20,303 |
| 10 | Liptak | Jan | | Mini Cooper JCW WRC | A +2000 | 3:34,282 | 3:20,488 |
| 11 | Deme | Jozef | | Mitsubishi Lancer EVO IX | N +2000 | 3:30,317 | 3:21,327 |
| 12 | Suja | Denis | | Tatuus FR2000 | D/E 2000 | 3:47,683 | 3:21,484 |
| 13 | Cambal | Mojmir | | Citroën Saxo VTS | E1 1600 | 3:46,831 | 3:22,010 |
| 14 | Krivak | Stanislav | | Peugeot 306 | E1 2000 | | 3:24,505 |
| 15 | Foldi | Marek | | Seat Leon | E1 +2000 | 3:33,849 | 3:27,454 |
| 16 | Machacek | Kamil | | Opel Calibra | E1 +2000 | 3:38,080 | 3:27,744 |
| 17 | Pavlik | Denis | | Peugeot 208 R2 VTi | A 1600 | | 3:28,314 |
| 18 | Kekenak | Marian | | Mitsubishi Lancer EVO IX | N +2000 | 3:40,415 | 3:28,364 |
| 19 | Podmajersky | Vladimir | | Peugeot 206 RC | A 2000 | 3:46,426 | 3:30,113 |
| 20 | Cambalik | Bohumir | | Honda Civic Type-R | A 2000 | 3:46,941 | 3:30,716 |
| 21 | Hudy | Vladimir | | Honda Civic Type-R | E1 2000 | 3:44,822 | 3:30,869 |
| 22 | Zmeskal | Milos | | Ralt RT32 | HK3 | 4:06,778 | 3:31,125 |
| 23 | Ciliak | Miroslav | | MTX 1-06 | HK3 | 4:11,816 | 3:34,154 |
| 24 | Roziak | Julius | | Skoda Felicia | E1 1600 | 4:07,460 | 3:41,070 |
| 25 | Pecuch | Roland | | VAZ 2107 | NP2 | 3:56,708 | 3:41,375 |
| 26 | Konecny | Tomas | | Subaru Impreza WRX | N +2000 | 3:44,269 | |
| 27 | Kacvinsky | Peter | | Renault Clio | N 2000 | 4:01,615 | 3:46,876 |
| 28 | Gabriel | Tamasz | | Skoda Fabia | NP1 | | 3:46,995 |
| 29 | Kmet | Frantisek | | Honda Civic | N 2000 | 4:16,419 | 3:49,400 |
| 30 | Haluska | Lubomir | | Volkswagen Golf | NP3 | 4:11,683 | 3:53,880 |
| 31 | Macinec | Tomas | | Lada 2107 | NP2 | 4:34,435 | 3:58,091 |
| 32 | Benik | Tomas | | Lancia Beta Coupé | HK1 | 4:35,098 | 4:00,987 |
| 33 | Suchac jr. | Maros | | Skoda Fabia | A 1400 | 4:09,415 | 4:02,697 |
| 34 | Andrisekova | Gabriela | | Skoda 130 RS | HK1 | 4:04,351 | |
| 35 | Salon | Peter | | Renault Clio RS | N 2000 | 4:41,150 | 4:11,362 |