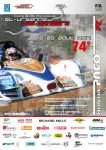 For its 10th round in 2017 the European Hillclimb Championship moved to Switzerland. Like the past 40+ years the Course de Côte de Saint Ursanne – Les Rangiers was the destination. The entrylist was once again massive with over 200 drivers. All classes in the European Championship had at least 3 drivers which meant that everyone received full points.
After a lot of stoppages the race was finally decided Sunday evening just before nightfall. Christian Merli was the final driver to take the start and he set a new trackrecord. His final time was 1:43,58 which gives an average speed of 183,28 km/h! Merli was the quickest driver this weekend, but not the winner. For the sixth time in a row Simone Faggioli was the best in Saint Ursanne. Because of the half points in France, Faggioli leads the championship with 12,5 points.
Best Swiss driver was Marcel Steiner in third. The LobArt LA01 Mugen pilot was however almost 15 seconds slower then the two Italian leaders. Fausto Bormolini and Simon Hugentobler were quite closely matched and finished fourth and fifth overall. The single seaters -2000cc were the most competitive class at Les Rangiers with 20+ entries. Billy Ritchen was the best driver here and sixth overall. Noticable is also the great 9th place overall for Corentin Starck, who did not compete in the European event.
Vladimir Vitver had a small mishap in the first race which cost him 20 seconds. Even without that problem he probably would not have defeated Dan Michl. The Lotus Elise pilot was extremly quick all weekend and won the E2-SH class. The Czech was however no match for Reto Meisel who finally had a trouble free weekend in his Mercedes Benz 340 SLK. Meisel set a new touringcar record and even managed to finish 10th overall!
In Group GT there were only three drivers but they were equally matched. At the end of the day "Tessitore", Jan Milon and Martin Jerman were seperated by just 1 second. One driver had to win and that was "Tessitore". The Austrian did a great job in the championship race as Lukas Vojacek retired from the Group A lead. In Group N Tomas Vavrinec was defeated by Liridon Kalenderi and finished only second.
19-20/08/2017 – Course de Côte de Saint Ursanne – Les Rangiers

| Pos. | Last Name | First Name | | Car | Cl. | Final |
| --- | --- | --- | --- | --- | --- | --- |
| 1 | Faggioli | Simone | | Norma M20 FC | E2-SC 3000 | 3:23,319 |
| 2 | Merli | Christian | | Osella FA30 | E2-SS 3000 | 3:23,922 |
| 3 | Steiner | Marcel | | LobArt LA01 Mugen | E2-SC 3000 | 3:37,744 |
| 4 | Bormolini | Fausto | | Reynard K02 | E2-SS 3000 | 3:45,612 |
| 5 | Hugentobler | Simon | | Reynard 97D | E2-SS 3000 | 3:47,032 |
| 6 | Ritchen | Billy | | Dallara F311 Mercedes | E2-SS 2000 | 3:47,871 |
| 7 | Cholley | Ludovic | | Dallara F306 Mercedes | E2C-SS 2000 | 3:54,029 |
| 8 | Guth | Samy | | Dallara F306/07 Mercedes | E2C-SS 2000 | 3:56,564 |
| 9 | Starck | Corentin | | Norma M20 FC | CN-CH 2000 | 3:56,914 |
| 10 | Meisel | Reto | | Mercedes Benz SLK 340 | E1 3500 | 3:57,273 |
| 11 | Napione | Renzo | | Reynard K02 | E2-SS 3000 | 3:57,731 |
| 12 | Grand | Joël | | Tatuus Master | E2-SS 2000 | 3:58,655 |
| 13 | Debarre | Etienne | | Dallara F308 Mercedes | E2-SS 2000 | 3:59,344 |
| 14 | Maitre | Jean-Jacques | | Tatuus PY012 | CN-CH 2000 | 4:00,251 |
| 15 | Salomon | Jean-Marc | | Tatuus Master | E2-SS 2000 | 4:00,334 |
| 16 | Trnka | Petr | | Ligier JS53 E2 | E2-SC 2000 | 4:00,655 |
| 17 | Bouduban | Fabien | | Norma M20 FC | E2-SC 2000 | 4:00,841 |
| 18 | Weber | Christophe | | Dallara F302/04 | E2-SS 2000 | 4:02,600 |
| 19 | Michl | Dan | | Lotus Elise | E2-SH 3000 | 4:02,949 |
| 20 | Bormolini | Andrea | | Osella PA20/S | CN 3000 | 4:05,263 |
| 21 | Crespi | Stefano | | Osella PA21/S EVO | CN 2000 | 4:06,643 |
| 22 | Cholley | Patrick | | Dallara F305 Opel | E2C-SS 2000 | 4:07,546 |
| 23 | Maurer | Marcel | | Formula Renault | E2-SS 2000 | 4:09,731 |
| 24 | Schnellmann | Roger | | Mitsubishi Lancer EVO VIII | E1 +3500 | 4:10,097 |
| 25 | Chariatte | Alain | | Tatuus Master | E2-SS 2000 | 4:11,339 |
| 26 | Graziosi | Giancarlo | | Tatuus Master | E2-SS 2000 | 4:11,499 |
| 27 | Werver | Nicolas | | Porsche 997 GT2 | E1 +3500 | 4:12,171 |
| 28 | Martin | Charles | | Ligier JS53 | CN-CH 2000 | 4:12,246 |
| 29 | Jolidon | Fabrice | | Osella PA20/S | E2-SC 3000 | 4:13,854 |
| 30 | Los | Jiri | | Mitsubishi Lancer EVO IX | E2-SH +3000 | 4:13,959 |
| 31 | Berton | Bruno | | Ligier JS49 | CN-CH 2000 | 4:14,500 |
| 32 | Nüssli | Sandro | | Tatuus Renault | E2-SS 2000 | 4:15,984 |
| 33 | Burgermeister | Joel | | Tracking RC01 | E2-SH TK | 4:16,026 |
| 34 | Fleury | Frédéric | | Tatuus FR2000 | E2-SS 2000 | 4:16,450 |
| 35 | Braquet | Roland | | Dallara F308/11 | E2-SS 2000 | 4:17,093 |
| 36 | Krahenbuhl | Virginie | | Ligier JS49 | E2C-SC 2000 | 4:18,372 |
| 37 | Faustini | Robin | | Tatuus Renault | E2-SS 2000 | 4:18,848 |
| 38 | Noirat | Jeremy | | Tracking RC01 | E2-SH TK | 4:20,465 |
| 39 | Bovier | Jean-Pierre | | Osella PA20/S BMW | E2-SC 3000 | 4:22,229 |
| 40 | Papagna | David | | Gloria C8P EVO | E2-SS 1600 | 4:23,104 |
| 41 | Nüssli | Romeo | | Ford Escort Cosworth | E1 +3500 | 4:23,782 |
| 42 | Huwiler | Thomas | | Tatuus FR2000 | E2-SS 2000 | 4:25,049 |
| 43 | Neff | Frédéric | | Porsche 996 Cup | IS +3500 | 4:26,073 |
| 44 | Zemp | Michel | | Seat Leon TCR | E1 3500 | 4:26,150 |
| 45 | Ceresa | Fabrizio | | Porsche 911 GT3 Cup | E1 +3500 | 4:27,346 |
| 46 | Koch | Josef | | Opel Kadett C | IS 3000 | 4:27,423 |
| 47 | Wüthrich | Simon | | Volkswagen Golf II Turbo | E1 3500 | 4:27,711 |
| 48 | Schmidt | Henri | | Formula Renault | E2-SS 2000 | 4:27,996 |
| 49 | Fauler | Dani | | Tracking RC01 | E2-SH TK | 4:28,097 |
| 50 | Saintmard | Gilles | | Dallara F3 Opel | E2-SS 2000 | 4:28,270 |
| 51 | Marchione | Canio | | Volkswagen Scirocco | E1 2000 | 4:29,214 |
| 52 | Tourillon | Robert | | Norma M20 FC | CN-CH 2000 | 4:29,376 |
| 53 | Bürki | Martin | | BMW M3 E33 | E1 3000 | 4:29,535 |
| 54 | Aznar | José Antonio | | Ginetta G55 GT3 | E2-SH +3000 | 4:29,715 |
| 55 | "Tessitore" | | | Audi R8 LMS GT3 | GT +3000 | 4:29,980 |
| 56 | Marty | Roman | | Opel Kadett C | IS 3000 | 4:30,116 |
| 57 | Pfefferlé | Alain | | Porsche 935 Turbo | H +3500 | 4:30,170 |
| 58 | Milon | Jan | | BMW Z4 GT3 | GT +3000 | 4:30,581 |
| 59 | Jerman | Martin | | Lamborghini Gallardo GT3 | GT +3000 | 4:31,002 |
| 60 | Fuhrer | Ruedi | | Honda CRX | E1 2000 | 4:31,245 |
| 61 | Wittwer | Daniel | | Volkswagen Golf I | E1 2000 | 4:32,103 |
| 62 | Houlmann | Fabien | | Peugeot 205 | E1 2000 | 4:32,141 |
| 63 | Bertocchi | Mario | | BMW E36 | E1 3500 | 4:32,834 |
| 64 | Bürki | Martin | | BMW 318 | E1 2000 | 4:32,882 |
| 65 | Santonastaso | Manuel | | BMW 320 E21 | IS 2000 | 4:33,432 |
| 66 | Mattmüller | Christoph | | Volkswagen Scirocco | IS 1600 | 4:34,127 |
| 67 | Bonomini | Daniele | | Lancia Delta Integrale | E1 3500 | 4:35,406 |
| 68 | Errard | Frederic | | Tatuus Renault | E2-SS 2000 | 4:36,035 |
| 69 | Vallat | Patrick | | Volkswagen Golf | IS 2000 | 4:37,486 |
| 70 | Genoud | Alexandre | | BMW 320 WTCC | E1 3500 | 4:37,554 |
| 71 | Kalenderi | Liridon | | Mitsubishi Lancer EVO IX | N +3000 | 4:38,704 |
| 72 | Favre | Bertrand | | BMW E30 | E1 3000 | 4:38,880 |
| 73 | Züblin | Remo | | Subaru Impreza | E1 +3500 | 4:39,024 |
| 74 | Bührer | Nicolas | | BMW M1 Coupé | H 3500 | 4:39,161 |
| 75 | Burri | Stephan | | Volkswagen Polo | IS 1600 | 4:39,770 |
| 76 | Valentiny | Charles | | Subaru Impreza WRX | E1 3500 | 4:41,490 |
| 77 | Comby | Alexandre | | Porsche 934/5 | IS +3500 | 4:41,580 |
| 78 | Cattin | Nicolas | | BMW E30 325i | E1 3000 | 4:41,802 |
| 79 | Coquoz | Sebastien | | Opel Kadett C GT/E | E1 2000 | 4:42,701 |
| 80 | Chariatte | Sylvain | | Volkswagen Golf I | E1 1600 | 4:42,805 |
| 81 | Linden | Leon | | Dallara F304 | E2-SS 2000 | 4:42,993 |
| 82 | Leuenberger | Frédéric | | Renault Clio RS | E1 2000 | 4:43,096 |
| 83 | Niederberger | Philip | | Opel Kadett C | IS 2000 | 4:43,149 |
| 84 | Joray | Sébastien | | BMW M3 E36 | E1 3000 | 4:43,701 |
| 85 | Vitver | Vladimir | | Audi TT-R DTM | E2-SH +3000 | 4:44,291 |
| 86 | Bernhard | Diego | | Opel Kadett Coupé | E1 3000 | 4:45,264 |
| 87 | Ochsner | Jürg | | Opel Kadett C | IS 2000 | 4:45,500 |
| 88 | Villoz | Hervé | | Renault Clio RS | IS 2000 | 4:45,801 |
| 89 | Halter | Joe | | Mitsubishi Lancer EVO VII | ISN +3000 | 4:45,965 |
| 90 | Rebord | Aristide | | BMW M3 GT4 | E1 +3500 | 4:46,634 |
| 91 | Tapparel | Eddy | | Opel Kadett C | E1 2000 | 4:46,711 |
| 92 | Banz | Armin | | Opel Kadett C | IS 3000 | 4:46,740 |
| 93 | Lanz | Andreas | | Toyota Corolla AE86 | IS 1600 | 4:47,106 |
| 94 | Mariaux | Florent | | BMW E30 | E1 3000 | 4:47,335 |
| 95 | Jeanneret | Olivier | | Volkswagen Golf | E1 1600 | 4:47,430 |
| 96 | Farine | Benoit | | Honda CRX | E1 3000 | 4:47,548 |
| 97 | Raemy | Philippe | | Peugeot 306 | IS 2000 | 4:47,947 |
| 98 | Cereghetti | Aramis | | BMW M5 E34 | E1 +3500 | 4:48,071 |
| 99 | Fehr | Roger | | PRC S4 | E2-SC 2000 | 4:48,203 |
| 100 | Beyeler | Etienne | | Opel Ascona B | E1 3000 | 4:48,550 |
| 101 | Toillon | Dimitri | | Porsche 997 Cup S | GT-CH +3000 | 4:48,742 |
| 102 | Boillot | Frédéric | | Tatuus Renault | E2C-SS 2000 | 4:49,171 |
| 103 | Hedinger | Patrick | | Peugeot 205 GTI | IS 2000 | 4:49,484 |
| 104 | Burri | Rolf | | Opel Kadett C | IS 3000 | 4:49,734 |
| 105 | Tenti | Thierry | | Volkswagen Golf I | IS 2000 | 4:49,787 |
| 106 | Prével | Julien | | Opel Astra Turbo | E1 3500 | 4:50,162 |
| 107 | Ruch | René | | Ferrari F458 GT | E1 +3500 | 4:50,565 |
| 108 | Henggeler | Ralf | | Renault Clio Cup | RCC | 4:50,849 |
| 109 | Wolf | Denis | | Renault Clio Cup | RCC | 4:51,422 |
| 110 | Schilling | Nico | | Subaru Impreza WRX | E1 3500 | 4:51,599 |
| 111 | Vanherpe | Ivan | | Reynard 903 | E2C-SS 2000 | 4:51,751 |
| 112 | Schöpfer | Stefan | | Audi 50 | IS 1400 | 4:52,338 |
| 113 | Oertig | Beat | | Peugeot 106 Maxi | E1 1600 | 4:52,441 |
| 114 | Krebs | Philipp | | Renault Clio Cup | RCC | 4:52,737 |
| 115 | Pinto | Sergio | | Honda Civic | A 2000 | 4:53,252 |
| 116 | Meier | Gilbert | | Honda Integra | IS 2000 | 4:53,310 |
| 117 | Piccina | Julien | | Volkswagen Scirocco | IS 2000 | 4:53,833 |
| 118 | Eberle | Harry | | Opel Kadett C | IS 3000 | 4:54,276 |
| 119 | Servalli | Roberto | | BMW M3 E46 GTR | E1 3500 | 4:54,337 |
| 120 | Bouvier | Christian | | Wolf GB08 | CN 2000 | 4:54,734 |
| 121 | Kistler | Dany | | Audi RS2 Quattro | E1 +3500 | 4:56,173 |
| 122 | Rohr | Christoph | | Audi 50 | E1 1400 | 4:56,401 |
| 123 | Kuhn | Sergio | | Peugeot 206 | IS 2000 | 4:57,038 |
| 124 | Ziegler | Robert | | Porsche 911 GT3 | SSC +3000 | 4:57,334 |
| 125 | Werthmüller | Joel | | Peugeot 106 | E1 1600 | 4:57,420 |
| 126 | Kuster | Mitch | | Alfa Romeo Sprint | E1 1600 | 4:57,994 |
| 127 | Chèvre | Patrick | | Subaru Impreza GT | ISA +3000 | 4:58,226 |
| 128 | Nicolet | Jérôme | | Renault Clio Cup | E1 2000 | 4:58,698 |
| 129 | Moser | Stephan | | Toyota Yaris | IS 1400 | 4:58,951 |
| 130 | Zenklusen | Vanessa | | Subaru Impreza | IS 3500 | 4:58,999 |
| 131 | Bérard | Laurent | | Honda Civic Type-R | ISA 2000 | 4:59,544 |
| 132 | Knaus | Christian | | Opel Kadett C | IS 3000 | 5:00,265 |
| 133 | Di Marzo | Alessandro | | Subaru Impreza | E1 +3500 | 5:00,507 |
| 134 | Millasson | Bertrand | | Porsche 911 GT3 Cup | E1 +3500 | 5:01,476 |
| 135 | Santos | Ted | | Seat Ibiza | IS 3000 | 5:02,324 |
| 136 | Piccianto | Giuliano | | Honda Integra Type-R | SS 2000 | 5:02,526 |
| 137 | Biaggi | Gaetan | | Volkswagen Golf I | E1 2000 | 5:02,642 |
| 138 | Cristoni | Fabio | | Lancia Delta Integrale | E1 3500 | 5:03,531 |
| 139 | Marmorat | Alain | | Seat Leon Supercopa MK1 | E1 3500 | 5:04,420 |
| 140 | Weyeneth | Daniel | | Renault 5 Turbo | E1 3000 | 5:04,550 |
| 141 | Metroz | Alex | | Ford Sierra Cosworth | IS 3500 | 5:05,130 |
| 142 | Nicole | Benjamin | | BMW 2002 Ti | E1 3000 | 5:06,249 |
| 143 | Grossenbacher | Cyril | | Volkswagen Golf I | IS 2000 | 5:06,972 |
| 144 | Thievent | Denis | | Citroën Saxo VTS | ISA 1600 | 5:07,545 |
| 145 | Meier | Rolf | | Renault Clio Cup IV | E1 3000 | 5:08,056 |
| 146 | Vavrinec | Tomas | | Mitsubishi Lancer EVO IX | N +3000 | 5:08,438 |
| 147 | Wüthrich | Daniel | | Volkswagen Golf | IS 2000 | 5:09,076 |
| 148 | Sonnenschein | Christian | | Lancia Delta Integrale | E1 3500 | 5:09,521 |
| 149 | Schmid | Ruedi | | Volkswagen Golf I | IS 1600 | 5:11,388 |
| 150 | Kasper | Dario | | Renault Clio Cup | RCC | 5:12,311 |
| 151 | Zihlmann | Roland | | Volkswagen Golf I | IS 1600 | 5:13,010 |
| 152 | Sippel | Fabien | | Honda Integra Type-R | ISA 2000 | 5:13,434 |
| 153 | Fernandes | Ricardo | | BMW M3 | E1 3500 | 5:13,657 |
| 154 | Frossard | Anael | | Renault Clio | ISN 2000 | 5:13,671 |
| 155 | Biaggi | Arnaud | | Opel Kadett C | IS 2000 | 5:14,087 |
| 156 | Dayer | Jean-Yves | | Subaru Impreza WRX | SSC +3000 | 5:14,691 |
| 157 | Petignat | Lionel | | Peugeot 309 | E1 2000 | 5:15,328 |
| 158 | Krähenbühl | André | | Honda Integra Type-R | SS 2000 | 5:15,494 |
| 159 | Kretz | Michal | | Ford Focus ST | E2-SH 2000 | 5:16,349 |
| 160 | Luig | Michael | | Renault Clio | ISA 2000 | 5:16,657 |
| 161 | Pflug | Corinne | | Toyota Corolla AE92 | IS 1600 | 5:18,019 |
| 162 | Marchand | Quentin | | Ford Fiesta | A 1600 | 5:18,278 |
| 163 | Claudepierre | Jean-Noël | | Honda Civic Type-R | N-CH 2000 | 5:19,484 |
| 164 | Piquerez | Clement | | Peugeot 106 S16 | ISA 1600 | 5:20,747 |
| 165 | Marchand | Nicolas | | Opel Astra GSi | IS 3000 | 5:20,793 |
| 166 | Zürcher | Roberto | | Honda Integra Type-R | SS 2000 | 5:21,434 |
| 167 | Parriaux | Christophe | | Volkswagen Golf III | ISN 2000 | 5:22,965 |
| 168 | Baeriswyl | Heribert | | Alpine A310 | H 2000 | 5:23,232 |
| 169 | Nipperts | Marcel | | Fiat 500 | A-CH 3000 | 5:25,158 |
| 170 | Geck | Roger | | BMW E30 | E1 3000 | 5:25,643 |
| 171 | Offreda | Stéphane | | Peugeot 106 | ISN 1600 | 5:26,995 |
| 172 | Noser | Roger | | Volkswagen Polo | E1 1400 | 5:28,000 |
| 173 | Schmidlin | Jörg-André | | BMW E36 320i | E1 2000 | 5:28,988 |
| 174 | Scheidegger | Pirmin | | Renault Clio Cup | RCC | 5:29,265 |
| 175 | Gerber | Patrick | | Honda Integra Type-R | SS 2000 | 5:31,005 |
| 176 | Schenk | Simon | | Audi S3 Turbo | E1 3500 | 5:33,826 |
| 177 | Becker | Sandra | | Renault Clio Cup II | E1 2000 | 5:34,132 |
| 178 | Fuchs | Matthias | | Volkswagen Golf II GTI | E1 2000 | 5:34,151 |
| 179 | Crevoiserat | Cyrille | | Abarth 695 Assetto Corsa | A 3000 | 5:35,264 |
| 180 | Heritier | Yann | | Renault Clio | ISN 2000 | 5:35,859 |
| 181 | Salomon | Quentin | | Peugeot 106 | ISN 1600 | 5:36,137 |
| 182 | Cuenin | Geoffrey | | Peugeot 106 GTI | ISN 1600 | 5:36,734 |
| 183 | Muhr | Bernhard | | Toyota Celica | E1 3500 | 5:39,323 |
| 184 | Hungerbühler | Thomas | | Opel Astra Coupé Turbo | SS +3000 | 5:43,106 |
| 185 | Kilchenmann | Alphonse | | Suzuki Swift Sport | N 1600 | 5:45,509 |
| 186 | Gfeller | Heinz | | Ford Fiesta ST | E1 1600 | 5:45,871 |
| 187 | Holenstein | Daniel | | Opel Kadett C | IS 2000 | 5:47,708 |
| 188 | Gerber | Urs | | Suzuki Swift Sport | SS 1600 | 5:51,589 |
| 189 | Piquerez | Romain | | Citroën Saxo VTS | ISN 1600 | 5:56,845 |
| 190 | Becker-Huber | Ivana | | Citroën DS3 R1 | N-CH 1600 | 6:09,015 |
| 191 | Burkart | Andreas | | Talbot Darracq T150C | H +3500 | 7:51,711 |