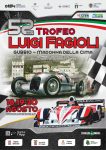 The Trofeo Luigi Fagioli is the shortest hillclimb in the Italian Hillclimb Championship. Its 4150 metres are very quick but concluded with the very tight hairpins at the end.
Championship leader Domenico Scola did a lot of testing on his Osella FA30 Zytek this past month. It paid off as Scola won the event with fastest times in practise and both race sessions. Domenico Cubeda has not competed that many races in his similar Osella FA30 Zytek yet. However he is already very quick and finished second overall in Gubbio. Omar Magliona had some trouble finding the correct set-up this weekend. With a great second race he put himself in third overall and he was also the sportscar winner. Denny Zardo could not repeat his second place of 2016 but finished fourth overall. Pietro Nappi steered the Faggioli-Osella FA 30 to fifth overall.
In Group CN Lombardi and Ligato split the points after each scored a fastest time. Ligato was the fastest over two races and finished ahead of his rival in the final results.
Manuel Dondi was again superior in the touringcars. With his nimble Fiat X1/9 Dallara Dondi remained ahead of the more powerful BMW Z4 GT of Marco Iacoangeli and Marco Sbrollini in the Lancia Delta. Luigi Sambuco drove a brilliant race in his Renault Clio. He was fourth best touringcar and third in the silhouettes. He remained just ahead of GT winner and Ferrari driver Roberto Ragazzi.
19-20/08/2017 – Trofeo Luigi Fagioli

| Pos. | Last Name | First Name | | Car | Cl. | Final |
| --- | --- | --- | --- | --- | --- | --- |
| 1 | Scola | Domenico | | Osella FA30 Zytek | E2-SS 3000 | 3:12,08 |
| 2 | Cubeda | Domenico | | Osella FA30 Zytek | E2-SS 3000 | 3:14,07 |
| 3 | Magliona | Omar | | Norma M20 FC Zytek | E2-SC 3000 | 3:16,26 |
| 4 | Zardo | Denny | | Lola B99/50 | E2-SS 3000 | 3:18,49 |
| 5 | Nappi | Pietro | | Osella FA30 Zytek | E2-SS 3000 | 3:20,24 |
| 6 | Conticelli | Francesco | | Osella PA2000 | E2-SC 2000 | 3:26,25 |
| 7 | Ligato | Luca | | Osella PA21/S EVO | CN 2000 | 3:28,43 |
| 8 | Pezzolla | Ivan | | Osella PA21 JRB | E2-SC 1000 | 3:29,27 |
| 9 | Lombardi | Achille | | Osella PA21/S EVO | CN 2000 | 3:29,33 |
| 10 | Castellano | Sebastiano | | Osella PA2000 | E2-SC 2000 | 3:30,91 |
| 11 | Conticelli | Vincenzo | | Osella PA30 Zytek | E2-SC 3000 | 3:32,69 |
| 12 | Caruso | Luca | | Radical SR4 | E2-SC 1600 | 3:33,13 |
| 13 | Savoldi | Mirco | | Radical SR4 | E2-SC 1600 | 3:34,81 |
| 14 | Rea | Cosimo | | Ligier JS51 | CN 2000 | 3:35,39 |
| 15 | Urbani | Gianni | | Osella PA21/S | CN 2000 | 3:39,90 |
| 16 | Manzoni | Franco | | Osella PA21/S EVO | CN 2000 | 3:40,56 |
| 17 | Dondi | Manuel | | Fiat X1/9 | E2-SH 2000 | 3:41,08 |
| 18 | Carbone | Tommaso | | Osella PA2000 | E2-SC 2000 | 3:42,52 |
| 19 | Iacoangeli | Marco | | BMW Z4 GT | E2-SH +3000 | 3:44,17 |
| 20 | Esposito | Cataldo | | Radical SR4 Suzuki | E2-SC 1600 | 3:45,00 |
| 21 | Pedrotti | Gino | | Formula Renault | E2-SS 2000 | 3:49,60 |
| 22 | "O-Play" | | | CMS 03 | CN 2000 | 3:50,63 |
| 23 | Manni | Damiano | | Mygale M09 | E2-SS 2000 | 3:50,67 |
| 24 | Vellei | Andrea | | Gloria C8P | E2-SS 1600 | 3:50,80 |
| 25 | Sbrollini | Marco | | Lancia Delta | E1 +3000 | 3:51,40 |
| 26 | Torrente | Giuseppe | | Radical Prosport | E2-SC 1400 | 3:57,78 |
| 27 | Sambuco | Luigi | | Renault Clio | E2-SH 2000 | 3:58,09 |
| 28 | Malvasio | Roberto | | Radical SR4 | E2-SC 1600 | 3:58,99 |
| 29 | Venturi | Paolo | | Elia Avrio ST09 EVO | E2-SC 1400 | 3:59,29 |
| 30 | Ragazzi | Roberto | | Ferrari F458 EVO | GTCUP +4000 | 4:00,85 |
| 31 | Perucca Orfei | Emiliano | | Peugeot 308 Cup | E1 1600 | 4:01,22 |
| 32 | Buttoletti | Graziano | | Dallara F310 | E2-SS 2000 | 4:01,39 |
| 33 | Cimarelli | Ferdinando | | Alfa Romeo 156 | E1 2000 | 4:02,24 |
| 34 | Pelorosso | Daniele | | Renault Clio Proto | E1 2000 | 4:02,53 |
| 35 | Vellei | Daniele | | Gloria C8P | E2-SS 1600 | 4:03,76 |
| 36 | Bicciato | Rudi | | Mitsubishi Lancer EVO VI | A +3000 | 4:04,47 |
| 37 | Rapuzzi | Christian | | Pollini 04 | E2-SH 1600 | 4:06,10 |
| 38 | Pace | Andrea | | Radical Prosport | E2-SC 1000 | 4:06,36 |
| 39 | Aragona | Giuseppe | | Peugeot 106 | E1 1600 | 4:08,90 |
| 40 | Micoli | Vitantonio | | Renault 5 GT Turbo | E1 1600T | 4:09,86 |
| 41 | Stipani | Silvano | | Peugeot 106 | E1 1600 | 4:10,98 |
| 42 | Mercati | Lorenzo | | Mitsubishi Lancer | N +3000 | 4:11,40 |
| 43 | D'Amico | Salvatore | | Renault Clio | A 2000 | 4:11,55 |
| 44 | Lanteri | Giovanni | | Peugeot 106 Rallye | E1 1600 | 4:11,62 |
| 45 | Angelini | Giovanni | | Gloria B5 EVO | E2-SS 1000 | 4:11,67 |
| 46 | Faro | Angelo Roberto | | Fiat Uno Turbo | E1 1600T | 4:11,69 |
| 47 | Bondioni | Ilario | | Mini Cooper S | RSTB+ 1600 | 4:13,46 |
| 48 | Savoia | Francesco | | Mini Cooper S | RSTB+ 1600 | 4:13,73 |
| 49 | Contardi | Maurizio | | Honda Civic VTI | E1 1600 | 4:14,13 |
| 50 | Celli | Andrea | | Peugeot 106 | E1 1600 | 4:14,15 |
| 51 | Scappa | Antonio | | Mini Cooper S | RSTB 1600 | 4:14,18 |
| 52 | Liuzzi | Giacomo | | Mini Cooper S | RSTB 1600 | 4:14,79 |
| 53 | Pancotti | Amedeo | | BMW M5 | E1 +3000 | 4:16,24 |
| 54 | Guzzetta | Angelo Maria | | Peugeot 106 | A 1600 | 4:16,83 |
| 55 | Valsecchi | Davide | | Mini Cooper S | RSTB+ 1600 | 4:17,61 |
| 56 | Jarach | Bruno | | Lamborghini Huracan | GTSUPERCUP | 4:18,46 |
| 57 | Di Giuseppe | Roberto | | Alfa Romeo 155 GTA | E1 +3000 | 4:18,55 |
| 58 | Palazzo | Andrea | | Mini Cooper S | RSTB+ 1600 | 4:18,76 |
| 59 | Somaschini | Rachele | | Mini Cooper S | RSTB+ 1600 | 4:19,57 |
| 60 | Tagliente | Vito | | Mini Cooper S | RSTB+ 1600 | 4:19,71 |
| 61 | Parlato | Paolo | | Honda Civic Type-R | A 2000 | 4:21,55 |
| 62 | Biccheri | Paolo | | Renault Clio Cup | RS+ 2000 | 4:22,14 |
| 63 | Pulvirenti | Valeria | | Radical SR4 | E2-SC 1400 | 4:23,01 |
| 64 | Spaccino | Leonardo | | Subaru Impreza WRX | A +3000 | 4:23,69 |
| 65 | Mariani | Fabio | | Renault Clio Cup | RS+ 2000 | 4:25,56 |
| 66 | Cola | Nicola | | Ford Sierra Cosworth | PE +3000 | 4:26,47 |
| 67 | Valzano | Dino | | Suzuki Swift | E2-SC 1400 | 4:26,60 |
| 68 | Iacovella | Angelo | | Jaguar X-Type | E2-SH 3000 | 4:27,14 |
| 69 | Gandini | Davide | | Peugeot 106 Kawasaki | E1 1400M | 4:27,32 |
| 70 | Scarafoni | Alfredo | | Citroën Saxo VTS | A 1600 | 4:27,32 |
| 71 | Mansueto | Lorenzo | | Renault 5 GT Turbo | E1 1600T | 4:27,32 |
| 72 | Cervelli | Francesco | | Peugeot 106 Rallye | E1 1400 | 4:28,01 |
| 73 | Di Giambattista | Antonio | | Citroën Saxo | A 1600 | 4:28,08 |
| 74 | Attorresi | Luca | | Renault Clio | RS+ 2000 | 4:29,69 |
| 75 | Ottaviani | Vincenzo | | Citroën Saxo VTS | N 1600 | 4:30,42 |
| 76 | Rossi | Cristiano | | Subaru Impreza | N +3000 | 4:30,59 |
| 77 | Santoro | Pasquale | | Mini Cooper S | RSTB 1600 | 4:30,66 |
| 78 | Guarini | Vito | | Mini Cooper S | RSTB+ 1600 | 4:31,02 |
| 79 | Titi | Fabio | | Peugeot 106 S16 | A 1600 | 4:31,14 |
| 80 | Gullo | Claudio | | Volkswagen Suzuki | E1 1150M | 4:31,25 |
| 81 | Giovannoni | Luca | | Mini Cooper S | RSTB 1600 | 4:31,89 |
| 82 | Campetti | Manolo | | Fiat Uno Turbo | E1 1600T | 4:32,07 |
| 83 | Pilotto | Adriano | | Honda Civic Type-R | N 2000 | 4:33,16 |
| 84 | Loconte | Angelo | | Honda Civic Type-R | RS 2000 | 4:33,39 |
| 85 | Fichera | Antonio | | Citroën Saxo VTS | N 1600 | 4:33,81 |
| 86 | Vettorel | Fabrizio | | Mini Cooper S | RSTB+ 1600 | 4:33,99 |
| 87 | Antonini | Marco | | Peugeot 106 S16 | A 1600 | 4:34,12 |
| 88 | Sabbatini | Alberto | | Mini Cooper JCW | E1 +3000 | 4:34,25 |
| 89 | Pazzi | Francesco | | Peugeot 106 S16 | N 1600 | 4:34,29 |
| 90 | Cappello | Marco | | Honda Civic | RS 1600 | 4:34,91 |
| 91 | Palazzi | Mauro | | Peugeot 106 | E1 1600 | 4:35,01 |
| 92 | Gambardella | Vito | | Peugeot 106 | E1 1600 | 4:35,53 |
| 93 | Broccolini | Deborah | | Mini Cooper S | RSTB+ 1600 | 4:35,59 |
| 94 | Romoli | Cristiano | | Peugeot 106 S16 | RS+ 1600 | 4:35,75 |
| 95 | Finestauri | Emanuele | | Peugeot 106 S16 | A 1600 | 4:36,20 |
| 96 | Passerini | Silvio | | Lotus Exige | GT3 4000 | 4:37,62 |
| 97 | Giardini | Gabriele | | Citroën Saxo | N 1600 | 4:38,08 |
| 98 | Sabbadini | Matteo | | Honda Civic | N 1600 | 4:38,32 |
| 99 | Alcidi | Alessandro | | BMW 318 | E1 2000 | 4:38,56 |
| 100 | Mancini | Carlo | | Citroën Saxo VTS | RS 1600 | 4:39,53 |
| 101 | Balletti | Roberto | | Renault Clio Williams | N 2000 | 4:40,09 |
| 102 | Gallo | Luigi | | Citroën Saxo VTS | RS+ 1600 | 4:40,47 |
| 103 | Di Renzo | Markus | | Citroën C1 Honda | E1 1150M | 4:41,20 |
| 104 | Magdalone | Marco | | Peugeot 106 | RS 1600 | 4:41,62 |
| 105 | Grasso | Giovanni | | Seat Ibiza Cupra | RS 2000D | 4:41,75 |
| 106 | Cippicciani | Stefano | | Renault 5 GT Turbo | E1 1600T | 4:41,89 |
| 107 | Sartoretto | Renato | | Osella PA21/S | E2-SC 2000 | 4:41,93 |
| 108 | Paci | Giuseppe | | Opel Astra GSi | N 2000 | 4:43,86 |
| 109 | Conti | Ruggero Giuseppe | | BMW M3 E36 | N +3000 | 4:44,07 |
| 110 | Guidi | Andrea | | Renault 5 GT Turbo | E1 1600T | 4:44,20 |
| 111 | Spacco | Roberto | | Peugeot 106 | N 1600 | 4:44,35 |
| 112 | Candore | Francesco | | Peugeot 106 S16 | N 1600 | 4:44,81 |
| 113 | Nepi | Alberto | | Seat Ibiza Cupra | E2-SH 2000 | 4:45,67 |
| 114 | Lore | Giuseppe | | Citroën Saxo VTS | A 1600 | 4:45,75 |
| 115 | "Gabry Driver" | | | Peugeot 106 | E1 1400 | 4:45,95 |
| 116 | Eusebio | Arduino | | Volkswagen Polo GTI | RS 1400 | 4:45,98 |
| 117 | Batella | Massimiliano | | Alfa Romeo 156 | E1 2000 | 4:46,04 |
| 118 | Scagnetti | Alberto | | Renault 5 GT Turbo | E1 1600T | 4:46,27 |
| 119 | Urbani | Riccardo | | Mini Cooper S | RSTB 1600 | 4:46,61 |
| 120 | Mercuri | Angelo Alessandro | | Fiat 500 | BIC 700/5 | 4:47,66 |
| 121 | Fasciano | Mattia | | Peugeot 106 Rallye | RS 1400 | 4:48,18 |
| 122 | Marotta | Simone | | Renault Megane Maxi | E1 2000 | 4:48,97 |
| 123 | Del Pizzo | Manlio | | Renault 5 GT Turbo | E1 1600T | 4:49,38 |
| 124 | Di Giuseppe | Luca | | Peugeot 106 S16 | RS 1600 | 4:49,43 |
| 125 | D'Agostino | Jhonny | | Fiat 127 | E1 1150 | 4:49,81 |
| 126 | Antonicelli | Abramo | | BMW M3 GT2 | E2-SH +3000 | 4:49,86 |
| 127 | Merli | Nicola | | Peugeot 106 Rallye | RS 1400 | 4:49,87 |
| 128 | Massimi | Fabio | | Subaru Impreza | PE 2000 | 4:51,38 |
| 129 | Bianchini | Demis | | Citroën Saxo VTS | RS+ 1600 | 4:51,49 |
| 130 | Montanaro | Oronzo | | Fiat 500 | BIC 700/5 | 4:52,03 |
| 131 | Amicarella | Massimiliano | | Renault Clio RS | RS 2000 | 4:52,06 |
| 132 | Massaini | Fabrizio | | Citroën Saxo | RS 1600 | 4:52,08 |
| 133 | Morabito | Domenico | | Fiat 500 | BIC 700/5 | 4:52,28 |
| 134 | "Silver" | | | Suzuki Swift | RS 1600 | 4:53,10 |
| 135 | Paletta | Mirko | | Fiat 500 | BIC 700/5 | 4:53,19 |
| 136 | Acquisti | Luciano | | Peugeot 106 Rallye | N 1400 | 4:54,42 |
| 137 | Gandini | Alessandro | | Peugeot 106 S16 | RS 1600 | 4:54,45 |
| 138 | Polegri | Valentino | | Peugeot 106 Rallye | RS 1400 | 4:55,59 |
| 139 | Marsico | Mario | | Citroën Saxo | RS 1600 | 4:55,72 |
| 140 | Marotta | Marco | | Peugeot 106 | A 1400 | 4:56,57 |
| 141 | Zazzatta | Roberto | | Peugeot 106 Rallye | RS 1400 | 4:57,96 |
| 142 | Cippicciani | Livio | | Fiat Ritmo 130 TC | PE 2000 | 4:58,48 |
| 143 | Piredda | Alessio | | Citroën Saxo | RS 1600 | 5:00,50 |
| 144 | Casanica | Gabriele | | Elia Avrio ST09 EVO | E2-SC 1400 | 5:00,67 |
| 145 | Leporati | Giorgio Alberto | | Ford Fiesta EVO | E2-SH 1400 | 5:01,25 |
| 146 | Chiarelli | Pietro | | Honda Civic VTI | PE 1600 | 5:01,38 |
| 147 | Alfano | Luigi | | Radical SR4 Suzuki | E2-SC 1400 | 5:02,04 |
| 148 | Tinella | Domenico | | Mini Cooper S | RSTB 1600 | 5:03,11 |
| 149 | Angelucci | Leonardo | | Peugeot 106 S16 | RS 1600 | 5:03,35 |
| 150 | Nole | Franco | | Mini Cooper S | RSTB 1600 | 5:06,51 |
| 151 | Andolina | Giuseppe | | Renault Clio RS | RS 2000 | 5:06,74 |
| 152 | Terziglio | Andrea | | Peugeot 106 Rallye | RS 1400 | 5:06,76 |
| 153 | Rossi | Francesco | | Citroën Saxo VTS | RS 1600 | 5:07,08 |
| 154 | Conteduca | Pierluigi | | Fiat 500 | BIC 700/5 | 5:09,49 |
| 155 | Renzi | Diego | | Fiat 600 Sporting | A 1150 | 5:12,24 |
| 156 | Bisceglia | Camilla | | Peugeot 106 Rallye | N 1400 | 5:13,15 |
| 157 | Bosi | Stefano | | Fiat 500 | RS 1400 | 5:13,30 |
| 158 | Berardi | Marco | | Citroën C1 | E1 1150 | 5:13,75 |
| 159 | Pettinari | Massimiliano | | Peugeot 106 Rallye | N 1400 | 5:14,18 |
| 160 | Camaiti | Icaro Attilio | | Peugeot 106 | RS 1600 | 5:17,06 |
| 161 | Cimino | Vincenzo | | Alfa Romeo GTV | E2-SH 2000 | 5:17,84 |
| 162 | Bonelli | Stefano | | Volkswagen Golf GTI | RS 2000D | 5:18,22 |
| 163 | Fusari | Lorenzo | | Fiat 600 | E1 1400 | 5:20,10 |
| 164 | Braccioni | Filippo | | Renault Clio Cup | RS+ 2000 | 5:22,50 |
| 165 | Annese | Nicola | | Fiat 126 | BIC 700/2 | 5:22,53 |
| 166 | Casagrande | Simone | | Peugeot 106 Rallye | A 1400 | 5:23,32 |
| 167 | Massaini | Giorgio | | Fiat 500 | RS 1400 | 5:23,36 |
| 168 | Gallinella | Giulia | | Peugeot 106 Rallye | RS 1400 | 5:24,11 |
| 169 | Simoncelli | Manuel | | Fiat 500 | RS 1400 | 5:24,15 |
| 170 | Riso | Santo | | Fiat 500 | RS 1400 | 5:27,66 |
| 171 | Aloisi | Giovanni | | Citroën C1 | RS 1150 | 5:28,80 |
| 172 | Benvenuti | Mario | | Fiat 500 | RS 1400 | 5:30,81 |
| 173 | Secci | Michele Domenico | | Citroën C2R2 Max | A 1600 | 5:33,83 |
| 174 | Mascolo | Francesco | | Fiat 500 | BIC 700/2 | 5:40,45 |
| 175 | Colabello | Francesco | | Fiat 126 | BIC 600/1,5 | 5:49,17 |
| 176 | Bagattoni | Stefano | | Suzuki Swift | N 1400 | 5:55,98 |
| 177 | Basagni | Marcello | | Citroën C1 Cup | E1 1150 | 5:58,44 |
19-20/08/2017 – Trofeo Luigi Fagioli (Historic)

| Pos. | Last Name | First Name | | Car | Cl. | Final |
| --- | --- | --- | --- | --- | --- | --- |
| 1 | Bonucci | Uberto | | Osella PA9/90 | 4/JR/BC +2000 | 3:39,73 |
| 2 | Lottini | Piero | | Osella PA9/90 | 4/JR/BC +2000 | 3:54,72 |
| 3 | Peroni | Giuliano | | Martini MK32 | 5/IR/E3 | 3:58,67 |
| 4 | Angiolani | Antonio | | March 783 F3 | 5/IR/E3 | 4:09,85 |
| 5 | Bonucci | Andrea | | Olmas SN | 4/JR/SN 2500 | 4:17,55 |
| 6 | Ambroso | Giovanni | | Osella PA9/90 | 4/JR/BC +2000 | 4:18,55 |
| 7 | Romano | Tiziano | | Bogani Sport | 4/JR/SN 2500 | 4:26,13 |
| 8 | Ventriglia | Gennaro | | Fiat X1/9 Dallara | 3/I/SIL 1600 | 4:27,51 |
| 9 | Paloschi | Gianluca | | Peugeot 205 Rallye | 4/J2/A 1300 | 4:36,45 |
| 10 | Sala | Mario | | Porsche 906 | 1/GR/BC 2000 | 4:40,81 |
| 11 | Colotto | Gina | | Formula Fiat Abarth | 5/IR/FA +1000 | 4:47,09 |
| 12 | Bragagni Capaccini | Ennio | | Fiat 500 | 3/I/SIL 700 | 4:52,86 |
| 13 | Volpinari | Piergiovanni | | Lotus Europa TC | 2/H1/GTS 1600 | 4:56,30 |
| 14 | Viggiani | Mario Riccardo | | Fiat Giannini 700 | 2/H1/TC 700 | 4:57,21 |
| 15 | Ceteroni | Marco | | Fiat 128 Coupé | 2/H1/TC 1300 | 5:01,41 |
| 16 | Pieroni | Alessandro | | Fiat Giannini 650 NP | 2/H1/TC 700 | 5:03,02 |
| 17 | Cali | Alfredo | | Peugeot 205 Rallye | 4/J2/A 1300 | 5:03,19 |
| 18 | "Leopard" | | | Alfa Romeo Giulia Super | 2/H1/TC 1600 | 5:04,42 |
| 19 | Vitali | Massimiliano | | Volkswagen Golf | 4/J1/A 2000 | 5:05,06 |
| 20 | Chiavaccini | Franco | | Abarth SE033 | 5/IR/FA +1000 | 5:05,10 |
| 21 | Pastorelli | Lanfranco | | Fiat 500 | 3/I/SIL 700 | 5:09,94 |
| 22 | Innocenti | Ledo | | Alfa Romeo 33 | 4/J2/N 2000 | 5:10,59 |
| 23 | Giacometti | Jean-Marc | | Autobianchi A112 Abarth | 3/I/SIL 1150 | 5:13,26 |
| 24 | Romoli | Dario | | Fiat Giannini 650 NP | 2/H1/TC 700 | 5:19,29 |
| 25 | Lazzeroni | Lorenzo | | Autobianchi A112 Abarth | 3/I/T 1150 | 5:22,44 |
| 26 | Bertinelli | Alvaro | | Autobianchi A112 Abarth | 3/I/T 1150 | 5:23,39 |
| 27 | Nocci | Walter | | Abarth 695 SS | 3/I/SIL 700 | 5:25,10 |
| 28 | Burla | Nazzareno | | Mini Cooper | 2/H1/TC 1000 | 5:28,05 |
| 29 | Bartoli | Alvaro | | Fiat Giannini 128 | 2/H1/TC 1150 | 5:29,19 |
| 30 | Frenguellotti | Marco | | Abarth 850 TC | 1/F/T 850 | 5:30,91 |
| 31 | Ghini | Enrico | | AMS 176 | 3/IR/BC 1300 | 5:36,09 |
| 32 | Capanna | Dante | | Alfa Romeo 33 QV | 4/J1/N 1600 | 5:39,55 |
| 33 | Narcisi | Mario | | Lancia Fulvia Coupé HF | 2/H1/GTS 1600 | 5:44,79 |
| 34 | Gabrielli | Eugenio | | Lancia Fulvia Coupé | 3/I/SIL 1300 | 5:46,50 |
| 35 | Riccioni | Tommaso | | Giannini 650 NP | 2/H1/TC 700 | 5:48,25 |
| 36 | Colapicchioni | Valerio | | Fiat 850 Sport Coupé | 2/H1/TC 1000 | 5:56,08 |
| 37 | Tronelli | Giuseppe | | Lancia Fulvia Montecarlo | 2/H1/GT 1300 | 6:03,76 |
| 38 | Mascolo | Carlo | | Fiat Giannini 590 | 1/G1/T 600 | 6:33,79 |