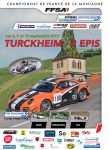 A great number of spectators watched the Course de Côte de Turckheim – 3 Épis this weekend. A lot of them came for Sébastien Loeb but hopefully they enjoyed the regular hillclimb stars too. They at least got their money's worth as the event ran past 20:00!
Geoffrey Schatz was the undisputed winner this weekend. The younger Schatz was fastest all weekend and even broke the trackrecord of his older brother Nicolas. It was his third overall victory of the season. For the championship it was too late as Sébastien Petit had already secured that. The new champion himself could drive without any pressure. Despite a mechanical failure at the start of race one, Petit still finished second overall. Cyrille Frantz collected yet another third overall as he did so many times before.
Fourth quickest driver was Patrik Zajelsnik with his spectacular Norma Mugen. The Sloveno-German is not included in the general results, as none of the foreign drivers were. The foreigners basically drove for nothing. Except of course the Luxembourgois who had their final championship round at Turckheim. Canio Marchione was already certain of the touringcar title. In the singleseaters it was still very close. If my calculations are correct Daniel Donkels is the new champion because he finished ahead of his rival Leon Linden.