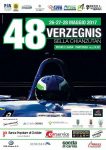 After the cyclists climbed the Sella Chianzutan earlier this week, it was now time for the cars to take on the mountain for the Cronoscalata Verzegnis – Sella Chianzutan. Thanks to a brilliant run in the first race Christian Merli secured himself the victory. That Domenico Scola was the quickest driver in the second race did not matter as it was not nearly enough to unsettle Merli from first position. Two Osella PA2000 drivers in Domenico Cubeda and Francesco Conticelli finished third and fourth respectively. Fifth was for an unstoppable Luca Ligato, the CN winner. Ligato saw his main rival Achille Lombardi retire in the first race, so he gained a massive amount of points this weekend.
As usual the Verzegnis Hillclimb counted for a number of different championships. The International Hillclimb Cup celebrated its fourth round of the season. Vaclav Janik is still unopposed in the sportscars. With his third place in E2-SC he scores again a number of points. In Group E1 Ronnie Bratschi made his first appearance of the year. The Swiss Champion immediately won the Group, although he was slower than silhouette driver Manuel Dondi. Karel Trneny will be Bratshi's main rival this season. At Verzegnis the Czech remained close to Bratschi and finished second in the group. In the Production Cars Laszlo Hernadi collected half points for his class victory in S2000.
Karl Schagerl was the fastest driver in the Austrian Hillclimb Championship. He advanced Hannes Kaufmann and Andreas Stollnberger. Milan Bubnic absolutely dominated the Slovenian Championship. His lead over runner-up Peter Marc and third placed Ales Prek was enormous.

27-28/05/2017 – Verzegnis – Sella Chianzutan

| Pos. | Last Name | First Name | | Car | Cl. | Final |
| --- | --- | --- | --- | --- | --- | --- |
| 1 | Merli | Christian | | Osella FA30 | E2-SS 3000 | 4:59,01 |
| 2 | Scola | Domenico | | Osella FA30 | E2-SS 3000 | 5:01,68 |
| 3 | Cubeda | Domenico | | Osella PA2000 | E2-SC 2000 | 5:08,85 |
| 4 | Conticelli | Francesco | | Osella PA2000 | E2-SC 2000 | 5:12,11 |
| 5 | Ligato | Luca | | Osella PA21/S EVO | CN 2000 | 5:21,83 |
| 6 | Liber | Federico | | Gloria C8P EVO | E2-SS 1600 | 5:23,74 |
| 7 | De Gasperi | Diego | | Lola Honda | E2-SS 2000 | 5:25,11 |
| 8 | Janik | Vaclav | | Norma M20 FC | E2-SC 3000 | 5:25,17 |
| 9 | Iaquinta | Rosario | | Osella PA21/S EVO | CN 2000 | 5:27,81 |
| 10 | Leogrande | Francesco | | Wolf GB08 F1 | E2-SS 3000 | 5:28,10 |
| 11 | Pedrotti | Gino | | Formula Renault | E2-SS 2000 | 5:36,02 |
| 12 | Dondi | Manuel | | Fiat X1/9 | E2-SH 2000 | 5:36,77 |
| 13 | Bratschi | Ronnie | | Mitsubishi Lancer EVO VIII | E1 +3000 | 5:39,43 |
| 14 | Manzoni | Franco | | Osella PA21/S EVO | CN 2000 | 5:41,49 |
| 15 | Trneny | Karel | | Skoda Fabia | E1 +3000 | 5:44,14 |
| 16 | Soretti | Mauro | | Subaru Impreza | E1 +3000 | 5:44,47 |
| 17 | Schagerl | Karl | | Volkswagen Golf Rallye | E1 +3000 | 5:45,55 |
| 18 | Iacoangeli | Marco | | BMW Z4 GT | E2-SH +3000 | 5:45,98 |
| 19 | Carini | Francesco | | Osella PA21/S EVO | CN 2000 | 5:46,29 |
| 20 | Dall'O | Domenico | | Radical Prosport | E2-SC 2000 | 5:47,35 |
| 21 | Kaufmann | Hannes | | Dallara F307 | E2-SS 2000 | 5:47,86 |
| 22 | Stollnberger | Andreas | | Dallara F302 | E2-SS 2000 | 5:48,15 |
| 23 | Meneghetti | Renzo | | Lucchini BMW | E2-SC 3000 | 5:48,27 |
| 24 | Nalon | Marietto | | Lola B02/50 | E2-SS 3000 | 5:48,29 |
| 25 | Sbrollini | Marco | | Lancia Delta Integrale | E1 +3000 | 5:48,31 |
| 26 | Vitek | Petr | | Osella PA30 | E2-SC 3000 | 5:48,62 |
| 27 | Svoboda | Jiri | | Norma M20F | E2-SC 2000 | 5:48,76 |
| 28 | Giovannoni | Luca | | Osella PA21 JRB | E2-SC 1400 | 5:52,56 |
| 29 | Hofer | Werner | | Ford Escort Cosworth | E1 +3000 | 5:52,80 |
| 30 | Madrian | Ferdinand | | Norma M20F | E2-SC 3000 | 5:52,86 |
| 31 | Venturato | Mirko | | Gloria C8 Light | E2-SS 1600 | 5:53,17 |
| 32 | Gaetani | Luca | | Ferrari F458 EVO | GTCUP +4000 | 5:56,10 |
| 33 | Cimarelli | Ferdinando | | Alfa Romeo 156 | E1 2000 | 5:57,98 |
| 34 | Strasser | Thomas | | Volkswagen Scirocco | E1 2000 | 5:58,18 |
| 35 | Wiedenhofer | Stefan | | Mitsubishi Mirage R5 | E1 +3000 | 5:58,33 |
| 36 | Bubnic | Milan | | Lancia Delta Integrale | E1 +3000 | 6:00,23 |
| 37 | Buttoletti | Graziano | | Dallara F310 | E2-SS 2000 | 6:01,08 |
| 38 | Pisano | Egidio | | Volkswagen Golf | E1 2000 | 6:01,34 |
| 39 | Ragazzi | Roberto | | Ferrari F458 EVO | GTCUP +4000 | 6:02,19 |
| 40 | Sternad | Diethard | | Alfa Romeo 156 STW | E1 2000 | 6:07,02 |
| 41 | Frusconi | Fabio | | Dallara F301 | E2-SS 2000 | 6:09,29 |
| 42 | Torrente | Giuseppe | | Radical Prosport | E2-SC 1400 | 6:09,68 |
| 43 | Pace | Andrea | | Radical Prosport | E2-SC 1400 | 6:10,89 |
| 44 | Bicciato | Rudi | | Mitsubishi Lancer EVO VI | A +3000 | 6:12,46 |
| 45 | Jarach | Bruno | | Lamborghini Huracan | GTSC +4000 | 6:13,53 |
| 46 | Taus | Reinhold | | Subaru Impreza WRX | A +3000 | 6:15,05 |
| 47 | Kramer | Gottfried | | Tatuus Master | E2-SS 2000 | 6:17,70 |
| 48 | Schena | Domenico | | Renault Clio Cup | E1 2000 | 6:19,55 |
| 49 | Blasl | Hermann | | Opel Kadett C | E1 2000 | 6:21,22 |
| 50 | Mercati | Lorenzo | | Mitsubishi Lancer EVO IX | N +3000 | 6:21,93 |
| 51 | Chirico | Domenico | | Peugeot 106 Rallye | E1 1600 | 6:22,50 |
| 52 | Migliuolo | Antonino | | Mitsubishi Lancer EVO IX | N +3000 | 6:22,55 |
| 53 | Savoia | Francesco | | Mini Cooper S JCW | RSTB+ 1600 | 6:25,67 |
| 54 | D'Amico | Salvatore | | Renault Clio | A 2000 | 6:26,13 |
| 55 | Mezzacasa | Denis | | Renault Clio | E1 2000 | 6:30,09 |
| 56 | Contardi | Maurizio | | Honda Civic | E1 1600 | 6:31,18 |
| 57 | Holzer | Dieter | | Mitsubishi Lancer EVO VIII | N +3000 | 6:31,60 |
| 58 | Liuzzi | Giacomo | | Mini Cooper S JCW | RSTB 1600 | 6:32,14 |
| 59 | Hernadi | Laszlo | | Mitsubishi Lancer EVO IX R4 | S2 +3000 | 6:32,61 |
| 60 | Prek | Ales | | Honda Civic Type-R | A 2000 | 6:34,90 |
| 61 | Pyringer | Florian | | Volkswagen Golf | E1 1600 | 6:35,18 |
| 62 | Soravito | Fabio | | Porsche Cayman | GTCUP +4000 | 6:35,78 |
| 63 | Pedroni | Gabriella | | Mitsubishi Lancer EVO IX | N +3000 | 6:35,93 |
| 64 | Palazzo | Andrea | | Mini Cooper S JCW | RSTB+ 1600 | 6:36,91 |
| 65 | Scappa | Antonio | | Mini Cooper S JCW | RSTB 1600 | 6:37,86 |
| 66 | Somaschini | Rachele | | Mini Cooper S JCW | RSTB+ 1600 | 6:38,77 |
| 67 | Martinis | Fabrizio | | Mini Cooper S JCW | RSTB+ 1600 | 6:39,46 |
| 68 | Gallina | Luciano | | Lancia Y10 | E2-SH 2000 | 6:40,02 |
| 69 | Casarin | Guido | | Subaru Impreza STi | N +3000 | 6:40,66 |
| 70 | Maier | Helmut | | Volkswagen Golf | E1 1600 | 6:41,02 |
| 71 | Parisi | Roberto | | Renault Clio S1600 | A 1600 | 6:41,42 |
| 72 | Marc | Peter | | Mitsubishi Lancer EVO IX | N +3000 | 6:41,83 |
| 73 | Tagliente | Vito | | Mini Cooper S JCW | RSTB+ 1600 | 6:41,90 |
| 74 | Frijo | Sebastiano | | Porsche 997 Cup | GTCUP +4000 | 6:42,36 |
| 75 | Bommartini | Fabrizio | | Honda Civic EK4 | A 1600 | 6:42,48 |
| 76 | Parlato | Paolo | | Honda Civic Type-R | A 2000 | 6:43,59 |
| 77 | Grifoni | Bruno | | Peugeot 106 Rallye | E1 1400 | 6:46,05 |
| 78 | Vettorel | Alessandro | | Peugeot 106 Rallye | E1 1400 | 6:47,01 |
| 79 | Boscariol | Roberto | | Renault Clio Williams | PE 2000 | 6:47,54 |
| 80 | Cossu | Tonino | | Honda Civic Type-R | A 2000 | 6:48,08 |
| 81 | Zinutti | Carlo | | Peugeot 106 | A 1600 | 6:48,44 |
| 82 | Mayer | Chris-André | | Honda Civic Type-R | N +3000 | 6:48,46 |
| 83 | Hutter | Gregor | | Alfa Romeo 145 | E1 1600 | 6:51,32 |
| 84 | Pilotto | Adriano | | Honda Civic Type-R | N +3000 | 6:51,44 |
| 85 | Fent | Alberto | | Renault 5 GT Turbo | E1 1600T | 6:52,23 |
| 86 | Parrino | Rosario | | Honda Civic Type-R | RS+ 2000 | 6:53,42 |
| 87 | Errichetti | Rocco | | Peugeot 106 S16 | N 1600 | 6:53,55 |
| 88 | Antonicelli | Abramo | | BMW M3 GT2 | E2-SH +3000 | 6:54,27 |
| 89 | Miotto | Stefano | | Renault Clio Cup | E1 2000 | 6:54,51 |
| 90 | Zbogar | Denis | | Peugeot 208 R2 | A 1600 | 6:55,05 |
| 91 | Tacchini | Mario | | Mini Cooper S JCW | RSTB 1600 | 6:55,14 |
| 92 | Cuden | Matevz | | Renault Clio | E1 2000 | 6:56,84 |
| 93 | Largo | Rudi | | Renault Clio Williams | PE 2000 | 6:57,64 |
| 94 | Cesaro | Leonardo | | Fiat Uno Turbo | E1 1600T | 6:59,98 |
| 95 | De Giacinto | Giorgio | | Ford Escort Cosworth | E1 +3000 | 7:00,46 |
| 96 | Ogris | Stephan | | Alfa Romeo 147 GTA Cup | E1 2000 | 7:00,94 |
| 97 | Vettorel | Fabrizio | | Peugeot 106 Rallye | N 1600 | 7:01,38 |
| 98 | Bertolutti | Marco | | Peugeot 208 | A 1600 | 7:02,59 |
| 99 | Forte | Patrizio | | Renault Clio Williams | PE 2000 | 7:03,01 |
| 100 | Fracassi | Cristhian | | Renault Clio Cup | RS+ 2000 | 7:03,61 |
| 101 | Broccolini | Deborah | | Mini Cooper S JCW | RSTB+ 1600 | 7:04,13 |
| 102 | Perillo | Francesco | | Renault Clio R3 | RS 2000 | 7:05,45 |
| 103 | Mariot | Mario | | Citroën Saxo | E2-SH 2000 | 7:05,57 |
| 104 | Zanette | Fabio | | Renault 5 GT Turbo | PS +3000 | 7:07,07 |
| 105 | Cappello | Marco | | Honda Civic | RS 1600 | 7:09,16 |
| 106 | Sabbadini | Matteo | | Honda Civic EK4 | N 1600 | 7:10,56 |
| 107 | Zarpellon | Giuseppe | | BMW M3 E30 | E1 +3000 | 7:11,15 |
| 108 | "Zio Fester" | | | Honda Civic | E1 1600 | 7:12,26 |
| 109 | Murgia | Sergio | | Citroën Saxo VTS | E1 1600 | 7:12,72 |
| 110 | Mitri | Luca | | Predator's PC010 | E2-SS 1600 | 7:14,17 |
| 111 | Silvi | Luca | | Renault Clio RS | RS 2000 | 7:15,51 |
| 112 | De Vecchi | Marco | | Honda Civic EK4 | N 1600 | 7:16,24 |
| 113 | Crivellaro | Andrea | | Peugeot 106 Rallye | N 1600 | 7:16,69 |
| 114 | Artuso | Stefano | | Mini Cooper S JCW | RSTB 1600 | 7:17,23 |
| 115 | Fusaro | Carmelo | | Peugeot 306 S16 | RS 2000 | 7:22,50 |
| 116 | Conti | Ruggero | | BMW M3 E36 | PS +3000 | 7:22,52 |
| 117 | Viola | Alex | | Honda Civic EK4 | A 1600 | 7:23,61 |
| 118 | De Giacinto | Mattia | | Peugeot 106 Rallye | N 1600 | 7:24,02 |
| 119 | Pascucci | Paola | | Mini Cooper S | E1 1600T | 7:24,39 |
| 120 | Zanier | Lenny | | Peugeot 106 Rallye | N 1600 | 7:26,87 |
| 121 | Di Vico | Erik | | Peugeot 106 GTI | RS 1600 | 7:26,94 |
| 122 | Gallo | Luigi | | Citroën Saxo VTS | RS+ 2000 | 7:28,56 |
| 123 | Tavcar | Primoz | | Renault Clio | E1 1400 | 7:29,21 |
| 124 | Agosti | Alberto | | Peugeot 106 Rallye | N 1600 | 7:29,83 |
| 125 | Massaini | Fabrizio | | Citroën Saxo | RS 1600 | 7:30,28 |
| 126 | Marini | Fernando | | Peugeot 106 Rallye | N 1600 | 7:30,38 |
| 127 | Cella | Gianluca | | Peugeot 106 S16 | N 1600 | 7:30,72 |
| 128 | Zilli | Sandro | | Renault Clio Cup | E1 2000 | 7:32,11 |
| 129 | Novello | Renato | | Renault Clio Williams | RS+ 2000 | 7:33,43 |
| 130 | Ruzzier | Patrik | | Fiat Cinquecento E2 | E1 1400 | 7:35,94 |
| 131 | Coppola | Luca | | Renault Clio Williams | RS+ 2000 | 7:36,04 |
| 132 | De Stefani | Luca | | Renault Clio Cup | RS+ 2000 | 7:36,81 |
| 133 | Dessardo | Tadej | | Peugeot 106 Rallye | E1 1400 | 7:37,20 |
| 134 | Zanandrea | Marco | | Peugeot 106 Rallye | RS 1400 | 7:37,67 |
| 135 | Boi | Valentina | | Mini Cooper S JCW | RSTB 1600 | 7:39,15 |
| 136 | Pompei | Francesco | | Alfa Romeo 147 | RSD 2000 | 7:41,19 |
| 137 | Fuganti | Annamaria | | Mini Cooper S JCW | RSTB+ 1600 | 7:44,09 |
| 138 | Doriguzzi | Arianna | | Peugeot 106 S16 | N 1600 | 7:50,50 |
| 139 | Pomozzi | Riccardo | | Peugeot 106 Rallye | RS 1400 | 7:53,40 |
| 140 | Bisceglia | Camilla | | Peugeot 106 Rallye | N 1400 | 7:56,86 |
| 141 | Pascolo | Massimo | | Peugeot 106 Rallye | N 1400 | 7:58,48 |
| 142 | Santellani | Alex | | Peugeot 106 Rallye | N 1400 | 7:59,75 |
| 143 | Favaro | Elia | | Peugeot 106 Rallye | N 1600 | 8:00,70 |
| 144 | Lenisa | Waifro | | Honda Civic EK4 | E1 1600 | 8:00,99 |
| 145 | Cavaliero | Adriano | | Peugeot 106 Rallye | RS 1400 | 8:17,78 |
| 146 | Bondanza | Alessandro | | Peugeot 106 Rallye | RS 1400 | 8:17,91 |
| 147 | Bodner | Christian | | BMW 320 | E1 2000 | 8:19,13 |
| 148 | Bosi | Stefano | | Fiat 500 | RS 1400 | 8:21,94 |
| 149 | Tinella | Domenico | | Fiat 500 | BIC 700/5 | 8:22,25 |
| 150 | Del Negro | Lucio | | Volkswagen Lupo | RS 1400 | 8:24,95 |
| 151 | Massaini | Giorgio | | Fiat 500 | RS 1400 | 8:36,56 |
| 152 | Milanesi | Paolo | | Citroën C2 | RS 1600 | 8:54,27 |
| 153 | Benvenuti | Mario | | Fiat 500 | RS 1400 | 9:10,60 |
27-28/05/2017 – Verzegnis – Sella Chianzutan (Historic)

| Pos. | Last Name | First Name | | Car | Cl. | Final |
| --- | --- | --- | --- | --- | --- | --- |
| 1 | Sonnleitner | Reinhard | | Volkswagen Golf G60 | 4/D6 | 6:39,69 |
| 2 | Barletta | Matteo | | BMW M3 | 4/D6 | 6:41,77 |
| 3 | Muradore | Rino | | Ford Sierra Cosworth | 4/D6 | 6:51,45 |
| 4 | Deotto | Paolo | | Ford Sierra Cosworth | 4/D6 | 6:59,41 |
| 5 | Dal Cin | Roberto | | De Tomaso Pantera | 2/B6 | 7:02,30 |
| 6 | Bosco | Stefano | | Renault 5 GT Turbo | 4/D6 | 7:02,35 |
| 7 | Stranner | Karlheinz | | Fiat 131 Abarth | 3/C2 | 7:08,34 |
| 8 | Ronconi | Massimo | | Porsche 914/6 GT | 2/GTP | 7:09,87 |
| 9 | Pointner | Wolfgang | | Austin Mini Cooper S | 3/C1 | 7:15,94 |
| 10 | Naibo | Marco | | Renault 5 GT Turbo | 4/D6 | 7:20,29 |
| 11 | Stella | Marco | | Alfa Romeo Giulia Sprint GTV | 2/B4 | 7:29,50 |
| 12 | Meggiorin | Stefano | | Volkswagen Scirocco | 3/C2 | 7:31,54 |
| 13 | Furlan | Flavio | | De Tomaso Pantera | 2/B6 | 7:33,16 |
| 14 | Marchiol | Gianni | | Renault 5 GT Turbo | 4/D6 | 7:35,37 |
| 15 | Bianchin | Luciano | | Porsche 954 RSR | 4/D3 | 7:36,15 |
| 16 | Ralser | Gernot | | Opel Corsa | 4/D4 | 7:40,81 |
| 17 | Lena | Enrico | | Lancia Fulvia Coupé HF | 2/B4 | 7:42,12 |
| 18 | Holzer | Christian | | Steyr Puch 650 TR | 1/A1 | 7:44,07 |
| 19 | Zamolo | Adriano | | Peugeot 205 Rallye | 4/D4 | 7:44,65 |
| 20 | Martincich | Lorenzo | | Peugeot 205 Rallye | 4/D4 | 7:50,81 |
| 21 | Ralser | Bernhard | | Austin Mini Cooper S | 3/C1 | 7:51,14 |
| 22 | Martina | Stefano | | Alfa Romeo 33 | 4/D4 | 7:51,97 |
| 23 | Fronza | Massimo | | Fiat 126 | 3/SIL | 7:53,80 |
| 24 | Sporer | Rudolf | | Alfa Romeo Giulia Super | 2/B4 | 8:00,62 |
| 25 | Macorig | Flavio | | Fiat X1/9 | 2/B3 | 8:00,82 |
| 26 | Corredig | Pietro | | BMW 320Tii | 2/B5 | 8:02,41 |
| 27 | Rottonara | Florian | | Fiat Giannini 650 NP | 2/B1 | 8:04,07 |
| 28 | Korosec | Matjaz | | BMW 320i | 4/D6 | 8:05,05 |
| 29 | Calligaris | Federico | | Lancia Fulvia Zagato | 2/B3 | 8:05,32 |
| 30 | Strozic | Bojan | | Autobianchi A112 Abarth | 3/C1 | 8:07,17 |
| 31 | Liani | Fausto | | Alfa Romeo Giulia GT | 1/A4 | 8:10,74 |
| 32 | Bianchin | Serena | | Fiat 124 Abarth | 2/B5 | 8:10,82 |
| 33 | Minen | Loris | | Porsche 912 | 1/A4 | 8:12,94 |
| 34 | Di Fant | Ivan | | Autobianchi A112 Abarth | 3/C1 | 8:25,06 |
| 35 | Chiarotto | Doris | | Alfa Romeo 33 | 4/D1 | 8:27,81 |
| 36 | Guidolin | Dario | | Lancia Fulvia Montecarlo | 2/B3 | 8:35,20 |
| 37 | Carpenè | Raffaello | | Fiat 128 Coupé | 2/B2 | 8:39,87 |
| 38 | Prugger | Georg | | Alta Sports | 1/A6 | 9:05,77 |