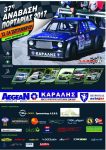 The Greek Hillclimb Championship continued with the Portaria Hillclimb. Marios Iliopoulos was already certain of the Group FS title. Still the Ford Fiesta WRC pilot contested the Portaria Hillclimb, set fastest time of the weekend and scored another great victory. Konstantinos Lazaridis and Panagiotis Parthenis had to be satisfied with second and third respectively.
For the fourth consecutive time Leonidas Kyrkos was victorious in Group A. He is now almost certain of the Group A championship. In the second race Andreas Ntofis managed to pass Michael Euthymiou for the runner-up spot. Panagiotis Lioris would have challenged the leaders but retired his Ford Escort WRC with mechanical problems. At Portaria Spyros Vorgias became certain of the Group A -2 litre championship.
Group N was dominated by Mitsubishi Lancers. Ioannis Potouridis and Konstantinos Kakos challenged for victory but it was Stamatios Katsimis who managed to take the winner's trophy home.
Group E saw a sensational victory for Pantelis Vasileiadis. With his little Citroën AX Vasileiadis managed to beat a big field of more powerful cars. Some luck came into it too as Georgios Kechagias had a spin and lost a lot of time.
23-24/09/2017 – Portaria Hillclimb

| Pos. | Last Name | First Name | | Car | Cl. | Final |
| --- | --- | --- | --- | --- | --- | --- |
| 1 | Iliopoulos | Marios | | Ford Fiesta WRC | FST | 3:35,14 |
| 2 | Lazaridis | Konstantinos | | Mitsubishi Lancer EVO VIII | FST | 3:43,85 |
| 3 | Kyrkos | Leonidas | | Ford Escort WRC | A8 | 3:49,20 |
| 4 | Parthenis | Panagiotis | | Mitsubishi Lancer EVO IX | FST | 3:49,81 |
| 5 | Ntofis | Andreas | | Mitsubishi Lancer EVO VIII | A8 | 3:52,33 |
| 6 | Euthymiou | Michalis | | Ford Escort WRC | A8 | 3:54,09 |
| 7 | Katsimis | Stamatios | | Mitsubishi Lancer EVO IX | N4 | 3:54,57 |
| 8 | Potouridis | Ioannis | | Mitsubishi Lancer EVO IX | N4 | 3:56,47 |
| 9 | Kakos | Konstantinos | | Mitsubishi Lancer EVO IX | N4 | 3:57,06 |
| 10 | Stafylopatis | Antonios | | Opel Astra OPC | FST2 | 3:57,49 |
| 11 | Tsionkas | Alexandros | | Peugeot 106 Maxi | A7 | 3:57,81 |
| 12 | Zygogiannis | Konstantinos | | Audi A3 | FST2 | 3:58,83 |
| 13 | Lappas | Christos | | Peugeot 106 Kit-Car | A7 | 3:59,78 |
| 14 | Vasileiadis | Pantelis | | Citroën AX | E10 | 4:00,46 |
| 15 | Konstantinidis | Ioannis | | Citroën ZX | E11 | 4:01,76 |
| 16 | Vorgias | Spyros | | Peugeot 106 S16 | A6 | 4:01,79 |
| 17 | "Kanelos" | | | Peugeot 106 S16 | E11 | 4:02,15 |
| 18 | Bimpikas | Panagiotis | | Volkswagen Golf II | E11 | 4:02,69 |
| 19 | Chatoupis | Stavros | | Opel Corsa Kit-Car | A7 | 4:03,30 |
| 20 | Vidouris | Apostolos | | Mitsubishi Lancer EVO IX | N4 | 4:04,20 |
| 21 | Batzanos | Vasileios | | Citroën Saxo VTS | A6 | 4:04,95 |
| 22 | Apostolou | Apostolos | | Peugeot 106 S16 | A6 | 4:05,09 |
| 23 | Kalaitzian | Ioannis | | Ford Puma S1600 | A7 | 4:05,10 |
| 24 | Kechagias | Georgios | | Ford Sierra RS500 | E12 | 4:05,40 |
| 25 | Baltounis | Georgios | | Ford Escort MK2 | E11 | 4:06,75 |
| 26 | Zagaris | Ioannis | | Citroën Saxo Kit-Car | A7 | 4:09,21 |
| 27 | Balasis | Sgouris | | Toyota Corolla | FST2 | 4:10,62 |
| 28 | Kourniatis | Athanasios | | Ford Escort MK2 | E11 | 4:12,02 |
| 29 | Degleris | Dimitrios | | Peugeot 106 S16 | A6 | 4:12,24 |
| 30 | Anagnou | Vasileios | | Citroën Saxo VTS | A6 | 4:12,48 |
| 31 | Panagoulopoulos | Dimos | | Peugeot 106 S16 | N2 | 4:13,89 |
| 32 | Tasoulas | Konstantinos | | Peugeot 106 S16 | N2 | 4:14,57 |
| 33 | Giannoulis | Dionysios | | Peugeot 106 S16 | N2 | 4:14,61 |
| 34 | Xenokostas | Georgios | | Peugeot 106 S16 | E10 | 4:14,97 |
| 35 | Blachos | Christos | | Peugeot 106 S16 | N2 | 4:15,62 |
| 36 | Vergos | Achilleas | | Opel Manta | E11 | 4:15,65 |
| 37 | Paraskevas | Michalis | | Suzuki Swift GTI | E10 | 4:17,25 |
| 38 | Theos | Kimonas | | Peugeot 106 S16 | N2 | 4:17,86 |
| 39 | Tragis | Konstantinos | | Peugeot 205 GTI | E10 | 4:18,31 |
| 40 | Bertzemis | Dimitrios | | BMW M3 | FSA | 4:19,40 |
| 41 | Damasiotis | Eustathios | | Toyota Yaris | A5 | 4:20,77 |
| 42 | Ntais | Petros | | Volkswagen Golf II | E11 | 4:21,01 |
| 43 | Posotidis | Alexandros | | BMW M3 | E12 | 4:21,40 |
| 44 | Paravalos | Ioannis | | Toyota Yaris | A5 | 4:21,65 |
| 45 | Antoniou | Antonios | | Peugeot 106 S16 | N2 | 4:21,95 |
| 46 | Konstantinidis | Iordanis | | Skoda Fabia RS | FST2 | 4:22,22 |
| 47 | Bompis | Nikolaos | | MG Rover ZR 105 | A5 | 4:22,22 |
| 48 | Batsilas | Angelos | | Suzuki Swift | A5 | 4:22,40 |
| 49 | Brillis | Dimitrios | | Peugeot 106 S16 | N2 | 4:22,76 |
| 50 | Ntekas | Konstantinos | | Peugeot 205 GTI | E10 | 4:23,12 |
| 51 | Kardamakis | Eleutherios | | Toyota Yaris | A5 | 4:23,69 |
| 52 | Pergamalis | Georgios | | Ford Sierra Cosworth | E12T | 4:24,05 |
| 53 | Korinthios | Grigorios | | Seat Leon Cupra | FST2 | 4:24,08 |
| 54 | Katidis | Konstantinos | | BMW E30 | FST2 | 4:25,52 |
| 55 | Barkonikos | Telis | | Citroën Saxo VTS | N2 | 4:27,10 |
| 56 | Cholidis | Theodoros | | Renault Clio | N3 | 4:28,85 |
| 57 | Papatsaras | Nikolaos | | Citroën Saxo VTS | A6 | 4:30,42 |
| 58 | Karampinas | Makis | | Ford Escort MK2 | E11 | 4:32,05 |
| 59 | Vasdekis | Apostolos | | Peugeot 106 S16 | N2 | 4:33,49 |
| 60 | Chalastaras | Spyros | | Peugeot 106 Rallye | FSA | 4:35,08 |
| 61 | Mangidas | Ioannis | | Peugeot 106 S16 | A6 | 4:35,81 |
| 62 | Vagdoutis | Antonios | | Peugeot 106 S16 | E10 | 4:37,54 |
| 63 | Dimitriou | Dimitrios | | Opel Ascona | FST2 | 4:41,21 |
| 64 | Paparetrou | Konstantinos | | Peugeot 106 Rallye | A5 | 4:43,63 |
| 65 | Anglopoulos | Makis | | Mazda RX-7 | FST2 | 4:44,19 |
| 66 | Souflaris | Georgios | | Ford Escort MK2 | FST2 | 4:45,32 |
| 67 | Christou | John | | Honda Civic Type-R | A7 | 4:49,63 |
| 68 | Patatoukos | Konstantinos | | Suzuki Ignis Sport | N2 | 4:52,11 |
| 69 | Saitas | Christos | | BMW E30 | FST2 | 4:52,13 |
| 70 | Asteris | Eleutherios | | Yugo | E10 | 4:52,77 |
| 71 | Klokas | Stefanos | | Ford Escort MK2 | E11 | 4:56,52 |
| 72 | Bochoris | Achilleas | | Audi A4 STW | FST2 | 4:57,63 |
| 73 | Giannopoulos | Ilias | | Renault Clio Sport | N3 | 5:01,46 |
| 74 | Sanidas | Georgios | | Peugeot 306 | E10 | 5:02,78 |
23-24/09/2017 – Portaria Hillclimb (Skoda)

| Pos. | Last Name | First Name | | Car | Cl. | Fase A | Fase B |
| --- | --- | --- | --- | --- | --- | --- | --- |
| 1 | Zachos | Nikolaos | | Skoda Fabia | | 2:19,21 | 2:16,74 |
| 2 | Kyrkos | Miltiadis | | Skoda Fabia | | 2:22,71 | 2:18,08 |
| 3 | Charalampopoulos | Ioannis | | Skoda Fabia | U30 | 2:20,07 | 2:19,36 |
| 4 | Kyrlankitsis | Eustratios | | Skoda Fabia | U30 | 2:21,53 | 2:19,38 |
| 5 | Asimakopoulos | Taxiarchis | | Skoda Fabia | U30 | 2:22,84 | 2:19,97 |
| 6 | Kalesis | Filippos | | Skoda Fabia | U30 | 2:20,35 | 2:20,08 |
| 7 | Potouridis | Ioannis | | Skoda Fabia | U30 | 2:21,27 | 2:20,18 |
| 8 | Roustemis | Panagiotis | | Skoda Fabia | U30 | 2:21,94 | 2:20,47 |
| 9 | Kamitsakis | Georgios | | Skoda Fabia | | 2:23,81 | 2:21,00 |
| 10 | Doultsinos | Michail | | Skoda Fabia | U30 | 2:25,54 | 2:21,91 |
| 11 | Koukeas | Eustathios | | Skoda Fabia | | 2:23,78 | 2:22,18 |
| 12 | Sartampakos | Georgios | | Skoda Fabia | | 2:25,81 | 2:25,54 |
| 13 | Papazoglou | Lymperis | | Skoda Fabia | | 2:28,61 | 2:26,56 |
| 14 | Giousouroum | Iakovos | | Skoda Fabia | U30 | 2:33,38 | 2:29,16 |
| 15 | Kokmotos | Theocharis | | Skoda Fabia | | 2:32,43 | 2:29,82 |
| 16 | Kotzias | Antonios | | Skoda Fabia | | 2:32,14 | 2:31,71 |