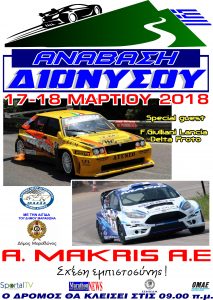 This weekend thousands of spectators were present at the Dionysou Hillclimb in Greece. It was the first round of the Greek Hillclimb Championship. Just like everywere else in Europe the weather was not great. It rained on raceday, but luckily not during the actual races.
The race was much anticipated because of the presence of Fulvio Giuliani. The Italian star had a steep learning curve ahead of him. In just two practise sessions and two race sessions he had to learn the 5 kilometre long track. In first practise Giuliani was seven seconds down on fastest driver Marios Iliopoulos. In second practise he brought the gap down to 4,5 seconds. We will never know how much better the Italian could still do. On Sunday his Lancia Delta EVO broke down and Giuliani had to retire.
With no serious rival left Marios Iliopoulos took another simple victory. Second fastest was the Group A winner Leonidas Kyrkos. Kyrkos is planning to drive mostly rallies this year so the Dionysou Hillclimb was a good test for him. Georgios Kechagias steered his white Ford Sierra Cosworth to another class victory in Group E. Even though he won with a 6 second lead, Kechagias felt he could still do better. Group N winner Stamatis Katsimis had no such doubts. He started his title campaign with a 11 seconds lead. Finally Georgios Katsaros domintated the historics.
17-18/03/2018 – Dionysou Hillclimb

| Pos. | Last Name | First Name | | Car | Cl. | Final |
| --- | --- | --- | --- | --- | --- | --- |
| 1 | Iliopoulos | Marios | | Ford Fiesta | FST | 4:35,28 |
| 2 | Kyrkos | Leonidas | | Ford Escort Cosworth | A8 | 4:54,68 |
| 3 | Iliopoulos | Panagiotis | | Ferrari 458 Challenge | FSA2L | 4:56,40 |
| 4 | Kechagias | Georgios | | Ford Sierra Cosworth | E12 | 5:02,90 |
| 5 | Soldatos | Panagiotis | | Ford Fiesta | FST | 5:03,41 |
| 6 | Katsimis | Stamatis | | Mitsubishi Lancer EVO IX | N4 | 5:04,91 |
| 7 | Patsoureas | Konstantinos | | Mitsubishi Lancer EVO VI | A8 | 5:06,55 |
| 8 | Lioris | Panagiotis | | Ford Escort Cosworth | A8 | 5:07,43 |
| 9 | Ntofis | Konstantinos | | Ford Escort RS2000 | E11 | 5:08,18 |
| 10 | Chasapis | Tryfonas | | Citroën AX Sport | E11 | 5:09,97 |
| 11 | Ntermas | Vasileios | | BMW 320 E30 | E12 | 5:10,00 |
| 12 | Batzanos | Vasileios | | Citroën Saxo VTS | A6 | 5:13,62 |
| 13 | "Amerikanos" | | | Mitsubishi Lancer EVO IX | N4 | 5:16,84 |
| 14 | Zygogiannis | Konstantinos | | Audi A3 | FST2 | 5:17,40 |
| 15 | Rekkas | Vasileios | | Citroën Saxo VTS | A6 | 5:19,21 |
| 16 | Potouridis | Ioannis | | Subaru Impreza 555 | N4 | 5:19,27 |
| 17 | Anadiotis | Georgios | | Renault Clio Sport | A7 | 5:21,70 |
| 18 | Karathanasis | Konstantinos | | Honda Civic Type-R | N3 | 5:22,68 |
| 19 | Chatoupis | Stavros | | Opel Corsa Kit-Car | A7 | 5:23,72 |
| 20 | Kalkounos | Vasileios | | BMW M3 E30 | E12 | 5:25,90 |
| 21 | Maravelias | Giorgos | | BMW E30 | E11 | 5:28,32 |
| 22 | Kourniatis | Athanasios | | Ford Escort RS2000 | E11 | 5:28,96 |
| 23 | Giannoulis | Dionysios | | Peugeot 106 S16 | N2 | 5:34,30 |
| 24 | Plessas | Nikolaos | | Ford Sierra Cosworth | E12 | 5:34,95 |
| 25 | Tsourgiannis | Dimitrios | | Peugeot 106 S16 | E10 | 5:35,20 |
| 26 | Voulis | Athanasios | | Citroën Saxo VTS | N2 | 5:37,24 |
| 27 | Theos | Joachim | | Peugeot 106 S16 | N2 | 5:38,65 |
| 28 | Skandalaros | Ioannis | | Opel Ascona | E11 | 5:41,54 |
| 29 | Mangidas | Giorgos | | Peugeot 106 S16 | E10 | 5:41,60 |
| 30 | Katsaros | Georgios | | Ford Escort MK1 | 2/C3 | 5:41,73 |
| 31 | Plakoutsis | Dimitrios | | Peugeot 206 GT | E11 | 5:42,55 |
| 32 | Brillis | Dimitrios | | Peugeot 106 S16 | N2 | 5:42,57 |
| 33 | Katsarelias | Emmanouil | | Volkswagen Golf GTI | A7 | 5:42,76 |
| 34 | Fassas | Athanasios | | Peugeot 106 S16 | E10 | 5:43,08 |
| 35 | Paravalos | Ioannis | | Toyota Yaris | A5 | 5:45,56 |
| 36 | Papatsaras | Nikolaos | | Citroën Saxo VTS | A6 | 5:45,98 |
| 37 | Kordatzis | Nikolaos | | Peugeot 106 S16 | N2 | 5:47,75 |
| 38 | Rigopoulos | Dionysios | | Opel Kadett C | E11 | 5:48,95 |
| 39 | Cholidis | Theodoros | | Renault Clio Sport | N3 | 5:51,09 |
| 40 | Skordis | Dimitrios | | Opel Ascona | E11 | 5:52,40 |
| 41 | Atzemis | Vasileios | | Peugeot 106 Turbo | FST | 5:53,04 |
| 42 | Voulgaris | Theodoros | | Toyota Starlet | E10 | 5:59,41 |
| 43 | Stamoulis | Charalampos | | Peugeot 106 S16 | A6 | 6:00,55 |
| 44 | Georgoulas | Evangelos | | Ford Escort RS2000 | 3/D3 | 6:00,79 |
| 45 | Atzemis | Christos | | Peugeot 106 Rallye | A5 | 6:02,88 |
| 46 | Karras | Georgios | | BMW 2002 Ti | 2/C3 | 6:09,29 |
| 47 | Karperos | Dimitrios | | Toyota Starlet | E10 | 6:10,46 |
| 48 | Maraslis | Apostolos | | Ford Escort MK1 | 2/C3 | 6:12,41 |
| 49 | Nakakis | Georgios | | Peugeot 206 XS | A6 | 6:14,73 |
| 50 | Boletis | Stylianos | | Ford Escort RS2000 | 3/D3 | 6:27,23 |
| 51 | Papapetrou | Konstantinos | | Peugeot 106 Rallye | A5 | 6:37,40 |
| 52 | Zachos | Zacharias | | Toyota Corolla AE86 | 4/E2 | 6:50,44 |
| 53 | Oikonomou | Dimitrios | | Volkswagen Golf I GTI | 3/D2 | 6:50,76 |
| 54 | Dimitriou | Dimitrios | | Opel Ascona | FST2D | 6:52,06 |
| 55 | Pouliadis | Pantelis | | Porsche 911 Carrera | 3/D4 | 6:52,76 |
| 56 | Sakarikos | Ioannis | | BMW 2002 Ti | 2/C3 | 7:02,82 |
| 57 | Kofinas | Konstantinos | | Alfa Romeo GT Veloce | 2/C3 | 7:03,56 |
| 58 | Karageorgiou | Antonios-Panagiotis | | Toyota Starlet | E9 | 7:03,88 |
| 59 | Papazoglou | Lymperis | | Alfa Romeo Alfasud Ti | 3/D2 | 7:07,87 |
| 60 | Rankousis | Ioannis | | Ford Escort RS2000 | 3/D3 | 7:35,65 |
| 61 | Gerakis | Georgios | | BMW 2002 Ti | 2/C3 | 8:34,14 |
17-18/03/2018 – Dionysou Hillclimb (Skoda Cup)

| Pos. | Last Name | First Name | | Car | Cl. | Fase A | Fase B |
| --- | --- | --- | --- | --- | --- | --- | --- |
| 1 | Kyrkos | Miltos | | Skoda Fabia Turbo | | 2:59,07 | 2:59,87 |
| 2 | Koukeas | Eustathios | | Skoda Fabia Turbo | | 2:59,20 | 3:01,13 |
| 3 | Kalesis | Filippos | | Skoda Fabia Turbo | | 3:00,24 | 3:01,89 |
| 4 | Charalampopoulos | Ioannis | | Skoda Fabia Turbo | | 3:00,41 | 3:01,23 |
| 5 | Kyrlankitsis | Eustratios | | Skoda Fabia Turbo | | 3:01,53 | 3:02,22 |
| 6 | Giannoulis | Vasileios | | Skoda Fabia Turbo | | 3:01,80 | 3:03,65 |
| 7 | Voulgaris | Evangelos | | Skoda Fabia Turbo | | 3:02,17 | 3:02,04 |
| 8 | Galerakis | Spyridon | | Skoda Fabia Turbo | | 3:04,07 | 3:02,48 |
| 9 | Doultsinos | Michailis | | Skoda Fabia Turbo | | 3:02,97 | 3:05,72 |
| 10 | Giousouroum | Iakovos | | Skoda Fabia Turbo | | 3:04,00 | 3:04,61 |
| 11 | "Le Mans" | | | Skoda Fabia Turbo | | 3:05,42 | 3:04,87 |
| 12 | Asimakopoulos | Taxiarchis | | Skoda Fabia Turbo | | 3:05,23 | 3:07,34 |
| 13 | Koklanis | Georgios | | Skoda Fabia Turbo | | 3:05,69 | 3:05,73 |
| 14 | Chalivelakis | Alexandros | | Skoda Fabia Turbo | | 3:06,93 | 3:07,88 |
| 15 | Sartampakos | Georgios | | Skoda Fabia Turbo | | 3:10,85 | 3:08,95 |