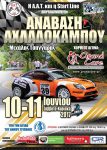 The fourth round of the Greek Hillclimb Championship was the Achladokampos Hillclimb. Halfway during the second race the rain came pouring down. This had a significant effect on the raceresults, especially in Group A.
Leonidas Kyrkos was the final driver to compete on a completely dry track. For that reason the Ford Escort WRC pilot was the fastest driver of the weekend and the Group A winner. Michalis Euthymiou and Dimitris Velios remained reasonably close to the winner. Championship leader Sakis Loris on the other had to drive in the rain and fell way down the order. Spyros Vorgias was the fastest -2000 car.
In Group N the four 4-wheel-drive cars finished 1-2-3-4 with Stamatis Katsimis on top. As usual the most exciting battle took place in class N2. Here Konstantinos Tasoulas took class victory with a lead of just .08 seconds over Vasilis Rekkas.
In Group E Panagiotis Euthymiou is giving Georgos Kechagias a real challenge. At Achladokampos Euthymiou was by far the quicker of the two and took group victory. Marios Iliopoulos was the only driver in Group FS who could hold his own in the rain. The same can be said of Georgios Katsaros in the historics.
More …