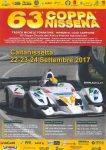 The Italian Hillclimb Championship remained on Sicily for the Coppa Nissena near Caltanissetta. The race was seriously delayed by an early autumn storm. Only just after midday did the first race begin. However in the end everybody managed to complete 2 runs succesfully.
Domenico Scola continued his winning streak at the Coppa Nissena. It was however one of his closest victories this year. In the first race Omar Magliona was just .01 seconds slower than the new Italian Champion. In the second race Scola did manage to increase his lead a little. The final difference came down to just .14 seconds. Pietro Nappi had some trouble with the set-up of his Team Faggioli Osella FA30. The experienced driver still finished third overall. Francesco Conticelli was just sixth after the first race session but in the second race he managed to jump to fourth. One of the drivers he passed was Luca Ligato. The CN Class winner saw his championship rival Achille Lombardi retire with fuel pump issues.
With just one more event to go some drivers are already certain of their class championship. At the Coppa Nissena Salvatore D'Amico (Group A), Antonio Migliuolo (Group N) and Antonio Scappa (Group RS) became mathematically certain of their titles.
23-24/09/2017 – Coppa Nissena

| Pos. | Last Name | First Name | | Car | Cl. | Final |
| --- | --- | --- | --- | --- | --- | --- |
| 1 | Scola | Domenico | | Osella FA30 | E2-SS 3000 | 4:00,24 |
| 2 | Magliona | Omar | | Norma M20 FC | E2-SC 3000 | 4:00,38 |
| 3 | Nappi | Pietro | | Osella FA30 | E2-SS 3000 | 4:04,75 |
| 4 | Conticelli | Francesco | | Osella PA2000 | E2-SC 2000 | 4:20,62 |
| 5 | Ligato | Luca | | Osella PA21/S EVO | CN 2000 | 4:20,90 |
| 6 | Conticelli | Vincenzo | | Osella PA30 Zytek | E2-SC 3000 | 4:22,14 |
| 7 | Caruso | Luca | | Radical Prosport | E2-SC 1600 | 4:25,30 |
| 8 | Degasperi | Diego | | Radical SR4 Suzuki | E2-SC 1600 | 4:33,06 |
| 9 | Cassibba | Giovanni | | Osella PA20/S | E2-SC 3000 | 4:36,11 |
| 10 | Micciche | Salvatore | | Osella PA21/S Honda | CN 2000 | 4:38,98 |
| 11 | D'Urso | Matteo | | Radical SR4 | E2-SC 1600 | 4:41,12 |
| 12 | Micallef | Mark | | Radical Prosport | E2-SC 2500 | 4:42,39 |
| 13 | Bonforte | Agostino | | Gloria CP8 | E2-SS 1600 | 4:46,01 |
| 14 | Blunda | Dino | | Speads RM08 | E2-SS 1600 | 4:46,84 |
| 15 | Angelini | Giovanni | | Gloria B5 EVO | E2-SS 1000 | 4:59,22 |
| 16 | Buscaino | Giuseppe | | Osella PA2000 | E2-SC 2000 | 5:00,43 |
| 17 | Ferraro | Santo | | Osella PA20/S | CN 2500 | 5:01,63 |
| 18 | Bonforte | Angelo | | Osella PA20/S | E2-SC 3000 | 5:01,75 |
| 19 | Cannavo | Ignazio | | Lamborghini Gallardo | GT3 +4000 | 5:02,49 |
| 20 | Cimarelli | Ferdinando | | Alfa Romeo 156 | E1 2000 | 5:04,59 |
| 21 | Reina | Salvatore | | Elia Avrio ST09 | E2-SC 1400 | 5:04,67 |
| 22 | Caruso | Franco | | Osella PA21/S | CN 1600 | 5:05,06 |
| 23 | Giancani | Gaspare | | Elia Avrio ST09 | E2-SC 1000 | 5:05,92 |
| 24 | Faro | Angelo Roberto | | Fiat Uno Turbo | E1 1600T | 5:15,14 |
| 25 | La Rocca | Carlo Fabrizio | | Mini Cooper S | RSTB+ 1600 | 5:16,92 |
| 26 | D'Amico | Salvatore | | Renault Clio | A 2000 | 5:18,94 |
| 27 | Scappa | Antonio | | Mini Cooper S | RSTB 1600 | 5:19,77 |
| 28 | Lombardo | Roberto | | Renault Clio Williams | A 2000 | 5:19,85 |
| 29 | Lombardo | Calogero | | Renault Clio | A 2000 | 5:20,51 |
| 30 | Parrino | Rosario | | Porsche 911 GT3 | GT3 4000 | 5:21,30 |
| 31 | Migliuolo | Antonino | | Mitsubishi Lancer | N +3000 | 5:21,35 |
| 32 | Leogrande | Francesco | | Fiat 126 | E2-SH 1150 | 5:21,56 |
| 33 | Liuzzi | Giacomo | | Mini Cooper S | RSTB 1600 | 5:22,40 |
| 34 | Somaschini | Rachele | | Mini Cooper S | RSTB+ 1600 | 5:28,77 |
| 35 | Naselli | Salvatore | | Fiat 500 Sporting | E2-SH 1150 | 5:30,61 |
| 36 | Cicalese | Francesco Paolo | | Honda Civic | RS+ 1600 | 5:32,64 |
| 37 | Macri | Salvatore | | Alfa Romeo 147 | E1 2000 | 5:34,45 |
| 38 | Palazzo | Andrea | | Mini Cooper S | RSTB+ 1600 | 5:35,81 |
| 39 | Cascino | Carmelo | | Peugeot 205 Rallye | PE 1400 | 5:37,47 |
| 40 | Orlando | Eugenio | | Citroën Saxo | N 1600 | 5:40,65 |
| 41 | Bellia | Luca | | Peugeot 205 Rallye | PE 1400 | 5:40,80 |
| 42 | Errichetti | Rocco | | Peugeot 106 Rallye | N 1600 | 5:43,35 |
| 43 | Carfi | Giovanni Orazio | | BMW M3 | E2-SH +3000 | 5:44,91 |
| 44 | Loffredo | Giovanni | | Mini Cooper S | RSTB 1600 | 5:47,15 |
| 45 | Geremia | Renato | | Honda Civic | N 2000 | 5:47,90 |
| 46 | Maio | Carmelo | | Renault 5 GT Turbo | PE 2000 | 5:49,04 |
| 47 | Russo | Marco | | Renault Clio Williams | N 2000 | 5:49,74 |
| 48 | D'Avola | Salvatore | | Peugeot 106 Rallye | A 1400 | 5:50,20 |
| 49 | Fiore | Antonio | | Autobianchi A112 Abarth | E1 1150 | 5:50,46 |
| 50 | Salpietro | Matteo | | Peugeot 106 Rallye | A 1400 | 5:50,57 |
| 51 | Fichera | Salvatore | | Citroën Saxo | A 1600 | 5:56,63 |
| 52 | Gullo | Claudio | | Volkswagen Polo Kit-Car | E1 1150M | 5:57,34 |
| 53 | Secondo | Antonio | | Peugeot 106 Rallye | RS 1600 | 5:58,21 |
| 54 | Arena | Michele | | Citroën Saxo | N 1600 | 5:59,51 |
| 55 | Mercuri | Angelo | | Fiat 500 | BIC 700/5 | 5:59,83 |
| 56 | Tacchini | Mario | | Mini Cooper S | RSTB 1600 | 6:00,15 |
| 57 | Anastasi | Joe | | Austin Cooper S | E2-SH 1600 | 6:00,66 |
| 58 | Cimbali | Massimo Enrico | | Fiat 500 Abarth | RSTB 1400 | 6:02,10 |
| 59 | Portale | Daniele | | Fiat 126 | BIC 700/5 | 6:02,97 |
| 60 | Amato | Ignazio | | Renault Clio Cup | RS+ 2000 | 6:04,99 |
| 61 | Grimaldi | Francesco | | Mini Cooper S | RSTB+ 1600 | 6:05,96 |
| 62 | Cardillo | Filippo | | Peugeot 106 Rallye | N 1600 | 6:06,20 |
| 63 | Garzia | Salvatore | | Peugeot 106 Rallye | A 1600 | 6:06,97 |
| 64 | "Gabry Driver" | | | Peugeot 106 Kit-Car | E1 1400 | 6:09,23 |
| 65 | Carlino | Calogero | | Fiat 500 | BIC 700/5 | 6:12,15 |
| 66 | Morabito | Domenico | | Fiat 500 | BIC 700/5 | 6:13,82 |
| 67 | Viaggio | Riccardo | | Fiat 126 | BIC 700/5 | 6:14,56 |
| 68 | D'Avola | Giovanni | | Peugeot 106 Rallye | A 1600 | 6:14,95 |
| 69 | Ponticello | Nunzio | | Peugeot 106 XSi | E1 1400 | 6:15,08 |
| 70 | Paletta | Mirko | | Fiat 500 | BIC 700/5 | 6:16,84 |
| 71 | Cardillo | Antonino | | Fiat 500 | BIC 700/5 | 6:17,70 |
| 72 | Bellia | Mattia | | MG ZR 105 | N 1400 | 6:21,53 |
| 73 | Raiti | Martina | | Osella PA21/J | CN 1600 | 6:22,32 |
| 74 | Lanzafame | Alfio | | Peugeot 106 Rallye | RS 1600 | 6:23,09 |
| 75 | Di Gregorio | Giuseppe | | Renault 5 GT Turbo | PE 2000 | 6:24,38 |
| 76 | Cacioppo | Antonino | | Autobianchi A112 Abarth | PE 1150 | 6:26,29 |
| 77 | "Zio Fester" | | | Honda Civic | E1 1600 | 6:26,80 |
| 78 | Mastrosimone | Daniele | | Peugeot 106 Rallye | N 1400 | 6:27,92 |
| 79 | Loconte | Angelo | | Honda Civic Type-R | RS 2000 | 6:28,85 |
| 80 | Piccolo | Adriano | | Renault Clio | RS 2000 | 6:31,18 |
| 81 | Savatteri | Vittorio | | Renault Clio RS | N 2000 | 6:33,82 |
| 82 | Lanzafame | Salvatore | | Citroën Saxo | RS 1600 | 6:35,31 |
| 83 | Gibella | Danilo | | Peugeot 106 Rallye | RS 1600 | 6:37,24 |
| 84 | Giummarra | Giorgio | | Citroën Saxo | N 1600 | 6:44,64 |
| 85 | Parello | Luigi | | Fiat 500 | BIC 700/5 | 6:47,40 |
| 86 | Benvenuto | Antonio | | Peugeot 106 Rallye | N 1400 | 6:48,84 |
| 87 | Budano | Domenico | | Peugeot 106 Rallye | N 1400 | 7:15,43 |
| 88 | Iacona | Luigi | | Peugeot 106 Rallye | N 1400 | 8:14,31 |
23-24/09/2017 – Coppa Nissena (Historic)

| Pos. | Last Name | First Name | | Car | Cl. | Final |
| --- | --- | --- | --- | --- | --- | --- |
| 1 | La Franca | Claudio | | Porsche 911 SC | 3/H2-I/GTS +2500 | 5:43,37 |
| 2 | "Aeron" | | | Renault 5 GT Turbo | 4/J2/N +2000 | 5:55,28 |
| 3 | Cutrone | Girolamo | | Porsche 911 SC | 3/H2-I/GTS +2500 | 6:00,12 |
| 4 | Barbagallo | Giuseppe | | Renault 5 GT Turbo | 4/J1/A +2000 | 6:04,20 |
| 5 | Sillitti | Corrado Maria | | Alfa Romeo 75 | 4/J2/A +2000 | 6:08,61 |
| 6 | Gianfilippo | Quintino | | Alfa Romeo Alfetta GTV | 2/G2-H1/TC 2000 | 6:09,28 |
| 7 | Piazza | Antonio | | BMW 2002 | 1/G1/TC 2000 | 6:10,65 |
| 8 | Mancuso | Vincenzo | | BMW 2002 | 3/H2-I/TC 2000 | 6:14,35 |
| 9 | Adragna | Matteo | | Porsche Carrera RS | 2/G2-H1/GTS +2500 | 6:20,19 |
| 10 | Bartolotta | Diego | | BMW 2000 | 3/H2-I/TC 2000 | 6:27,76 |
| 11 | Certisi | Marcello | | Morris Mini Cooper S | 1/F/TC 1300 | 6:37,89 |
| 12 | Giarratana | Michele | | Lancia Fulvia Coupé | 2/G2-H1/GTS 1300 | 6:51,23 |
| 13 | Gigliuto | Giuseppe | | Autobianchi A112 Abarth | 3/H2-I/SIL 1150 | 6:52,91 |
| 14 | Spinelli | Salvatore | | Alfa Romeo Giulietta | 1/F/GTP 1600 | 6:54,28 |
| 15 | Viola | Gaetano | | Porsche 911 RS | 2/G2-H1/GTS +2500 | 6:54,55 |
| 16 | Arduino | Giovanni | | Fiat 126 | 3/H2-I/SIL 700 | 6:55,92 |
| 17 | Sorce | Ignazio | | Fiat Abarth OTS Coupé | 1/G1/GTS 1000 | 6:57,73 |
| 18 | "Podi" | | | BMW 2002 Tii | 2/G2-H1/T 2000 | 7:03,68 |
| 19 | Carvotta | Salvatore | | Fiat Giannini 650 NP | 2/G2-H1/TC 700 | 7:08,13 |
| 20 | Guarino | Michele | | Lancia Fulvia Coupé Rallye | 2/G2-H1/GTS 1300 | 7:15,85 |
| 21 | Ferrarella | Andrea | | Fiat 128 | 2/G2-H1/TC 1150 | 7:16,46 |
| 22 | Lombardo | Salvatore | | Lancia Fulvia Coupé | 1/G1/TC 1300 | 7:17,60 |
| 23 | Barone | Vincenzo | | Fiat Giannini | 2/G2-H1/TC 1150 | 7:18,46 |
| 24 | Lo Bundo | Melchiorre | | Autobianchi A112 Abarth | 2/G2-H1/TC 1150 | 7:20,10 |
| 25 | Scaccianoce | Nicola | | Alfa Romeo GTAM | 2/G2-H1/TC 2000 | 7:27,24 |
| 26 | Bulla | Filadelfio | | Fiat 128 Coupé | 3/H2-I/SIL 1150 | 7:30,50 |
| 27 | Angilella | Carlo | | Lancia Fulvia Coupé HF | 1/G1/TC 1300 | 7:33,21 |
| 28 | Capizzi | Pasquale | | Alfa Romeo AlfaSud Ti | 3/H2-I/T 1600 | 7:43,68 |
| 29 | Pino | Antonino | | Alfa Romeo Giulia Nuova | 3/H2-I/TC 1300 | 8:24,34 |
| 30 | Ferrara Sardo | Giuseppe | | Opel 1900 GT | 2/G2-H1/GTS 2000 | 8:36,02 |
| 31 | Territo | Michele | | Leyland Innocenti Mini Cooper | 2/G2-H1/T 1300 | 8:47,96 |
| 32 | Frattallone | Calogero | | Fiat 595 Abarth | 2/G2-H1/TC 700 | 9:31,78 |