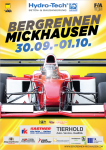 Before the event it was already known that this year's edition of the Bergrennen Mickhausen would be the last. Because of difficulties with organising the event the race will not return in 2018. What happens in 2019 and beyond is still unclear but not looking very good. Final edition or not, the 2017 event was very succesful.
It still rained for the first race on Sunday morning. For a moment it seemed like Romeo Nüssli could repeat his 2016 surprise win. After that first race he was second overall just behind his countryman Marcel Steiner. But gradually the track dried out and times improved. Because only the best two times out of three counted, that first race session proved to be meaningless for everybody.
In the second race Patrik Zajelsnik set the fastest time. However the track was still drying so everything would come down to the third and final race. Here Marcel Steiner was again fastest. The Swiss was the only driver to go under 50 seconds. That was enough to retake the lead from Zajelsnik and win the event. Just like last week in Sankt Agatha Christoph Lampert was extremely fast. With his 2 litre Osella PA2000 the Austrian finished third overall at Mickhausen. Simon Hugentobler was fourth overall while Uwe Lang finished fifth.
The Bergrennen Mickhausen was also the final event of the International Hillclimb Cup. Karl Schagerl was fastest touringcar driver on a single run. On aggregate times he was actually beaten by a few others. Over 2 runs the new French Champion Pierre Courroye was actually the best with Romeo Nüssli in second and Thomas Kessler in third. Schagerl appears just fourth but he did win the International Hillclimb Cup Category 3.
In Category 2 both Reinhold Taus and Gabriella Pedroni won their respective groups. Because Pedroni had 2 Italians with her in Group N, she has full points. Taus on the other hand appears to have just half points. That would mean Pedroni is the new Cup winner.
In Category 1 Vaclav Janik was already certain of the title. He did not appear in Germany this weekend.
30/09-01/10/2017 – Bergrennen Mickhausen

| Pos. | Last Name | First Name | | Car | Cl. | Final |
| --- | --- | --- | --- | --- | --- | --- |
| 1 | Steiner | Marcel | | LobArt LA01 Mugen | 38 | 1:45,960 |
| 2 | Zajelsnik | Patrik | | Norma M20 FC | 38 | 1:46,644 |
| 3 | Lampert | Christoph | | Osella PA2000 EVO | 37 | 1:51,223 |
| 4 | Hugentobler | Simon | | Reynard 97D | 42 | 1:54,108 |
| 5 | Lang | Uwe | | Osella PA20/S EVO | 38 | 1:54,617 |
| 6 | Debruyne | Frank | | Dallara F303 | 41 | 1:56,580 |
| 7 | Wolpert | Mathieu | | Dallara F303 | 41 | 1:57,070 |
| 8 | Conrad | Thomas | | CRS MTK S 5/7 | 37 | 1:57,675 |
| 9 | Courroye | Pierre | | McLaren MP4 12C | 26 | 1:57,726 |
| 10 | Bormolini | Fausto | | Reynard K02 Cosworth | 42 | 1:57,821 |
| 11 | Nüssli | Romeo | | Ford Escort Cosworth | 23 | 1:58,269 |
| 12 | Kessler | Thomas | | Mitsubishi Lancer | 23 | 1:58,473 |
| 13 | Schagerl | Karl | | Volkswagen Golf Rallye TFSI-R | 23 | 1:58,581 |
| 14 | Trneny | Karel | | Skoda Fabia WRC | 23 | 1:59,875 |
| 15 | Napione | Renzo | | Reynard K02 Cosworth | 42 | 1:59,977 |
| 16 | Werver | Nicolas | | Porsche 997 GT2 | 23 | 2:00,864 |
| 17 | Hovemann | Holger | | Opel Kadett GT/R | 30 | 2:01,112 |
| 18 | Gebhard | Dino | | Osella PA20/S | 38 | 2:02,095 |
| 19 | Pregartner | Herbert | | Porsche 911 GT2 | 23 | 2:02,229 |
| 20 | Handa | Norbert | | Lancia Delta Integrale | 23 | 2:02,512 |
| 21 | Stolz | Herbert | | Porsche 935 DPII | 23 | 2:02,537 |
| 22 | Neff | Frédéric | | Porsche 996 Cup | 23 | 2:02,637 |
| 23 | Triebstein | Christian | | Dallara F302 | 41 | 2:04,431 |
| 24 | Bentivoglio | Pasquale | | Tatuus | 40 | 2:05,172 |
| 25 | Braquet | Roland | | Dallara F308/11 | 41 | 2:05,798 |
| 26 | Wolpert | Uwe | | UWR WFK 07 | 37 | 2:05,905 |
| 27 | Strasser | Thomas | | Volkswagen Scirocco | 20 | 2:06,659 |
| 28 | Wiebe | Björn | | Renault Laguna | 20 | 2:06,927 |
| 29 | Miethke | Günter | | Norma M20 | 37 | 2:07,051 |
| 30 | Marchione | Canio | | Volkswagen Scirocco | 20 | 2:07,759 |
| 31 | Eller | Hans-Peter | | Volkswagen Golf II | 20 | 2:08,301 |
| 32 | Zemp | Michel | | Seat Leon TCR | 23 | 2:08,517 |
| 33 | Preisser | Dirk | | Opel Kadett C | 20 | 2:08,705 |
| 34 | Wimmer | Norbert | | BMW 2002 | 20 | 2:08,816 |
| 35 | Koch | Josef | | Opel Kadett C | 22 | 2:08,938 |
| 36 | Göser | Günter | | Opel Kadett C Coupé | 22 | 2:09,177 |
| 37 | Pisano | Egidio | | Volkswagen Golf STW | 20 | 2:10,502 |
| 38 | Rauch | Michael | | Opel Kadett C | 20 | 2:10,567 |
| 39 | Lang | Georg | | Tatuus Renault | 41 | 2:11,304 |
| 40 | Permetinger | Bernhard | | BMW M3 E30 | 22 | 2:11,582 |
| 41 | Heisel | Lars | | Opel Kadett | 20 | 2:11,682 |
| 42 | Ruch | René | | Ferrari F355 GT | 23 | 2:11,839 |
| 43 | Röck | Sabine | | Volkswagen Golf Turbo | 20 | 2:11,950 |
| 44 | Paulick | Ralph | | Volkswagen Golf I | 20 | 2:12,268 |
| 45 | Taus | Reinhold | | Subaru Impreza WRX | 15 | 2:12,507 |
| 46 | Herz | Sascha | | Dallara F305 | 41 | 2:12,584 |
| 47 | Faulhaber | Stefan | | Opel Kadett | 19 | 2:12,625 |
| 48 | Zenklusen | Vanessa | | Subaru Impreza | 23 | 2:13,512 |
| 49 | Faiglé | René | | Volkswagen Scirocco | 20 | 2:14,141 |
| 50 | Knoblich | Helmut | | Mini Cooper S | 22 | 2:14,537 |
| 51 | Weber | Jens | | Opel Kadett C | 20 | 2:14,885 |
| 52 | Wanek | Roland | | Mitsubishi Lancer EVO IX | 15 | 2:15,447 |
| 53 | Flik | Thomas | | Renault Megane Cup | 20 | 2:15,558 |
| 54 | Gapp | Marcel | | BMW M3 E36 | 22 | 2:15,588 |
| 55 | Schulte | Manfred | | Citroën AX Kit-Car | 19 | 2:15,634 |
| 56 | Scheer | Andre | | BMW 320is | 20 | 2:15,690 |
| 57 | Weiss | Werner | | Ford Escort RS | 20 | 2:15,733 |
| 58 | Ochsner | Jürg | | Opel Kadett C | 20 | 2:15,819 |
| 59 | Moser | Gerhard | | Volkswagen Polo | 18 | 2:16,071 |
| 60 | Dubois | Anthony | | Porsche 997 GT3 Cup | 26 | 2:16,346 |
| 61 | Ehrle | Bernd | | Opel Kadett C | 20 | 2:16,676 |
| 62 | Arlt | Florian | | Volkswagen Lupo Cup | 19 | 2:16,781 |
| 63 | Buck | Erwin | | Volkswagen Scirocco I | 19 | 2:16,914 |
| 64 | Weissdorn | Franz | | Volkswagen Polo I | 18 | 2:17,128 |
| 65 | Ebenhöh | Armin | | Volkswagen Scirocco | 18 | 2:17,631 |
| 66 | Duscher | Frank | | Volkswagen Polo | 18 | 2:17,786 |
| 67 | Uenzen | Nikolas | | BMW M3 | 15 | 2:17,861 |
| 68 | Altmann jr. | Dieter | | Peugeot 405 Mi16 | 20 | 2:18,204 |
| 69 | Löscher | Thomas | | Opel Lotus | 41 | 2:18,392 |
| 70 | Glas | Wolfgang | | Volkswagen Golf I | 19 | 2:18,479 |
| 71 | Kreim | Achim | | Mitsubishi Lancer EVO VIII | 15 | 2:18,844 |
| 72 | Abb | Nils | | Volkswagen Polo II | 18 | 2:19,009 |
| 73 | Gramenzi | Marco | | Alfa Romeo 155 DTM | 22 | 2:20,487 |
| 74 | Neu | Kai | | Ford Focus ST170 | 14 | 2:20,777 |
| 75 | Banz | Armin | | Opel Kadett C | 22 | 2:20,885 |
| 76 | Wolk | Alexander | | Volkswagen Golf III | 14 | 2:21,825 |
| 77 | Somaschini | Rachele | | Mini Cooper JCW | 22 | 2:22,246 |
| 78 | Seitz | Hans-Dieter | | Ford Escort MK2 | 20 | 2:22,521 |
| 79 | Schöpfer | Stefan | | Audi 50 | 18 | 2:22,750 |
| 80 | Lang | Bernhard | | Ford Escort RS2000 | 20 | 2:22,855 |
| 81 | Hessberger | Jürgen | | Fiat 127 Sport | 17 | 2:23,574 |
| 82 | Hulm | Michael | | Renault Clio Cup III | 20 | 2:23,962 |
| 83 | Bächler | Martin | | Volkswagen Lupo Cup | 18 | 2:24,069 |
| 84 | Pedroni | Gabriella | | Mitsubishi Lancer EVO IX | 7 | 2:24,120 |
| 85 | Schmid | Thomas | | Opel Kadett C Coupé | 20 | 2:24,975 |
| 86 | Collisi | Stephan | | Behnke Condor BMW | 37 | 2:25,389 |
| 87 | Alt | Holger | | Ford Escort | 20 | 2:25,908 |
| 88 | Ehret | Christian | | Opel Ascona B | 20 | 2:26,004 |
| 89 | Schmitz | Herbert | | Opel Astra GSi | 6 | 2:26,201 |
| 90 | Uenzen | Hendrik | | BMW 325i E36 | 15 | 2:26,681 |
| 91 | Schlachter | Karl-Heinz | | BMW 2002 Tii Alpina | 22 | 2:26,813 |
| 92 | Forster | Josef | | Peugeot 306 S16 | 6 | 2:26,969 |
| 93 | Stegmann | Tobias | | Audi 50 | 17 | 2:27,004 |
| 94 | Zufall | Erik | | Opel Astra F | 14 | 2:27,531 |
| 95 | Hofmann | Steffen | | NSU TT | 17 | 2:27,658 |
| 96 | Weber | Eugen | | Honda S2000 | 14 | 2:27,825 |
| 97 | Eberle | Jörg | | Fiat 127 Super | 17 | 2:28,327 |
| 98 | Höber | Jörg | | NSU TT | 16 | 2:28,373 |
| 99 | Winkler | Stefan | | Fiat 127 | 18 | 2:28,852 |
| 100 | Bestle | Guido | | Alpine A310 Turbo | 15 | 2:29,457 |
| 101 | Hess | Mario | | Opel Astra F GSi | 14 | 2:29,595 |
| 102 | Ried | Matthias | | Opel Manta B | 14 | 2:29,596 |
| 103 | Fechter | Jürgen | | Volkswagen Scirocco | 20 | 2:29,643 |
| 104 | Altenhofen | Ralf | | Ford Focus RS | 15 | 2:30,160 |
| 105 | Bodner | Christian | | BMW 320is | 14 | 2:30,385 |
| 106 | Voigt | Walter | | Volkswagen Polo | 17 | 2:30,783 |
| 107 | Oertig | Beat | | Peugeot 106 Maxi | 19 | 2:30,878 |
| 108 | Zihlmann | Roland | | Volkswagen Golf I | 19 | 2:30,944 |
| 109 | Bürker | Felix | | Opel Corsa A | 18 | 2:31,302 |
| 110 | Gasser | Markus | | Volkswagen Golf GTI | 14 | 2:31,357 |
| 111 | Meurer | Karlheinz | | Volkswagen Golf V R-TDi | 21 | 2:31,360 |
| 112 | Kraus | Martin | | Volkswagen Polo | 14 | 2:31,691 |
| 113 | Davidovic | Jörg | | NSU TT | 16 | 2:31,751 |
| 114 | Wilfer | Werner | | Ford Escort MK2 | 20 | 2:31,839 |
| 115 | Faber | Josef | | Opel Kadett C Coupé | 20 | 2:32,198 |
| 116 | Schulte | Benedikt | | Citroën AX Sport | 19 | 2:32,471 |
| 117 | Schindler | Uwe | | NSU TT | 16 | 2:33,108 |
| 118 | Hatezic | Johann | | Opel Ascona B | 20 | 2:33,357 |
| 119 | Krystofiak | Thomas | | NSU 1200c KWR | 16 | 2:33,848 |
| 120 | Stoll | Volker | | Peugeot 306 S16 | 14 | 2:34,904 |
| 121 | Klages | Jürgen | | Opel Astra F GSi | 20 | 2:35,194 |
| 122 | Siebert | Gerhard | | Osella PA18 | 37 | 2:35,241 |
| 123 | Schwanecke | Gero | | Volkswagen Golf I GTI | 20 | 2:36,070 |
| 124 | Maslonka | Robert | | Volkswagen Polo 86c | 12 | 2:36,074 |
| 125 | Koller | Sepp | | Alfa Romeo 147 JTD | 21 | 2:36,563 |
| 126 | Vogel | Michael | | NSU TT | 16 | 2:38,025 |
| 127 | Agnello | Giuseppe | | Mazda MX-5 | 29 | 2:38,260 |
| 128 | Wedekink | Frank | | Mitsubishi Lancer EVO IX | 15 | 2:38,891 |
| 129 | Werner | Markus | | Ford Fiesta MK1 | 17 | 2:38,993 |
| 130 | Schwegler | Marc | | Renault Clio III RS | 14 | 2:38,998 |
| 131 | Zimmermann | Beat | | Volkswagen Polo | 18 | 2:39,298 |
| 132 | Hülsmann | Manfred | | Volkswagen Golf I | 18 | 2:39,414 |
| 133 | Leich | Heiko | | Opel Astra G OPC | 20 | 2:40,137 |
| 134 | Schmid | Ruedi | | Volkswagen Golf I | 19 | 2:40,387 |
| 135 | Rauch | Rolf | | Fiat 128 Rallye | 17 | 2:40,635 |
| 136 | Schlott | Dominik | | Volkswagen Polo 86c | 18 | 2:40,806 |
| 137 | Lombardo | Antoine | | Lola B99/50 | 42 | 2:41,145 |
| 138 | Holenstein | Daniel | | Opel Kadett GSi | 20 | 2:41,280 |
| 139 | Buser | Lisbeth | | Opel Kadett C | 20 | 2:41,690 |
| 140 | Schwalbe | Wolfgang | | NSU TT | 16 | 2:42,002 |
| 141 | Nadalini | Stefano | | Mitsubishi Lancer EVO IX | 7 | 2:42,075 |
| 142 | Sobek | Thomas | | Opel Astra OPC | 14 | 2:42,168 |
| 143 | Ebenhöh | Silvia | | Volkswagen Polo I | 18 | 2:42,192 |
| 144 | Tinella | Domenico | | Mini Cooper | 19 | 2:42,225 |
| 145 | Boch | Heinz-Peter | | Honda Civic | 13 | 2:44,419 |
| 146 | Steinbrenner | Jonas | | BMW 323i | 15 | 2:45,626 |
| 147 | Werner | Uwe | | Ford Fiesta BDA | 18 | 2:47,392 |
| 148 | Bicciato | Rudi | | Honda Civic | 6 | 2:47,859 |
| 149 | Faulhaber | Sophia | | BMW 316i Compact | 1 | 2:49,385 |
| 150 | Rabus | Leonhard | | NSU TT | 16 | 2:50,585 |
| 151 | Eichholz | Mike | | Fiat Cinquecento | 17 | 2:51,305 |
| 152 | Alfano | Fausto | | Fiat 126 | 17 | 2:51,838 |
| 153 | Magdalone | Giovanni | | Fiat 500 | 17 | 2:52,112 |
| 154 | Szott | Roman | | NSU TT | 16 | 2:54,317 |
| 155 | Ehrmann | Pascal | | Peugeot 207 RC | 15 | 2:55,272 |
| 156 | Auerochs | Marco | | BMW Compact | 22 | 2:55,825 |
| 157 | Mayer | Tobias | | Volkswagen Polo II | 18 | 2:56,811 |
| 158 | Pezzullo | Aldo | | Fiat 126 | 17 | 3:15,220 |
| 159 | Limmer | Armin | | Alfa Romeo Giulia S | 5 | 3:15,266 |