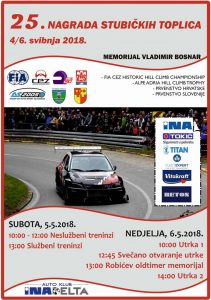 A lot of last minute withdrawals depleted the startinglist of the Nagrada Stubičke Toplice near Sljeme. Among the absentees were top drivers such as Domagoj Perekovic, Dejan Dimitrijevic and Vladimir Stankovic. This left Milan Bubnic with little competition. The Slovene drove to a simple victory and maximum points in his own national championship. Second place and best of the local drivers was Damir Nakic. The Radical SR3 pilot had little trouble with Petar Dajak to take maximum points.
In the Croatian Touringcar Championship a three way fight for victory erupted. Mario Jurisic debuted his new Audi A4 STW and set the fastest time of the day in the second race. However he had lost too much time in the first race to Bojan Juranic in the battle for victory. Denis Nisevic was always within a second of the two leaders but had to settle for third. The three leaders also finished 4-5-6 in the overall results.
The Slovene touringcar championship would have just as exciting if it was not for Milan Bubnic. Matevz Cuden, Tilen Pogacar and Ales Prek fought for every tenth of a second to take the runner-up spot. Eventually it was Cuden who was the best of the rest.
05-06/05/2018 – Nagrada Stubicke Toplice (Sljeme)

| Pos. | Last Name | First Name | | Car | Cl. | Final |
| --- | --- | --- | --- | --- | --- | --- |
| 1 | Bubnic | Milan | | Lancia Delta Integrale | E1 23 | 5:48,209 |
| 2 | Nakic | Damir | | Radical SR3 | CN19 | 5:55,595 |
| 3 | Dajak | Petar | | Gloria C8F | D19 | 6:00,879 |
| 4 | Juranic | Bojan | | Renault Clio Sport | E1 16 | 6:09,471 |
| 5 | Jurisic | Mario | | Audi A4 STW | E1 16 | 6:10,539 |
| 6 | Nisevic | Denis | | Renault Megane | E1 17 | 6:11,207 |
| 7 | Cuden | Matevz | | Renault Clio | E1 16 | 6:17,621 |
| 8 | Pogacar | Tilen | | Volkswagen Golf I | E1 16 | 6:18,021 |
| 9 | Prek | Ales | | Honda Civic Type-R | A8 | 6:20,599 |
| 10 | Kopajtic | Dejan | | Yugo | E1 15 | 6:23,274 |
| 11 | Marc | Peter | | Mitsubishi Lancer EVO IX | N4 | 6:23,556 |
| 12 | Andrejevic | Nino | | Fiat Punto | E1 16 | 6:25,355 |
| 13 | Pavicic | Zeljko | | Opel Astra OPC | E1 17 | 6:25,680 |
| 14 | Masic | Damir | | Mitsubishi Lancer EVO X | E1 23 | 6:26,145 |
| 15 | Soklic | Anze | | Peugeot 306 | E1 16 | 6:27,201 |
| 16 | Tomcsany | Tamas | | Lada | E1 15 | 6:28,496 |
| 17 | Banjeglav | Dusko | | Peugeot 106 GTI | A7 | 6:36,408 |
| 18 | Udovc | Alojz | | Renault Clio R3 | A8 | 6:36,855 |
| 19 | Samec | Dario | | Peugeot 206 RC | N3 | 6:41,901 |
| 20 | Delimar | Vedran | | Volkswagen Polo Cup | E1 23 | 6:43,106 |
| 21 | Gorup | Sven | | Skoda Fabia | A6 | 6:43,618 |
| 22 | Barovic | Marijo | | Zastava 750 | E1 11 | 6:43,759 |
| 23 | Brkljacic | Matija | | Honda Civic Type-R | N3 | 6:46,694 |
| 24 | Kavecz | Domenik | | BMW E30 | E1 17 | 6:49,547 |
| 25 | Alduk | Ante | | Honda Civic Type-R | A8 | 6:49,839 |
| 26 | Cvitic | Maurizio | | Honda Civic Type-R | N3 | 6:51,001 |
| 27 | Ruzzier | Patrik | | Fiat Cinquecento | E1 14 | 6:56,946 |
| 28 | Kljun | Dorijan | | Volkswagen Golf GTI | C2 | 6:58,526 |
| 29 | Franic | Maro | | Honda Civic VTI | N2 | 7:04,943 |
| 30 | Tomljanovic | Tin | | Citroën Saxo | N2 | 7:06,141 |
| 31 | Hernaut | Antonio | | Opel Corsa | D4 | 7:06,286 |
| 32 | Kotlusek | Igor | | Fiat Coupe SL | B3 | 7:09,258 |
| 33 | Martincich | Lorenzo | | Peugeot 205 Rallye | D4 | 7:16,166 |
| 34 | Strozic | Bojan | | Autobianchi A112 Abarth | C1 | 7:20,048 |
| 35 | Likovic | Franc | | MG ZR 105 | E1 14 | 7:23,818 |
| 36 | Jukic | Frane | | Suzuki Swift | D4 | 7:27,047 |
| 37 | Sentic | Ivan | | Honda Civic VTI | N2 | 7:27,950 |
| 38 | Cossetto | Igor | | Formula Renault | E2 19 | 7:29,068 |
| 39 | Cerni | Leo | | Fiat 128 SC | B3 | 7:30,778 |
| 40 | Salec | Florian | | Skoda Favorit | E1 14 | 7:33,896 |
| 41 | Rottonara | Florian | | Fiat Giannini 650 NP | B1 | 7:35,013 |
| 42 | Lena | Enrico | | Lancia Fulvia HF | B4 | 7:36,329 |
| 43 | Milkovic | Mato | | Yugo | E1 15 | 7:42,782 |
| 44 | Muller | Janos | | Opel Corsa | E1 15 | 7:44,849 |
| 45 | Cubelic | Hrvoje | | Fiat Uno Turbo | D6 | 7:54,703 |
| 46 | Mader | Alen | | Volkswagen Polo GTI | A7 | 7:58,322 |
| 47 | Dolski | Klaudija | | Suzuki Swift GTI | E1 14 | 8:04,996 |
| 48 | Alic | Mihael | | Yugo | D4 | 8:11,845 |
| 49 | Baricevac | Dino | | Fiat 128 SC | B3 | 8:45,142 |
| 50 | Hursa | Danijel | | Skoda Favorit | E1 14 | 8:48,402 |
| 51 | Huzanic | Josip | | Skoda Felicia | E1 14 | 9:06,982 |
| 52 | Dulabic | Grga | | Yugo | D4 | 9:11,316 |
| 53 | Oletic | Slavko | | Fiat X1/9 | REG | 9:29,200 |
| 54 | Juric | Renzo | | Fiat 1100R | A2 | 9:29,655 |