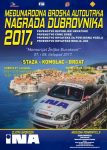 The Nagrada Dubrovnika – Memorijal Željko Đuratović was the final round of the Croatian Hillclimb Championship. Domagoj Perekovic was already certain of the touringcar title before the end. That was fortunate because the new champion suffered differential damage in Dubrovnik and scored no points. Second placed Istvan Kavecz was another driver with mechanical problems.
With the two top drivers out of the race Mario Jurisic moved into the lead. With this victory Jurisic moved up to second place in the points standings. It was a brilliant conclusion to a succesful 2017 season for Jurisic. His Opel Vectra STW is not nearly as powerful as his rivals machines but he still managed to take two overall victories this year.
Bojan Juranic finished second in Dubrovnik. He finished equal in points with Istvan Kavecz. But because the Hungarian has more second-place finishes Juranic ends the championship in fourth.
For safety reason the singleseaters of category 2 were not allowed to drive in Dubrovnik. Laszlo Szasz is once again the new champion in this category.
07-08/10/2017 – Nagrada Dubrovnik / Memorijal Zeljko Duratovic

| Pos. | Last Name | First Name | | Car | Cl. | Final |
| --- | --- | --- | --- | --- | --- | --- |
| 1 | Jurisic | Mario | | Opel Vectra STW | E1 16 | 3:08,375 |
| 2 | Juranic | Bojan | | Renault Clio Sport | E1 16 | 3:08,595 |
| 3 | Nisevic | Denis | | Renault Megane | E1 17 | 3:19,955 |
| 4 | Knego | Zarko | | Honda Civic Type-R | N3 | 3:24,338 |
| 5 | Vuckovic | Goran | | Honda Civic Type-R | N3 | 3:24,921 |
| 6 | Hadzic | Harun | | Honda Civic Type-R | N3 | 3:26,184 |
| 7 | Matkovic | Ante | | Opel Kadett C | E1 16 | 3:28,409 |
| 8 | Herceg | Miroslav | | Renault 5 GT Turbo | E1 17 | 3:29,226 |
| 9 | Rajhel | Zoran | | Volkswagen Golf I | H16 | 3:30,499 |
| 10 | Bekavac | Stipe | | Volkswagen Golf I | E1 16 | 3:31,449 |
| 11 | Franic | Divo | | Honda Civic VTI | N2 | 3:32,561 |
| 12 | Kascelan | Nemanja | | Honda Civic | H15 | 3:33,043 |
| 13 | Rosandic | Milos | | Honda Civic Type-R | N3 | 3:34,523 |
| 14 | Milkovic | Mato | | Fiat Bravo | E1 15 | 3:34,709 |
| 15 | Batalic | Ivan | | Honda Civic Type-R | A8 | 3:34,840 |
| 16 | Raznatovic | Ivan | | Renault Clio | H16 | 3:35,903 |
| 17 | Franic | Maro | | Honda Civic | A7 | 3:36,092 |
| 18 | Pulic | Ivan | | Seat Ibiza Cupra | E1 23 | 3:36,458 |
| 19 | Hadzic | Bakir | | Honda Integra Type-R | E1 16 | 3:36,473 |
| 20 | Stella | Novica | | Honda Civic VTI | N2 | 3:39,029 |
| 21 | Petrov | Natanel | | Zastava 101 | E1 15 | 3:39,563 |
| 22 | Banicevic | Zeljko | | Volkswagen Polo | H14 | 3:43,007 |
| 23 | Danilovich | Marko | | Peugeot 106 | N1 | 3:43,692 |
| 24 | Dragosevic | Ivica | | Peugeot 205 GTI | E1 16 | 3:43,883 |
| 25 | Kmetovic | Deni | | Yugo | E1 14 | 3:44,730 |
| 26 | Sentic | Ivan | | Citroën Saxo | A7 | 3:46,920 |
| 27 | Samardzic | Nikola | | Peugeot 106 | N1 | 3:47,957 |
| 28 | Prnic | Bozo | | Ford Escort RS | A9 | 3:47,995 |
| 29 | Perekovic | Domagoj | | Mitsubishi Lancer EVO IX | E1 23 | 3:48,173 |
| 30 | Radic | Romano | | Peugeot 106 | A6 | 3:48,936 |
| 31 | Violic | Nikola | | Zastava 750 | E1 11 | 3:51,001 |
| 32 | Sturica | Miho | | Peugeot 106 Rallye | N1 | 3:51,881 |
| 33 | Krivokapic | Milutin | | Peugeot 106 | N1 | 3:51,995 |
| 34 | Nilovic | Dejan | | Peugeot 106 | A6 | 3:54,910 |
| 35 | Senadovic | Eldin | | Yugo 45 | H14 | 3:55,796 |
| 36 | Radovic | Jovan | | Yugo | A6 | 3:56,280 |
| 37 | Punda | Ivan | | Peugeot 106 | A6 | 3:56,530 |
| 38 | Adzic | Marko | | Yugo 45 | H14 | 3:58,591 |
| 39 | Milosev | Goran | | Peugeot 106 | N1 | 3:58,977 |
| 40 | Petrovic | Kresimir | | Yugo | A6 | 3:59,102 |
| 41 | Spika | Ivan | | Peugeot 106 Rallye | N1 | 3:59,951 |
| 42 | Petkovic | Filip | | Peugeot 106 | N1 | 4:03,371 |
| 43 | Matijas | Bozidar | | Zastava 850 | E1 14 | 4:04,357 |
| 44 | Perunovic | Jovan | | Yugo | N1 | 4:05,808 |
| 45 | Vlasic | Borna | | Skoda Fabia | N1 | 4:06,571 |
| 46 | Eljdurovic | Marko | | Peugeot 205 | H14 | 4:06,944 |
| 47 | Hlaca | Bojan | | Yugo | P1 | 4:07,499 |
| 48 | Odza | Srdjan | | Yugo | N1 | 4:13,682 |
| 49 | Fereda | Divo | | Honda Civic | A7 | 4:20,475 |
| 50 | Mijanovic | Nikola | | Yugo | A6 | 4:20,759 |
| 51 | Vrkic | Andelko | | Renault Clio | E1 14 | 4:23,828 |
| 52 | Vucetic | Goran | | Yugo | N1 | 4:24,736 |
| 53 | Bjelovic | Nikola | | Yugo | N1 | 4:25,245 |
| 54 | Borilovic | Ratko | | Yugo | H14 | 4:48,476 |
| 55 | Lezenic | Ivo | | Volkswagen Golf II | E1 15 | 5:21,964 |