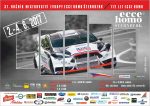 The fourth round of the European Hillclimb Championship (EHC) was the legendary Ecce Homo Hillclimb near Šternberk in the Czech Republic. Simone Faggioli won this event seven consecutive times between 2009 and 2015. Last year Christian Merli broke this streak with a victory of his own.
That this year's edition would again be very close was already obvious in practise. Faggioli made a rare mistake which allowed Merli to set fastest time. On Sunday Faggioli was fastest in the first race. But a rain shower mid-day turned everything around. Merli was now the fastest driver, but as everybody knows the EHC is decided on the combined times. Adding both times together the gap was just .2 seconds in favour of… Faggioli! As both drivers won their groups they remain equal in points.
The rain played into the hands of the local Czech drivers who moved up the standings. The foreign drivers who have less experience here dropped down the order. For example Sébastien Petit was third after the first race but dropped back to eighth, Fausto Bormolini went from fifth to eleventh, and so on. Only Paride Macario managed to stay on top of the leaderboard. The young Italian ended up third overall.
The Ecce Homo Hillclimb is always the best race in E2-SH. It did not disappoint this year. The battle for victory was intense this year as Dan Michl and Vladimir Vitver were always within a second of eachother. It was Michl who took victory and the Lotus Elise driver also ended up a brilliant fifth overall.
Former European Champion turned circuit racer Robert Senkyr returned to the sport this weekend. Driving in a BMW Z4 GT3 he immediately won the GT class. Second was Jan Milon in a similar car with Frenchman Philippe Schmitter in third. Lukas Vojacek was almost unopposed in Group A while Laszlo Hernadi was completely unopposed in Group S2000. In Group N Tomas Vavrinec was the quickest driver in Race 1. However on the damp track in Race 2 he lost too much time and dropped to third. The battle for victory developed in a surprising way. Shkelzen Lajci and Jaromir Maly ended up with the exact same combined time! Because Maly had the faster time in race 1 he gets qualified ahead of Lajqi.
03-04/06/2017 – Ecce Homo

| Pos. | Last Name | First Name | | Car | Cl. | Final |
| --- | --- | --- | --- | --- | --- | --- |
| 1 | Faggioli | Simone | | Norma M20 FC | E2-SC 3000 | 5:53,75 |
| 2 | Merli | Christian | | Osella FA30 | E2-SS 3000 | 5:53,93 |
| 3 | Macario | Paride | | Osella FA30 | E2-SS 3000 | 5:58,19 |
| 4 | Komarek | David | | Norma M20 FC | E2-SC 3000 | 6:23,69 |
| 5 | Michl | Dan | | Lotus Elise | E2-SH 3000 | 6:24,41 |
| 6 | Janik | Vaclav | | Norma M20 FC | E2-SC 3000 | 6:25,04 |
| 7 | Vitver | Vladimir | | Audi WTT-R DTM | E2-SH +3000 | 6:25,36 |
| 8 | Petit | Sebastien | | Norma M20 FC | E2-SC 3000 | 6:26,88 |
| 9 | Neveril | Dusan | | Norma M20 FC | E2-SC 3000 | 6:33,63 |
| 10 | Rybnicek | Marek | | Ford Fiesta | E2-SH +3000 | 6:36,75 |
| 11 | Bormolini | Fausto | | Reynard K02 | E2-SS 3000 | 6:40,20 |
| 12 | Trnka | Petr | | Ligier JS53 E2 | E2-SC 2000 | 6:40,76 |
| 13 | Napione | Renzo | | Reynard K02 | E2-SS 3000 | 6:40,92 |
| 14 | Vondrak | Martin | | Tatuus NT07 Honda | E2-SS 2000 | 6:41,06 |
| 15 | Beres jr. | Jozef | | Tatuus PY012 | E2-SC 2000 | 6:42,03 |
| 16 | Drotar | Igor | | Skoda Fabia R5 | E1 +2000 | 6:42,48 |
| 17 | Weber | Christophe | | Dallara F302/04 | E2-SS 2000 | 6:43,50 |
| 18 | Stollnberger | Andreas | | Dallara F302 | E2-SS 2000 | 6:49,35 |
| 19 | Cvrcek | Veroslav | | Skoda Fabia S2000 | E1 +2000 | 6:53,32 |
| 20 | Szasz | Laszlo | | Reynard Zytek | E2-SS 3000 | 6:53,45 |
| 21 | Pailer | Felix | | Lancia Delta Integrale | E1 +2000 | 6:55,52 |
| 22 | Senkyr | Robert | | BMW Z4 GT3 | GT +3000 | 6:57,12 |
| 23 | Bormolini | Andrea | | Osella PA20/S | CN 3000 | 7:00,22 |
| 24 | Milon | Jan | | BMW Z4 GT3 | GT +3000 | 7:00,69 |
| 25 | Crespi | Stefano | | Osella PA21/S | CN 2000 | 7:01,58 |
| 26 | Madrian | Ferdinand | | Norma M20F | E2-SC 3000 | 7:07,56 |
| 27 | Chabr | Tomas | | Tomis 99-03 | E2-SS 1600 | 7:07,99 |
| 28 | Schmitter | Philippe | | Lamborghini Gallardo GT3 | GT +3000 | 7:09,62 |
| 29 | Capucci | Marco | | Osella PA21/S | CN 2000 | 7:10,07 |
| 30 | Neumayr | Christopher | | Ford Escort | E1 2000 | 7:10,14 |
| 31 | Mlejnek | Ales | | Gloria C8F | E2H-SS 1000 | 7:10,60 |
| 32 | Ulman | Pavel | | BMW M3 E36 | E2-SH +3000 | 7:10,84 |
| 33 | Svoboda | Jiri | | Norma M20F | E2-SC 2000 | 7:11,02 |
| 34 | Zeman | Martin | | Mitsubishi Lancer EVO VIII | E2-SH +3000 | 7:13,36 |
| 35 | Vondrak | Petr | | Osella PA21/S | E2-SC 2000 | 7:15,19 |
| 36 | Fried | Marek | | Lotus Exige | E1 2000 | 7:16,56 |
| 37 | "Tessitore" | | | Porsche 997 GT3 | GT +3000 | 7:18,59 |
| 38 | Svoboda | Milan | | BRC CM05 EVO | E2-SC 1000 | 7:19,27 |
| 39 | Maly | Jaromir | | Mitsubishi Lancer EVO X | N +3000 | 7:23,35 |
| 40 | Lajci | Shkelzen | | Mitsubishi Lancer EVO IX | N +3000 | 7:23,35 |
| 41 | Sternad | Diethard | | Alfa Romeo 156 | E1 2000 | 7:24,10 |
| 42 | Vavrinec | Tomas | | Mitsubishi Lancer EVO IX | N +3000 | 7:24,20 |
| 43 | Erdelyi | Tomas | | BMW M3 E92 GTR | E2-SH +3000 | 7:24,97 |
| 44 | Tarmann | Josef | | Dallara F302 Mercedes | E2-SS 2000 | 7:27,28 |
| 45 | Ambruz | Peter | | Vauxhall Vectra ST | E1 2000 | 7:28,18 |
| 46 | Hubacek | Karel | | BMW M3 E92 GTR | E2-SH +3000 | 7:28,85 |
| 47 | Krakovic | Radek | | Fiks 09RK | E2H-SS 1400 | 7:29,01 |
| 48 | Krampota | Ivo | | BMW M3 E36 | E2-SH +3000 | 7:30,47 |
| 49 | Bouvier | Christian | | Wolf GB08 | CN 2000 | 7:30,62 |
| 50 | Chaloupka | Frantisek | | Mitsubishi Lancer EVO VI | E1 +2000 | 7:31,98 |
| 51 | Jerman | Martin | | Lamborghini Gallardo GT3 | GT +3000 | 7:32,08 |
| 52 | Juhas | Martin | | BMW M3 | E1 +2000 | 7:32,10 |
| 53 | Jakubik | Lubomir | | Ferrari F458 | GT +3000 | 7:32,25 |
| 54 | Sajlerova | Gabriela | | Mitsubishi Lancer EVO X | N +3000 | 7:32,33 |
| 55 | Suja | Denis | | Tatuus FR2000 | E2-SS 2000 | 7:33,19 |
| 56 | Joray | Sebastien | | BMW M3 E36 | E1 +2000 | 7:33,96 |
| 57 | Sajler | Filip | | Mitsubishi Lancer EVO X | N +3000 | 7:34,00 |
| 58 | Neckar | Libor | | Tatuus Master | E2H-SS 2000 | 7:34,25 |
| 59 | Vojacek | Lukas | | Subaru Impreza WRX | A +3000 | 7:35,02 |
| 60 | Duboczi | Jaroslav | | Seat Leon TDi | E1 +2000 | 7:36,62 |
| 61 | Lisa | Petr | | Caterham 485 | E1H 2000 | 7:37,80 |
| 62 | Berger | Karel | | Formula Konig E2 | E2H-SS 1400 | 7:37,86 |
| 63 | Florek | Peter | | Mitsubishi Lancer EVO IX | N +3000 | 7:40,48 |
| 64 | Hlavinka | Josef | | Opel Lotus | E2H-SS 2000 | 7:40,52 |
| 65 | Filipin | Jiri | | Suzuki Swift GTI | E1H 1400 | 7:41,13 |
| 66 | Cepicka | Vlastimil | | Mitsubishi Lancer EVO X | E1H +2000 | 7:41,52 |
| 67 | Chudoba | Zdenek | | Norma M20F | E2H-SC 2000 | 7:41,81 |
| 68 | David | Petr | | Volkswagen Golf TDi | E1H +2000 | 7:41,99 |
| 69 | Klimes | Lukas | | Skoda Fabia TDi | E1H +2000 | 7:42,76 |
| 70 | Michalik | Tomas | | Mitsubishi Lancer EVO IX | E1H +2000 | 7:46,34 |
| 71 | Cambal | Mojmir | | Citroën Saxo VTS | E1 1600 | 7:46,67 |
| 72 | Kracmar | Zdenek | | Demon Car | E2H-SC 1000 | 7:47,02 |
| 73 | Grundova | Nela | | Mitsubishi Lancer EVO VIII | E1H +2000 | 7:48,11 |
| 74 | Taus | Kerstin | | Subaru Impreza WRX | A +3000 | 7:48,57 |
| 75 | Theimer | Jiri | | Peugeot 306 Maxi | E2-SH 2000 | 7:48,81 |
| 76 | Hernadi | Laszlo | | Mitsubishi Lancer EVO IX R4 | S2 +3000 | 7:49,20 |
| 77 | Kucera | Zdenek | | Nissan 200SX | E1H +2000 | 7:49,24 |
| 78 | Mikes | Jaroslav | | Skoda 130 RS | E1H Skoda | 7:50,16 |
| 79 | Mach | Jan | | Skoda Octavia | E1H 2000 | 7:50,65 |
| 80 | Dohnalek | Josef | | Citroën C2 VTS | E1H 1600 | 7:52,49 |
| 81 | Studeny | Lukas | | Skoda 110R | E1H Skoda | 7:53,73 |
| 82 | Meixner | Richard | | Norma M20 FC | E2-SC 2000 | 7:54,73 |
| 83 | Dobes | Vaclav | | Skoda Favorit | E1H 1400 | 7:55,67 |
| 84 | Dedek | David | | Alfa Romeo 147 | A 2000 | 7:57,70 |
| 85 | Vasek | Jiri | | Skoda Octavia | E2-SH 2000 | 7:57,84 |
| 86 | Winter | Jaroslav | | Honda Civic Type-R | E1H 2000 | 7:58,38 |
| 87 | Klukan | Radek | | BMW M3 E36 | E1H +2000 | 7:59,52 |
| 88 | Satek | Jakub | | Honda Civic Type-R | E1H 2000 | 7:59,59 |
| 89 | Purs | Patrik | | Honda Civic | E1 1600 | 8:00,94 |
| 90 | Pleva | Martin | | Soda 100 | E1H Skoda | 8:01,17 |
| 91 | Kus | Petr | | Volkswagen Golf I | E1H 2000 | 8:08,24 |
| 92 | Müller | Lukas | | Skoda 100 | E1H Skoda | 8:08,32 |
| 93 | Macek | Vojtech | | Skoda 110R | E1H 1600 | 8:11,28 |
| 94 | Stanek | Vojtech | | Citroën C2 | E1H 1600 | 8:11,72 |
| 95 | Schermann | Gerhard | | Suzuki Swift | E1 1400 | 8:12,81 |
| 96 | Podmajersky | Vladimir | | Peugeot 206 RC | A 2000 | 8:13,59 |
| 97 | Polacek | Martin | | BMW M3 | E1 +2000 | 8:14,99 |
| 98 | Krivka | Tomas | | Renault Clio Sport | E1H 2000 | 8:15,10 |
| 99 | Sustr | Miloslav | | Skoda Favorit | E1H 1600 | 8:15,47 |
| 100 | Pluhar | Jindrich | | Nissan Sunny GTi | E1H 2000 | 8:15,54 |
| 101 | Svozil | Michal | | BMW M3 | E1 3000 | 8:17,52 |
| 102 | Janda | Martin | | Seat Ibiza Cupra | E1H 2000 | 8:17,81 |
| 103 | Stejskal | Bronislav | | Skoda Felicia Kit-Car | E1 1400 | 8:19,79 |
| 104 | Furis | Pavel | | Peugeot 205 MI16 | E1H 2000 | 8:20,03 |
| 105 | Kminek | Zdenek | | Nissan 350Z | GT +3000 | 8:21,00 |
| 106 | Samek | Vaclav | | Skoda Felicia Pick-Up | E1H 1600 | 8:22,14 |
| 107 | Zak | Josef | | Skoda 100 | E1H Skoda | 8:26,41 |
| 108 | Hruby | Milan | | Skoda Fabia FR16 | E1 1600 | 8:26,46 |
| 109 | Osmera | Jiri | | Renault Clio Sport | E1 2000 | 8:29,15 |
| 110 | Pavlik | Denis | | Peugeot 208 R2 VTi | A 1600 | 8:29,59 |
| 111 | Jezek | Radim | | Skoda Felicia | E2-SH 1400 | 8:29,67 |
| 112 | Strnad | Petr | | Skoda 130 LR | E1H Skoda | 8:34,48 |
| 113 | Demeter | Matej | | Suzuki Swift | E1 1400 | 8:37,98 |
| 114 | Roziak | Julius | | Skoda Felicia | E1 1400 | 8:38,98 |
| 115 | Trnka | Jan | | Skoda Felicia | A 1400 | 8:49,02 |
| 116 | Svoboda | Libor | | Honda Civic VTI | E1H 1600 | 8:54,40 |
| 117 | Holek | Jiri | | Skoda 120LS | E1H Skoda | 8:58,68 |
| 118 | Stranska | Pavla | | Skoda 120L | E1H Skoda | 8:59,21 |
| 119 | Zoufaly | Karel | | Skoda Felicia Pick-Up | E1H 1400 | 9:01,39 |
| 120 | Kocirik | David | | Skoda 136 Rapid | E1H Skoda | 9:01,96 |
| 121 | Kacvinsky | Peter | | Renault Clio RS | N 2000 | 9:06,28 |
| 122 | Kmet | Frantisek | | Honda Civic VTEC | N 1600 | 9:15,19 |
| 123 | Popova | Eliska | | Skoda Felicia Pick-Up | E1H 1600 | 9:36,01 |
| 124 | Jiran | Stanislav | | MTX Mondial | E2H-SS 1600 | 9:50,85 |
03-04/06/2017 – Ecce Homo (Historic)

| Pos. | Last Name | First Name | | Car | Cl. | Final |
| --- | --- | --- | --- | --- | --- | --- |
| 1 | Bonucci | Uberto | | Osella PA9/90 | C4/D8 | 6:28,75 |
| 2 | Klus | Adam | | March HSS Can-Am | C4/D9 | 6:51,04 |
| 3 | Prasek | Jaroslav | | Chevron B42 F2 | C5/E5 | 6:59,62 |
| 4 | Turriziani | Roberto | | Osella PA9/90 | C4/D7 | 7:08,53 |
| 5 | Palmieri | Giuliano | | De Tomaso Pantera | C2/B6 | 7:29,29 |
| 6 | Zmeskal | Milos | | Ralt RT32 | C5/E9 | 7:29,89 |
| 7 | Gorni | Roberto | | Osella PA/N | C4/D10 | 7:33,02 |
| 8 | Czapka | Marian | | Porsche 928S | C3/C3 | 7:35,89 |
| 9 | Glinzner | Gerald | | Porsche 911 Carrera | C3/C3 | 7:36,75 |
| 10 | Pichler | Horst | | Abarth SE021 | C1/A9 | 7:38,79 |
| 11 | Michl | Josef | | Porsche 911 RS | C2/B6 | 7:41,06 |
| 12 | Sonnleitner | Reinhard | | Volkswagen Golf G60 Rallye | C4/D6 | 7:41,42 |
| 13 | Chytil | Ondrej | | MTX 1-03 | C5/E2 | 7:41,52 |
| 14 | Mössler | Harald | | Steyr Puch Bergspyder | C1/A7 | 7:49,18 |
| 15 | Kubicek | Jiri | | Skoda 130 RS | C3/C1 | 7:51,17 |
| 16 | Dolezal | Lubomir | | MTX 1-06 | C5/E7 | 7:52,34 |
| 17 | Taborsky | Radovan | | Fiat 128 Rallye | C2/B3 | 7:54,10 |
| 18 | Matusek | Lukas | | Skoda 130 RS | C3/C1 | 8:15,13 |
| 19 | Ciliak | Miroslav | | Metalex MTX 1-06 | C5/E4 | 8:28,90 |
| 20 | Dokoupil | Roman | | Skoda 130 RS | C3/C1 | 8:29,20 |
| 21 | Konicar | Vladimir | | BMW 2002 Ti | C1/A5 | 8:34,64 |
| 22 | Vondrakova | Michaela | | Skoda 120S | C2/B3 | 8:38,13 |
| 23 | Indra | Jindrich | | Skoda 110L | C3/C1 | 8:47,99 |
| 24 | Grasso | Angela | | Lotus 23B | C1/A8 | 8:50,14 |
| 25 | Gänsdorfer | Ales | | MTX 1-10 | C5/E4 | 8:53,90 |
| 26 | Freudenschuss | Willi | | BMW E30 | C4/D3 | 8:56,28 |
| 27 | Lena | Enrico | | Lancia Fulvia Coupé | C2/B4 | 8:56,32 |
| 28 | Labner | Reinhard | | Austin Mini Cooper S | C1/A3 | 8:56,49 |
| 29 | Zalesky | Radek | | MTX 1-02 Easter | C5/E3 | 8:56,78 |
| 30 | Stietka | Walther | | Volkswagen Beetle 1302 | C2/B4 | 8:58,10 |
| 31 | Vacek | Lubomir | | BMW 2002 Ti | C1/A5 | 9:00,11 |
| 32 | Weigl | Peter | | Tecno Ford F2 | C5/E2 | 9:06,50 |
| 33 | Ondrejka | Jan | | Skoda 200 RS | C2/B9 | 9:06,87 |
| 34 | Fischer | Gerd | | Ford Escort GT | C2/B3 | 9:11,12 |
| 35 | Holzer | Christian | | Steyr Puch 650 TR | C1/A1 | 9:13,11 |
| 36 | Benik | Tomas | | Lancia Beta Coupé | C3/C2 | 9:18,15 |
| 37 | Windsteig | Werner | | Citroën AX Sport | C4/D4 | 9:23,75 |
| 38 | Pachteu | Jürgen | | Steyr Puch 650 TR | C1/A1 | 9:26,17 |
| 39 | Sterba | Josef | | Fiat Abarth 1000 TC | C1/A2 | 9:40,96 |
| 40 | Esterbauer | Johannes | | Steyr Puch 650 TR | C1/A1 | 10:22,65 |
| 41 | Pagliarello | Giovanni | | Abarth 1000 Bialbero | C1/A2 | 11:27,16 |
| 42 | Seethaler | Alexander | | Steyr Puch 650 TR | C1/A1 | 38:06,95 |