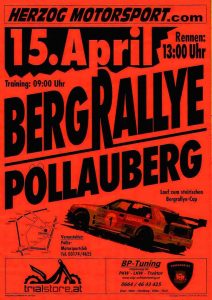 The Bergrallye Pöllauberg celebrated its 20th anniversary this year. 85 drivers were present this Sunday for the third round of the Bergrallye-Cup. Many drivers used the event to test for the Rechbergrennen next week.
Karl Schagerl barely finished his Volkswagen Golf Rallye TFSI-R in time for the event. Some mechanical problems and a small driving error seemed to push him back. However after breaking the trackrecord in the third race Schagerl was back on top. Just .07 seconds was his lead over Rupert Schwaiger but it was enough. Schwaiger had set the fastest times in race 1 and 2 but had no answer to Schagerls final supertime. Third was for a brilliant Manuel Seidl. The Porsche 997 Cup pilot scored one of his best ever results. It was exceptional considering the dept of field at Pöllauberg.
The top five was completed by two foreign guest drivers. Romeo Nüssli from Switzerland got the better of Nikolay Zlatkov from Bulgaria. Sixth place was for another guest driver. Pöllauberg is one of the few Bergrallies were singleseaters are allowed. Andreas Stollnberger came here to test his Dallara F302 and finished sixth overall.
The 4-wheel-drive class was very close this Sunday. Well at least behind Schagerl… Werner Karl, Thomas Holzmann, Andreas Gabat and Felix Pailer were separated by just .7 seconds. Gabat was competing in the ex-Franz Nowak Lancia Delta. This guest drive was arranged by Felix Pailer, the organiser of the Bergrallye Pöllauberg.
15/04/2018 – Pöllauberg Bergrallye

| Pos. | Last Name | First Name | | Car | Cl. | Final |
| --- | --- | --- | --- | --- | --- | --- |
| 1 | Schagerl | Karl | | Volkswagen Golf Rallye | E1 +2000 4WD | 1:50,57 |
| 2 | Schwaiger | Rupert | | Porsche 911 Bi-Turbo | E1 +2000 2WD | 1:50,65 |
| 3 | Seidl | Manuel | | Porsche 997 GT3 Cup | E1 +2000 2WD | 1:52,56 |
| 4 | Nüssli | Romeo | | Ford Escort Cosworth | E2-SH | 1:52,60 |
| 5 | Zlatkov | Nikolay | | Audi Quattro S1 | E2-SH | 1:52,80 |
| 6 | Stollnberger | Andreas | | Dallara F302 | E2-SS | 1:52,96 |
| 7 | Karl | Werner | | Audi S2R Quattro | E1 +2000 4WD | 1:53,32 |
| 8 | Holzmann | Thomas | | Mitsubishi Lancer EVO VI | E1 +2000 4WD | 1:53,50 |
| 9 | Gabat | Andreas | | Lancia Delta Integrale | E1 +2000 4WD | 1:53,92 |
| 10 | Pailer | Felix | | Lancia Delta Integrale | E1 +2000 4WD | 1:54,07 |
| 11 | Strasser jr. | Thomas | | Volkswagen Scirocco | E1 2000 | 1:54,30 |
| 12 | Ramler | Peter | | Audi S1R | E2-SH | 1:54,63 |
| 13 | Wiedenhofer | Stefan | | Mitsubishi Mirage E2 | E1 +2000 4WD | 1:55,35 |
| 14 | Scherf | Martin | | Formula Renault | E2-SS | 1:55,54 |
| 15 | Hofer | Werner | | Ford Escort WRC | E1 +2000 4WD | 1:55,59 |
| 16 | Wels | Michael | | Volkswagen Scirocco | E1 2000 | 1:56,07 |
| 17 | Madrian | Ferdinand | | Norma M20F | E2-SC | 1:56,37 |
| 18 | Sternad | Diethard | | Alfa Romeo 156 TS | E1 2000 | 1:56,68 |
| 19 | Fiausch | Heiko | | Opel Astra | E1 2000 | 1:56,83 |
| 20 | Auer | Michael | | Volkswagen Scirocco GTR | E1 2000 | 1:57,02 |
| 21 | Halbartschlager | Jürgen | | Volkswagen Golf | E1 2000 | 1:57,96 |
| 22 | Blasl | Hermann | | Opel Kadett C | E1 2000 | 1:58,03 |
| 23 | Taus | Reinhold | | Subaru Impreza WRX | A +2000 | 1:58,42 |
| 24 | Binder | Karl-Heinz | | Ford Sierra RS500 | E1 +2000 2WD | 1:58,56 |
| 25 | Lenz | Bernhard | | BMW M3 E36 | E1 +2000 2WD | 1:58,72 |
| 26 | Weberhofer | Thomas | | Opel Omega Bi-Turbo | E1 +2000 2WD | 1:58,74 |
| 27 | Duller | Benjamin | | Mitsubishi Lancer EVO VI | A +2000 | 1:58,83 |
| 28 | Speckl | Christian | | Volkswagen Golf | E1 1600 | 1:59,29 |
| 29 | Wilhelm | Bernard | | Puch TR5 | E2-SH | 1:59,46 |
| 30 | Emsenhuber | Michael | | Volkswagen Corrado | E1 2000 | 1:59,62 |
| 31 | Hartl | Roland | | Mitsubishi Lancer EVO VI | A +2000 | 1:59,63 |
| 32 | Mayer | Patrick | | Volkswagen Golf I | E1 2000 | 1:59,70 |
| 33 | Fuchs | Manfred | | Mitsubishi Lancer EVO VIII | A +2000 | 1:59,78 |
| 34 | Holzer | Dieter | | Mitsubishi Lancer EVO VIII | N +2000 | 2:00,41 |
| 35 | Neuherz | Harald | | Audi S1 Quattro | H +2500 | 2:00,55 |
| 36 | Zamberger | Martin | | Peugeot 106 GTI | E1 1600 | 2:01,70 |
| 37 | Probhardt | Peter | | Mitsubishi Lancer EVO IX | N +2000 | 2:02,53 |
| 38 | Panzenböck | Rene | | Renault Clio III Maxi | E1 2000 | 2:02,84 |
| 39 | Müllner | Andreas | | BMW M3 E36 | E1 +2000 2WD | 2:03,63 |
| 40 | Blasl | Manuel | | Volkswagen Golf 17 | E1 1600 | 2:06,12 |
| 41 | Pyringer | Florian | | Volkswagen Golf I | E1 1600 | 2:06,43 |
| 42 | Jud | Werner | | Volkswagen Golf II | E1 2000 | 2:06,60 |
| 43 | Perhofer | Andreas | | Subaru Impreza STi | A +2000 | 2:06,63 |
| 44 | Harrer | Helmut | | Citroën Xsara | A 2000 | 2:06,72 |
| 45 | Pirkner | Markus | | Volkswagen Scirocco | H 2500 | 2:06,88 |
| 46 | Strohmeier | Günter | | Alfa Sud | E1 1400 | 2:07,20 |
| 47 | Glinzner | Gerald | | Porsche 911 SC | H +2500 | 2:07,42 |
| 48 | Steiner | Jürgen | | Volkswagen Golf I | E1 2000 | 2:07,58 |
| 49 | Holzer | Johannes | | Volkswagen Polo 86c | E1 1400 | 2:08,06 |
| 50 | Mayer | Chris-André | | Honda Civic Type-R | A 2000 | 2:09,26 |
| 51 | Orasche | Patrick | | Renault Megane Coupé | A 2000 | 2:09,58 |
| 52 | Weidinger | Dominik | | Opel Kadett | E1 2000 | 2:09,68 |
| 53 | Kremener | Mario | | BMW M3 E36 | E1 +2000 2WD | 2:11,12 |
| 54 | Vouk | Gregor | | Subaru Impreza WRX | E2-SH | 2:11,13 |
| 55 | Zöchling | Manfred | | Volkswagen Golf GTI | H 2500 | 2:12,83 |
| 56 | Brandl | Matthias | | Volkswagen Golf II | E1 2000 | 2:12,83 |
| 57 | Schutting | Wolfgang | | Renault Clio Williams | N 2000 | 2:12,85 |
| 58 | Flechl | Patrick | | Opel Astra GSi | N 2000 | 2:13,39 |
| 59 | Warmuth | Rene | | BMW E30 323i | H 2500 | 2:13,53 |
| 60 | Theuretzbacher | Julian | | Subaru Impreza GT | E1 +2000 4WD | 2:13,73 |
| 61 | Reiss | Ronald | | Ford Escort | E1 +2000 2WD | 2:14,73 |
| 62 | Harrer | Johann | | Alfa Romeo 145 | E1 2000 | 2:15,07 |
| 63 | Ulz | Patrick | | Alfa Romeo Sud Ti | H 1600 | 2:15,19 |
| 64 | Wallner | Dominik | | BMW 325i E30 | E1 +2000 2WD | 2:15,27 |
| 65 | Tkaletz | Thomas | | Volkswagen Golf I GTI | H 1600 | 2:15,67 |
| 66 | Raith | Markus | | Honda Civic Type-R | N 2000 | 2:16,42 |
| 67 | Schauperl | Karl-Heinz | | Volkswagen Beetle | E1 +2000 2WD | 2:17,94 |
| 68 | Trimmel | Christian | | Ford Escort RS2000 | H 2500 | 2:18,82 |
| 69 | Neubauer | Herbert | | Lancia Delta Integrale | H +2500 | 2:19,44 |
| 70 | Haidn | Franz | | BMW 325ix E30 | H 2500 | 2:19,74 |
| 71 | Hochecker | Adi | | Opel Kadett C | H 2500 | 2:19,87 |
| 72 | Würcher | Andre | | Fiat 500 Proto | E2-SH | 2:20,69 |
| 73 | Rabl | Josef | | Audi 80 | E1 1600 | 2:20,72 |
| 74 | Steiner | Beate | | Seat Ibiza | E1 2000 | 2:21,80 |
| 75 | Povoden | Martin | | Renault Megane | E1 2000 | 2:23,03 |
| 76 | Lechner | Markus | | Mitsubishi Lancer EVO IX | N +2000 | 2:23,72 |
| 77 | Sailer | Daniel | | BMW E30 | E1 +2000 2WD | 2:25,38 |
| 78 | Ehrmann | Pascal | | Peugeot 207 RC | A +2000 | 2:29,54 |
| 79 | Fähnrich | Helmut | | Opel Corsa B | E1 2000 | 2:30,62 |
| 80 | Kalteis | Martin | | Mitsubishi Lancer EVO VII | A +2000 | 3:02,34 |