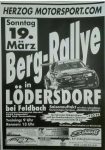 The Bergrallye Cup in Austra starts this Sunday with the Bergrallye Lödersdorf. It will be the first of 8 rounds this season.
The E1 +2000 4-wheel-drive class was very exciting last year. Felix Pailer, Werner Karl, Stefan Wiedenhofer and Markus Binder were very closely matched in every race. All four drivers return for 2017. Karl Schagerl is also entered in the Bergrallye-Cup with his mighty Volkswagen Golf Rallye TFSI-R. However the Austrian Champion is not yet certain he will compete in every round. At the Bergrallye Lödersdorf the drivers will be joined by Bruno Iannello in his famous Lancia Delta S4.
Rupert Schwaiger dominated the E1 +2000 2-wheel-drive class the last few years. The Porsche 911 Bi-Turbo pilot returns once again as favourite for another class title. Schwaiger is of course also hoping to succesfully defend his overall title. For Karl-Heinz Binder the Lödersdorf Bergrallye is a homerace. With his improved Ford Sierra RS500 he hopes for a surprise result.
The most competitive class in the Bergrallye-Cup is E1 -2000 with 26 entries. Andreas Marko dominated this class ever since he debuted his Audi A4 STW. However Marko is planning a new car and will not compete in all the races this year. So there will be a new class champion this year, or perhaps two…? New in the 2017 Bergrallye-Cup is the concept of teams. Two drivers can alternate events but score points together, like in the German Berg-Cup. Three family teams have entered this year: the Auers, the Blasls and the Harrers.
E1 -1600 will also see a new champion this year. Manuel Michalko is planning a switch to E1-2000 and will not be competing this season. Group A -2000 also appears to be very competitive in 2017. Group N champion Helmut Harrer has switched to this class to challenge champion Patrick Orasche.
Mario Krenn dominated the historics -2500 last season. The Ford Escort RS2000 driver will be at Lödersdorf but will not compete in every race this year. Gerald Glinzner and Reinhold Prantl in the Porsches will challenge for historic victories in 2017.
Timing
9:00 – Practise
13:00 – Race 1-2-3
Please note that the entrylist below is of the 2017 Bergrallye-Cup in general, NOT the Bergrallye Lödersdorf.
Entrylist Bergrallye-Cup 2017

| Pos. | Last Name | First Name | | Car | Cl. | Final |
| --- | --- | --- | --- | --- | --- | --- |
| 1 | Pailer | Felix | | Lancia Delta Integrale | E1 +2000 4WD | |
| 2 | Karl | Werner | | Audi S2R Quattro | E1 +2000 4WD | |
| 3 | Wiedenhofer | Stefan | | Mitsubishi Mirage R5 E2 | E1 +2000 4WD | |
| 4 | Binder | Markus | | Ford Escort Cosworth | E1 +2000 4WD | |
| 5 | Promok | Stefan | | Mitsubishi Lancer EVO VIII | E1 +2000 4WD | |
| 6 | Hofer | Werner | | Ford Escort WRC | E1 +2000 4WD | |
| 7 | Hasic | Kemal | | Subaru Impreza STi | E1 +2000 4WD | |
| 8 | Schagerl | Karl | | Volkswagen Golf Rallye | E1 +2000 4WD | |
| 9 | Holzmann | Thomas | | Mitsubishi Lancer EVO VI | E1 +2000 4WD | |
| 10 | Lustig-Jungwirth | Dietmar | | Ford Escort Cosworth | E1 +2000 4WD | |
| 11 | Scherr | Ewald | | Ford Escort Cosworth | E1 +2000 4WD | |
| 12 | Schwaiger | Rupert | | Porsche 911 Bi-Turbo | E1 +2000 2WD | |
| 13 | Binder | Karl-Heinz | | Ford Sierra RS500 | E1 +2000 2WD | |
| 14 | Schauperl | Karl-Heinz | | Volkswagen Beetle | E1 +2000 2WD | |
| 15 | Seidl | Manuel | | Porsche 997 GT3 Cup | E1 +2000 2WD | |
| 16 | Müllner | Andreas | | BMW M3 E36 | E1 +2000 2WD | |
| 17 | Lenz | Bernhard | | BMW M3 E36 | E1 +2000 2WD | |
| 18 | Weberhofer | Thomas | | Opel Omega Bi-Turbo | E1 +2000 2WD | |
| 19 | Sailer | Daniel | | BMW E30 | E1 +2000 2WD | |
| 20 | Van de Ven | Jo | | Ford Escort | E1 +2000 2WD | |
| 21 | Hohenwarter | Mario | | Volkswagen Golf III TDi | E1 +2000 2WD | |
| 22 | Forstenlechner | Manuel | | Volkswagen Golf G60 | E1 +2000 2WD | |
| 23 | Marko | Andreas | | Audi A4 STW | E1 2000 | |
| 24 | Emsenhuber | Michael | | Volkswagen Corrado | E1 2000 | |
| 25 | Blasl | Hermann / Markus | | Opel Kadett C | E1 2000 | |
| 26 | Majkovski | Manfred | | Renault Megane Maxi | E1 2000 | |
| 27 | Halbartschlager | Jürgen | | Volkswagen Golf | E1 2000 | |
| 28 | Jud | Werner | | Volkswagen Golf II | E1 2000 | |
| 29 | Fiausch | Heiko | | Opel Astra | E1 2000 | |
| 30 | Müllner | Markus | | Volkswagen Golf I GTI | E1 2000 | |
| 31 | Povoden | Martin | | Renault Megane | E1 2000 | |
| 32 | Sternad | Diethard | | Alfa Romeo 156 STW | E1 2000 | |
| 33 | Neumayr | Christopher | | Ford Escort NPM-IRS | E1 2000 | |
| 34 | Panzenböck | Rene | | Renault Clio Maxi | E1 2000 | |
| 35 | Baumegger | Patrick | | Peugeot 206 RC | E1 2000 | |
| 36 | Mayer | Patrick | | Volkswagen Golf I | E1 2000 | |
| 37 | Strasser jr. | Thomas | | Volkswagen Scirocco | E1 2000 | |
| 38 | Auer | Michael / Rene | | Volkswagen Scirocco GTR | E1 2000 | |
| 39 | Steiner | Jürgen | | Volkswagen Golf I | E1 2000 | |
| 40 | Datzreiter | Stefan | | Volkswagen Polo Kit-Car | E1 2000 | |
| 41 | Daurer | Harald | | Volkswagen Golf I | E1 2000 | |
| 42 | Wendolsky | Patrick | | Volkswagen Golf 17 | E1 2000 | |
| 43 | Trammer | Patrick | | Volkswagen Golf I | E1 2000 | |
| 44 | Fähnrich | Helmut | | Opel Corsa B | E1 2000 | |
| 45 | Roider | Franz | | Ford Mondeo STW | E1 2000 | |
| 46 | Raab | Manuel | | Opel Corsa | E1 2000 | |
| 47 | Pabst | Johannes | | Opel Kadett D | E1 2000 | |
| 48 | Harrer | Johann / Thomas | | Alfa Romeo 145 | E1 2000 | |
| 49 | Blasl | Manuel | | Volkswagen Golf 17 | E1 1600 | |
| 50 | Hutter | Gregor | | Alfa Romeo 145 | E1 1600 | |
| 51 | Pyringer | Florian | | Volkswagen Golf I | E1 1600 | |
| 52 | Schnidar | Michael | | Honda Civic VTEC | E1 1600 | |
| 53 | Speckl | Christian | | Volkswagen Golf | E1 1600 | |
| 54 | Rabl | Josef | | Audi 80 | E1 1600 | |
| 55 | De Cillia | Michael | | Ford Fiesta RS | E1 1600 | |
| 56 | Wagner | Robert | | Volkswagen Golf 17 | E1 1600 | |
| 57 | Moser | Thomas Lukas | | Volkswagen Golf 17 | E1 1600 | |
| 58 | Zamberger | Martin | | Peugeot 106 GTI | E1 1600 | |
| 59 | Strohmeier | Günter | | Alfa Sud | E1 1400 | |
| 60 | Löffler | Jakob | | Suzuki Swift GTI | E1 1400 | |
| 61 | Blecha | Johann | | Suzuki Swift GTI | E1 1400 | |
| 62 | Schermann | Gerhard | | Suzuki Swift | E1 1400 | |
| 63 | Biesinger | Christian | | Volkswagen Polo | E1 1400 | |
| 64 | Hartl | Roland | | Mitsubishi Lancer EVO VI | A +2000 | |
| 65 | Taus | Reinhold | | Subaru Impreza WRX | A +2000 | |
| 66 | Perhofer | Andreas | | Subaru Impreza STi | A +2000 | |
| 67 | Fuchs | Manfred | | Mitsubishi Lancer EVO VIII | A +2000 | |
| 68 | Lorenser | Patrick | | Honda Civic Type-R | A 2000 | |
| 69 | Lickel | Thomas | | Opel Kadett GSi | A 2000 | |
| 70 | Werfring | Bernd | | Opel Kadett GSi | A 2000 | |
| 71 | Ramic | Ado | | Honda Civic Type-R | A 2000 | |
| 72 | Harrer | Helmut | | Honda Civic Type-R | A 2000 | |
| 73 | Orasche | Patrick | | Renault Megane Coupé | A 2000 | |
| 74 | Holzer | Dieter | | Mitsubishi Lancer EVO VIII | N +2000 | |
| 75 | Probhardt | Peter | | Mitsubishi Lancer EVO IX | N +2000 | |
| 76 | Schutting | Wolfgang | | Renault Clio Williams | N 2000 | |
| 77 | Flechl | Patrick | | Opel Astra GSi | N 2000 | |
| 78 | Raith | Markus | | Honda Civic | N 2000 | |
| 79 | Glinzner | Gerald | | Porsche 911 SC | H +2500 | |
| 80 | Prantl | Reinhold | | Porsche 911 Carrera RS | H +2500 | |
| 81 | Neubauer | Herbert | | Lancia Delta Integrale | H +2500 | |
| 82 | Krenn | Mario | | Ford Escort RS2000 | H 2500 | |
| 83 | Zöchling | Manfred | | Volkswagen Golf GTI | H 2500 | |
| 84 | Grazter | August | | Lancia Beta Montecarlo | H 2500 | |
| 85 | Haidn | Franz | | BMW 325IX E30 | H 2500 | |
| 86 | Hochecker | Adi | | Opel Kadett C | H 2500 | |
| 87 | Warmuth | Rene | | Volkswagen Golf GTI | H 2500 | |
| 88 | Mandl | Erwin | | NSU TT | H 1600 | |
| 89 | Ulz | Patrick | | Alfa Romeo Sud Ti | H 1600 | |
| 90 | Schröcker | Gerald | | Alfa Romeo Sud Ti | H 1600 | |
| 91 | Obermoser | Josef | | Alfa Romeo Sud Ti | H 1600 | |
| 92 | Tkaletz | Thomas | | Volkswagen Golf I GTI | H 1600 | |
| 93 | Neumann | Dominik | | Mini Cooper BMC | H 1600 | |