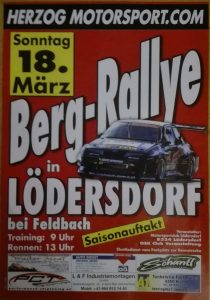 One week later than originally planned the Bergrallye Lödersdorf opened the Bergrallye-Cup. It was still cold but at least it was not snowing… The 1000+ spectators who travelled to Lödersdorf saw a great battle for victory.
In race 1 Rupert Schwaiger set the fastest time. But he was just .31 seconds quicker than Stefan Wiedenhofer. In the second run Schwaiger improved his time a little more and seemed ready for another victory. Especially since Wiedenhofer spun his Mitsubishi Mirage in the chase. However a brilliant third and final run saw Wiedenhofer set fastest time of the day. He was the only driver to complete the track in under 45 seconds. It proved to be just enough to snatch victory.
Felix Pailer was always very close to the two leaders. Despite setting two second fastest times, the experienced Lancia Delta pilot had to be satisfied with third overall. Michael Wels drove a solid race in his Volkswagen Scirocco. The E1 2000 class champion was fourth overall and took another class victory. The top 5 was completed by organiser Karl-Heinz Binder and his famous Ford Sierra RS500.
The battle for victory was very close. But the battle for Group A victory was even closer. Reinhold Taus, Benjamin Duller and Roland Hartl each set a fastest time during the day. Hartl was the fastest on a single run but also the unluckiest. On aggregate times it was not Hartl but rather Taus who was classified first. Duller was second just .038 seconds behind while unlucky Hartl was third just .099 seconds back.
25/03/2018 – Lödersdorf Bergrallye

| Pos. | Last Name | First Name | | Car | Cl. | Final |
| --- | --- | --- | --- | --- | --- | --- |
| 1 | Wiedenhofer | Stefan | | Mitsubishi Mirage E2 | E1 +2000 4WD | 1:30,916 |
| 2 | Schwaiger | Rupert | | Porsche 911 Bi-Turbo | E1 +2000 2WD | 1:31,774 |
| 3 | Pailer | Felix | | Lancia Delta Integrale | E1 +2000 4WD | 1:32,428 |
| 4 | Wels | Michael | | Volkswagen Scirocco | E1 2000 | 1:34,217 |
| 5 | Binder | Karl-Heinz | | Ford Sierra RS500 | E1 +2000 2WD | 1:35,032 |
| 6 | Fiausch | Heiko | | Opel Astra | E1 2000 | 1:35,474 |
| 7 | Taus | Reinhold | | Subaru Impreza WRX | A +2000 | 1:35,630 |
| 8 | Duller | Benjamin | | Mitsubishi Lancer EVO VI | A +2000 | 1:35,668 |
| 9 | Lenz | Bernhard | | BMW M3 E36 | E1 +2000 2WD | 1:35,692 |
| 10 | Hartl | Roland | | Mitsubishi Lancer EVO VI | A +2000 | 1:35,729 |
| 11 | Emsenhuber | Michael | | Volkswagen Corrado | E1 2000 | 1:35,760 |
| 12 | Karl | Werner | | Audi S2R Quattro | E1 +2000 4WD | 1:35,835 |
| 13 | Ianniello | Bruno | | Lancia Delta S4 | E1/E2-SH | 1:36,852 |
| 14 | Weberhofer | Thomas | | Opel Omega Bi-Turbo | E1 +2000 2WD | 1:38,498 |
| 15 | Blasl | Markus | | Opel Kadett C | E1 2000 | 1:38,794 |
| 16 | Glinzner | Gerald | | Porsche 911 SC | H +2500 | 1:38,953 |
| 17 | Fuchs | Manfred | | Mitsubishi Lancer EVO VIII | A +2000 | 1:39,083 |
| 18 | Pirkner | Markus | | Volkswagen Scirocco | H 2500 | 1:39,147 |
| 19 | Müllner | Andreas | | BMW M3 E36 | E1 +2000 2WD | 1:39,323 |
| 20 | Neuherz | Harald | | Audi S1 Quattro | H +2500 | 1:39,613 |
| 21 | Blasl | Manuel | | Volkswagen Golf 17 | E1 1600 | 1:39,968 |
| 22 | Strohmeier | Günter | | Alfa Sud | E1 1400 | 1:40,142 |
| 23 | Wilhelm | Bernard | | Puch TR5 | E1/E2-SH | 1:40,389 |
| 24 | Jud | Werner | | Volkswagen Golf II | E1 2000 | 1:41,007 |
| 25 | Pyringer | Florian | | Volkswagen Golf I | E1 1600 | 1:41,153 |
| 26 | Zöchling | Manfred | | Volkswagen Golf GTI | H 2500 | 1:43,269 |
| 27 | Hutter | Gregor | | Alfa Romeo 145 | E1 1600 | 1:44,846 |
| 28 | Schutting | Wolfgang | | Renault Clio Williams | N 2000 | 1:44,974 |
| 29 | Theuretzbacher | Julian | | Subaru Impreza GT | E1 +2000 4WD | 1:45,449 |
| 30 | Ulz | Patrick | | Alfa Romeo Sud Ti | H 1600 | 1:45,894 |
| 31 | Haidn | Franz | | BMW 325ix E30 | H 2500 | 1:46,127 |
| 32 | Orasche | Patrick | | Renault Megane Coupé | A 2000 | 1:46,188 |
| 33 | Flechl | Patrick | | Opel Astra GSi | N 2000 | 1:46,592 |
| 34 | Reiss | Ronald | | Ford Escort | E1 +2000 2WD | 1:47,136 |
| 35 | Schauperl | Karl-Heinz | | Volkswagen Beetle | E1 +2000 2WD | 1:47,309 |
| 36 | Neubauer | Herbert | | Lancia Delta Integrale | H +2500 | 1:47,626 |
| 37 | Rabl | Dominik | | Audi 80 | E1 1600 | 1:47,988 |
| 38 | Raith | Markus | | Honda Civic Type-R | N 2000 | 1:48,207 |
| 39 | Harrer | Helmut | | Citroën Xsara | A 2000 | 1:52,340 |
| 40 | Pieber | Wolfgang | | BMW E30 323i | H 2500 | 1:52,503 |
| 41 | Sailer | Daniel | | BMW E30 | E1 +2000 2WD | 1:54,573 |
| 42 | Neumann | Dominic | | Mini Cooper BMC | H 1300 | 1:57,652 |
| 43 | Fähnrich | Helmut | | Opel Corsa B | E1 2000 | 1:58,708 |