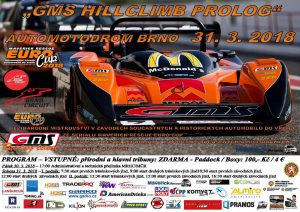 Hillclimb Racing in the Czech Republic starts this weekend with the traditional season opener at the Brno Circuit. This year the GMS Hillclimb Prolog is contested over a single Saturday. Over 100 drivers have entered the event. Around 65 will be competing in the national championship and another 43 in the Maverick Rescue Euro Cup.
Leading the entrylist is of course the GMS Racing Team with their driver Milos Benes. The Czech Champion returns with his famous Osella FA30 which is now powered by a Judd engine. His main rivals will be in the sportscar class. David Komarek returns with his Norma M20 FC sportscar. Vaclav Janik is aiming for another International Hillclimb Cup this season and will use the Hillclimb Prolog as a test. Dusan Neveril was planning to start but was a late withdrawal.
In the touringcars all Czech top driver except Dan Michl are present. There are also two guest drivers: Igor Drotar from Slovakia and Tomasz Myszkier from Poland.
In the Maverick Rescue Euro Cup there are more foreign guests. Felix Pailer and Laszlo Szasz are of course the most well-known names. There are also a number of different PRC-Sportscars entered by Austrian drivers. It will interesting to see their times against the better known hillclimb racers.
31/03/2018 – GMS Hillclimb Prolog

| Pos. | Last Name | First Name | | Car | Cl. | Fase A | Fase B |
| --- | --- | --- | --- | --- | --- | --- | --- |
| 1 | Benes | Milos | | Osella FA30 | E2-SS 3000 | | |
| 2 | Moural | Karel | | Ralt RT36 | E2-SS 2000 | | |
| 3 | Vondrak | Martin | | Tatuus Master | E2-SS 2000 | | |
| 4 | Komarek | David | | Norma M20 FC | E2-SC 3000 | | |
| 5 | Spalek | Jiri | | Norma M20F | E2-SC 3000 | | |
| 6 | Janik | Vaclav | | Norma M20 FC | E2-SC 3000 | | |
| 7 | Svoboda | Jiri | | Norma M20F | E2-SC 2000 | | |
| 8 | Svoboda | Milan | | Norma M20 | E2-SC 2000 | | |
| 9 | Vondrak | Petr | | Osella PA21/S | E2-SC 2000 | | |
| 10 | Hlavinka | Josef | | Opel Lotus | E2H-SS 2000 | | |
| 11 | Krakovic | Radek | | Fiks 09RK | E2H-SS 1400 | | |
| 12 | Hlavinka | Josef | | Tomis 99-04 | E2H-SS 1400 | | |
| 13 | Knapek | Tomas | | MTX Faster | E2H-SS 1400 | | |
| 14 | Novicky | Michal | | Ligier JS49 Honda | E2H-SC 2000 | | |
| 15 | Chudoba | Zdenek | | Norma M20F | E2H-SC 2000 | | |
| 16 | Neckar | Libor | | Ligier JS53 E2 | E2H-SC 2000 | | |
| 17 | Kracmar | Zdenek | | Demon Car | E2H-SC 1400 | | |
| 18 | Los | Jiri | | Mitsubishi Lancer EVO IX | E2-SH +3000 | | |
| 19 | Rybnicek | Marek | | Ford Fiesta EVO | E2-SH +3000 | | |
| 20 | Vitver | Vladimir | | Audi TT-R DTM | E2-SH +3000 | | |
| 21 | Osmera | Jiri | | Volkswagen Scirocco | E2-SH 2000 | | |
| 22 | Jezek | Radim | | Skoda Felicia | E2-SH 1400 | | |
| 23 | Maly | Jaromir | | Mitsubishi Lancer EVO VIII | E1 +3000 | | |
| 24 | Benes | Oskar | | Ford Fiesta | E1 +3000 | | |
| 25 | Hubacek | Karel | | BMW M3 GTR | E1 +3000 | | |
| 26 | Drotar | Igor | | Skoda Fabia | E1 +3000 | | |
| 27 | Myszkier | Tomasz | | Skoda Fabia | E1 +3000 | | |
| 28 | Michalik | Tomas | | Mitsubishi Lancer EVO IX | E1 +3000 | | |
| 29 | Formanek | Bronislav | | Lamborghini Huracan ST | E1 +3000 | | |
| 30 | Loubal | Lubomir | | Volkswagen Golf IV TDi | E1 3000 | | |
| 31 | Mach | Jan | | Skoda Octavia Cup | E1 2000 | | |
| 32 | Machova | Tereza | | Suzuki Swift | E1 1400 | | |
| 33 | Jerman | Martin | | Lamborghini Gallardo GT3 | GT +2000 | | |
| 34 | Kminek | Zdenek | | Nissan 350Z | GT +2000 | | |
| 35 | Pavlik | Vlastimil | | Ferrari F430 GT | GT +2000 | | |
| 36 | Vojacek | Petr | | Mitsubishi Lancer EVO VIII | A +3000 | | |
| 37 | Vojacek | Lukas | | Subaru Impreza STi | A +3000 | | |
| 38 | Gruntorad | Frantisek | | Renault Clio RS | A 2000 | | |
| 39 | Dedek | David | | Alfa Romeo 147 TS | A 2000 | | |
| 40 | Sajler | Filip | | Mitsubishi Lancer EVO X | N +3000 | | |
| 41 | Sajlerova | Gabriela | | Mitsubishi Lancer EVO X | N +3000 | | |
| 42 | Vavrinec | Tomas | | Mitsubishi Lancer EVO IX | N +3000 | | |
| 43 | Zmeskal | Milos | | Ralt RT32 | K5/E9 | | |
| 44 | Dolezal | Lubomir | | MTX 1-06 | K5/E7 | | |
| 45 | Vozdecky | Dominik | | MTX 1-03 | K5/E3 | | |
| 46 | Tykal | Petr | | MTX 1-03 | K5/E3 | | |
| 47 | Stejskal | Milan | | Lada VFTS | K4/D5 | | |
| 48 | Vojvodik | Ivan | | Lada Samara | K4/D4 | | |
| 49 | Sedlacek | Michal | | Fiat Ritmo 130 TC | K4/D3 | | |
| 50 | Malkova | Simona | | Toyota Celica | E1H +2000 | | |
| 51 | Cernin | Vaclav | | Mitsubishi Eclipse | E1H +2000 | | |
| 52 | Grüner | Frantisek | | BMW 327i | E1H +2000 2WD | | |
| 53 | Vymetal | Lubomir | | BMW M3 | E1H +2000 2WD | | |
| 54 | David | Petr | | Volkswagen Golf TDi | E1H +2000 2WD | | |
| 55 | Pluhar | Jindrich | | Nissan Sunny | E1H 2000 | | |
| 56 | Malik | Lukas | | Opel Astra OPC | E1H 2000 | | |
| 57 | Kus | Petr | | Volkswagen Golf I GTI | E1H 2000 | | |
| 58 | Bohac | Milan | | Renault Clio Sport | E1H 2000 | | |
| 59 | Kopecek | Jiri | | Opel Astra | E1H 2000 | | |
| 60 | Chmelik | Martin | | Peugeot 206 SRC | E1H 2000 | | |
| 61 | Winter | Jaroslav | | Honda Civic Type-R | E1H 2000 | | |
| 62 | Zoufaly | Karel | | Skoda Felicia Pick-Up | E1H 1600 | | |
| 63 | Tomecek | Lukas | | Volkswagen Golf I GTI | E1H 1600 | | |
| 64 | Dohnalek | Josef | | Citroën C2 VTS | E1H 1600 | | |
| 65 | Popova | Eliska | | Skoda Felicia Pick-Up | E1H 1600 | | |
| 66 | Holek | Jiri | | Skoda 120 LS | E1H Skoda | | |
31/03/2018 – GMS Hillclimb Prolog (Maverick Rescue Euro Cup)

| Pos. | Last Name | First Name | | Car | Cl. | Fase A | Fase B |
| --- | --- | --- | --- | --- | --- | --- | --- |
| 1 | Szasz | Laszlo | | Reynard F3000 | E2C +2000 | | |
| 2 | Svorc | Roman | | Lucchini P3 | E2C +2000 | | |
| 3 | Ferstl | Christian | | Lola B06/50 | E2C +2000 | | |
| 4 | Wilhelm | Philipp | | Norma M20F | E2C +2000 | | |
| 5 | Fiedler | Andreas | | PRC WPR60 Turbo | E2C +2000 | | |
| 6 | Schoegler | Sigrid | | Formula Renault | E2C 2000 | | |
| 7 | Frank | Alexander | | PRC S4 | E2C 2000 | | |
| 8 | Rutter | Christian | | PRC S2000 | E2C 2000 | | |
| 9 | Chytil | Ondrej | | Opel Lotus | E2C 2000 | | |
| 10 | Madrian | Ferdinand | | Formula Renault | E2C 2000 | | |
| 11 | Schweindinger | Robert | | Arcobaleno 2002 | E2C 1600 | | |
| 12 | Osladil | Jan | | Van Diemen | E2C 1600 | | |
| 13 | Pailer | Felix | | Lancia Delta Integrale | E1 +2000 | | |
| 14 | Dobry | Petr | | BMW Compact | E1 +2000 2WD | | |
| 15 | Homola | Tomas | | BMW E30 | E1 +2000 2WD | | |
| 16 | Lemon | Petr | | BMW E30 | E1 +2000 2WD | | |
| 17 | Valasek | Milan | | Ginetta G50 GTR | E1 +2000 2WD | | |
| 18 | Mirovsky | Zdenek | | Skoda Felicia | E1 2000 | | |
| 19 | Sytar | Jakub | | Renault Clio Sport | E1 2000 | | |
| 20 | Sustr | Miloslav | | Volkswagen Polo | E1 1600 | | |
| 21 | Neduchal | Jan | | Skoda 130 RS | E1 1600 | | |
| 22 | Schweindinger | Christian | | Volkswagen Golf III GTI | E1 1600 | | |
| 23 | Neubauer | Marie-Luise | | Volkswagen Polo | E1 1600 | | |
| 24 | Oravec | David | | Skoda Fabia | E1 1400 | | |
| 25 | Strosz | Milan | | Skoda Fabia | E1 1400 | | |
| 26 | Karbas | Roman | | Honda Civic | E1 1400 | | |
| 27 | Podpera | Zdenek | | Honda Civic | E1 1400 | | |
| 28 | Bartunek | Daniel | | Ford Fiesta | E1 1400 | | |
| 29 | Drmota | David | | Ford Fiesta | E1 1400 | | |
| 30 | Srahlek | Petr | | Skoda 130 RS EVO | E1 1400 | | |
| 31 | Fillova | Kristyna | | Mitsubishi Lancer | S1 +2000 4WD | | |
| 32 | Azsoth | Ladislav | | Ford Focus | S1 2000 | | |
| 33 | Kaspar | Vilem | | Skoda Fabia RS | S1 2000 | | |
| 34 | Cakl | Filip | | Skoda Fabia RS | S1 2000 | | |
| 35 | Malek | Dan | | Skoda Felicia RS | S1 1600 | | |
| 36 | Kadlecek | Jiri | | Honda Civic VTI | S1 1600 | | |
| 37 | Osladil | Jan | | Ford Fiesta ST | S1 1600 | | |
| 38 | Klus | Adam | | HSS Audi Turbo Can-Am | HA2 | | |
| 39 | Osladil | Jan | | MTX 1-06 Mondial | HA2/ZST 1600 | | |
| 40 | Neubauer | Herbert | | Lancia Delta Integrale | HA1 +2000 | | |
| 41 | Jelinek | Libor | | BMW CSL | HA1 +2000 | | |
| 42 | Vratil | Pavel | | Opel Kadett | HA1 2000 | | |
| 43 | Krupica | Lukas | | Skoda 130 LR | HA1 1300 | | |