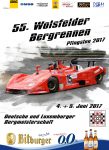 Pentecost is the traditional date for the Wolsfelder Bergrennen. It is the shortest, narrowest and steepest hillclimb of Germany. The race counted also towards the Luxembourg Hillclimb Championship.
Touringcars have their best chance of winning outright at Wolsfeld. However not this year as Uwe Lang dominated the event in his Osella PA20/S. Lang was fastest in practise and also fastest in all three race sessions. This victory was extra special for Uwe as his son Georg joined him on the podium. The younger Lang managed to take third place even though Ralf Kroll came within .12 seconds after the final race. Joining the Lang family on the podium was Frank Debruyne.
Fastest touringcar driver in Wolsfeld was Bruno Ianniello. He clocked the best single time of the weekend. However the Swiss ran into problems in the very first race of the day and lost valuable seconds. Touringcar winner instead became Björn Wiebe. The Renault Laguna pilot remained ahead of Norbert Handa and Canio Marchione. With Marchione we have also mentioned the fastest driver in the Luxembourg Championship.
04-05/06/2017 – Bergrennen Wolsfeld

| Pos. | Last Name | First Name | | Car | Cl. | Final |
| --- | --- | --- | --- | --- | --- | --- |
| 1 | Lang | Uwe | | Osella PA20/S | 30 | 3:09,03 |
| 2 | Debruyne | Frank | | Dallara F303 | 33 | 3:11,83 |
| 3 | Lang | Georg | | Tatuus Renault | 33 | 3:15,15 |
| 4 | Kroll | Ralf | | Silver Car S2G | 26 | 3:15,26 |
| 5 | Wiebe | Björn | | Renault Laguna | 16 | 3:17,98 |
| 6 | Conrad | Thomas | | CRS MTK | 29 | 3:18,07 |
| 7 | Handa | Norbert | | Lancia Delta Integrale | 19 | 3:18,80 |
| 8 | Noirat | Jeremy | | Tracking RC01 | 26 | 3:18,91 |
| 9 | Marchione | Canio | | Volkswagen Scirocco | 22 | 3:19,67 |
| 10 | Faulhaber | Stefan | | Opel Kadett C | 15 | 3:20,57 |
| 11 | Heisel | Lars | | Opel Kadett | 16 | 3:20,58 |
| 12 | Bürki | Martin | | BMW E33 M3 | 18 | 3:21,19 |
| 13 | Hovemann | Holger | | Opel Kadett C GT/R | 26 | 3:21,33 |
| 14 | Göser | Günter | | Opel Kadett C | 18 | 3:21,53 |
| 15 | Orth | Patrick | | BMW E30 320is | 16 | 3:21,76 |
| 16 | Paulick | Ralph | | Volkswagen Golf I | 16 | 3:22,48 |
| 17 | Eller | Hans-Peter | | Volkswagen Scirocco | 14 | 3:22,50 |
| 18 | Rauch | Michael | | Opel Kadett | 16 | 3:25,24 |
| 19 | Buck | Erwin | | Volkswagen Scirocco I | 15 | 3:25,52 |
| 20 | Heindrichs | Andy | | Opel Corsa | 15 | 3:26,55 |
| 21 | Schilling | Cédric | | Mitsubishi Lancer EVO VII | 24 | 3:27,12 |
| 22 | Valentiny | Charel | | Subaru Impreza WRX | 24 | 3:27,98 |
| 23 | Braquet | Roland | | Dallara F308/11 | 33 | 3:28,17 |
| 24 | Boemer | Didier | | Dallara F394 | 33 | 3:28,46 |
| 25 | Abb | Nils | | Volkswagen Polo II | 14 | 3:29,02 |
| 26 | Weissdorn | Franz | | Volkswagen Polo Hayabusa | 14 | 3:29,07 |
| 27 | Edwards | Keith | | Audi Quattro S2 | 19 | 3:29,75 |
| 28 | Wanek | Roland | | Mitsubishi Lancer EVO IX | 11 | 3:29,93 |
| 29 | Ianniello | Bruno | | Lancia Delta S4 | 19 | 3:30,14 |
| 30 | Duscher | Frank | | Volkswagen Polo I | 14 | 3:30,51 |
| 31 | Donkels | Daniel | | Tatuus Renault | 33 | 3:30,52 |
| 32 | Lohmann | Frank | | Volkswagen Polo 86c | 14 | 3:30,77 |
| 33 | Weiss | Werner | | Ford Escort BDA | 16 | 3:31,01 |
| 34 | Murray | Keith | | Audi 80 Quattro | 18 | 3:31,01 |
| 35 | Pleier | Alexander | | Opel Kadett C Coupé | 16 | 3:31,16 |
| 36 | Schilling | Nico | | Subaru Impreza WRX | 24 | 3:32,51 |
| 37 | Christall | Roland | | Opel Ascona B | 16 | 3:33,01 |
| 38 | Bayer | Daniel | | Opel Kadett C | 16 | 3:33,09 |
| 39 | Neu | Kai | | Ford Focus ST170 | 10 | 3:33,25 |
| 40 | Reich | Markus | | Volkswagen Golf II | 16 | 3:33,37 |
| 41 | Röck | Sabine | | Volkswagen Golf I Turbo | 19 | 3:33,41 |
| 42 | Herget | Roland | | Mitsubishi Lancer CT9A | 11 | 3:33,99 |
| 43 | Glas | Wolfgang | | Volkswagen Golf I | 15 | 3:34,23 |
| 44 | Wiebe | Hans-Peter | | Renault Laguna Williams | 16 | 3:34,97 |
| 45 | Bärtl | Alexander | | Opel Kadett C Limo | 18 | 3:35,07 |
| 46 | Frank | René | | BMW M3 Coupé | 11 | 3:36,15 |
| 47 | Flik | Beatrice | | Renault Megane Cup | 16 | 3:36,57 |
| 48 | Wolk | Alexander | | Volkswagen Golf III | 10 | 3:36,65 |
| 49 | Scheer | Andre | | BMW 320is | 16 | 3:37,11 |
| 50 | Herz | Sascha | | Dallara F302 | 33 | 3:37,20 |
| 51 | Zenners | Marc | | Subaru Impreza | 11 | 3:37,25 |
| 52 | Ebenhöh | Armin | | Volkswagen Polo II | 14 | 3:37,30 |
| 53 | Kleinsorg | Ralf | | BMW E30 | 18 | 3:37,48 |
| 54 | Schneider | Jürgen | | Volkswagen Polo Coupé | 13 | 3:37,66 |
| 55 | Bach | Martin | | Mitsubishi Lancer EVO VI | 24 | 3:38,18 |
| 56 | Flik | Thomas | | Renault Clio | 16 | 3:38,74 |
| 57 | Kokor | Andreas | | Ford Escort MK1 | 16 | 3:39,04 |
| 58 | Rath | Fabien Marcel | | Opel Kadett C GT/E | 16 | 3:39,12 |
| 59 | Kellndorfer | Martin | | Opel Kadett C Coupé | 16 | 3:39,78 |
| 60 | Datzer | Jürgen | | Volkswagen Scirocco | 15 | 3:40,03 |
| 61 | Schiltz | Max | | Ford Fiesta | 22 | 3:40,04 |
| 62 | Kruhs | Gino | | Citroën DS3 R3T | 9 | 3:40,05 |
| 63 | Schlott | Dominik | | Volkswagen Polo | 14 | 3:40,23 |
| 64 | Hessberger | Jürgen | | Fiat 127 Sport | 13 | 3:40,79 |
| 65 | Jacoby | Gilles | | Citroën DS3 R3 Max | 24 | 3:40,91 |
| 66 | Moufang | Maurice | | BMW M3 | 19 | 3:41,27 |
| 67 | Soisson | Claude | | Opel Manta | 22 | 3:41,69 |
| 68 | Kellen | Bob | | Ford Escort | 22 | 3:41,84 |
| 69 | Davidovic | Jörg | | NSU TT | 12 | 3:42,35 |
| 70 | Gregorius | Jacques | | Ford Fiesta | 22 | 3:42,43 |
| 71 | Baldauf | Siegmar | | Volkswagen Golf II | 16 | 3:42,46 |
| 72 | Hülsmann | Markus | | Volkswagen Golf I | 14 | 3:43,47 |
| 73 | Winkler | Stefan | | Fiat 127 | 14 | 3:43,71 |
| 74 | Vogt | Albert | | Subaru Impreza GC8 | 11 | 3:43,72 |
| 75 | Lang | Bernhard | | Ford Escort RS2000 | 16 | 3:43,80 |
| 76 | Stegmann | Tobias | | Audi 50 | 13 | 3:43,85 |
| 77 | Reich | Andreas | | NSU TT | 12 | 3:44,20 |
| 78 | Altenhofen | Ralf | | Ford Focus RS | 11 | 3:45,19 |
| 79 | Schindler | Uwe | | NSU TT KWR | 12 | 3:45,70 |
| 80 | Ostermann | Thomas | | BMW E30 Hartge | 18 | 3:45,75 |
| 81 | Becker | Sandra | | Renault Clio II | 22 | 3:46,12 |
| 82 | Siebert | Gerhard | | Osella PA18 | 29 | 3:46,37 |
| 83 | Fink | Markus | | Citroën C2 VTS | 9 | 3:46,47 |
| 84 | Galati | Giosi | | Citroën Saxo VTS | 15 | 3:46,63 |
| 85 | Schlachter | Karl-Heinz | | BMW 2002 Tii Alpina | 18 | 3:46,77 |
| 86 | Kraus | Martin | | Volkswagen Polo | 10 | 3:47,09 |
| 87 | Gürtzgen | Friedhelm | | BMW Compact 318i | 18 | 3:47,70 |
| 88 | Hofmann | Steffen | | NSU TT | 13 | 3:48,67 |
| 89 | Schelle | Nikolaus | | Volkswagen Polo G40 | 16 | 3:48,83 |
| 90 | Schmitz | Herbert | | Opel Astra GSi | 6 | 3:48,89 |
| 91 | Ludwig | Harald | | Audi R8 | 3 | 3:49,84 |
| 92 | Bodtländer | Lukas | | Citroën C2 | 9 | 3:52,04 |
| 93 | Steinbrenner | Jonas | | BMW 323i | 11 | 3:53,00 |
| 94 | Voigt | Walter | | Volkswagen Polo 86c | 13 | 3:53,19 |
| 95 | Marx | Alexander | | BMW M3 | 11 | 3:53,49 |
| 96 | Krüger | Thomas | | Honda Civic | 15 | 3:53,83 |
| 97 | Krystofiak | Thomas | | NSU 1200C KWR | 12 | 3:54,20 |
| 98 | Dümler | Christian | | Volkswagen Golf II | 16 | 3:54,48 |
| 99 | Rüdiger | Bernhard | | Porsche Cayman | 19 | 3:55,94 |
| 100 | Ebenhöh | Silvia | | Volkswagen Polo I | 14 | 3:56,27 |
| 101 | Follmann | Alexander | | NSU TT | 12 | 3:56,28 |
| 102 | Berchem | Claude | | Volkswagen Golf II GTI | 22 | 3:56,76 |
| 103 | Rauch | Rolf | | Fiat 128 Rallye | 13 | 3:57,27 |
| 104 | Maslonka | Robert | | Volkswagen Polo 86c | 8 | 3:57,35 |
| 105 | Walser | Werner | | Opel Kadett C | 18 | 3:58,07 |
| 106 | Klages | Jürgen | | Opel Astra F GSi | 16 | 3:58,37 |
| 107 | Hess | Mario | | Opel Astra F GSi | 10 | 3:58,38 |
| 108 | Meurer | Karlheinz | | Volkswagen Golf V R-TDi | 17 | 3:58,53 |
| 109 | Rauch | Marco | | Fiat 128 Coupé | 13 | 3:59,08 |
| 110 | Stijnen | Chris | | Renault Clio III RS | 6 | 3:59,44 |
| 111 | Werner | Uwe | | Ford Fiesta | 13 | 3:59,62 |
| 112 | Bodtländer | Thomas | | Peugeot 205 Rallye | 8 | 4:00,14 |
| 113 | Nipperts | Marcel | | Fiat 500 Abarth | 8 | 4:02,03 |
| 114 | Schwall | Michael | | BMW E36 328i | 11 | 4:02,03 |
| 115 | Vogel | Michael | | NSU TT | 12 | 4:02,90 |
| 116 | Schönborn | Rainer | | BMW 318ti | 2 | 4:04,53 |
| 117 | Flammang | Tania | | Peugeot 206 RC | 22 | 4:05,06 |
| 118 | Wielsch | Marco | | Audi A3 | 10 | 4:06,02 |
| 119 | Veit | Uwe | | BMW 318is | 2 | 4:06,18 |
| 120 | Kleinsorg | Tim | | BMW 318Ti | 2 | 4:07,93 |
| 121 | Wedekink | Frank | | Mitsubishi Lancer EVO IX | 11 | 4:08,08 |
| 122 | Bächle | Christian | | Citroën DS3 R1 | 5 | 4:08,64 |
| 123 | Becker | Pascal | | Renault Clio RS II | 22 | 4:11,43 |
| 124 | Hirte | Michael | | Renault Clio Cup | 16 | 4:12,14 |
| 125 | Zahn | Rüdiger | | Citroën AX GTI | 5 | 4:13,09 |
| 126 | Szott | Roman | | NSU TT | 12 | 4:13,83 |
| 127 | Becker-Huber | Ivana | | Citroën DS3 R1 | 5 | 4:14,29 |
| 128 | Boch | Heinz-Peter | | Honda Civic | 9 | 4:14,69 |
| 129 | Marquitz | Fredi | | BMW 318is | 10 | 4:14,92 |
| 130 | Hartmann | Manuel | | Honda CRX | 9 | 4:19,00 |
| 131 | Baresel | Michael | | Volkswagen Golf I | 16 | 4:20,74 |
| 132 | Pfaar | Uwe | | Mercedes Benz W123C | 11 | 4:21,58 |
| 133 | Walbröl | Timo | | Volkswagen Golf I GTI | 16 | 4:32,50 |