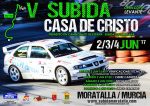 The Subida Casa de Cristo – Moratalla in Murcia was last competed in 2014. This year the event returned and it immediately applied to be part of the 2018 Spanish Hillclimb Championship. The event was competed in the format of the Spanish Championship with practise and race 1 on Saturday followed by two more races on Sunday morning.
Toni Ariete took a four second lead already on Saturday. Some rain overnight made the track damp on Sunday morning which benefitted the touringcars. However Ariete managed to defend his lead although it evaporated to just .4 seconds… It was an important victory for Ariete as the Moratalla Hillclimb also counted towards the Levante Hillclimb Trophy. This is a trophy which combines hillclimbs in Murcia and Valenciana. After two rounds Ariete leads the points standings in this trophy.
Runner-up was Gerard De La Casa. The driver from Andorra took some time to learn the road but at the end of the weekend he was almost quick enough to win. Raul Borreguero with his unique Mosler MT900R also had race winning speed but had to settle for third in the end. Speed Car GTR pilot Carlos Archilles was somewhat slower and finished fourth. Amador Nevado was the best driver from Murcia and finished fifth. The Seat Leon MK2 pilot was more than 30 seconds behind the leaders.

03-04/06/2017 – Subida a Casa de Cristo – Moratalla

| Pos. | Last Name | First Name | | Car | Cl. | Final |
| --- | --- | --- | --- | --- | --- | --- |
| 1 | Ariete | Toni | | BRC B-49 | 1/CM+ | 6:10,179 |
| 2 | De La Casa | Gerard | | Seat Cordoba WRC | 3/WRC | 6:10,561 |
| 3 | Borreguero | Raul | | Mosler MT900R | 3/GTM | 6:12,880 |
| 4 | Archilles | Carlos | | Speed Car GTR | 2/CM | 6:19,470 |
| 5 | Nevado | Amador | | Seat Leon MK2 | 3/A2 | 6:32,807 |
| 6 | Benitez | José Francisco | | Renault 5 GT Turbo | 3/H | 6:44,806 |
| 7 | Tormo | Mateo | | Renault Clio RS | 3/E1 | 6:46,178 |
| 8 | Cayuela | Juan José | | Hyundai Accent Cup | 3/A2 | 6:51,304 |
| 9 | Arenas | Ivan | | Renault Megane | 3/E1 | 6:54,292 |
| 10 | Bermudez | Mario | | Renault Clio Cup | 3/A2 | 6:55,466 |
| 11 | Martinez | Fernando | | Renault Megane | 3/E1 | 6:56,393 |
| 12 | Carrasco | Miguel | | Volkswagen Golf GTI | 3/E1 | 6:59,357 |
| 13 | Sanchez-Fortun | Mario | | Citroën AX | 3/E1 | 7:00,039 |
| 14 | Sanchez | José Antonio | | BMW 328i E36 | 3/E1 | 7:02,350 |
| 15 | Hernandez | Juan Francisco | | Renault 11 Turbo | 3/E1 | 7:12,129 |
| 16 | Herrero | Ruben | | Peugeot 306 | 3/E1 | 7:18,085 |
| 17 | Peñalver | Antonio | | Peugeot 206 XS | 3/E1 | 7:20,651 |
| 18 | Canovas | David | | Renault 11 Turbo | 3/E1 | 7:23,189 |
| 19 | Anguix | Julian | | Hyundai Accent Cup | 3/A2 | 7:28,442 |
| 20 | Afonso | Mahy | | BMW 328 E36 | 3/E1 | 7:32,176 |
| 21 | Sanchez | Salvador | | Peugeot 306 | 3/E1 | 7:33,020 |
| 22 | Ponce | José | | Renault Clio Maxi | 3/E1 | 7:36,897 |
| 23 | Del Vas | José Miguel | | Peugeot 205 Rallye | 3/E1 | 7:38,733 |
| 24 | Garcia | Juan Antonio | | Peugeot 205 Rallye | 3/E1 | 7:42,517 |
| 25 | Garcia | Francisco Javier | | Peugeot 106 Rallye | 3/E1 | 7:48,671 |
| 26 | Cools | Yves | | Ford Escort MK1 | 3/H | 8:05,890 |
| 27 | Llinares | Francisco | | Peugeot 107 | 3/A2 | 8:17,435 |
| 28 | Amador | Juan Luis | | Ford Fiesta XR2 | 3/E1 | 8:17,660 |
| 29 | Marquez | Francisco Javier | | Dacia Sandero | 3/A2 | 9:12,593 |