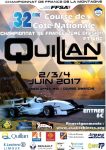 The French Hillclimb Championship Division 2 started this weekend with the Course de Côte de Quillan – Col du Portel. This racetrack will also host the Coupe de France Final later this year.
Local man Nicolas Verdier always drives well here. He took victory in 2014 and 2016 while he was second in 2015. For a long time this Sunday it looked like he would take another victory. However in the very last run of the day Dimitri Pereira managed to pass Verdier. That meant that Pereira started his Division 2 title challenge in the best possible way. David Guillaumard will be Pereira's main rival in the championship. Competing in his Dallara F308 Guillaumard finished third overall at Quillan.
Ronald Garces is the favourite for the Division 2 touringcar title. At Quillan he dominated the proceedings in his Porsche 997 Cup. He was joined on the podium by Joël Cazalens and Geoffray Carcreff. However neither driver is eligible for points in Division 2. His main rivals for the title are instead Guillaume Peloux and Jean-Pierre Segura.
03-04/06/2017 – Course de Côte de Quillan – Col du Portel

| Pos. | Last Name | First Name | | Car | Cl. | Final |
| --- | --- | --- | --- | --- | --- | --- |
| 1 | Pereira | Dimitri | | Norma M20F | CN2 | 1:46,219 |
| 2 | Verdier | Nicolas | | Dallara F302 | D/E 5 | 1:46,966 |
| 3 | Guillaumard | David | | Dallara F308 Mercedes | D/E 5 | 1:47,131 |
| 4 | Devaux | Julien | | Mygale M10 | D/E 3 | 1:48,941 |
| 5 | Campi | Pascal | | Osella PA20/S | CN2 | 1:51,184 |
| 6 | Barriere | Robert | | GB Concept | D/E 1 | 1:51,590 |
| 7 | Breda | Emeline | | Dallara F307 Mercedes | D/E 5 | 1:53,529 |
| 8 | Mallemanche | Cyril | | Norma M20F | CN2 | 1:56,011 |
| 9 | Roussel | Joël | | Dallara F302 | D/E 5 | 1:56,682 |
| 10 | Vian | Pierre | | Dallara F305 | D/E 5 | 1:56,725 |
| 11 | Montella | Edgar | | Speed Car GTR | CM | 1:58,040 |
| 12 | Tosetto | Frédéric | | Norma M20B | CN2 | 1:58,200 |
| 13 | Monziols | Cédric | | BRC CM05 EVO | CM | 1:58,580 |
| 14 | Gelly | Romain | | Tatuus FR2000 | D/E 7 | 1:58,815 |
| 15 | Segond | Francis | | Merlin MP23 | CN2 | 1:59,017 |
| 16 | Maurel | Julien | | Tatuus FR2000 | D/E 7 | 2:00,398 |
| 17 | Bellieres | Franck | | Osella PA27 | CN2 | 2:00,881 |
| 18 | Cammares | Marie | | Tatuus FR2000 | D/E 7 | 2:01,492 |
| 19 | Garces | Ronald | | Porsche 997 Cup | GTTS3 | 2:01,768 |
| 20 | Cazalens | Joël | | Scora Type-II | FC4 | 2:02,079 |
| 21 | Barret | Ervé | | Tatuus FR2000 | D/E 7 | 2:02,965 |
| 22 | Armand | Jonathan | | Tatuus Monza | D/E 2 | 2:03,605 |
| 23 | Carcreff | Geoffray | | Scora Maxi | FC4 | 2:04,210 |
| 24 | Galis | Sebastien | | Merlin MP | CN1 | 2:06,945 |
| 25 | Barriere | Christophe | | GFA Europa GT | CM | 2:08,126 |
| 26 | Perazzi | Michel | | Jema 630 GT | CM | 2:08,174 |
| 27 | Gimenez | Didier | | Phega E85 | D/E 2 | 2:08,587 |
| 28 | Peloux | Guillaume | | Peugeot 206 Maxi | F2000 / 3 | 2:09,214 |
| 29 | Segura | Jean-Pierre | | Audi R8 LMS | GTTS4 | 2:10,756 |
| 30 | Boillot | Jean-Marc | | Simca Rallye III | F2000 / 1 | 2:10,935 |
| 31 | Courtinat | Jean-Pierre | | Tracking RC01 | CM | 2:11,330 |
| 32 | Dardalhon | Fabien | | Simca Rallye III | FC2 | 2:11,605 |
| 33 | Dubrana | Yves | | BMW M3 E36 | A4 | 2:11,637 |
| 34 | Delbourg | Claude | | Simca 1200S | FC2 | 2:11,639 |
| 35 | Deniset | Didier | | Renault 5 TDC | FC4 | 2:11,699 |
| 36 | Tonon | Vivien | | Renault Clio Cup | A3 | 2:11,787 |
| 37 | Gley | Michaël | | Volkswagen Golf III GTI | F2000 / 3 | 2:11,869 |
| 38 | Seghetti | Philippe | | Peugeot 306 | F2000 / 3 | 2:12,078 |
| 39 | Thiebaud | Patrick | | Renault Clio Cup IV | GTTS2 | 2:12,709 |
| 40 | Gillet | Guillaume | | Mitsubishi Lancer | N4 | 2:12,713 |
| 41 | Toubert | Frédéric | | Renault Clio Cup | A3 | 2:12,717 |
| 42 | Prat | Richard | | Seat Leon Supercopa | A4 | 2:12,738 |
| 43 | Dumas | René | | BMW M3 E36 | N4 | 2:12,830 |
| 44 | Pantel | Nicolas | | Peugeot 205 Maxi | F2000 / 2 | 2:12,853 |
| 45 | Savary | Vincent | | BMW M3 E36 | N4 | 2:12,963 |
| 46 | Batista | Jean-Marc | | Citroën Saxo | F2000 / 2 | 2:12,981 |
| 47 | Michon | Eric | | Seat Leon Supercopa | A4 | 2:13,237 |
| 48 | Persici | Herman | | Opel Kadett | FC3 | 2:13,604 |
| 49 | Pauselli | Daniel | | Renault 5 Turbo | FC4 | 2:13,892 |
| 50 | Boucabeille | David | | Renault 11 | F2000 / 3 | 2:14,056 |
| 51 | Semat | Jérôme | | Renault Clio Cup II | A3 | 2:15,376 |
| 52 | Barthas | Lionel | | Renault Clio Williams | A3 | 2:15,776 |
| 53 | Natewajko | Christophe | | Mit-Jet | GTTS1 | 2:16,034 |
| 54 | Eynard | Gilles | | Honda Civic | F2000 / 2 | 2:16,204 |
| 55 | Lamiscarre | Michel | | Porsche Cayman | GT2 | 2:16,278 |
| 56 | Lattes | Fabrice | | Citroën ZX | A3 | 2:16,359 |
| 57 | Monteil | Dominique | | Renault Clio Cup III | A3 | 2:16,924 |
| 58 | Authier | Ghislain | | Renault Clio Cup | A3 | 2:17,141 |
| 59 | Faure | Philippe | | Renault Clio | N3 | 2:18,486 |
| 60 | Pecharman | Laurent | | LAB Original | D/E 1 | 2:18,831 |
| 61 | Patacconi | Florian | | Simca Rallye II | FC2 | 2:19,264 |
| 62 | Sautereau | Bernard | | Honda Civic | N2 | 2:21,028 |
| 63 | Bert | Grégory | | Peugeot 205 | F2000 / 3 | 2:21,498 |
| 64 | Aussenac | Claude | | Renault Clio Williams | N3 | 2:21,575 |
| 65 | Sanchez | Thierry | | Porsche 997 GT3 | GT2 | 2:21,616 |
| 66 | Simorre | Jean-Louis | | Renault 5 Turbo | FC4 | 2:22,397 |
| 67 | Ferrando | Jean-Louis | | Simca JLF | FC2 | 2:23,584 |
| 68 | Santini | Jérôme | | Citroën AX Sport | A1 | 2:24,389 |
| 69 | Gaudin | Jacques | | BMW M3 | N4 | 2:24,562 |
| 70 | Fabre | Nicolas | | Citroën Saxo VTS | N2 | 2:24,604 |
| 71 | Charrier | Cyril | | Citroën Saxo | N2 | 2:24,644 |
| 72 | Ravel | Vincent | | Peugeot 106 S16 | N2 | 2:25,268 |
| 73 | Martinez | Pascal | | Renault Clio | F2000 / 1 | 2:25,892 |
| 74 | Coste | Clement | | Citroën AX GTI | N1 | 2:26,643 |
| 75 | Quioc | Philippe | | Peugeot 205 Rallye | N1 | 2:28,658 |
| 76 | Garcia | Frederic | | BMW E30 325i | A4 | 2:28,892 |
| 77 | Ottavi | Marie | | Citroën Saxo VTS | N2 | 2:29,660 |
| 78 | Brondes | Filipe | | Speed Car GT | CM | 2:31,129 |
| 79 | Bernard | Christophe | | Peugeot 206 RC | N3 | 2:34,763 |
03-04/06/2017 – Course de Côte de Quillan – Col du Portel (VHC)

| Pos. | Last Name | First Name | | Car | Cl. | Final |
| --- | --- | --- | --- | --- | --- | --- |
| 1 | Malgouyres | Thierry | | Simca Rallye II | CL | 2:32,055 |
| 2 | Vitale | Renato | | Fiat 128 | 2/B3 | 2:33,312 |
| 3 | Toral | Gérard | | Renault 8 Gordini | 2/B3 | 2:37,729 |