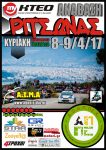 Under a beautiful blue sky the Ritsona Hillclimb kicked off the Greek Hillclimb Championship. The three fastest drivers all came from the Formula Saloon category. Konstantinos Lazaridis was fastest after the first race but Konstantinos Patsoureas set fastest time of the day in race 2. The final race results were decided on the aggregate of these two times. This meant that Patsoureas was declared the winner with a lead of just .35 seconds. Third was Marios Iliopoulos, not with the Fiesta WRC as announced earlier, but with an Audi R8 LMS.
The battle for Group A victory was equally hard fought over. Lioris Sakis was fastest in the first race but his lead was very small. Andreas Ntofis recovered some time in the second race but it was not enough to claim victory. In the end Sakis had a lead of just .22 but it was enough for victory. Michalis Euthymiou was less than 3 seconds behind the two leaders. They would also be 4-5-6 in the overall classifications.
In the three other categories the leaders managed a bigger lead. In Group E Georgios Kechagias was once again the strongest. He steered his Ford Sierra RS500 to category victory over Dionysios Trovas and Panagiotis Euthymiou. Giorgos Katsaros dominated the historics with his beautiful castrol-colored Ford Escort. Giannis Potouridis was the only 4×4 turbo in Group N. This gave him a decisive advantage to take victory in front of Giannis Foteinelis and Nikolaos Komnos.
08-09/04/2017 – Ritsona Hillclimb

| Pos. | Last Name | First Name | | Car | Cl. | Final |
| --- | --- | --- | --- | --- | --- | --- |
| 1 | Patsoureas | Konstantinos | | Mitsubishi Lancer EVO IX | FST | 4:13,62 |
| 2 | Lazaridis | Konstantinos | | Mitsubishi Lancer EVO VIII | FST | 4:13,97 |
| 3 | Iliopoulos | Marios | | Audi R8 LMS Ultra | FST | 4:17,36 |
| 4 | Sakis | Lioris | | Ford Escort WRC | A8 | 4:19,54 |
| 5 | Ntofis | Andreas | | Mitsubishi Lancer EVO VIII | A8 | 4:19,76 |
| 6 | Euthymiou | Michalis | | Ford Escort WRC | A8 | 4:22,49 |
| 7 | Kechagias | Georgios | | Ford Sierra RS500 | E12D | 4:22,58 |
| 8 | Trovas | Dionysios | | BMW M3 | E12D | 4:25,28 |
| 9 | Euthymiou | Panagiotis | | BMW M3 E30 DTM | E12D | 4:26,03 |
| 10 | Parthenis | Panagiotis | | Mitsubishi Lancer EVO IX | FST | 4:28,64 |
| 11 | Stafylopatis | Antonis | | Opel Astra OPC | FST2 | 4:29,24 |
| 12 | Vasileiadis | Pantelis | | Citroën AX | E10 | 4:30,12 |
| 13 | Katsaros | Giorgos | | Ford Escort RS2000 | 2/C3 | 4:32,07 |
| 14 | Anadiotis | Georgios | | Renault Clio Sport | A7 | 4:32,56 |
| 15 | Batzanos | Vasilis | | Citroën Saxo VTS | A6 | 4:34,48 |
| 16 | Chatoupis | Stavros | | Opel Corsa Kit-Car | A7 | 4:34,76 |
| 17 | Vorgias | Spyros | | Peugeot 106 S16 | A6 | 4:34,89 |
| 18 | Drakopoulos | Giannis | | Peugeot 106 S16 | A6 | 4:35,13 |
| 19 | Kalaitzian | Giannis | | Ford Puma S1600 | A7 | 4:35,14 |
| 20 | Kourniatis | Athanasios | | Ford Escort MK2 | E11 | 4:35,36 |
| 21 | Kourasmenakis | Georgios | | BMW M3 E36 | E12D | 4:35,95 |
| 22 | Mavroeilakos | Spyros | | Renault Clio RS III | A7 | 4:36,58 |
| 23 | Atzemis | Vasileios | | Peugeot 106 Rallye | FST | 4:37,17 |
| 24 | Giannopoulos | Giorgos | | Citroën Saxo VTS | A6 | 4:37,24 |
| 25 | Potouridis | Giannis | | Subaru Impreza STi | N4 | 4:37,70 |
| 26 | Bimpikas | Panagiotis | | Volkswagen Golf II | E11 | 4:38,67 |
| 27 | Chasapis | Tryfonas | | Citroën Saxo VTS | A6 | 4:38,72 |
| 28 | Georgoulas | Evangelos | | Ford Escort RS2000 | 3/D3 | 4:39,80 |
| 29 | Foteinelis | Giannis | | Honda Civic Type-R | N3 | 4:40,46 |
| 30 | Nkikas | Georgios | | Volkswagen Golf | FST2 | 4:42,36 |
| 31 | Posotidis | Alexandros | | BMW M3 E30 | E12D | 4:42,80 |
| 32 | Komnos | Nikolaos | | Peugeot 106 S16 | N2 | 4:43,39 |
| 33 | Papathanasopoulos | Georgios | | Suzuki Swift | E9 | 4:44,45 |
| 34 | Rekkas | Vasileios | | Citroën Saxo VTS | N2 | 4:45,54 |
| 35 | Vlachos | Christos | | Peugeot 106 S16 | N2 | 4:45,71 |
| 36 | Angelakis | Lampros | | Ford Escort RS2000 | 3/D3 | 4:45,85 |
| 37 | Geladakis | Vasilis | | Volkswagen Golf | E11 | 4:46,02 |
| 38 | Tasoulas | Konstantinos | | Peugeot 106 S16 | N2 | 4:46,39 |
| 39 | Apostolou | Apostolos | | Peugeot 106 S16 | A6 | 4:46,58 |
| 40 | Panagoulopoulos | Dimitris | | Citroën Saxo VTS | N2 | 4:46,91 |
| 41 | Ntouras | Nikolaos | | Peugeot 206 RC | N3 | 4:47,63 |
| 42 | Vlachos | Apostolis | | Peugeot 106 S16 | N2 | 4:47,93 |
| 43 | Chreppas | Nikolaos | | Peugeot 106 S16 | N2 | 4:47,96 |
| 44 | Tsangaras | Leonidas | | Opel Ascona | 3/D3 | 4:47,99 |
| 45 | Palaiologos | Giorgos | | Ford Escort RS2000 | 3/D3 | 4:48,05 |
| 46 | Mamalis | Dimitris | | Seat Ibiza | FST2 | 4:48,49 |
| 47 | Anastasiou | Panagiotis | | Peugeot 106 S16 | N2 | 4:48,85 |
| 48 | Mavroeilakos | Giannis | | Peugeot 106 Kit-Car | E10 | 4:49,76 |
| 49 | Penesis | Konstantinos | | Peugeot 106 S16 | N2 | 4:49,82 |
| 50 | Simatos | Leuteris | | Citroën Saxo | N2 | 4:50,51 |
| 51 | Tsalamatas | Ioannis | | Peugeot 306 GTI | 4/E3 | 4:51,48 |
| 52 | Paravalos | Giannis | | Toyota Yaris | A5 | 4:53,30 |
| 53 | Ntontis | Miltiadis | | Peugeot 106 Kit-Car | A7 | 4:53,77 |
| 54 | Fiflis | Nikolaos | | Toyota Yaris | A5 | 4:54,06 |
| 55 | Syllas | Michalis | | Peugeot 106 S16 | N2 | 4:54,94 |
| 56 | Rokkos | Sotiris | | Alfa Romeo Alfetta Turbo | E12D | 4:55,67 |
| 57 | Panagopoulos | Dimitrios | | Peugeot 106 S16 | A6 | 4:55,86 |
| 58 | Kefalas | Panagiotis | | Volkswagen Golf I GTI | E11 | 4:56,04 |
| 59 | Konstantinidis | Iordanis | | Skoda Fabia RS | FST2 | 4:57,99 |
| 60 | Karamesinis | Sotiris | | Opel Ascona | E11 | 4:58,86 |
| 61 | Stamatopoulos | Fotis | | Peugeot 106 S16 | A6 | 5:01,20 |
| 62 | Marinis | Georgios | | Peugeot 106 S16 | N2 | 5:01,23 |
| 63 | Atzemis | Christos | | Peugeot 106 Rallye | A5 | 5:03,17 |
| 64 | Kontos | Stavros | | Peugeot 106 S16 | N2 | 5:03,60 |
| 65 | Antoniou | Antonios | | Peugeot 106 S16 | N2 | 5:03,70 |
| 66 | Maraslis | Apostolos | | Ford Escort RS2000 | 2/C3 | 5:04,62 |
| 67 | Oikonomou | Dimitris | | Volkswagen Golf | 3/D2 | 5:04,62 |
| 68 | Liosis | Spyros | | Citroën Saxo | N2 | 5:05,27 |
| 69 | Rigopoulos | Dionysis | | Opel Kadett C City | E11 | 5:05,74 |
| 70 | Stefanidis | Stefanos | | Ford Escort RS2000 | 3/D3 | 5:06,09 |
| 71 | Michalidis | Charalampos | | Peugeot 106 S16 | N2 | 5:06,26 |
| 72 | Daravinkas | Panagiotis | | Toyota Starlet | E10 | 5:08,74 |
| 73 | Christodoulou | Euthymios | | Peugeot 106 Rallye | A5 | 5:09,02 |
| 74 | Mylonakos | Theodoros | | Peugeot 106 S16 | A6 | 5:09,03 |
| 75 | Pouliadis | Pantelis | | Porsche 911 | E12D | 5:11,96 |
| 76 | Kofinas | Konstantinos | | Alfa Romeo GT Veloce | 2/C3 | 5:13,08 |
| 77 | Papadopoulos | Theodoros | | BMW E30 M5 | FSA | 5:14,63 |
| 78 | Xystras | Athanasios | | BMW E30 | FSA | 5:15,04 |
| 79 | Papazoglou | Lymperis | | Alfa Romeo Alfasud Ti | 3/D2 | 5:15,04 |
| 80 | Nakakis | Georgios | | Citroën Saxo VTS | A6 | 5:15,44 |
| 81 | Gavriilidis | Georgios | | Ford Escort RS2000 | 2/C3 | 5:15,49 |
| 82 | Oichaliotis | Aristeidis | | Peugeot 106 Rallye | A6 | 5:17,48 |
| 83 | Asteris | Eleutherios | | Yugo | E10 | 5:18,67 |
| 84 | Katsikas | Ioannis | | Ford Escort RS2000 | 3/D3 | 5:18,81 |
| 85 | Andrianopoulos | Georgios | | Ford Sierra Cosworth | FST2 | 5:19,56 |
| 86 | Rinakis | Emmanuel | | Mazda 818 | 2/C1 | 5:22,74 |
| 87 | Ntofis | Angelos | | Citroën C2 | A6 | 5:23,62 |
| 88 | Dimitriou | Dimitrios | | Opel Ascona B | FST2 | 5:26,66 |
| 89 | Amendola | Raffaelo | | Peugeot 106 S16 | N2 | 5:31,08 |
| 90 | Dimitropoulos | Kostas | | BMW E30 | FSA | 5:31,85 |
| 91 | Zachos | Zacharias | | Toyota Corolla | 4/E2 | 5:34,82 |
| 92 | Zachos | Nikolaos-Thomas | | BMW E30 | FST2 | 5:36,19 |
| 93 | Konteles | Argyris | | BMW E30 | FST2 | 5:38,55 |
| 94 | Voutsinos | Iosif | | Fiat Cinquecento | A5 | 5:40,44 |
| 95 | Kanellopoulos | Ioannis | | BMW M3 E30 Turbo | FST2 | 5:44,50 |
| 96 | Ploumistos | Dimitris | | BMW M3 Turbo | FST2 | 5:47,67 |
| 97 | Ntousias | Andreas | | Peugeot 206 Kit-Car | A6 | 5:47,88 |
| 98 | Bochoris | Achilleas | | Audi S4 Turbo | FST2 | 5:49,83 |
| 99 | Souflaris | Giorgos | | Ford Escort MK2 | FST2 | 5:54,71 |