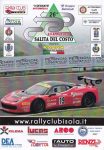 The Salita del Costo was a succesful test for Simone Faggioli. In anticipation of the start of the European Hillclimb Championship the multi-champion was present in northern Italy to test new improvements on his famous Norma M20 FC sportscar. He could be satisfied as he took victory with a margin of four seconds over his main rival Christian Merli. Although the Osella pilot switched engines from RPE to Fortech over the winter, it did not seem to change is his relative speed to Faggioli. Of course it is still very early in the season… Paride Macario was third best driver last year, and at Costo that did not change.
Angelo Alessandro Mercuri competed in a Fiat 500 the past few years. His ride for 2017 could not be more different: a Wolf GB08F1! Even though the learning curve was very steep, Mercuri finished fifth overall behind Diego De Gasperi. Certainly a promising start of the year.
Mauro Soretti was the best touringcar driver. With his Subaru Impreza he remained ahead of Marco Sbrollini and the powerful Ferraris of Luca Gaetani and Roberto Ragazzi.
08-09/04/2017 – Salita del Costo

| Pos. | Last Name | First Name | | Car | Cl. | Final |
| --- | --- | --- | --- | --- | --- | --- |
| 1 | Faggioli | Simone | | Norma M20 FC | E2-SC 3000 | 4:03,34 |
| 2 | Merli | Christian | | Osella FA30 | E2-SS 3000 | 4:07,82 |
| 3 | Macario | Paride | | Osella FA30 | E2-SS 3000 | 4:09,11 |
| 4 | De Gasperi | Diego | | Lola Honda | E2-SS 2000 | 4:31,00 |
| 5 | Mercuri | Angelo Alessandro | | Wolf GB08 F1 | E2-SS 3000 | 4:38,11 |
| 6 | Pedrotti | Gino | | Formula Renault | E2-SS 2000 | 4:40,99 |
| 7 | Tinaburri | Alessandro | | Gloria C8 EVO | E2-SS 1600 | 4:41,04 |
| 8 | Zandona | Enrico | | Reynard | E2-SS 1600 | 4:41,51 |
| 9 | Nalon | Marietto | | Lola B02/50 | E2-SS 3000 | 4:44,74 |
| 10 | Falcetta | Stefano | | Norma M20 EVO | CN 2000 | 4:45,61 |
| 11 | Soretti | Mauro | | Subaru Impreza | E1 +3000 | 4:45,71 |
| 12 | Bouduban | Fabien | | Norma M20 FC | E2-SC 2000 | 4:46,52 |
| 13 | Dall'o | Domenico | | Radical Prosport | E2-SC 1600 | 4:46,91 |
| 14 | Venturi | Paolo | | Elia Avrio ST09 EVO | E2-SC 1400 | 4:47,01 |
| 15 | Sbrollini | Marco | | Lancia Delta EVO | E1 +3000 | 4:50,40 |
| 16 | Meneghetti | Renzo | | Lucchini BMW | E2-SC 3000 | 4:51,37 |
| 17 | Ostuni | Sante | | Formula Renault | E2-SS 1600 | 4:54,01 |
| 18 | Gaetani | Luca | | Ferrari F458 EVO | GTCUP +4000 | 4:55,19 |
| 19 | Ragazzi | Roberto | | Ferrari F458 EVO | GTCUP +4000 | 4:55,22 |
| 20 | Torrente | Giuseppe | | Radical Prosport | E2-SC 1400 | 4:55,25 |
| 21 | Parisi | Andrea | | Gloria C8 Light | E2-SS 1000 | 5:01,62 |
| 22 | Ceccato | Michele | | Maserati MC | GT3 +4000 | 5:03,41 |
| 23 | Jarach | Bruno | | Lamborghini Huracan | GTSC +4000 | 5:05,60 |
| 24 | Parrino | Rosario | | Porsche 911 GT3 | GT3 4000 | 5:07,65 |
| 25 | Bonollo | Nereo | | Ferrari F458 Challenge | GTCUP +4000 | 5:08,60 |
| 26 | Giacomazzi | Franco | | Lancia Delta EVO | E1 +3000 | 5:09,26 |
| 27 | Drago | Andrea | | Erberth R3 | CN 1600 | 5:09,98 |
| 28 | Vardanega | Lino | | Mitsubishi Lancer EVO X | N +3000 | 5:14,55 |
| 29 | Frijo | Sebastiano | | Porsche 997 GT3 | GT3 4000 | 5:14,61 |
| 30 | Schena | Damiano | | Renault Clio Cup | E1 2000 | 5:18,46 |
| 31 | Bizzarini | Fabrizio | | Gloria Kit | E2-SS 1000 | 5:20,75 |
| 32 | Maggiani | Renzo | | Osella PA21 | CN 2000 | 5:21,70 |
| 33 | Lappani | Valerio | | Peugeot 106 S16 | E1 1600 | 5:25,20 |
| 34 | Spitaler | Lutz | | Osella PA21 JRB | E2-SC 1000 | 5:25,34 |
| 35 | Ghirardo | Michele | | Honda Civic EK4 | E1 1600 | 5:26,03 |
| 36 | Marega | Rinaldo | | Alfa Romeo 156 STW | E1 2000 | 5:26,31 |
| 37 | Cenedese | Ivano | | Renault Clio RS | A 2000 | 5:27,05 |
| 38 | Trolio | Enrico | | Peugeot 106 | E1 1600 | 5:27,44 |
| 39 | De Gan | Stefano | | Honda Civic | E1 1600 | 5:28,73 |
| 40 | Fattorelli | Claudio | | Honda Civic | E1 1600 | 5:30,50 |
| 41 | Turrin | Tiziano | | Citroën Saxo | E1 1600 | 5:30,91 |
| 42 | Dubbini | Federico | | Ferrari F430 | GTCUP +4000 | 5:31,54 |
| 43 | Morocutti | Manuel | | Renault Clio | E1 2000 | 5:31,91 |
| 44 | Marchegger | Ronny | | Fiat 500 BMW | E2-SH 1150 | 5:32,38 |
| 45 | Bettera | Enrico | | Alfa Romeo 147 Cup | RS+ 2000 | 5:33,48 |
| 46 | Zuurbier | Luca | | Honda Civic Type-R | A 2000 | 5:35,99 |
| 47 | Bommartini | Fabrizio | | Citroën Saxo VTS | A 1600 | 5:36,45 |
| 48 | Massaro | Michele | | BMW M3 E92 | E1 +3000 | 5:37,96 |
| 49 | Dal Ponte | Giovanni | | Renault Clio | A 2000 | 5:38,01 |
| 50 | Alessi | Gianni | | Renault Clio Cup | E1 2000 | 5:38,58 |
| 51 | Ferrante | Riccardo | | Renault Clio | A 1600 | 5:40,53 |
| 52 | Primoli Carretta | Stefano | | Renault Clio Kit-Car | A 2000 | 5:42,35 |
| 53 | Gasser | Markus | | Volkswagen Golf GTI | PE 2000 | 5:42,86 |
| 54 | Zarpellon | Giuseppe | | BMW M3 E30 | E1 3000 | 5:43,39 |
| 55 | Fent | Alberto | | Renault 5 GT Turbo | E1 1600T | 5:43,84 |
| 56 | Attoresi | Luca | | Renault New Clio | RS+ 2000 | 5:44,00 |
| 57 | Vettorel | Alessandro | | Peugeot 106 | E1 1400 | 5:46,30 |
| 58 | Pilotto | Adriano | | Honda Civic Type-R | N 2000 | 5:46,66 |
| 59 | Sartoretto | Renato | | Osella PA20/S | E2-SC 3000 | 5:47,39 |
| 60 | Pomaran | Federico | | Fiat Uno Turbo | E1 1600T | 5:49,08 |
| 61 | Chiappin | Stefano | | Renault Clio | A 1600 | 5:49,28 |
| 62 | Antonicelli | Abramo | | BMW M3 E92 GT2 | E2-SH +3000 | 5:50,05 |
| 63 | Sabbadini | Matteo | | Honda Civic | N 1600 | 5:53,87 |
| 64 | Oddo | Antonino | | Peugeot 106 | E1 1400 | 5:55,92 |
| 65 | Pomaran | Gianluca | | Peugeot 306 | N 2000 | 5:56,11 |
| 66 | Dall'Osto | Nicola | | Renault Clio RS | N 2000 | 5:57,39 |
| 67 | Parlato | Paolo | | Honda Civic Type-R | A 2000 | 5:59,00 |
| 68 | Vettorel | Fabrizio | | Peugeot 106 | N 1600 | 5:59,21 |
| 69 | Rossi | Gianguido | | Peugeot 208 | A 1600 | 6:00,10 |
| 70 | "Zio Fester" | | | Honda Civic | E1 1600 | 6:00,45 |
| 71 | Ragazzi | Giovanni | | Citroën Saxo | E1 1600 | 6:02,74 |
| 72 | Tremonti | Federico | | Citroën Saxo VTS | A 1600 | 6:04,81 |
| 73 | Ferrante | Raffaele | | Renault Clio | A 1600 | 6:04,97 |
| 74 | Cerri | Massimo | | Renault Clio Williams | N 2000 | 6:06,01 |
| 75 | Gallo | Luigi | | Citroën Saxo VTS | RS+ 1600 | 6:08,02 |
| 76 | Calgaro | Alberto | | Renault Clio Williams | N 2000 | 6:08,57 |
| 77 | De Vecchi | Marco | | Honda Civic EK4 | N 1600 | 6:09,39 |
| 78 | Fusaro | Carmelo | | Peugeot 306 S16 | RS 2000 | 6:11,32 |
| 79 | Lunelli | Rino | | Renault Clio | N 2000 | 6:11,63 |
| 80 | Conci | Mario | | Sanetti Sport Honda | CN 1600 | 6:12,06 |
| 81 | Viali | Otello | | Viali 007 | E2-SC 1600 | 6:12,66 |
| 82 | Graziani | Andrea | | Fiat Panda | A 1400 | 6:16,43 |
| 83 | Menegatti | Gianclaudio | | Peugeot 205 Rallye | PE 1400 | 6:16,49 |
| 84 | Viola | Alex | | Honda Civic | A 1600 | 6:17,99 |
| 85 | Peretto | Roberto | | Citroën Saxo | RS 1600 | 6:19,89 |
| 86 | Agosti | Alberto | | Peugeot 106 | N 1600 | 6:22,53 |
| 87 | Artuso | Stefano | | Mini Cooper S | RSTB 1600 | 6:24,92 |
| 88 | Maggian | Diego | | Fiat 600 Sporting | E1 1150 | 6:28,06 |
| 89 | Massaini | Fabrizio | | Citroën Saxo | RS 1600 | 6:32,20 |
| 90 | Graziani | Mirco | | Citroën Saxo | RS 1600 | 6:34,36 |
| 91 | Carollo | Loris | | Peugeot 106 Rallye | N 1400 | 6:34,82 |
| 92 | Frigo | Nicola | | Peugeot 309 GTI | N 2000 | 6:35,54 |
| 93 | Mattana | Andrea | | Opel Astra GSi | A 2000 | 6:38,55 |
| 94 | Cavaliero | Adriano | | Peugeot 106 | RS 1400 | 6:52,07 |
| 95 | Steffan | Andrea | | Peugeot 106 | A 1400 | 7:16,66 |
08-09/04/2017 – Salita del Costo (Historic)

| Pos. | Last Name | First Name | | Car | Cl. | Final |
| --- | --- | --- | --- | --- | --- | --- |
| 1 | Sala | Mario | | Porsche 906 | 1/GR/BC 2000 | 5:35,17 |
| 2 | Pezzo | Giuseppe | | Porsche 911 SC | 3/H2-I/GTS +2500 | 5:38,62 |
| 3 | Amici | Roberto | | Renault 5 GT Turbo | 4/J2/A +2000 | 5:43,98 |
| 4 | Basso | Giampaolo | | Porsche 911 RSR | 2/G2-H1/GTS +2500 | 5:46,07 |
| 5 | Decarli | Remo | | Fiat X1/9 Dallara | 3/H2-I/SIL 1600 | 5:48,87 |
| 6 | Valente | Edoardo | | Porsche 930 Turbo | 3/H2-I/GTS +2500 | 6:00,91 |
| 7 | Andrighetti | Silvio | | Lancia Stratos | 2/G2-H1/GTS 2500 | 6:04,38 |
| 8 | Furlan | Flavio | | De Tomaso Pantera | 2/G2-H1/GTS +2500 | 6:05,97 |
| 9 | Piatto | Roberto Giovanni | | Fiat Ritmo 75 | 3/H2-I/TC 1600 | 6:07,21 |
| 10 | Niederstatter | Paul | | Renault 5 GT Turbo | 4/J2/N +2000 | 6:07,94 |
| 11 | Ortolan | Daniele | | Autobianchi A112 Abarth | 3/H2-I/SIL 1150 | 6:11,45 |
| 12 | Bianchin | Luciano | | Porsche 954 RSR | B/J1/B +1600 | 6:11,92 |
| 13 | Stella | Marco | | Alfa Romeo Giulia Sprint GTV | 2/G2-H1/TC 1600 | 6:13,95 |
| 14 | Grossi | Gianluca | | Leyland Mini Cooper | 3/H2-I/TC 1300 | 6:14,34 |
| 15 | Meggiorin | Stefano | | Volkswagen Scirocco | 3/H2-I/TC 1600 | 6:18,57 |
| 16 | Rebasti | Luciano | | Abarth 1000 TC | 2/G2-H1/TC 1000 | 6:19,28 |
| 17 | De Rossi | Romeo Emilio | | Alfa Romeo Alfasud Ti | 3/H2-I/TC 1600 | 6:20,53 |
| 18 | Pellanda | Luigi | | BMW 1600 | 2/G2-H1/TC 1600 | 6:21,99 |
| 19 | Tonello | Ugo | | Opel Ascona | 2/G2-H1/TC 2000 | 6:25,24 |
| 20 | Fochesato | Marino | | Fiat Abarth 1000 TC | 1/G1/T 1000 | 6:30,10 |
| 21 | Martina | Stefano | | Alfa Romeo 33 | 4/J2/A 1600 | 6:31,20 |
| 22 | Scarabottolo | Mattia | | Opel Kadett GT/E | 3/H2-I/TC 2000 | 6:31,52 |
| 23 | Fronza | Massimo | | Fiat 126 | 3/H2-I/SIL 700 | 6:32,51 |
| 24 | Vettore | Guido | | BMW 2002 | 1/G1/T 2000 | 6:39,11 |
| 25 | Campese | Giovanni | | Mercedes 190E | 4/J2/N +2000 | 6:39,39 |
| 26 | Berlanda | Maurizio | | Daimler Benz 280 CE | 3/H2-I/TC +2500 | 6:40,80 |
| 27 | Danese | Marco | | Fiat X1/9 | 3/H2-I/SIL 1600 | 6:41,64 |
| 28 | Tonello | Mirto Maria | | Alpine A110 | 2/G2-H1/GT 1600 | 6:43,07 |
| 29 | Zanella | Luca | | Fiat 128 | 2/G2-H1/TC 1150 | 6:43,26 |
| 30 | Tacchini | Mario | | Fiat Ritmo Abarth 125 TC | 4/J1/N 2000 | 6:44,31 |
| 31 | Buttura | Andrea | | Fiat Giannini 650 NP | 2/G2-H1/TC 700 | 6:45,25 |
| 32 | Cercena | Loris | | Lancia Fulvia HF | 2/G2-H1/GTS 1600 | 6:47,11 |
| 33 | Leonardelli | Maurizio | | Fiat Giannini 650 NP | 2/G2-H1/TC 700 | 6:49,65 |
| 34 | Bianchin | Serena | | Fiat 124 Abarth | 2/G2-H1/GTS 2000 | 6:49,92 |
| 35 | Fochesato | Silvia | | Innocenti Mini Cooper | 2/G2-H1/TC 1300 | 6:55,94 |
| 36 | Carpene | Raffaello | | Fiat 128 | 2/G2-H1/TC 1150 | 7:04,19 |
| 37 | Camparmo | Daniele | | Fiat 850 Coupé | 1/G1/T 850 | 7:12,76 |
| 38 | Guidolin | Dario | | Lancia Fulvia Montecarlo | 2/G2-H1/GTS 1300 | 7:20,48 |
| 39 | Viali | Giuseppe | | Fiat X1/9 | 3/H2-I/SIL 1300 | 7:40,35 |
| 40 | Liani | Fausto | | Alfa Romeo Giulia GT | 1/G1/T 1600 | 8:58,47 |