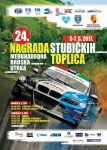 It rained at the Nagrada Stubičke Toplice this weekend, although someone forgot to tell Domagoj Perekovic. He won the Croatian season opener with a 17 second lead on Robert Bradaric and Istvan Kavecz. Fourth placed Bojan Juranic was a whopping 40 seconds behind! A brilliant start of the season for Perekovic who must be the favourite for the championship this year.
The race also counted towards the Slovenian Hillclimb Championship. The rain came as a welcome gift to Ales Prek. The former European Champion managed to steer his underpowered Honda Civic Type-R to victory. Milan Bubnic had a faster single time, but came up short on aggregate time. Peter Marc was third.
The event also counted towards the Category 2 championship for sportscars and singleseaters. But neither Laszlo Szasz or his Slovenian rival Vladimir Stankovic could make an impression in the rain.

06-07/05/2017 – Nagrada Stubickih Toplica

| Pos. | Last Name | First Name | | Car | Cl. | Final |
| --- | --- | --- | --- | --- | --- | --- |
| 1 | Perekovic | Domagoj | | Mitsubishi Lancer EVO IX | E1 23 | 6:21,250 |
| 2 | Bradaric | Robert | | Audi A4 Quattro | E1 23 | 6:38,712 |
| 3 | Kavecz | Istvan | | BMW E90 | E1 23 | 6:40,811 |
| 4 | Juranic | Bojan | | Renault Clio Sport | E1 16 | 7:01,261 |
| 5 | Jurisic | Mario | | Opel Vectra STW | E1 16 | 7:03,623 |
| 6 | Herceg | Miroslav | | Renault 5 GT Turbo | E1 17 | 7:07,903 |
| 7 | Nisevic | Denis | | Renault Megane | E1 17 | 7:08,135 |
| 8 | Prek | Ales | | Honda Civic Type-R | A8 | 7:08,195 |
| 9 | Bubnic | Milan | | Lancia Delta HF Integrale | E1 23 | 7:09,047 |
| 10 | Knego | Zarko | | Honda Civic Type-R | N3 | 7:09,294 |
| 11 | Marc | Peter | | Mitsubishi Lancer EVO IX | N4 | 7:10,029 |
| 12 | Kopajtic | Dejan | | Yugo | E1 15 | 7:12,054 |
| 13 | Tomcsany | Tomas | | Lada | E1 15 | 7:13,126 |
| 14 | Magdic | Filip | | Honda Civic Type-R | N3 | 7:15,718 |
| 15 | Hernadi | Laszlo | | Mitsubishi Lancer EVO IX R4 | A9 | 7:16,127 |
| 16 | Cuden | Matevz | | Renault Clio | E1 16 | 7:16,213 |
| 17 | Franic | Maro | | Volkswagen Golf I | E1 17 | 7:17,103 |
| 18 | Radola | Sasa | | Honda Civic Type-R | N3 | 7:19,008 |
| 19 | Janko | Igor | | Yugo | E1 15 | 7:20,189 |
| 20 | Franic | Divo | | Honda Civic | N2 | 7:24,353 |
| 21 | Simunovic | Danijel | | Volkswagen Golf R32 | E1 23 | 7:24,930 |
| 22 | Stankovic | Vladimir | | Gibson RME04 | E2-SC 20 | 7:25,295 |
| 23 | Stefanovic | Silvio | | Renault Clio Williams | E1 17 | 7:27,004 |
| 24 | Jaketic | Renato | | Fiat Ritmo | E1 15 | 7:27,440 |
| 25 | Ruzzier | Patrik | | Fiat Cinquecento | E1 14 | 7:28,901 |
| 26 | Udovc | Alojz | | Renault Clio R3 | A8 | 7:28,961 |
| 27 | Szasz | Laszlo | | Reynard F3000 | D20 | 7:30,570 |
| 28 | Manenica | Stijepo | | Honda Civic Type-R | N3 | 7:31,643 |
| 29 | Marinic | Kristian | | Volkswagen Golf III | E1 17 | 7:33,037 |
| 30 | Dimitrijevic | Dejan | | Seat Leon Turbo | E1 23 | 7:35,183 |
| 31 | Petrov | Natanael | | Zastava 101 | E1 15 | 7:35,594 |
| 32 | Latinovic | Luka | | Ford Fiesta ST | N3 | 7:35,933 |
| 33 | Tavcar | Primoz | | Renault Clio | E1 14 | 7:40,257 |
| 34 | Delimar | Vedran | | Volkswagen Polo Turbo | E1 23 | 7:41,955 |
| 35 | Gorup | Sven | | Skoda Fabia | A6 | 7:43,136 |
| 36 | Mikulec | Mislav | | Renault Clio RS | A8 | 7:45,315 |
| 37 | Krizanec Bijelic | Filip | | Mitsubishi Lancer EVO VIII | N4 | 7:50,064 |
| 38 | Stella | Novica | | Honda Civic | N2 | 7:50,239 |
| 39 | Jemric | Tomislav-Jeffrey | | Skoda Fabia TDi | N3 | 7:53,454 |
| 40 | Bekavac | Stipe | | Honda Civic | N2 | 7:53,565 |
| 41 | Batalic | Ivan | | Honda Civic Type-R | A8 | 7:57,456 |
| 42 | Kljun | Dorijan | | Fiat Ritmo | P2 | 8:03,512 |
| 43 | Hernaut | Antonio | | Opel Corsa GSi | P2 | 8:06,858 |
| 44 | Gacina | Ante | | Volkswagen Golf I | P3 | 8:08,220 |
| 45 | Barovic | Marijo | | Peugeot 106 | A6 | 8:11,094 |
| 46 | Salec | Florian | | Skoda Favorit | E1 14 | 8:12,863 |
| 47 | Sigurnjak | Mladen | | Volkswagen Golf | P3 | 8:13,222 |
| 48 | Strozic | Bojan | | Autobianchi A112 Abarth | C1 | 8:17,781 |
| 49 | Popovic | Marko | | Citroën Saxo VTR | E1 15 | 8:18,859 |
| 50 | Vlasic | Borna | | Skoda Fabia | N1 | 8:28,370 |
| 51 | Pristavec | Nik | | Autobianchi A112 Abarth | C1 | 8:32,620 |
| 52 | Popit | Matevz | | Fiat Seicento | E1 14 | 8:32,705 |
| 53 | Zupan | Karlo | | Yugo | P2 | 8:39,402 |
| 54 | Senjak | Ivan | | Citroën Saxo VTR | E1 15 | 8:51,356 |
| 55 | Dobrilovic | Miljenko | | Alfa Romeo 75 | P4 | 8:53,126 |
| 56 | Hlaca | Bojan | | Yugo | P1 | 9:03,143 |
| 57 | Knez | Tomislav | | Volkswagen Polo | A6 | 9:07,850 |
| 58 | Smolek | Ivan | | Fiat Abarth 1000 Berlina | P1 | 9:08,595 |
| 59 | Radan | Martina | | Fiat Uno Turbo | P4 | 11:21,345 |