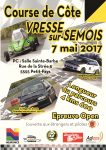 The Course de Côte de Vresse-sur-Semois was the fourth round of the Belgian Regional Hillclimb Championship. The weather conditions were not ideal but still better than last year.
Julien Vandeput had no problem extending his lead in Division 4 with another victory. The Van Diemen Suzuki pilot had just one opponent today in local Kart-Cross driver Florian Collard. Despite the lack of opposition Vandeput motivated himself to also win the event.
In Division 1-2-3 for touringcars Christophe Le Nouvel gave another great performance to take victory. With his little Citroën AX Le Nouvel managed to set fastest times in all three race heats. After two race sessions Alain Cricus had placed his Porsche 996 GT3 in second. But a great last run saw Olivier Dubois move up to the runner-up spot and demote Cricus to third.
07/05/2017 – Course de Côte de Vresse-sur-Semois

| Pos. | Last Name | First Name | | Car | Cl. | Final |
| --- | --- | --- | --- | --- | --- | --- |
| 1 | Vandeput | Julien | | Van Diemen Suzuki | 4/15 | 4:43,10 |
| 2 | Le Nouvel | Christophe | | Citroën AX | 3/11 | 4:56,44 |
| 3 | Dubois | Olivier | | Lotus Elise | 3/13 | 5:03,98 |
| 4 | Cricus | Alain | | Porsche 996 GT3 | 2/8 | 5:10,34 |
| 5 | Collard | Florian | | Kart-Cross Peeters | 4/14 | 5:13,07 |
| 6 | Leclerc | Arnaud | | Renault Clio Cup | 2/7 | 5:21,93 |
| 7 | Ciuca | Romain | | Opel Kadett C | 3/13 | 5:29,24 |
| 8 | Breulet | Valentin | | Peugeot 106 GTI | 2/6 | 5:31,34 |
| 9 | Dierckx | Daniel | | Citroën C2 | 2/6 | 5:33,11 |
| 10 | Seguin | Manu | | Opel Kadett C | 3/13 | 5:33,76 |
| 11 | Legendre | Frederic | | Opel Kadett GT/E | 3/12 | 5:35,37 |
| 12 | Dubois | Michel | | Lotus Elise | 3/13 | 5:41,17 |
| 13 | Leruth | Jean | | Honda Integra | 3/12 | 5:41,30 |
| 14 | Nicolas | Hervé | | Toyota Corolla | 3/11 | 5:44,66 |
| 15 | Re | Gino | | Westfield SE | 2/7 | 5:44,69 |
| 16 | Pauporte | Marc | | Mini Cooper S | 2/8 | 5:44,81 |
| 17 | Durieu | Denis | | Volkswagen Golf | 1/3 | 5:46,24 |
| 18 | Goire | Arnaud | | Volkswagen Polo | 2/5 | 5:46,46 |
| 19 | Deminne | Philippe | | Nissan Micra | 2/5 | 5:47,96 |
| 20 | Welter | Rene | | Westfield ZEi | 1/3 | 5:48,81 |
| 21 | Denis | Tristan | | Peugeot 205 Rallye | 2/5 | 5:50,05 |
| 22 | Devillez | Leslie | | Opel Astra | 2/7 | 5:51,38 |
| 23 | Pierson | Sebastien | | Opel Kadett | 2/7 | 5:53,43 |
| 24 | Lejeune | Guillaume | | BMW 318is | 2/7 | 5:54,18 |
| 25 | Theron | Vincent | | Volkswagen Golf | 3/11 | 5:54,84 |
| 26 | Jacques | Jonathan | | Opel Corsa | 3/11 | 5:55,43 |
| 27 | Bracher | Rene | | Peugeot 106 | 2/6 | 5:58,75 |
| 28 | Marin | Christian | | Peugeot 106 | 3/11 | 6:01,26 |
| 29 | Dauvrin | Anthony | | Peugeot 106 | 3/10 | 6:01,60 |
| 30 | Saint Seans | Sylvain | | Opel Astra | 2/7 | 6:02,42 |
| 31 | Labye | Jerome | | BMW E30 | 2/8 | 6:03,73 |
| 32 | Detrait | Guillaume | | Volkswagen Golf | 1/3 | 6:04,53 |
| 33 | Denis | Philippe | | Ford Focus | 1/3 | 6:05,45 |
| 34 | Defer | Jean-Louis | | Renault Twingo | 3/12 | 6:06,91 |
| 35 | Delcroix | Christophe | | Audi TT | 2/8 | 6:08,94 |
| 36 | Rodriguez | Miguel | | Ford Fiesta | 1/2 | 6:11,30 |
| 37 | Devaux | Marc | | Citroën Saxo | 1/2 | 6:11,78 |
| 38 | Vandenbroecke | Johan | | Opel Kadett | 2/7 | 6:13,80 |
| 39 | Gelinne | Christophe | | Opel Kadett | 2/7 | 6:14,86 |
| 40 | Lejeune | Marjolaine | | Peugeot 106 | 2/5 | 6:21,94 |
| 41 | Ney | Joris | | Volkswagen Golf | 1/3 | 6:22,25 |
| 42 | Maroye | Dimitri | | Opel Corsa | 2/6 | 6:23,47 |
| 43 | Lorge | Vincent | | Opel Corsa | 2/6 | 6:27,84 |
| 44 | Vandenbulcke | Malory | | Mazda 323 | 2/7 | 6:33,19 |
| 45 | Dauvin | Dominique | | Peugeot 106 | 2/5 | 6:39,16 |
| 46 | Baltus | Serge | | Honda S800 | 3/9 | 6:49,04 |