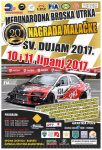 The Central European Zone (CEZ) Hillclimb Championship continued with the Nagrada Malacke SV. Dujam near Split in Croatia. The event also counted towards the Croatian, Bosnian and Montenegrin Hillclimb Championship. For that reason a massive entry of 100 drivers was present.
Laszlo Szasz dominated the event as expected in his Reynard Zytek. The Hungarian was more than 20 seconds ahead of everyone else. Grzegorz Duda scored his best result so far with his new Hyundai i20 WRC. The Pole finished second overall and won the E1 class. Not a small feat considering the strong opposition in Croatia.
In the Croatian Championship Category 1 the three best drivers all faced mechanical issues. Dejan Dimitrijevic retired already in practise. Istvan Kavecz had a problem during the second race of the day and lost quite some time. However the BMW E90 pilot still finished 9th overall. Championship leader Domagoj Perekovic retired in the second race with fuel problems. Bojan Juranic, the fastest 2-wheel-drive car in Croatia also retired early and scored no points. So who benefitted from all this misfortune? It was Robert Bradaric who had a trouble free run and scored maximum points. On top of that he also finished third overall. Mario Jurisic also did a good job as the Opel Vectra STW pilot finished directly behind Bradaric.
In the Bosnian Championship Salih Ljubijankic was again much stronger than the opposition. The same can be said about Luka Spadijer in the Montenegro standings.
10-11/06/2017 – Nagrada Malacke SV. Dujam

| Pos. | Last Name | First Name | | Car | Cl. | Final |
| --- | --- | --- | --- | --- | --- | --- |
| 1 | Szasz | Laszlo | | Reynard Zytek | D20 | 4:22,705 |
| 2 | Duda | Grzegorz | | Hyundai i20 WRC | E1 23 | 4:48,854 |
| 3 | Bradaric | Robert | | Audi A4 Quattro | E1 23 | 4:50,644 |
| 4 | Jurisic | Mario | | Opel Vectra STW | E1 16 | 4:54,346 |
| 5 | Slugocki | Robert | | Mitsubishi Lancer EVO X R4 | A9 | 4:56,800 |
| 6 | Spadijer | Luka | | Global GTi | CN19 | 4:59,271 |
| 7 | Muhvic | Tomislav | | Mitsubishi Lancer EVO IX | E1 23 | 4:59,609 |
| 8 | Nisevic | Denis | | Renault Megane | E1 17 | 5:01,102 |
| 9 | Kavecz | Istvan | | BMW E90 | E1 23 | 5:03,841 |
| 10 | Kopajtic | Dejan | | Yugo | E1 15 | 5:04,496 |
| 11 | Krizanic-Bijelic | Filip | | Mitsubishi Lancer EVO VIII | N4 | 5:06,134 |
| 12 | Prnic | Bozo | | Opel Lotus | P5 | 5:08,854 |
| 13 | Ljubijankic | Salih | | Honda Civic Type-R | E1 16 | 5:09,566 |
| 14 | Herceg | Miroslav | | Renault 5 GT Turbo | E1 17 | 5:10,416 |
| 15 | Stefanovic | Silvio | | Renault Clio Williams | E1 17 | 5:12,071 |
| 16 | Pavicic | Zeljko | | Opel Astra | E1 17 | 5:12,787 |
| 17 | Radola | Sasa | | Honda Civic Type-R | N3 | 5:13,109 |
| 18 | Kascelan | Nemanja | | Honda Civic | E1 15 | 5:13,143 |
| 19 | Cehic | Sanel | | Subaru Impreza STi | E1 17 | 5:15,385 |
| 20 | Magdic | Filip | | Honda Civic Type-R | N3 | 5:15,966 |
| 21 | Tomcsanyi | Tamas | | Lada VFTS | E1 15 | 5:16,015 |
| 22 | Alduk | Ante | | Honda Civic Type-R | A8 | 5:16,248 |
| 23 | Hadzic | Bakir | | Honda Integra Type-R | E1 16 | 5:16,843 |
| 24 | Matkovic | Ante | | Opel Kadett C | E1 17 | 5:17,485 |
| 25 | Manenica | Stijepo | | Honda Civic Type-R | N3 | 5:17,716 |
| 26 | Marinic | Kristian | | Volkswagen Golf III | E1 17 | 5:20,424 |
| 27 | Cossetto | Igor | | Opel Lotus | D19 | 5:20,624 |
| 28 | Banjeglav | Dusko | | Peugeot 106 GTI | A7 | 5:20,693 |
| 29 | Jaketic | Renato | | Fiat Ritmo | E1 15 | 5:21,889 |
| 30 | Milkovic | Mato | | Fiat Bravo | E1 15 | 5:22,032 |
| 31 | Seferagic | Nihad | | Volkswagen Polo CN | E1 16 | 5:23,702 |
| 32 | Franic | Divo | | Honda Civic VTI | N2 | 5:24,305 |
| 33 | Bekavac | Stipe | | Honda Civic VTI | N2 | 5:25,750 |
| 34 | Muller | Janos | | Opel Corsa | E1 15 | 5:26,018 |
| 35 | Petrov | Natanel | | Zastava 101 | E1 15 | 5:26,019 |
| 36 | Batalic | Ivan | | Honda Civic Type-R | A8 | 5:30,603 |
| 37 | Ljubijankic | Hasan | | Honda Civic VTEC | E1 15 | 5:32,034 |
| 38 | Rajhel | Zoran | | Volkswagen Golf I | E1 16 | 5:32,904 |
| 39 | Hadzic | Harun | | Honda Civic Type-R | N3 | 5:32,949 |
| 40 | Waszczuk | Przemyslaw | | Ford Fiesta R2 | E1 16 | 5:34,495 |
| 41 | Dragosevic | Ivica | | Peugeot 205 GTI | E1 16 | 5:35,667 |
| 42 | Sigurnjak | Mladen | | Volkswagen Golf I GTI | P3 | 5:37,131 |
| 43 | Hrnic | Jasmin | | Honda Civic VTI | E1 15 | 5:37,234 |
| 44 | Stella | Novica | | Honda Civic VTI | N2 | 5:38,066 |
| 45 | Nazor | Tonci | | BMW E92 | E1 17 | 5:39,111 |
| 46 | Medic | Stipe | | Peugeot 106 | N2 | 5:39,857 |
| 47 | Jaksic | Vasilije | | Peugeot 106 | N1 | 5:41,594 |
| 48 | Vujasin | Dejan | | Peugeot 106 | N2 | 5:44,170 |
| 49 | Danilovic | Marko | | Peugeot 106 | N1 | 5:44,404 |
| 50 | Gacina | Ante | | Volkswagen Golf I | P3 | 5:44,533 |
| 51 | Janko | Igor | | Yugo | E1 15 | 5:45,590 |
| 52 | Samardzic | Nikola | | Peugeot 106 | N1 | 5:46,312 |
| 53 | Kljun | Dorjan | | Fiat Ritmo | P2 | 5:46,507 |
| 54 | Besirevic | Engin | | Citroën Saxo VTS | N2 | 5:51,919 |
| 55 | Petric | Marin | | BMW 325 | E1 17 | 5:52,256 |
| 56 | Krivokapic | Milutin | | Peugeot 106 | N1 | 5:53,010 |
| 57 | Bekavac | Ivan | | Skoda Felicia LXi | A6 | 5:54,525 |
| 58 | Kaznacic | Jozo | | Honda CRX | E1 16 | 5:55,520 |
| 59 | Milicevic | Goran | | Citroën Saxo VTS | A7 | 5:56,465 |
| 60 | Vlasic | Borna | | Skoda Fabia | N1 | 5:57,453 |
| 61 | Dojcinovic | Goran | | Honda Civic | E1 14 | 5:57,686 |
| 62 | Senadovic | Eldin | | Yugo 45 | E1 14 | 5:58,601 |
| 63 | Adzic | Marko | | Yugo 45 | E1 14 | 6:00,432 |
| 64 | Abdic | Adis | | Volkswagen Golf I | P3 | 6:03,983 |
| 65 | Halilagic | Asmir | | Volkswagen Golf | E1 15 | 6:04,077 |
| 66 | Sturica | Miho | | Peugeot 106 Rallye | N1 | 6:04,089 |
| 67 | Gulin | Zeljko | | Fiat 127 | E1 14 | 6:04,816 |
| 68 | Punda | Ivan | | Peugeot 106 | A6 | 6:06,152 |
| 69 | Dobrilovic | Miljenko | | Alfa Romeo 75 | P4 | 6:06,423 |
| 70 | Simunic | Andro | | Zastava 750 | E1 14 | 6:09,164 |
| 71 | Stojnic | Milan | | Honda Civic VTi | N2 | 6:11,459 |
| 72 | Durovic | Savo | | Yugo | N1 | 6:15,667 |
| 73 | Mujkic | Adis | | Alfa Romeo 156 | E1 17 | 6:16,430 |
| 74 | Barovic | Marijo | | Peugeot 106 XSi | A6 | 6:20,429 |
| 75 | Matijas | Bozidar | | Zastava 750 | E1 14 | 6:21,119 |
| 76 | Gracin | Ante | | Skoda Felicia LXi | A6 | 6:26,352 |
| 77 | Karabatic | Nikola | | Yugo | E1 14 | 6:30,595 |
| 78 | Vrkic | Andelko | | Renault Clio | E1 14 | 6:31,188 |
| 79 | Antunovic | Robert | | Yugo | E1 14 | 6:45,175 |
| 80 | Brozovic | Zlatko | | Renault 5 GT Turbo | P4 | 7:14,088 |
| 81 | Hadzipasic | Edis | | Subaru Impreza | E1 17 | 8:38,958 |