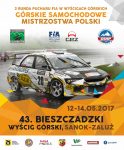 The Bieszczadzki Wyscig Górski Sanok-Zaluz was the second round of the International Hillclimb Cup (IHCC). Vaclav Janik and his teammates appear to be the only drivers aiming for the title in the sportscar category. Laszlo Hernadi was the only non-local driver in the production category. In the E1 category there were only local drivers present. As usual there was a complete event on Saturday and another complete event on Sunday. Only the Sunday event counted towards the IHCC.
Conditions were difficult on Sunday with cold temperatures and rain. Waldemar Kluza was the best in these conditions. He steered his Skoda Fabia S2000 to fastest time and victory. "Dubai" was second while Czech driver Karel Treny completed the podium. Reigning champion Igor Drotar had to retire early and scored no points.
On Sunday conditions improved and the drivers were welcomed by sun and warm weather. Bad luck for Igor Drotar as he retired again after a crash. Kluza and Treny also scored no points as their Skodas ran into mechanical problems. "Dubai" benefitted from the misfortune of his rivals as he scored maximum points for the Polish Championship. The Mitsubishi Lancer pilot did not win the event however as that honour was for Vaclav Janik. Jozef Beres jr. placed his Tatuus PY012 sportscar on the third step of the podium.
Apart from the IHCC and the Polish Championship, the event also counted towards the Slovak Hillclimb Championship. Polish driver "Dubai" has registered for this championship, hoping to steal it away like Slovak driver Igor Drotar stole the Polish Championship last year. He took a succesful step at Zaluz as he was the best 'Slovak' driver. Jozef Beres was second best while Peter Jurena was third fastest on both days.
13-14/05/2017 – Bieszczadzki Wyscig Górski Sanok-Zaluz

| Pos. | Last Name | First Name | | Car | Cl. | Fase A | Fase B |
| --- | --- | --- | --- | --- | --- | --- | --- |
| 1 | Janik | Vaclav | | Norma M20 FC | E2-SC 3000 | | 4:39,844 |
| 2 | "Dubai" | | | Mitsubishi Lancer | E2-SH +2000 | 5:16,672 | 4:46,856 |
| 3 | Beres jr. | Jozef | | Tatuus PY012 | E2-SC 3000 | 5:25,435 | 5:01,527 |
| 4 | Baran | Roman | | Mitsubishi Lancer | E1 +2000 | | 5:06,234 |
| 5 | Svoboda | Jiri | | Norma M20F | E2-SC 3000 | | 5:08,390 |
| 6 | Koziol | Grzegorz | | Mitsubishi Lancer | A +2000 | 5:32,703 | 5:08,538 |
| 7 | Ostrowski | Piotr | | Mitsubishi Lancer EVO VIII | A +2000 | 5:35,530 | 5:10,141 |
| 8 | Kluza | Waldemar | | Skoda Fabia S2000 | E1 +2000 | 5:11,890 | |
| 9 | Jurena | Peter | | Mitsubishi Lancer EVO IX | N +2000 | 5:45,619 | 5:13,098 |
| 10 | Serafinowicz | Rafal | | Mitsubishi Lancer | N +2000 | 6:00,088 | 5:14,867 |
| 11 | "Boczek" | | | Mitsubishi Lancer | E1 +2000 | 5:46,185 | 5:15,284 |
| 12 | Slugocki | Robert | | Mitsubishi Lancer EVO X R4 | A +2000 | 6:00,581 | 5:15,895 |
| 13 | Ambruz | Peter | | Vauxhall Vectra ST | E1 2000 | | 5:16,429 |
| 14 | Piekos | Szymon | | Mitsubishi Lancer EVO VIII | A +2000 | 6:06,459 | 5:16,715 |
| 15 | Treny | Karel | | Skoda Fabia WRC | E1 +2000 | 5:17,741 | |
| 16 | Hernadi | Laszlo | | Mitsubishi Lancer EVO IX R4 | S2 +2000 | | 5:17,800 |
| 17 | Pieniazek | Przemyslaw | | Renault Clio | E1 2000 | | 5:17,988 |
| 18 | Meixner | Richard | | Norma M20 FC | E2-SC 3000 | | 5:18,289 |
| 19 | Krupa | Karol | | Mitsubishi Lancer EVO IX | N +2000 | 5:58,013 | 5:18,535 |
| 20 | Juhas | Martin | | BMW M3 | E1 +2000 2WD | 6:02,478 | 5:18,600 |
| 21 | Deren | Krzysztof | | Mitsubishi Lancer EVO X | N +2000 | 6:01,887 | 5:20,616 |
| 22 | Ratajczyk | Michal | | Mitsubishi Lancer EVO IX | E1 +2000 | 5:21,858 | |
| 23 | Wojtowicz | Pawel | | Porsche 944 Turbo | E1 +2000 2WD | | 5:22,907 |
| 24 | "Herbi" | | | Mitsubishi Lancer EVO X | N +2000 | 6:08,451 | 5:26,436 |
| 25 | Wegrzyn | Radoslaw | | Honda Civic | E1 2000 | 6:32,323 | 5:27,335 |
| 26 | Liptak | Peter | | Mitsubishi Lancer EVO IX | E1 +2000 | 6:18,058 | 5:27,482 |
| 27 | Cambal | Mojmir | | Citroën Saxo VTS | E1 1600 | 7:06,529 | 5:28,184 |
| 28 | Szulc | Wojciech | | Mitsubishi Lancer | N +2000 | | 5:29,037 |
| 29 | Adamiak | Jaroslaw | | Honda Civic | E1 2000 | | 5:30,091 |
| 30 | Zyszczynski | Ryszard | | BMW E36 | E1 +2000 2WD | 6:20,500 | 5:30,500 |
| 31 | Duboczi | Jaroslav | | Seat Leon TDi | E1 +2000 | 6:02,445 | 5:32,780 |
| 32 | Suja | Denis | | Tatuus FR2000 | E2-SS 3000 | 7:20,814 | 5:34,300 |
| 33 | Staniak | Marcin | | BMW 318is | E0 2000 | 6:21,054 | 5:34,377 |
| 34 | Niemiec | Lukasz | | Mitsubishi Lancer | N +2000 | 6:06,752 | 5:37,309 |
| 35 | Handl | Jacek | | BMW M3 E36 | APL +2000 | 6:20,502 | 5:39,058 |
| 36 | Dopierala | Marcin | | Mitsubishi Lancer EVO VI | APL +2000 | 6:19,697 | 5:41,255 |
| 37 | Biela | Konrad | | Renault Clio RS | A 2000 | 6:01,637 | 5:41,575 |
| 38 | Zywarski | Michal | | Subaru Impreza | APL +2000 | 6:13,661 | 5:42,520 |
| 39 | Rzadkosz | Pawel | | Intech 1000 | E2-SS 3000 | | 5:43,360 |
| 40 | Cwieczek | Radoslaw | | Honda Civic Type-R | N 2000 | 6:15,602 | 5:44,923 |
| 41 | Subocz | Wojciech | | Porsche 911 Carrera | C4.2/D6 | 6:17,640 | 5:46,033 |
| 42 | Koczeski | Wojciech | | Subaru Legacy RS | C4.2/D6 | 6:03,730 | 5:47,086 |
| 43 | Bialy | Mariusz | | BMW E30 320is | E0 2000 | 6:25,035 | 5:47,242 |
| 44 | Waszczuk | Przemyslaw | | Ford Fiesta | E2-SH +2000 | | 5:49,691 |
| 45 | Madziara | Bartlomiej | | BMW E30 | E0 2000 | 6:39,719 | 5:49,936 |
| 46 | Pavlik | Denis | | Peugeot 208 R2 | A 1600 | 6:17,889 | 5:50,097 |
| 47 | Solobodowski | Maciej | | Peugeot 208 R2 | A 1600 | 6:23,432 | 5:50,336 |
| 48 | Wilusz | Marcin | | Renault Clio | APL Clio | 6:24,668 | 5:51,825 |
| 49 | Popiela | Marcin | | Honda Civic | N 2000 | 6:23,335 | 5:52,137 |
| 50 | Herban | Bartosz | | Peugeot 208 | E1 2000 | 6:14,351 | 5:52,984 |
| 51 | Borczyk | Arkadiusz | | Honda Civic VTI | APL 1600 | 6:35,098 | 5:53,082 |
| 52 | Cambalik | Bohumir | | Honda Civic Type-R | A 2000 | 6:32,577 | 5:53,815 |
| 53 | Fusko | Frantisek | | Seat Leon | N 2000 | 6:32,980 | 5:54,035 |
| 54 | "Pumba" | | | BMW M3 | APL +2000 | 7:02,561 | 5:54,077 |
| 55 | Jania | Janusz | | Honda Integra | APL 2000 | 6:28,823 | 5:55,660 |
| 56 | Misiewicz | Mateusz | | Renault Clio | APL Clio | 6:24,485 | 5:56,038 |
| 57 | Krasny | Piotr | | Alfa Romeo 147 | E1 2000 | 6:31,008 | 5:57,606 |
| 58 | Krasowski | Lukasz | | Renault Clio | APL Clio | 6:38,725 | 5:57,654 |
| 59 | Paliga | Damian | | Skoda Felicia Kit-Car | APL 1600 | 6:43,196 | 5:57,905 |
| 60 | Wrona | Marcin | | Volkswagen Golf Turbo | E2-SH +2000 | 6:27,569 | 6:02,745 |
| 61 | Kozicki | Tomasz | | Honda Civic VTI | APL 1600 | 6:37,774 | 6:03,562 |
| 62 | Kmiecik | Maciej | | Renault Clio | E0 2000 | 6:41,343 | 6:04,215 |
| 63 | Cilak | Miroslav | | Metalex MTX 1-06 | C5/E4 | | 6:04,229 |
| 64 | Kopiec | Lukasz | | Honda Civic Type-R | N 2000 | 6:26,516 | 6:04,804 |
| 65 | Bartoszek | Tomasz | | Honda Civic VTI | APL 1600 | 6:53,649 | 6:07,556 |
| 66 | Dybisz | Tomasz | | Honda Civic | APL 1600 | 7:01,468 | 6:08,176 |
| 67 | Myszkier | Wojciech | | Volkswagen Golf GTI | C4.2/D5 | 6:29,617 | 6:09,583 |
| 68 | Michalczak | Rafal | | Honda Civic | APL 1600 | 6:56,466 | 6:10,593 |
| 69 | Kubit | Gabriel | | Honda Integra | E0 2000 | 6:12,905 | |
| 70 | Nowakowski | Jerzy | | BMW 2002 Ti | C2/B5 | 6:43,421 | 6:13,487 |
| 71 | Roziak | Julius | | Skoda Felicia | E1 1600 | 7:04,458 | 6:14,638 |
| 72 | Kogut | Krzysztof | | BMW 318is | C4.2/D5 | 6:50,213 | 6:14,899 |
| 73 | Sikorski | Piotr | | Lada 2105 | APL 1600 | 6:45,103 | 6:17,725 |
| 74 | Kacvinsky | Peter | | Renault Clio RS | N 2000 | 6:53,191 | 6:18,724 |
| 75 | "Szolek" | | | Honda Civic R3C | A 2000 | 6:19,349 | |
| 76 | Kaszuba | Jakub | | Opel Astra GT | APL 2000 | 7:03,064 | 6:21,712 |
| 77 | Kacperek | Marcin | | BMW E30 318is | C4.2/D5 | 6:45,263 | 6:27,042 |
| 78 | Szumiec | Rafal | | Peugeot 306 | APL 2000 | 6:41,050 | |
| 79 | Sanecki | Pawel | | Renault Clio Sport | APL Clio | 6:35,551 | |
| 80 | Zygmunt | Damian | | Opel Astra GSi | E0 2000 | 6:44,728 | |
| 81 | Bargiel | Lukasz | | BMW E30 318is | C4.2/D5 | 7:25,536 | 6:51,944 |
| 82 | Benik | Tomas | | Lancia Beta Coupé | C3.2/C2 | 7:28,334 | 7:05,179 |
| 83 | Kmet | Frantisek | | Honda Civic | N 2000 | 7:10,833 | |
| 84 | Foldi | Marek | | Seat Leon | E1 2000 | 7:16,965 | |
| 85 | Jurkowski | Piotr | | Fiat 126p | E0 1150 | 8:41,050 | 7:30,350 |
| 86 | Starkowicz | Krzysztof | | Fiat 126p | C4.1/D1 | 8:10,458 | 7:42,445 |