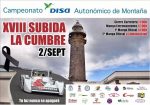 The Canary Islands Hillclimb Championship continued this weekend on El Hierro. The Subida a La Cumbre is the only hillclimb on this small island. 26 drivers entered the speed hillclimb, most of them travelled from other islands.
The technical verifications were already completed on Friday. Saturday morning everything looked set for an exciting day of hillclimb racing. Drivers, media and spectators were getting ready for first practise. But then the shocking news came that the race was cancelled! Apparently the paperwork was incorrect which meant that the race had no permits. A huge disappointment for everyone involved.
Of course the big question is how could this happen? This is not the first time on the Canary Islands that everyone shows up for a motorsport event only to find out it is cancelled. In fact the same thing happened the very same day on Fuerteventura with the Rally de Antigua.
The Subida a La Cumbre might be rescheduled to a later date but it seems unlikely. Because of the cancellation Luis Monzon automatically became the new Canary Islands Hillclimb Champion.