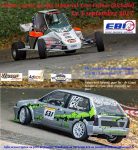 The Belgian Regional Hillclimb Championship visited the Mémorial Yves Feilner / Course de Côte de Richelle this weekend. The titles are already decided and the new champions Christophe Le Nouvel (1-2-3) and Julien Vandeput (4) were absent in Richelle.
Division 4 has been very small all year long. Richelle was the exception with 9 Kart-Cross drivers entered. Christiaan Spelmans made his hillclimbing debut and immediately took victory. That it was his first hillclimb does not mean he is inexperienced. Spelmans is the Dutch Rallycross Champion in the Kart-Cross class. Anthony Milone secured the runner-up spot after Emmanuel Mercy suffered mechanical problems in the third race.
In division 1-2-3 Francis Gilles scored his second victory in a row. After being succesful in Bomerée two weeks ago, Gilles was now the strongest in Richelle. He still needs one good result in Houyet next week before he can claim second place in the championship. Alain Cricus beat Olivier Dubois to the runner-up spot in Richelle. The difference between the two rivals was just .02 seconds in the end.
03/09/2017 – Memorial Yves Feilner / Course de Côte de Richelle

| Pos. | Last Name | First Name | | Car | Cl. | Final |
| --- | --- | --- | --- | --- | --- | --- |
| 1 | Spelmans | Christiaan | | Dino Kart-Cross | 4/14 | 1:56,87 |
| 2 | Milone | Anthony | | Storm Kart-Cross | 4/14 | 1:59,86 |
| 3 | Mercy | Emmanuel | | Diablo Kart-Cross | 4/14 | 2:00,05 |
| 4 | Gilles | Francis | | Ford Escort Cosworth | 2/8 | 2:00,59 |
| 5 | Cricus | Alain | | Porsche 996 GT3 | 2/8 | 2:01,33 |
| 6 | Dubois | Olivier | | Lotus Elise | 3/13 | 2:01,35 |
| 7 | Gouders | Cedric | | Kamikaze Kart-Cross | 4/14 | 2:01,57 |
| 8 | Delrue | Denis | | Pizauto Kart-Cross | 4/14 | 2:01,65 |
| 9 | Piette | Valère | | Peters Kart-Cross | 4/14 | 2:05,82 |
| 10 | Dubois | Michel | | Lotus Elise | 3/13 | 2:05,83 |
| 11 | Bettel | Eric | | Peugeot 205 | 3/12 | 2:06,71 |
| 12 | Malchair | Bryan | | Peters Kart-Cross | 4/14 | 2:08,77 |
| 13 | Klein | Claude | | Peugeot 205 | 3/12 | 2:09,83 |
| 14 | Dierckx | Daniel | | Citroën C2 | 2/6 | 2:11,24 |
| 15 | Jassogne | Michael | | Volkswagen Golf | 2/7 | 2:11,56 |
| 16 | Legendre | Frédéric | | Opel Kadett GT/E | 3/12 | 2:13,90 |
| 17 | Wathlet | Pascal | | Opel Corsa | 2/6 | 2:14,30 |
| 18 | Lejeune | Anthony | | Renault Clio | 2/7 | 2:14,66 |
| 19 | Welter | Rene | | Westfield ZEi | 1/3 | 2:15,84 |
| 20 | Duchesne | Jean | | Ford Escort RS2000 | 2/7 | 2:15,95 |
| 21 | Ciuca | Romain | | Opel Kadett GT/E | 3/13 | 2:17,51 |
| 22 | Wathlet | David | | Opel Corsa | 2/6 | 2:18,84 |
| 23 | Gulpen | Christophe | | Opel Corsa GSi | 2/6 | 2:19,01 |
| 24 | Brandt | Samuel | | BMW E21 323i | 2/8 | 2:21,19 |
| 25 | Hermanns | Mario | | Peugeot 205 GTI | 3/11 | 2:21,55 |
| 26 | Marin | Christian | | Peugeot 106 | 3/11 | 2:22,24 |
| 27 | Chacon Ruiz | Maxime | | Volkswagen Golf GTI | 2/7 | 2:23,41 |
| 28 | Vijgen | Noel | | Ford Escort RS | 2/7 | 2:23,91 |
| 29 | Descamps | Christophe | | Toyota Yaris | 2/5 | 2:24,21 |
| 30 | Xhignesse | Dany | | Toyota Yaris | 2/5 | 2:24,89 |
| 31 | Breulet | Valentin | | Peugeot 106 GTI | 2/6 | 2:25,03 |
| 32 | Fuger | Jean-Luc | | Ford Escort | 3/12 | 2:25,68 |
| 33 | Chacon Ruiz | Eduardo | | Volkswagen Golf GTI | 2/7 | 2:25,74 |
| 34 | Theron | Vincent | | Volkswagen Golf I | 3/11 | 2:26,22 |
| 35 | Barthelemy | Quentin | | Opel Corsa | 2/6 | 2:27,22 |
| 36 | Piette | Quentin | | Peugeot 206 | 2/7 | 2:28,78 |
| 37 | Denis | Philippe | | Ford Focus | 1/3 | 2:30,07 |
| 38 | Migeal | Jimmy | | Peugeot 106 | 2/6 | 2:30,31 |
| 39 | Defer | Jean-Louis | | Peugeot 106 | 3/11 | 2:31,83 |
| 40 | Kohl | Fernand | | Suzuki Swift | 3/11 | 2:31,84 |
| 41 | Hellings | François | | Ford Escort RS | 2/7 | 2:32,81 |
| 42 | Rodriguez | Miguel | | Ford Fiesta | 1/2 | 2:33,06 |
| 43 | Lamy | Nicolas | | Honda Civic | 2/5 | 2:37,65 |
| 44 | Baltus | Serge | | Honda S800 | 3/9 | 2:49,04 |
| 45 | Jaspart | Quentin | | Peugeot 106 | 2/6 | 2:50,39 |