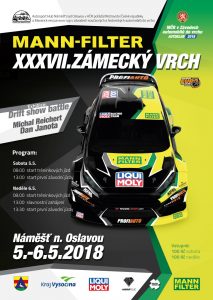 A record entry of 144 drivers was present at the Zámecký vrch. It was not the only record that was broken this weekend. In the final race on Sunday Milos Benes set a new trackrecord. It was the end of a very succesful weekend for Benes. The Osella FA30 pilot was the winner of both Saturday and Sunday and was quickest in every session.
Just one other sportscar was competing in the national championship. Jiri Spalek was runner-up on Sunday but third behind Marek Rybnicek on Saturday. There were more sportscars in Czech Trophy. Ales Mlejnek is his updated Gloria C8F Kawasaki was the trophy winner on Saturday. The day after Jaroslav Surowka was .7 seconds faster than Mlejnek. The two of them were third and fourth fastest of the weekend.
As already mentioned Marek Rybnicek was the quickest touringcar driver. Although he was fastest in every race Drahoslav Subert managed to keep pretty close to the leader. Jaromir Maly completed the touringcar podium on both days.
The Maverick Rescue Euro Cup was also competing in Námešt nad Oslavou. Austrian Alexander Frank was the fastest here. His times would have placed him 10th overall among the national drivers.
05-06/05/2018 – Zamecky vrch

| Pos. | Last Name | First Name | | Car | Cl. | Fase A | Fase B |
| --- | --- | --- | --- | --- | --- | --- | --- |
| 1 | Benes | Milos | | Osella FA30 | E2-SS 3000 | 1:50,06 | 1:47,56 |
| 2 | Spalek | Jiri | | Norma M20F EVO | E2-SC 3000 | 1:59,78 | 1:57,42 |
| 3 | Surowka | Jaroslav | | Norma M20 | E2H-SC 2000 | 2:20,85 | 1:57,67 |
| 4 | Mlejnek | Ales | | Gloria C8F Kawasaki | E2H-SS 1400 | 1:59,19 | 1:58,31 |
| 5 | Rybnicek | Marek | | Ford Fiesta | E2-SH +3000 | 1:59,03 | 2:00,44 |
| 6 | Subert | Drahoslav | | Mitsubishi Lancer WRC | E1 +3000 | 2:02,64 | 2:03,36 |
| 7 | Novicky | Michal | | Ligier JS49 Honda | E2H-SC 2000 | 2:04,90 | 2:02,90 |
| 8 | Krakovic | Radek | | Fiks 09RK | E2H-SS 1400 | 2:05,81 | 2:05,08 |
| 9 | Maly | Jaromir | | Mitsubishi Lancer EVO VIII | E2-SH +3000 | 2:06,67 | 2:05,20 |
| 10 | Berger | Karel | | Formula Konig E2 | E2H-SS 1400 | 2:08,65 | 2:05,57 |
| 11 | Neckar | Libor | | Ligier JS53 E2 | E2H-SC 2000 | 2:10,10 | 2:06,74 |
| 12 | Kracmar | Zdenek | | Demon Car | E2H-SC 1400 | 2:08,17 | 2:07,21 |
| 13 | Chudoba | Zdenek | | Norma M20F | E2H-SC 2000 | 2:09,52 | |
| 14 | Vavrinec | Tomas | | Mitsubishi Lancer EVO IX | N +3000 | 2:10,58 | |
| 15 | Hlavinka (2) | Josef | | Tomis 99-04 | E2H-SS 1400 | 2:13,66 | 2:11,47 |
| 16 | Jerman | Martin | | Lamborghini Gallardo GT3 | GT +2000 | 2:14,27 | 2:12,06 |
| 17 | Hlavinka | Josef | | Opel Lotus | E2H-SS 2000 | 2:13,04 | 2:12,72 |
| 18 | Sajler | Filip | | Mitsubishi Lancer EVO X | N +3000 | 2:13,40 | 2:12,76 |
| 19 | Michalik | Tomas | | Mitsubishi Lancer EVO IX | E1 +3000 | 2:17,58 | 2:13,40 |
| 20 | Sajlerova | Gabriela | | Mitsubishi Lancer EVO X | N +3000 | 2:15,10 | 2:14,76 |
| 21 | Dohnalek | Josef | | Citroën C2 VTS | E1H 1600 | 2:17,32 | 2:15,30 |
| 22 | Bohac | Milan | | Renault Clio Sport | E1H 2000 | 2:18,18 | 2:17,08 |
| 23 | David | Petr | | Volkswagen Golf TDi | E1H +2000 | 2:17,29 | 2:17,28 |
| 24 | Loubal | Lubomir | | Volkswagen Golf IV TDi | E1 3000 | 2:18,77 | 2:17,99 |
| 25 | Tomecek | Lukas | | Volkswagen Golf I | E1H 1600 | 2:19,56 | 2:18,54 |
| 26 | Stanek | Vojtech | | Citroën C2 | E1H 1600 | 2:20,30 | 2:19,30 |
| 27 | Vojacek | Petr | | Mitsubishi Lancer EVO VIII | A +3000 | 2:19,34 | 2:19,86 |
| 28 | Osmera | Jiri | | Volkswagen Scirocco | E2-SH 2000 | 2:21,18 | 2:22,41 |
| 29 | Grüner | Frantisek | | BMW 327i E30 | E2-SH +3000 | 2:21,66 | 2:23,04 |
| 30 | Svestka | Petr | | Kart-Cross R6 | SCH 600 | 2:22,02 | 2:27,48 |
| 31 | Zmeskal | Milos | | Ralt RT32 | K5/E9 | 2:22,31 | 2:22,03 |
| 32 | Studeny | Lukas | | Skoda 110R | E1H Skoda | 2:24,41 | 2:22,44 |
| 33 | Dedek | David | | Alfa Romeo 147 TS | A 2000 | 2:22,84 | 2:22,61 |
| 34 | Svozil | Michal | | BMW M3 | E2-SH 3000 | 2:28,59 | 2:22,74 |
| 35 | Pleva | Martin | | Skoda 100 | E1H Skoda | 2:23,56 | 2:23,08 |
| 36 | Kozar | Yevhen | | Renault Megane RS | N +3000 | 2:23,68 | 2:23,84 |
| 37 | Mach | Jan | | Skoda Octavia Cup | E1 2000 | 2:25,84 | 2:23,98 |
| 38 | Novak | Marek | | Honda CBR RR | SCH 600 | 2:27,13 | 2:24,77 |
| 39 | Zak | Josef | | Skoda S100 | E1H Skoda | 2:25,67 | 2:25,10 |
| 40 | Winter | Jaroslav | | Honda Civic Type-R | E1H 2000 | 2:26,84 | 2:25,82 |
| 41 | Dobes | Vaclav | | Skoda Favorit | E1H 1400 | 2:26,33 | 2:26,76 |
| 42 | Vymetal | Lubomir | | BMW M3 | E1H +2000 | 2:27,45 | 2:26,35 |
| 43 | Malik | Lukas | | Opel Astra OPC | E1H 2000 | 2:28,27 | 2:26,40 |
| 44 | Dosedel | Dusan | | Subaru Impreza | E2-SH +3000 | 2:26,87 | 2:46,61 |
| 45 | Müller | Lukas | | Skoda 100 | E1H Skoda | 2:29,99 | 2:27,68 |
| 46 | Klukan | Radek | | BMW M3 | E1H +2000 | 2:29,92 | 2:27,96 |
| 47 | Theimer sr. | Jiri | | Peugeot 306 Maxi | E2-SH 2000 | 2:28,00 | |
| 48 | Kminek | Zdenek | | Nissan 350Z | GT +2000 | 2:31,52 | 2:28,38 |
| 49 | Stejskal | Bronislav | | Skoda Felicia Kit-Car | E1 1400 | 2:28,44 | 2:28,75 |
| 50 | Pluhar | Jindrich | | Nissan Sunny GTI | E1H 2000 | 2:32,08 | 2:28,63 |
| 51 | Salek | Jan | | Estonia 21 | E2H-SS 1600 | 2:33,17 | 2:30,11 |
| 52 | Strnad | Petr | | Skoda 130 LR | E1H Skoda | | 2:33,57 |
| 53 | Stejskal | Milan | | Lada VFTS | K4/D5 | 2:38,84 | 2:33,78 |
| 54 | Vozdecky | Dominik | | MTX 1-03 | K5/E3 | 2:35,26 | 2:34,52 |
| 55 | Sedlacek | Michal | | Fiat Ritmo 130 TC | K4/D3 | 2:38,40 | 2:35,84 |
| 56 | Kocirik | David | | Skoda Rapid | E1H Skoda | 2:38,51 | 2:38,88 |
| 57 | Popov | Georgi | | Skoda Felicia Pick-Up | E1H 1600 | | 2:40,11 |
| 58 | Kopecek | Jiri | | Opel Astra | E1H 2000 | 2:41,94 | |
| 59 | Zoufaly | Karel | | Skoda Felicia Pick-Up | E1H 1600 | 2:48,31 | 2:42,00 |
| 60 | Rejl | Martin | | Skoda 130 RS | E1H 1600 | 2:43,77 | |
| 61 | Svoboda | Libor | | Honda Civic | E1H 1600 | 2:45,73 | 2:43,76 |
| 62 | Himmer | Petr | | Skoda 130 LR | E1H Skoda | 2:44,59 | 2:46,79 |
| 63 | Gruntorad | Frantisek | | Renault Clio RS | A 2000 | 2:46,18 | 2:46,87 |
| 64 | Knapek | Tomas | | MTX Faster | E2H-SS 1400 | 2:56,43 | 2:49,62 |
| 65 | Popova | Eliska | | Skoda Felicia Pick-Up | E1H 1600 | 3:01,88 | |
| 66 | Malkova | Simona | | Ford Fiesta | E1 1600 | 3:18,42 | 3:10,06 |
05-06/05/2018 – Zamecky vrch (Maverick Rescue Euro Cup)

| Pos. | Last Name | First Name | | Car | Cl. | Fase A | Fase B |
| --- | --- | --- | --- | --- | --- | --- | --- |
| 1 | Frank | Alexander | | PRC S4 | E2C 2000 | 2:07,71 | 2:05,42 |
| 2 | Ferstl | Christian | | Lola B06/30 | E2C 2000 | 2:12,41 | 2:06,44 |
| 3 | Wilhelm | Philipp | | Norma M20F | E2C +2000 | 2:08,73 | 2:07,08 |
| 4 | Svorc | Roman | | Lucchini P3 | E2C +2000 | 2:08,56 | |
| 5 | Kaspar | Jaroslav | | Mitsubishi Lancer EVO IX | S1 +2000 4WD | 2:14,90 | 2:13,47 |
| 6 | Schoegler | Sigrid | | Formula Renault | E2C 2000 | 2:18,29 | 2:15,64 |
| 7 | Zacek | Petr | | Audi Sport Quattro | HA1 +2000 | 2:20,66 | 2:18,13 |
| 8 | Petr | Martin | | Volkswagen Golf | E1 +2000 4WD | 2:20,76 | 2:19,65 |
| 9 | Langer | Pavel | | Autola 1/04 | E2C 1600 | 2:20,26 | 2:21,16 |
| 10 | Kaspar | Vilem | | Skoda Fabia RS | S1 2000 | 2:23,82 | 2:22,94 |
| 11 | Winkler | Martin | | Nissan 200SX S14a | S1 +2000 2WD | | 2:23,41 |
| 12 | Hort | Martin | | Peugeot 106 | E1 1600 | 2:24,37 | |
| 13 | Kubica | Tomas | | Volkswagen Golf II | E1 +2000 2WD | 2:25,60 | 2:24,44 |
| 14 | Macek | Vojtech | | Skoda 110R | E1 1600 | 2:25,42 | 2:25,02 |
| 15 | Osladil | Jan | | Van Diemen | E2C 1600 | 2:29,40 | 2:26,45 |
| 16 | Cakl | Filip | | Skoda Fabia RS | S1 2000 | 2:26,64 | 2:30,36 |
| 17 | Krejci | Bohuslav | | Skoda Rapid | E1 1400 | 2:28,52 | 2:26,71 |
| 18 | Srahulek | Petr | | Skoda 130 RS EVO | E1 1400 | 2:27,22 | 2:26,76 |
| 19 | Malenak | Dusan | | Skoda 130 LR/H | E1 1400 | 2:28,36 | 2:27,39 |
| 20 | Kubica | Milan | | Volkswagen Golf II | E1 +2000 2WD | 2:31,09 | 2:27,53 |
| 21 | Homola | Tomas | | BMW E30 | E1 +2000 2WD | 2:29,57 | 2:27,65 |
| 22 | Hruby | Milan | | Skoda Fabia | E1 1600 | 2:29,45 | 2:28,30 |
| 23 | Borkovec | David | | Skoda Fabia TDi | E1 2000 | 2:29,62 | 2:28,41 |
| 24 | Zeleny | Milan | | Skoda 130 LR | HA1 1300 | 2:30,56 | 2:28,86 |
| 25 | Vratil | Pavel | | Opel Kadett GSi | HA1 2000 | 2:31,27 | 2:29,22 |
| 26 | Zacek | Michal | | Skoda 125 | HA1 2000 | 2:33,48 | 2:29,44 |
| 27 | Krupica | Lukas | | Skoda 130 LR | HA1 1300 | 2:30,51 | 2:29,50 |
| 28 | Fillova | Kristyna | | Mitsubishi Lancer | S1 +2000 4WD | 2:34,24 | 2:30,05 |
| 29 | Azsoth | Ladislav | | Ford Focus | S1 2000 | 2:31,74 | 2:30,05 |
| 30 | Neubauer | Herbert | | Lancia Delta Integrale | HA1K +1600 | | 2:31,89 |
| 31 | Haviger | Petr | | Renault Clio | HA1 2000 | 2:35,45 | 2:33,29 |
| 32 | Martinek | Tomas | | Peugeot 205 Maxi | HA1 2000 | 2:33,74 | 2:35,92 |
| 33 | Sytar | Jakub | | Renault Clio Sport | E1 2000 | 2:33,80 | 2:36,80 |
| 34 | Sytar | Petr | | Renault Clio Sport | E1 2000 | 2:34,21 | |
| 35 | Kopiste | Jaroslav | | Skoda 120S Rallye | E1 1600 | 2:34,69 | 2:34,50 |
| 36 | Dobry | Petr | | BMW Compact | E1 +2000 2WD | 2:38,88 | 2:35,08 |
| 37 | Sustr | Miloslav | | Skoda Favorit | E1 1600 | 2:36,38 | 2:35,29 |
| 38 | Hurta | Jakub | | Skoda Fabia TDi | E1 2000 | 2:38,92 | 2:36,15 |
| 39 | Malek | Dan | | Skoda Felicia RS | S1 1600 | 2:38,45 | 2:36,19 |
| 40 | Sabik | Martin | | Ford Focus | S1 2000 | 2:37,64 | 2:36,20 |
| 41 | Brousek | Adam | | Mini Special | HA1 1300 | 2:42,44 | 2:36,38 |
| 42 | Lemon | Petr | | BMW E30 328i | E1 +2000 2WD | 2:36,57 | 2:36,50 |
| 43 | Karbas | Roman | | Honda Civic | E1 1400 | 2:36,94 | 2:36,71 |
| 44 | Oravec | David | | Skoda Fabia | E1 1400 | 2:39,89 | 2:38,33 |
| 45 | Porazil | Dominik | | Honda Civic | E1 1600 | 2:44,67 | 2:38,98 |
| 46 | Jelinek | Libor | | BMW CSL | HA1 +2000 | 2:39,59 | |
| 47 | Patera | David | | Zastava 101 | HA1K 1300 | 2:43,87 | 2:39,75 |
| 48 | Brousek | Petr | | Mini Cooper | HA1 1300 | 2:40,13 | 2:39,82 |
| 49 | Patera | Michal | | Zastava 101 Special | HA1K 1300 | 2:44,30 | 2:40,66 |
| 50 | Buzga | Miroslav | | Opel Kadett GSi | HA1 2000 | 2:43,59 | 2:41,24 |
| 51 | Kruzik | Josef | | Skoda 130 LR | HA1 1300 | 2:45,43 | 2:41,84 |
| 52 | Strosz | Milan | | Skoda Fabia | E1 1400 | 2:44,81 | 2:42,12 |
| 53 | Kadlecek | Jiri | | Honda Civic VTI | S1 1600 | 2:45,78 | 2:43,44 |
| 54 | Podpera | Zdenek | | Honda Civic | E1 1400 | 2:48,26 | 2:44,39 |
| 55 | Dohnal | Josef | | Honda CRX | HA1 2000 | 2:53,40 | 2:46,33 |
| 56 | Raska | Stanislav | | Volkswagen Golf GTI | HA1K 1600 | 2:48,37 | 2:49,46 |
| 57 | Drmota | David | | Ford Fiesta | E1 1400 | 2:52,22 | 2:50,34 |
| 58 | Mirovsky | Zdenek | | Skoda Felicia | E1 2000 | 2:50,45 | 3:16,72 |
| 59 | Furis | Karel | | Peugeot 205 GTI | HA1 2000 | 2:50,47 | 2:50,93 |
| 60 | Drtilek | Miroslav | | Ford Fiesta | S1 1600 | 2:53,28 | 2:54,16 |
| 61 | Kiml jr. | Jiri | | Skoda 120 LS | HA1 1300 | 2:58,61 | 2:56,29 |
| 62 | Kleveta | Pavel | | Renault 8 Gordini | HA1K 1300 | | 2:56,62 |
| 63 | Semkova | Lenka | | Skoda 130 LR | HA1 1300 | 2:57,92 | 2:56,77 |
| 64 | Bartunek | Daniel | | Ford Fiesta | E1 1400 | 3:04,95 | 2:56,90 |
| 65 | Furis | Filip | | Peugeot 205 GTI | HA1 2000 | 2:59,49 | 3:28,44 |
| 66 | Ondrejka | Jan | | Alpine A110 | HA1 2000 | 3:01,02 | |
| 67 | Tekal | Zdenek | | Ford Fiesta | S1 1600 | | 3:03,07 |
| 68 | Floss | Tanja | | Suzuki Ignis | E1 1400 | 3:13,33 | 3:03,47 |
| 69 | Kiml | Jiri | | Fiat 125 Special | HA1 2000 | 3:12,45 | 3:07,56 |
| 70 | Korenkova | Anezka | | Peugeot 206 SRC | S1 +2000 2WD | 3:09,31 | |
| 71 | Koznarova | Libuse | | Ford Fiesta | S1 1600 | 3:10,08 | |