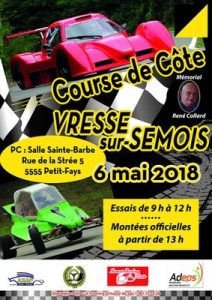 For the third round of the Belgian Regional Hillclimb Championship the competitors moved to the deep south for the Course de Côte de Vresse-sur-Semois. This edition was also the first Memorial Rene Collard, father and grandfather of Bruno and Florian. Bruno Collard won this event in his fathers name but it was very close.
Nothing seemed to go wrong for Collard after the first race. He was fastest in practise and the BRC B-49 pilot set the quickest time in the first race. A small problem in the second race saw him lose some time but there was still the third race. It was therefore a huge surprise when the times of the final race were known. Not Collard but Anthony Milone had set the fastest time of the day. Milone was competing in his brand-new Panthera Kart-Cross, a car not really suited for the wide and fast Vresse-sur-Semois Hillclimb. Luckily for Collard final results were decided on aggregate times which meant he took victory with just .1 seconds!
The final overall podium spot was for the winner in Division 1-2-3. After winning the first two events Olivier Dubois was now relegated to second in the touringcars. Instead it was Alain Cricus who took the laurels this time. Quentin Guilbert was close to the two leaders but a flat tyre in the second race made him just a bit more secure in the final third race. Fourth in Division 1-2-3 was Daniel Dierckx. He drove a great race but the Citroën AX pilot was still 20 seconds behind the three leaders.
06/05/2018 – Course de Côte de Vresse-sur-Semois

| Pos. | Last Name | First Name | | Car | Cl. | Final |
| --- | --- | --- | --- | --- | --- | --- |
| 1 | Collard | Bruno | | BRC B-49 | 4/15 | 4:57,96 |
| 2 | Milone | Anthony | | Panthera Kart-Cross | 4/14 | 4:58,06 |
| 3 | Cricus | Alain | | Porsche 996 GT3 | 2/8 | 5:03,21 |
| 4 | Collard | Florian | | Kart-Cross | 4/15 | 5:04,48 |
| 5 | Gouders | Cedric | | Kamikaze II | 4/14 | 5:06,62 |
| 6 | Dubois | Olivier | | Lotus Elise | 3/13 | 5:06,64 |
| 7 | Guilbert | Quentin | | Nissan Skyline | 3/13 | 5:08,75 |
| 8 | Matagne | Benoit | | BRC Kart-Cross | 4/14 | 5:10,45 |
| 9 | Dozot | Valentin | | PRM Kart-Cross | 4/14 | 5:18,54 |
| 10 | Collin | Dimitri | | Kamikaze II | 4/14 | 5:27,02 |
| 11 | Dierckx | Daniel | | Citroën AX | 3/11 | 5:31,63 |
| 12 | Durieu | Denis | | Volkswagen Superfun | 4/17 | 5:37,71 |
| 13 | Maroit | Cedric | | Peugeot 106 | 3/11 | 5:38,97 |
| 14 | Renaut | Jonathan | | Peugeot 106 | 3/11 | 5:39,03 |
| 15 | Dubois | Michel | | Lotus Elise | 3/13 | 5:40,51 |
| 16 | Flaman | Jonathan | | Camatos | 4/14 | 5:40,52 |
| 17 | Re | Gino | | Westfield SEi | 2/7 | 5:45,35 |
| 18 | Welter | Rene | | Westfield ZEi | 1/3 | 5:45,95 |
| 19 | Etienne | Alain | | Citroën Saxo | 2/6 | 5:47,05 |
| 20 | Goire | Arnaud | | Volkswagen Polo | 2/5 | 5:47,37 |
| 21 | Honore | Mikael | | Seat Ibiza Cupra | 2/7 | 5:51,00 |
| 22 | Denis | Tristan | | Peugeot 205 | 2/5 | 5:53,70 |
| 23 | Collignon | Dimitri | | Ford Fiesta | 2/5 | 5:55,40 |
| 24 | Moreau | Kevin | | Citroën AX GTI | 3/10 | 5:56,22 |
| 25 | Denis | Jonathan | | Ford Focus | 1/3 | 5:58,39 |
| 26 | Joseph | Nephtali | | Subaru Impreza | 2/6 | 6:02,92 |
| 27 | Denis | Philippe | | Ford Focus | 1/3 | 6:03,02 |
| 28 | Lejeune | Marjolaine | | Peugeot 106 | 2/5 | 6:05,61 |
| 29 | Wilms | Tim | | Honda Civic | 2/7 | 6:06,20 |
| 30 | Jacques | Jonathan | | Opel Corsa | 3/11 | 6:06,49 |
| 31 | Renaud | Julien | | Peugeot 106 | 2/5 | 6:07,89 |
| 32 | Denis | Andy | | Peugeot 205 | 2/5 | 6:08,48 |
| 33 | Dunand | Olivier | | BMW 320i | 1/3 | 6:14,62 |
| 34 | Joseph | Morgan | | Ford Escort RS2000 | 2/7 | 6:18,87 |
| 35 | Wilgocki | Carl | | Peugeot 106 | 2/5 | 6:19,18 |
| 36 | Derenne | Gauthier | | Volkswagen Golf | 2/6 | 6:21,43 |
| 37 | Kirard | Olivier | | Peugeot 106 | 3/10 | 6:37,80 |
| 38 | Dauvin | Dominique | | Peugeot 106 | 2/5 | 6:37,83 |
| 39 | Rogiers | Elodie | | Opel Astra | 2/7 | 6:57,91 |