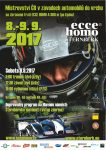 For the final race of the season the Czech Republic Hillclimb Championship moved back to Šternberk for a shorter version of the Ecce Homo Hillclimb. On Sunday there was a historic regularity event called the Ecce Homo Historic. The day before the modern drivers competed in what was officially called the Šternberský vrch.
David Komarek was already certain of the championship before this event. He was present at Šternberk but retired early. A Norma was still on top as Dusan Neveril beat Vaclav Janik to victory. Petr Vitek in the Osella PA30 was third. Martin Jerman is the new champion in Division 1. Marek Rybnicek had secured the title in Division 2 some time ago already. If my calculations are correct it is Dusan Neveril who becomes Division 3 champion. Ales Mlejnek was already certain of the Czech Trophy.
Complete points standings will follow later.
09/09/2017 – Sternbersky vrch (Short Ecce Homo)

| Pos. | Last Name | First Name | | Car | Cl. | Final |
| --- | --- | --- | --- | --- | --- | --- |
| 1 | Neveril | Dusan | | Norma M20 FC | E2-SC 3000 | 3:45,90 |
| 2 | Janik | Vaclav | | Norma M20 FC | E2-SC 3000 | 3:48,04 |
| 3 | Vitek | Petr | | Osella PA30 | E2-SC 3000 | 4:01,24 |
| 4 | Vondrak | Martin | | Tatuus Master Honda | E2-SS 2000 | 4:07,11 |
| 5 | Vondrak | Petr | | Osella PA21/S EVO | E2-SC 2000 | 4:07,71 |
| 6 | Trnka | Petr | | Ligier JS53 E2 | E2-SC 2000 | 4:12,19 |
| 7 | Surowka | Jaroslav | | Norma M20 | E2H-SC 2000 | 4:20,94 |
| 8 | Chudoba | Zdenek | | Norma M20F | E2H-SC 2000 | 4:22,21 |
| 9 | Krakovic | Radek | | Fiks 09RK | E2H-SS 1400 | 4:25,97 |
| 10 | Krampota | Ivo | | BMW M3 | E1 +3000 | 4:27,26 |
| 11 | Svoboda | Milan | | BRC CM05 EVO | E2-SC 1400 | 4:28,62 |
| 12 | Chaloupka | Frantisek | | Mitsubishi Lancer EVO VI | E1 +3000 | 4:29,36 |
| 13 | Prasek | Jaroslav | | Chevron B42 | K5/E5 | 4:29,43 |
| 14 | Dvorak | Pavel | | Martini F2 | E2-SS 2000 | 4:31,49 |
| 15 | Jerman | Martin | | Lamborghini Gallardo GT3 | GT +2000 | 4:31,87 |
| 16 | Berger | Karel | | Formula Konig E2 | E2H-SS 1400 | 4:31,93 |
| 17 | Hlavinka | Josef | | Opel Lotus | E2H-SS 2000 | 4:34,28 |
| 18 | Kracmar | Zdenek | | Demon Car | E2H-SC 1400 | 4:35,10 |
| 19 | Hlavinka (2) | Josef | | König 1000R | E2H-SS 1000 | 4:37,67 |
| 20 | Sajlerova | Gabriela | | Mitsubishi Lancer EVO X | N +3000 | 4:40,22 |
| 21 | Sajler | Filip | | Mitsubishi Lancer EVO X | N +3000 | 4:40,94 |
| 22 | Kubin | Adam | | Mitsubishi Lancer EVO IX | E1H +2000 | 4:47,38 |
| 23 | Benes | Oskar | | Mitsubishi Lancer EVO X | N +3000 | 4:47,89 |
| 24 | Dohnalek | Josef | | Citroën C2 VTS | E1H 1600 | 4:48,58 |
| 25 | Dosedel | Dusan | | Subaru Impreza WRX | E1H +2000 | 4:49,08 |
| 26 | Grüner | Frantisek | | BMW 327i | E1H +2000 2WD | 4:50,19 |
| 27 | Cepicka | Vlastimil | | Mitsubishi Lancer EVO X | E1H +2000 | 4:52,78 |
| 28 | Hubacek | Karel | | BMW M3 GTR | E1 +3000 | 4:53,14 |
| 29 | Loubal | Lubomir | | Volkswagen Golf IV TDi | E1 3000 | 4:54,22 |
| 30 | Svozil | Michal | | BMW M3 E36 GT | E1 3000 | 4:56,46 |
| 31 | Kubica | Drahomir | | Mazda 323 | E1H +2000 | 4:57,05 |
| 32 | Dedek | David | | Alfa Romeo 147 | A 2000 | 4:57,54 |
| 33 | Studeny | Lukas | | Skoda 110R | E1H Skoda | 4:58,50 |
| 34 | Tomecek | Lukas | | Volkswagen Golf I | E1H 1600 | 4:59,68 |
| 35 | Theimer sr. | Jiri | | Peugeot 306 Maxi | E2-SH 2000 | 5:00,01 |
| 36 | Filipin | Jiri | | Suzuki Swift GTI | E1H 1400 | 5:00,18 |
| 37 | Grundova | Nela | | Mitsubishi Lancer EVO VIII | E1H +2000 | 5:01,11 |
| 38 | Dolezal | Lubomir | | MTX 1-06 | K5/E7 | 5:02,10 |
| 39 | Vasek | Jiri | | Skoda Octavia | E2-SH 2000 | 5:02,52 |
| 40 | Chytil | Ondrej | | MTX 1-03 | K5/E3 | 5:03,29 |
| 41 | Zak | Josef | | Skoda 100 | E1H Skoda | 5:04,95 |
| 42 | Osladil | Jan | | Van Diemen | E2H-SS 1400 | 5:06,88 |
| 43 | Dobes | Vaclav | | Skoda Favorit | E1H 1400 | 5:07,31 |
| 44 | Winter | Jaroslav | | Honda Civic Type-R | E1H 2000 | 5:08,13 |
| 45 | Kus | Petr | | Volkswagen Golf I GTI | E1H 2000 | 5:08,69 |
| 46 | Hruby | Milan | | Skoda Fabia FR16 | E1 1600 | 5:08,84 |
| 47 | Kozar | Yevhen | | Renault Megane RS | N +3000 | 5:08,95 |
| 48 | Pleva | Martin | | Skoda 100 | E1H Skoda | 5:09,06 |
| 49 | Kminek | Zdenek | | Nissan 350Z | GT +2000 | 5:09,39 |
| 50 | Osmera | Jiri | | Renault Clio Sport | E1 2000 | 5:10,75 |
| 51 | Mach | Jan | | Skoda Octavia | E1H 2000 | 5:16,39 |
| 52 | Stejskal | Bronislav | | Skoda Felicia Kit-Car | E1 1400 | 5:16,76 |
| 53 | Macek | Vojtech | | Skoda 110R | E1H 1600 | 5:16,77 |
| 54 | Dokoupil | Roman | | Skoda 130 RS | K3/C1 | 5:20,80 |
| 55 | Furis | Pavel | | Peugeot 205 | E1H 2000 | 5:21,56 |
| 56 | Vavroch | Petr | | Volkswagen Polo | E1H 1400 | 5:22,06 |
| 57 | Triska | Michal | | Volkswagen Golf | E1H 2000 | 5:23,31 |
| 58 | Jezek | Radim | | Skoda Felicia | E2-SH 1400 | 5:24,14 |
| 59 | Sustr | Miloslav | | Skoda Favorit | E1H 1600 | 5:24,65 |
| 60 | Michl | Josef | | Skoda 130 RS | K2/B3 | 5:25,16 |
| 61 | Müller | Lukas | | Skoda 100 | E1H Skoda | 5:26,43 |
| 62 | Plachetka | Daniel | | Renault Clio RS | A 2000 | 5:28,29 |
| 63 | Holek | Jiri | | Skoda 120 LS | E1H Skoda | 5:28,60 |
| 64 | Trnka | Jan | | Skoda Felicia | A 1400 | 5:33,68 |
| 65 | Vacek | Lubomir | | BMW 2002 Ti | K1/A5 | 5:43,15 |
| 66 | Machova | Tereza | | Suzuki Swift | E1H 1400 | 5:44,10 |
| 67 | Kocirik | David | | Skoda Rapid 136 | E1H Skoda | 5:44,49 |
| 68 | Zoufaly | Karel | | Skoda Felicia Pick-Up | E1H 1400 | 5:48,73 |
| 69 | Svoboda | Libor | | Honda Civic | E1H 1600 | 5:49,22 |
| 70 | Jiran | Stanislav | | MTX Mondial | E2H-SS 1600 | 5:54,49 |
| 71 | Malik | Lukas | | Opel Astra OPC | E1H 2000 | 5:57,70 |
| 72 | Kunc | Jiri | | BMW 2002 Ti | K2/B5 | 6:39,22 |
09/09/2017 – Sternbersky vrch (Short Ecce Homo) – Maverick Rescue Euro Cup

| Pos. | Last Name | First Name | | Car | Cl. | Final |
| --- | --- | --- | --- | --- | --- | --- |
| 1 | Madrian | Ferdinand | | Norma M20F | E2C +2000 | 4:10,89 |
| 2 | Meixner | Richard | | Mitsubishi Lancer EVO VIII | E1 +2000 | 4:27,52 |
| 3 | Wilhelm | Philipp | | Norma M20F | E2C +2000 | 4:29,67 |
| 4 | Ferstl | Christian | | Formula Renault | E2C 2000 | 4:37,45 |
| 5 | Trzepaczynski | Leszek | | Radical SR3 | E2C 1600 | 4:42,22 |
| 6 | Schoegler | Sigrid | | Formula Renault | E2C 2000 | 4:44,53 |
| 7 | Borycki | Damian | | Radical SR3 | E2C 1600 | 4:46,83 |
| 8 | Dvorak | Vojta | | BMW E36 | E1 +2000 2WD | 4:49,65 |
| 9 | Michalik | Tomas | | Mitsubishi Lancer EVO IX | E1 +2000 | 4:54,78 |
| 10 | Petr | Martin | | Volkswagen Golf IV | E1 +2000 | 4:55,99 |
| 11 | Fiser | Dusan | | Skoda 130 | E1 1400 | 5:03,29 |
| 12 | Elias | Jan | | Renault Clio | E1 2000 | 5:03,35 |
| 13 | Hort | Martin | | Peugeot 106 | E1 1600 | 5:03,86 |
| 14 | Podmajersky | Vladimir | | Peugeot 206 RC | E1 2000 | 5:06,93 |
| 15 | Zimak | Martin | | Citroën Saxo VTS | S1 2000 | 5:07,06 |
| 16 | Gaidos | Miroslav | | Speed Car GT | E2C 1600 | 5:08,00 |
| 17 | Krejci | Bohuslav | | Skoda Rapid | E1 1400 | 5:13,85 |
| 18 | Malenak | Dusan | | Skoda 130 LR/H | E1 1400 | 5:15,70 |
| 19 | Vymetal | Lubomir | | BMW M3 E46 | E1 +2000 2WD | 5:16,86 |
| 20 | Borkovec | David | | Skoda Fabia TDi | E1 2000 | 5:20,11 |
| 21 | Krupica | Lukas | | Skoda Rapid 136 | HA1 1300 | 5:20,79 |
| 22 | Jancik | Jaroslav | | BMW 130i | E1 +2000 2WD | 5:21,51 |
| 23 | Zeleny | Milan | | Skoda 130 LR | HA1 1300 | 5:21,84 |
| 24 | Azsoth | Ladislav | | Ford Focus | S1 2000 | 5:22,51 |
| 25 | Kopiste | Jaroslav | | Skoda 120S Rallye | E1 1600 | 5:29,18 |
| 26 | Hejl | Vladimir | | Citroën Saxo VTS | S1 1600 | 5:30,98 |
| 27 | Sabik | Martin | | Ford Focus | S1 2000 | 5:31,04 |
| 28 | Vozdecky | Dominik | | MTX 1-03 | HA2/ZST | 5:35,25 |
| 29 | Sytar | Jakub | | Renault Clio Sport | S1 2000 | 5:38,64 |
| 30 | Divisova | Alexandra | | Renault Clio | E1 2000 | 5:41,93 |
| 31 | Tlach | Pavel | | Renault Clio Sport | S1 2000 | 5:42,10 |
| 32 | Jancik | Milan | | BMW 130i | E1 +2000 2WD | 5:42,38 |
| 33 | Kopecek | Jiri | | Opel Astra GSi | E1 2000 | 5:43,35 |
| 34 | Hradil | Vladimir | | Skoda 110R | HA1 1300 | 5:45,28 |
| 35 | Gänsdorfer | Ales | | MTX 1-10 | HA2/ZST | 5:47,09 |
| 36 | Podpera | Zdenek | | Honda Civic | E1 1400 | 5:49,05 |
| 37 | Bina | Vaclav | | Skoda 120 LS | HA1 1300 | 6:00,15 |
| 38 | Raska | Stanislav | | Volkswagen Golf GTI | HA1 2000 | 6:04,63 |
| 39 | Ondrejka | Jan | | Skoda 2000 MI | HA1 +2000 | 6:05,55 |
| 40 | Kadlecek | Jiri | | Honda Civic VTi | S1 1600 | 6:07,26 |
| 41 | Osladil | Jan | | Ford Fiesta | S1 1600 | 6:07,74 |
| 42 | Rippl | David | | Skoda Fabia | E1 1400 | 6:40,78 |
| 43 | Korenkova | Anezka | | Peugeot 206 | S1 +2000 2WD | 7:25,14 |