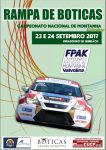 The Portuguese Hillclimb Championship ended this weekend with the Rampa de Boticas. This spectacular and modern hillclimb is a candidate event for the 2018 FIA Hillclimb Masters. Many titles, including the overall, were still open before this event.
Pedro Salvador knew he had to win and get some drivers between him and his rival Rui Ramalho in order to still have a chance for the title. It was therefore quite a disappointment for him that Helder Silva retired after a crash and João Fonseca retired with engine problems. All Salvador could do was to win and he achieved that. For Rui Ramalho the only thing that mattered was finishing in second. That was the reason he and his brother Paulo switched cars for this event. Rui taking his old and familiar Osella PA21/S while Paulo could have a carefree race in the Osella PA2000. All season long Rui Ramalho and Pedro Salvador fought over seconds, but at Boticas Rui was 20 seconds slower than his rival. All for that second place and it was worth it.
In category the championship was still open. The winner at Boticas would also be the new champion. José Correia was faster than his rival Gonçalo Manahu in every session and was therefore crowned the new champion. He also finished third overall.
Category 3-4-5 combined also compete for the touringcar championship. Here Joaquim Teixeira and Manuel Correia battled for victory. The lead switched back and forth all weekend long but in the end Teixeira managed to take victory and the title. Teixeira is also the Category 5 champion and despite losing the touringcar title Correia was also celebrating as Category 4 champion. Finally Pedro Coelho Saraiva is the new Category 3 champion.
23-24/09/2017 – Rampa de Boticas

| Pos. | Last Name | First Name | | Car | Cl. | Final |
| --- | --- | --- | --- | --- | --- | --- |
| 1 | Salvador | Pedro | | Silver Car EF10 | 1/E2-SC/3 | 4:24,228 |
| 2 | Ramalho | Rui | | Osella PA21/S EVO | 1/E2-SC/3 | 4:48,935 |
| 3 | Correia | José | | Nissan GT-R GT3 | 2/GT/5 | 5:03,154 |
| 4 | Manahu | Gonçalo | | Porsche 997 GT3 Cup | 2/GT/5 | 5:09,503 |
| 5 | Ramalho | Paulo | | Osella PA2000 E2 | 1/E2-SC/3 | 5:11,318 |
| 6 | Guimarães | Nuno | | BRC CM02 | 1/CM/1 | 5:11,393 |
| 7 | Pires | Silvino | | Porsche 997 GTR | 2/GT/5 | 5:16,232 |
| 8 | Teixeira | Joaquim | | Renault Megane Trophy | 5/TRF/14 | 5:16,322 |
| 9 | Correia | Manuel | | Ford Fiesta | 4/E1F/10 | 5:16,629 |
| 10 | Silva | Luis | | BMW M3 E30 | 4/E1B/10 | 5:22,936 |
| 11 | Martinez | Simon | | Seat Leon Supercopa | 5/TRF/14 | 5:26,667 |
| 12 | Delgado | Luis | | Ford Sierra RS500 | 6/H90/17 | 5:27,496 |
| 13 | Coelho Saraiva | Pedro | | Mitsubishi Lancer EVO IX | 3/N2/8 | 5:37,097 |
| 14 | Marrão | Francisco | | Seat Leon Supercopa | 4/E1B/10 | 5:38,229 |
| 15 | Guimarães | João | | Peugeot 206 RC | 3/A1/7 | 5:52,334 |
| 16 | Sainhas | Flavio | | Ford Escort | 6/H75/16 | 5:56,780 |
| 17 | Silva | Carlos | | Peugeot 106 | 4/E1B/9 | 5:57,706 |
| 18 | Oliveira | Carlos | | BMW E30 | TNM5/GR5/23 | 6:01,841 |
| 19 | Nogueira | Sergio | | Citroën Saxo | 3/A1/6 | 6:02,373 |
| 20 | Cardoso | José Miguel | | Citroën Saxo Cup | 5/TRF/12 | 6:03,201 |
| 21 | Pinto | Nuno | | Mazda MX-5 | 4/E1B/9 | 6:07,752 |
| 22 | Loureiro | Ricardo | | Ford Escort MK2 | TNM5/GR5/22 | 6:12,856 |
| 23 | Nogueira | Paulo | | Citroën Saxo | 3/A1/6 | 6:15,233 |
| 24 | Meira | Jorge | | Citroën Saxo Cup | 5/TRF/12 | 6:15,636 |
| 25 | Rolo | Anibal | | Datsun 1200 Coupé | TNCM/H75/20 | 6:17,494 |
| 26 | Bras | Leonel | | Citroën AX | TNM/TRF/19 | 6:21,651 |
| 27 | Vasconcelos | Augusto | | Ford Escort | 6/H75/16 | 6:29,106 |
| 28 | Leite | Francisco | | Fiat Punto | TNM/TRF/19 | 6:39,333 |
| 29 | Oliveira | José | | Subaru Impreza | 3/A2/8 | 7:10,932 |
| 30 | Figueiredo | Pedro | | Datsun 1200 | TNCM/H71/20 | 7:12,584 |
| 31 | Gama | Rui | | Volkswagen Beetle I | TNM5/GR5/22 | 7:29,892 |
| 32 | Fernandes | Domingos | | Autobianchi A112 | TNCM/H71/20 | 8:04,543 |
23-24/09/2017 – Rampa de Boticas (Regional)

| Pos. | Last Name | First Name | | Car | Cl. | Final |
| --- | --- | --- | --- | --- | --- | --- |
| 1 | Pires | Carlos | | Peugeot 206 RC | P2 | 3:01,411 |
| 2 | Passos | Eduardo | | BMW M3 | P2 | 3:12,949 |
| 3 | Gonçalves | Antonio | | Vauxhall Corsa VRX | X2 | 3:25,163 |
| 4 | Pereira | Nuno | | Honda Civic | X1 | 3:40,948 |