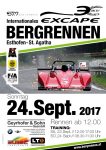 The Bergrennen Esthofen – Sankt Agatha in Austria was competed with record speeds. Not only numerous class records fell, also the absolute trackrecord came down one second. Winner Christian Merli managed to go under last year's record, which was also his, in both races. The European vice-champion managed to complete the 3,2 kilometres in just over 62 seconds. That gives an average speed of 185,42 seconds!!
Behind the Italian three drivers fought for the remaining two podium spots. Patrik Zajelsnik was the fastest of them in the first race. However the Germano-Slovene was the only one who could not improve his time in the second race session. Marcel Steiner did not benefit and remained behind Zajelsnik. Sébastien Petit on the other hand improved his time quite a lot. The new French champion hopped from fourth to second in the overall results. The Czech Dusan Neveril finished in fifth, just in front of Christoph Lampert. It was a great performance by Lampert to place his Osella PA2000 in between the more powerful 3 litre cars. He was also the best driver from Austria.
The touringcars were dominated by local Austrian racers. Karl Schagerl was quickest despite some serious engine problems in practise. Herbert Pregartner made his first appearance of the year in his home country and immediately finished second. Felix Pailer completed the podium after beating Bulgarian Nikolay Zlatkov. Thomas Strasser was the best driver in the competitive E1 2000 class. He also takes the most important class victory in the Berg-Cup.
The Esthofen – Sankt Agatha Hillclimb was also a round of the International Hillclimb Cup. Vaclav Janik is already champion in Category 2. The Czech driver finished 8th overall in Austria. In Category 3 Karl Schagerl takes a 21 point lead over Karel Trneny and is almost certain of the title. In Category 1 the championship is still wide-open. Laszlo Hernadi competed in the most events: 8 of the 9. He took victory in six of them, but all with half-points. That means he now has a 1 point disadvantage on Gabriella Pedroni. Pedroni was present at 6 of the 9 events and won only twice. However most of her points were full. A third driver suddenly appeared in the mix at Sankt Agatha. Reinhold Taus contested just 4 of the 9 events so far but won them all with full points. This gives the Austrian 100 points, just 3,5 behind Pedroni and 2,5 behind Hernadi.
23-24/09/2017 – Bergrennen Esthofen – Sankt Agatha

| Pos. | Last Name | First Name | | Car | Cl. | Final |
| --- | --- | --- | --- | --- | --- | --- |
| 1 | Merli | Christian | | Osella FA30 | E2-SS 3000 | 2:04,294 |
| 2 | Petit | Sebastien | | Norma M20 FC Mugen | E2-SC 3000 | 2:09,834 |
| 3 | Zajelsnik | Patrik | | Norma M20 FC | E2-SC 3000 | 2:10,153 |
| 4 | Steiner | Marcel | | LobArt LA01 Mugen | E2-SC 3000 | 2:10,216 |
| 5 | Neveril | Dusan | | Norma M20 FC | E2-SC 3000 | 2:15,187 |
| 6 | Lampert | Christoph | | Osella PA2000 | E2-SC 2000 | 2:19,594 |
| 7 | Szasz | Laszlo | | Reynard Zytek | E2-SS 3000 | 2:20,029 |
| 8 | Janik | Vaclav | | Norma M20 FC | E2-SC 3000 | 2:20,112 |
| 9 | Hin | Alexander | | Osella PA20/S | E2-SC 3000 | 2:21,503 |
| 10 | Madrian | Ferdinand | | Norma M20F | E2-SC 3000 | 2:23,311 |
| 11 | Amann | Peter | | Osella PA2000 | E2-SC 2000 | 2:25,469 |
| 12 | Vondrak | Petr | | Osella PA21/S | E2-SC 2000 | 2:28,305 |
| 13 | Schagerl | Karl | | Volkswagen Golf Rallye TFSI-R | E1 +2000 | 2:29,404 |
| 14 | Stollnberger | Andreas | | Dallara F302 | E2-SS 2000 | 2:30,814 |
| 15 | Burgermeister | Joel | | Osella PA21/JRB | E2-SC 2000 | 2:30,970 |
| 16 | Svoboda | Jiri | | Lola B02/50 | E2-SS 3000 | 2:32,265 |
| 17 | Pregartner | Herbert | | Porsche 911 GT2 | E1 +2000 | 2:32,528 |
| 18 | Zajelsnik | Alexander | | Norma M20F | E2-SC 3000 | 2:33,379 |
| 19 | Pailer | Felix | | Lancia Delta Integrale | E1 +2000 | 2:33,651 |
| 20 | Kaufmann | Hannes | | Dallara F307 | E2-SS 2000 | 2:34,287 |
| 21 | Zlatkov | Nikolay | | Audi Quattro S1 | E1 +2000 | 2:34,698 |
| 22 | Boric | Lukas | | Tracking RC01 | E2-SH 2000 | 2:35,038 |
| 23 | Karl | Werner | | Audi S2-R Quattro | E1 +2000 | 2:35,701 |
| 24 | Ramler | Peter | | Audi S1R | E2-SH 6500 | 2:36,295 |
| 25 | Brebsom | Nicolas | | Norma M20 FC | E2-SC 3000 | 2:36,298 |
| 26 | Strasser | Thomas | | Volkswagen Scirocco | E1 2000 | 2:36,450 |
| 27 | Lang | Georg | | Tatuus Renault | E2-SS 2000 | 2:36,934 |
| 28 | Trneny | Karel | | Skoda Fabia WRC | E1 +2000 | 2:37,020 |
| 29 | Wilhelm | Philipp | | Norma M20F Nissan | E2-SC 3000 | 2:37,142 |
| 30 | Hovemann | Holger | | Opel Kadett GT/R | E2-SH 6500 | 2:37,705 |
| 31 | Neumayr | Christopher | | Ford Escort IRS | E1 2000 | 2:38,331 |
| 32 | Handa | Norbert | | Lancia Delta Integrale | E1 +2000 | 2:38,654 |
| 33 | Wiedenhofer | Stefan | | Mitsubishi Mirage | E1 +2000 | 2:38,868 |
| 34 | Probst | Franz | | Volkswagen Golf R | E1 2000 | 2:39,832 |
| 35 | Seidl | Manuel | | Porsche 997 GT3 Cup | E1 +2000 | 2:40,101 |
| 36 | Kavecz | Istvan | | BMW E90 | E1 +2000 | 2:40,236 |
| 37 | Schmitter | Philippe | | Lamborghini Gallardo GT3 | E1 +2000 | 2:40,244 |
| 38 | Berto | Franco | | Norma M20F | E2-SC 2000 | 2:40,245 |
| 39 | Preisser | Dirk | | Opel Kadett C | E1 2000 | 2:40,536 |
| 40 | Meixner | Richard | | Norma M20F | E2-SC 2000 | 2:40,580 |
| 41 | Sternad | Diethard | | Alfa Romeo 156 STW | E1 2000 | 2:40,714 |
| 42 | Duda | Grzegorz | | Hyundai i20 | E1 +2000 | 2:40,979 |
| 43 | Lustif-Jungwirth | Dietmar | | Ford Escort Cosworth | E1 +2000 | 2:42,240 |
| 44 | Faulhaber | Stefan | | Opel Kadett C | E1 1600 | 2:43,032 |
| 45 | Reich | Markus | | Volkswagen Golf II | E1 2000 | 2:44,172 |
| 46 | Roider | Franz | | Ford Mondeo STW | E1 2000 | 2:44,245 |
| 47 | Eller | Hans-Peter | | Volkswagen Scirocco | E1 1400 | 2:44,312 |
| 48 | Rauch | Michael | | Opel Kadett | E1 2000 | 2:45,845 |
| 49 | Speckl | Christian | | Volkswagen Golf | E1 1600 | 2:46,555 |
| 50 | Schneider | Christian | | Peugeot 205 RS16 | E1 1600 | 2:46,735 |
| 51 | Weiss | Werner | | Ford Escort RS | E1 2000 | 2:46,833 |
| 52 | Göser | Günter | | Opel Kadett C | E1 +2000 | 2:46,900 |
| 53 | Wimmer | Norbert | | BMW 2002 | E1 2000 | 2:46,933 |
| 54 | Bürki | Martin | | BMW 318i STW | E1 2000 | 2:47,376 |
| 55 | Heisel | Lars | | Opel Kadett | E1 2000 | 2:47,407 |
| 56 | Schulte | Manfred | | Citroën AX Kit-Car | E1 1600 | 2:47,523 |
| 57 | Ehrle | Bernd | | Opel Kadett | E1 2000 | 2:47,674 |
| 58 | Weissdorn | Franz | | Volkswagen Polo GT | E1 1400 | 2:48,213 |
| 59 | Strasser jr. | Norbert | | Toyota Corolla | E1 1600 | 2:48,248 |
| 60 | Holzer | Dieter | | Mitsubishi Lancer EVO VIII | N +2000 | 2:48,391 |
| 61 | Hartl | Roland | | Mitsubishi Lancer EVO VI | A +2000 | 2:48,446 |
| 62 | Tarmann | Josef | | Dallara F302 Mercedes | E2-SS 2000 | 2:48,485 |
| 63 | Permetinger | Bernhard | | BMW M3 E30 | E1 +2000 | 2:48,579 |
| 64 | Fiausch | Heiko | | Opel Astra STW | E1 2000 | 2:48,719 |
| 65 | Röck | Sabine | | Volkswagen Golf I Turbo | E1 +2000 | 2:48,736 |
| 66 | Taus | Reinhold | | Subaru Impreza STi | A +2000 | 2:48,797 |
| 67 | Reiter | Nicolas | | Ford Escort MK1 | E1 2000 | 2:48,944 |
| 68 | Moser | Gerhard | | Volkswagen Polo | E1 1400 | 2:49,076 |
| 69 | Buck | Erwin | | Volkswagen Scirocco I | E1 1600 | 2:50,136 |
| 70 | Paulick | Ralph | | Volkswagen Golf GTI | E1 2000 | 2:50,196 |
| 71 | Weber | Jens | | Opel Kadett C | E1 2000 | 2:50,208 |
| 72 | Schneider | Valentin | | Volkswagen Golf | E1 1600 | 2:50,852 |
| 73 | Glas | Wolfgang | | Volkswagen Golf I | E1 1600 | 2:51,612 |
| 74 | Lenz | Bernhard | | BMW M3 E36 | E2-SH 6500 | 2:51,800 |
| 75 | Probhardt | Peter | | Mitsubishi Lancer EVO IX | N +2000 | 2:52,000 |
| 76 | Daurer | Harald | | Volkswagen Golf I | E1 2000 | 2:52,193 |
| 77 | Ruch | Rene | | Ferrari F458 GT | E1 +2000 | 2:52,209 |
| 78 | Blasl | Hermann | | Opel Kadett | E1 2000 | 2:52,253 |
| 79 | Christall | Roland | | Opel Ascona B | E1 2000 | 2:52,649 |
| 80 | Knoblich | Helmut | | Mini Cooper S | E1 +2000 | 2:52,984 |
| 81 | Kellndorfer | Martin | | Opel Kadett C | E1 2000 | 2:52,991 |
| 82 | Abb | Nils | | Volkswagen Polo | E1 1400 | 2:53,945 |
| 83 | Duscher | Frank | | Volkswagen Polo | E1 1400 | 2:54,518 |
| 84 | Gapp | Marcel | | BMW M3 | E1 +2000 | 2:54,997 |
| 85 | Datzreiter | Stefan | | Volkswagen Polo Kit-Car | E1 2000 | 2:55,195 |
| 86 | Mayer | Tobias | | Volkswagen Polo | E1 1400 | 2:55,450 |
| 87 | Maier | Helmut | | Volkswagen Golf | E1 1600 | 2:55,809 |
| 88 | Klaus | Robert | | Peugeot 205 RS | E1 1600 | 2:57,827 |
| 89 | Raab | Manuel | | Opel Corsa | E1 2000 | 2:57,926 |
| 90 | Rein | Richard | | Ford Capri | E1 2000 | 2:58,049 |
| 91 | Endress | Michael | | Audi 80 Coupé | E1 2000 | 2:58,705 |
| 92 | Terschl | Wolfgang | | Prosport LM3000 | E2-SC 3000 | 2:58,758 |
| 93 | Piantoni | Bruno | | Maserati Ghibli | E1 +2000 | 3:00,128 |
| 94 | Jud | Werner | | Volkswagen Golf II | E1 2000 | 3:00,971 |
| 95 | Preiser | Thomas | | Ford Puma S1600 | A 2000 | 3:01,408 |
| 96 | Schlott | Dominik | | Volkswagen Polo | E1 1400 | 3:01,490 |
| 97 | Steiner | Jürgen | | Volkswagen Golf I | E1 2000 | 3:01,562 |
| 98 | Weber | Michael | | Audi 80 Quattro | E1 +2000 | 3:02,338 |
| 99 | Hutter | Gregor | | Alfa Romeo 145 | E1 1600 | 3:02,722 |
| 100 | Pedroni | Gabriella | | Mitsubishi Lancer EVO IX | N +2000 | 3:03,014 |
| 101 | Mayer | Chris-Andre | | Honda Civic Type-R | N 2000 | 3:03,143 |
| 102 | Lombardo | Antoine | | Lola B02/50 | E2-SS 3000 | 3:03,383 |
| 103 | Schulte | Benedikt | | Citroën AX Sport | E1 1600 | 3:03,401 |
| 104 | Ramic | Ado | | Honda Civic Type-R | A 2000 | 3:03,458 |
| 105 | Kohler | Thomas | | Fiat X1/9 | E1 1400 | 3:03,626 |
| 106 | Reitbauer | Markus | | BMW 123D | E1 +2000 | 3:03,784 |
| 107 | Stelberg | Thomas | | Volkswagen Polo | E1 1150 | 3:03,865 |
| 108 | Eberle | Jörg | | Fiat 127 Super | E1 1150 | 3:04,034 |
| 109 | Hülsmann | Markus | | Volkswagen Golf I | E1 1400 | 3:04,193 |
| 110 | Klapfenböck | Stefanie | | BMW M3 E30 | E1 +2000 | 3:04,399 |
| 111 | Collisi | Stephan | | Behnke Condor BMW | E2-SC 2000 | 3:05,036 |
| 112 | Schlachter | Karl-Heinz | | BMW 2002 Tii Alpina | E1 +2000 | 3:05,305 |
| 113 | Hernadi | Laszlo | | Mitsubishi Lancer EVO IX R4 | A +2000 | 3:05,911 |
| 114 | Bodner | Christian | | BMW 320is | E1 2000 | 3:05,953 |
| 115 | Suppan | Manfred | | Skoda Octavia Kit-Car | E1 2000 | 3:06,280 |
| 116 | Gasser | Markus | | Volkswagen Golf GTI | E1 2000 | 3:06,759 |
| 117 | Gassler | Bernhard | | Honda Civic Type-R | N 2000 | 3:06,952 |
| 118 | Cossu | Tonino | | Honda Civic Type-R | A 2000 | 3:07,254 |
| 119 | Debowski | Maciej | | Subaru Impreza | E1 +2000 | 3:08,126 |
| 120 | Altmann jr. | Dieter | | Peugeot 405 | E1 2000 | 3:08,439 |
| 121 | Grossauer | Jürgen | | Suzuki Swift S1600 | A 2000 | 3:08,461 |
| 122 | Ohrhallinger | Konrad | | BMW M3 | E2-SH 6500 | 3:09,603 |
| 123 | Schutting | Wolfgang | | Renault Clio Williams | N 2000 | 3:10,337 |
| 124 | Raith | Markus | | Honda Civic Type-R | N 2000 | 3:10,736 |
| 125 | Winkler | Stefan | | Fiat 127 | E1 1400 | 3:10,889 |
| 126 | Paireder | Franz | | Peugeot 206 | A 2000 | 3:13,355 |
| 127 | Amann | Johanna | | Renault Clio RS III | E1 2000 | 3:13,702 |
| 128 | Ebenhöh | Silvia | | Volkswagen Polo | E1 1400 | 3:14,051 |
| 129 | Schauperl | Karl-Heinz | | Volkswagen Beetle | E1 +2000 | 3:18,351 |
| 130 | Flechl | Patrick | | Opel Astra GSi | N 2000 | 3:20,000 |
| 131 | Wilfer | Werner | | Ford Escort | E1 2000 | 3:20,221 |
| 132 | Faber | Josef | | Opel Kadett C Coupé | E1 2000 | 3:21,071 |
| 133 | Kurz | Walter | | Simca Rallye II | E1 1400 | 3:23,574 |
| 134 | Grossauer | Thomas | | Suzuki Swift | N 2000 | 3:25,287 |
| 135 | Brandt | Markus | | Ford Puma | A 2000 | 3:26,589 |
| 136 | Alteneder | Josef | | BMW E36 | E2-SH 6500 | 3:29,133 |
| 137 | Klages | Jürgen | | Opel Astea F GSi | E1 2000 | 3:29,285 |
| 138 | Hausleitner | Christoph | | Mazda 323 GTR | A +2000 | 3:29,407 |
| 139 | Weissenböck | Franz | | Formula Alfa Boxer | E2-SS 2000 | 3:29,786 |
| 140 | Schwendinger | Robert | | Seat Ibiza Cupra | A 2000 | 3:30,942 |
| 141 | Koller | Sepp | | Alfa Romeo 147 | A 2000 | 3:31,335 |
| 142 | Schwendinger | Christian | | Opel Calibra | A 2000 | 3:33,116 |
| 143 | Stingl | Patrick | | Mitsubishi Colt | A +2000 | 3:33,980 |
| 144 | Mossbrugger | Ernst | | Mitsubishi Lancer EVO VIII | E1 +2000 | 3:51,844 |
23-24/09/2017 – Bergrennen Esthofen – Sankt Agatha (Historic)

| Pos. | Last Name | First Name | | Car | Cl. | Final |
| --- | --- | --- | --- | --- | --- | --- |
| 1 | Rutter | Christian | | PRC S2000 | HBCH 2000 | 2:51,765 |
| 2 | Krammer | Johann | | Alfa Romeo Alfasud Ti | 3/C2 | 3:06,446 |
| 3 | Aigner | Franz | | Volkswagen Golf | 3/C4 | 3:08,515 |
| 4 | Pieber | Wolfgang | | BMW E30 323i | 4/D3 | 3:08,956 |
| 5 | Prantl | Reinhold | | Porsche 911 Carrera | 3/C3 | 3:09,496 |
| 6 | Ulz | Patrick | | Alfa Romeo Sud Ti | 3/C4 | 3:09,706 |
| 7 | Renner | Christian | | Opel Ascona B | 3/C2 | 3:09,799 |
| 8 | Six | Roman | | PRC CN07 | HBCH 2000 | 3:10,061 |
| 9 | Zöchling | Manfred | | Volkswagen Golf I | 4/D2 | 3:11,917 |
| 10 | Gratzer | August | | Lancia Beta Montecarlo | 3/C5 | 3:13,723 |
| 11 | Neubauer | Herbert | | Lancia Delta Integrale | 4/D6 | 3:14,069 |
| 12 | Stranner | Karlheinz | | Fiat 131 Abarth | 3/C2 | 3:14,844 |
| 13 | Hochecker | Adi | | Opel Kadett C Coupé | 3/C2 | 3:16,148 |
| 14 | Lernpass | Philipp | | Volkswagen Derby | 3/C1 | 3:32,377 |
| 15 | Lena | Enrico | | Lancia Fulvia Coupé | 2/B4 | 3:32,992 |
| 16 | Holzer | Christian | | Steyr Puch 650 TR | 1/A1 | 3:34,876 |
| 17 | Labner | Reinhard | | Austin Mini Cooper S | 1/A3 | 3:38,293 |
| 18 | Fischer | Gerd | | Ford Escort 1300 GT | 2/B3 | 3:40,905 |
| 19 | Freudenschuss | Willi | | BMW E30 | 4/D3 | 3:44,926 |
| 20 | Stietka | Walther | | Volkswagen Beetle 1302 | 2/B4 | 3:46,466 |
| 21 | Seethaler | Alexander | | Steyr Puch 650 TR | 1/A1 | 3:55,189 |
| 22 | Esterbauer | Johannes | | Steyr Puch 650 TR | 1/A1 | 4:03,043 |
| 23 | Kremel | Günther | | Volkswagen Beetle 1302 | 2/B4 | 4:04,857 |
| 24 | Jud | Hans | | Jaguar XK120 | 1/A6 | 4:26,283 |
| 25 | Kogler | Helmut | | Lotus 22 FJ | HBCH 1600 | 5:35,151 |