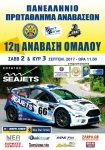 After a two mont summer break the Greek Hillclimb Championship continued this weekend with the Omalos Hillclimb. Marios Iliopoulos was again the quickest driver in his Ford Fiesta WRC.
Group A was the most competitive class in Omalos with 23 drivers. The Kyrkos Racing Team with drivers Leonidas and Panagiotis Kyrkos proved to be slightly quicker than the competition. The uncle, Leonidas, was quickest in the first race but his nephew Panagiotis was the quickest in the second. On aggregate Leonidas was awarded the win but his lead was just .3 seconds. Michalis Euthymiou was very close to the leaders but had to settle for third in class.
Giorgos Kechagias took a hard fought victory against his rival Panagiotis Euthymiou in Group E. The two set nearly identical times in the first race, but in the second run Kechagias was almost two seconds quicker. Group N was for Konstantinos Kakos while Giorgos Katsaros was the strongest in the historics.
02-03/09/2017 – Omalos Hillclimb

| Pos. | Last Name | First Name | | Car | Cl. | Final |
| --- | --- | --- | --- | --- | --- | --- |
| 1 | Iliopoulos | Marios | | Ford Fiesta WRC | FST | 5:15,30 |
| 2 | Kyrkos | Leonidas | | Ford Escort WRC | A8 | 5:29,25 |
| 3 | Kyrkos | Panagiotis | | Mitsubishi Lancer EVO VI | A8 | 5:29,55 |
| 4 | Euthymious | Michalis | | Ford Escort WRC | A8 | 5:31,42 |
| 5 | Ntofis | Andreas | | Mitsubishi Lancer EVO VIII | A8 | 5:32,98 |
| 6 | Lioris | Panagiotis | | Ford Escort WRC | A8 | 5:36,72 |
| 7 | Kechagias | Giorgos | | Ford Sierra RS500 | E12 | 5:38,78 |
| 8 | Euthymiou | Panagiotis | | BMW M3 E30 | E12 | 5:40,61 |
| 9 | Kakos | Konstantinos | | Mitsubishi Lancer EVO IX | N4 | 5:41,54 |
| 10 | Alexakis | Emmanouil | | Mitsubishi Lancer EVO VI | FST | 5:43,19 |
| 11 | Tsionkas | Alexandros | | Peugeot 106 Maxi | A7 | 5:43,24 |
| 12 | Vorgias | Spyros | | Peugeot 106 | A6 | 5:45,76 |
| 13 | Potouridis | Giannis | | Mitsubishi Lancer EVO IX | N4 | 5:46,56 |
| 14 | Ktistakis | Dimitris | | Peugeot 306 | A7 | 5:47,34 |
| 15 | Vasileiadis | Pantelis | | Citroën AX | E10 | 5:49,16 |
| 16 | Batzanos | Vasilis | | Citroën Saxo | A6 | 5:49,50 |
| 17 | Michailakis | Stelios | | Subaru Impreza | A8 | 5:53,08 |
| 18 | Peroulakis | Giorgos | | Mitsubishi Lancer EVO VIII | A8 | 5:55,31 |
| 19 | Chatoupis | Stavros | | Opel Corsa Kit-Car | A7 | 5:55,70 |
| 20 | Damianakis | Ioannis | | Peugeot 205 GTI | E10 | 5:56,88 |
| 21 | Zygogiannis | Konstantinos | | Audi A3 | FST2 | 5:57,75 |
| 22 | Dimou | Giorgos | | Renault Clio Sport | A7 | 5:58,29 |
| 23 | Kourniatis | Athanasios | | Ford Escort | E11 | 5:58,79 |
| 24 | Tsangaras | Leonidas | | Opel Astra Kit-Car | E11 | 5:59,01 |
| 25 | Fratzeskakis | Dimitris | | Ford Fiesta | A7 | 5:59,60 |
| 26 | Gompakis | Eleutherios | | Honda Civic Type-R | A7 | 6:02,29 |
| 27 | Apostolou | Apostolis | | Peugeot 106 | A6 | 6:04,61 |
| 28 | Kourasmenakis | Giorgos | | BMW M3 E36 | E12 | 6:07,35 |
| 29 | Katsaros | Giorgos | | Ford Escort RS1600 | 2/C3 | 6:08,32 |
| 30 | Zervakis | Michalis | | Peugeot 205 GTI | E10 | 6:09,28 |
| 31 | Nikolitsis | Michail | | Peugeot 106 | A6 | 6:09,94 |
| 32 | Petrakis | Konstantinos | | Renault Clio | A7 | 6:10,90 |
| 33 | Korovezos | Dimitris | | Citroën Saxo | E10 | 6:11,52 |
| 34 | Kakolyris | Dionysis | | Opel Ascona | E11 | 6:12,55 |
| 35 | Rekkas | Vasilis | | Citroën Saxo | N2 | 6:14,73 |
| 36 | Frantzeskakis | Giorgos | | Ford Escort RS2000 | 2/C3 | 6:19,36 |
| 37 | Pantelakis | Emmanouil | | Citroën AX | E10 | 6:19,79 |
| 38 | Maraslis | Apostolos | | Ford Escort MK1 | 2/C3 | 6:20,48 |
| 39 | Kardamakis | Eleutherios | | Toyota Yaris | A5 | 6:21,29 |
| 40 | Theos | Kimonas | | Peugeot 106 | N2 | 6:21,42 |
| 41 | Kritkakis | Alexandros | | Peugeot 106 | N2 | 6:24,38 |
| 42 | Vranas | Ioannis | | Peugeot 106 | N2 | 6:24,63 |
| 43 | Gavriilidis | Georgios | | Ford Escort MK1 | 2/C3 | 6:26,34 |
| 44 | Papatsaras | Nikolaos | | Citroën Saxo VTS | A6 | 6:30,22 |
| 45 | Asteris | Eleutherios | | Subaru Impreza | N4 | 6:32,58 |
| 46 | Stamatakis | Stratos | | Peugeot 106 | A5 | 6:33,74 |
| 47 | Papazoglou | Lymperis | | Alfa Romeo Alfasud Ti | 3/D2 | 6:39,89 |
| 48 | Kyrkos | Miltos | | Skoda Fabia | FST2 | 6:40,43 |
| 49 | Potouridis | Giannis | | Skoda Fabia | FST2 | 6:42,40 |
| 50 | Markantonakis | Emmanouil | | Volkswagen Golf I | E11 | 6:42,62 |
| 51 | Oichaliotis | Aristeidis | | Peugeot 106 | A6 | 6:48,00 |
| 52 | "Flex" | | | Peugeot 106 Rallye | A5 | 6:54,04 |
| 53 | Sartampakos | Giorgos | | Skoda Fabia | FST2 | 7:08,90 |
| 54 | Sgourakis | Nikos | | BMW E30 | FST2 | 7:18,06 |
| 55 | Nikolopoulou | Maria | | BMW 2002 Ti | 2/C3 | 7:28,53 |