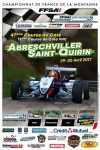 Sébastien Petit scored his third victory of the season at the Course de Côte d'Abreschviller – Saint Quirin this weekend. Cyrille Frantz had a trouble-free weekend and could claim second place. It should come as no surprise that Geoffrey Schatz finishes third.
In Formula 3 the gaps were very small this weekend. Between winner Billy Ritchen and sixth placed Alban Thomas was less than a second. In CN2 this was much the same. Here fifth placed Charlie Martin was still within a second of class-winner David Guillaumard. Interestingly all three CN3 drivers finished ahead of the CN2 drivers, something that does not happen very often in France.
Pierre Corroye is the man to beat this year in the touringcar category. After absolutely dominating at the Col Saint Pierre last weekend, the young McLaren MP4 driver put in another stellar performance in Abreschviller. Even though the track is just 2,1 kilometres long he managed to put runner-up Philippe Schmitter a full 1,5 seconds behind! Current champion Nicolas Werver had a bad weekend. His Porsche 997 GT2 suffered technical problems all weekend which saw him drop way down the order.
Apart from the French Championship there were also points given towards the Luxembourg Hillclimb Championship. Daniel Donkels surprised his two rivals to claim victory in the singleseaters. Canio Marchione advanced the three Schilling cars to take touringcar victory.

29-30/04/2017 – Course de Côte d'Abreschviller – Saint Quirin

| Pos. | Last Name | First Name | | Car | Cl. | Final |
| --- | --- | --- | --- | --- | --- | --- |
| 1 | Petit | Sébastien | | Norma M20 FC | CN+ | 47,983 |
| 2 | Frantz | Cyrille | | Norma M20 FC | CN+ | 48,488 |
| 3 | Schatz | Geoffrey | | Reynard 01KL | D/E 6 | 49,226 |
| 4 | Loeuilleux | Anthony | | Tatuus Master | E2-SS 35 | 52,436 |
| 5 | Meillon | David | | Norma M20F | CN3 | 52,442 |
| 6 | Allais | Daniel | | Reynard 97D | E2-SS 37 | 52,781 |
| 7 | Ritchen | Billy | | Dallara F311 | D/E 5 | 53,376 |
| 8 | Sapin | Marcel | | Dallara F305 | D/E 5 | 53,669 |
| 9 | Tromp | Roland | | Tatuus Master | D/E 4 | 53,941 |
| 10 | Louvet | Sarah | | Dallara F303 | D/E 5 | 53,965 |
| 11 | Hubert | Martine | | Norma M20F | CN3 | 54,010 |
| 12 | Thomas | Raynald | | Dallara F308 | D/E 5 | 54,089 |
| 13 | Vermeille | Xavier | | Norma M20F | CN3 | 54,137 |
| 14 | Guillaumard | David | | Norma M20 FC | CN2 | 54,139 |
| 15 | Latreille | Yannick | | Norma M20 FC | CN2 | 54,226 |
| 16 | Thomas | Alban | | Dallara F305 | D/E 5 | 54,309 |
| 17 | Guth | Samy | | Dallara F306 | D/E 5 | 54,463 |
| 18 | Cotleur | Maxime | | Norma M20F | CN2 | 54,519 |
| 19 | Starck | Corentin | | Norma M20 FC | CN2 | 54,625 |
| 20 | Courroye | Pierre | | McLaren MP4 GT3 | GTTS4 | 55,111 |
| 21 | Martin | Charlie | | Norma M20 FC | CN2 | 55,125 |
| 22 | Cante | Cécile | | Dallara F307 | D/E 5 | 55,206 |
| 23 | Augusto | Olivier | | Norma M20 FC | CN2 | 55,232 |
| 24 | Maitre | Jean-Jacques | | Tatuus PY012 | CN2 | 55,565 |
| 25 | Cholley | Patrick | | Dallara F305 | D/E 5 | 55,699 |
| 26 | Perrin | Roland | | Duqueine IMSA | D/E 2 | 55,983 |
| 27 | Krafft | Stéphane | | Norma M20 FC Honda | CN2 | 56,225 |
| 28 | Mayeur | Pierre | | Martini MK62 | D/E 2 | 56,225 |
| 29 | Schmitter | Philippe | | Lamborghini Gallardo GT3 | GTTS4 | 56,615 |
| 30 | Schmitter | Christian | | Porsche 997 | GTTS4 | 56,863 |
| 31 | Bertin | Thierry | | Dallara PB08 | D/E 1 | 57,305 |
| 32 | Chaumont | Didier | | Tatuus FR2000 | D/E 7 | 57,392 |
| 33 | Petit | Kevin | | Tatuus FR2000 | D/E 7 | 57,763 |
| 34 | Poinsignon | Yannick | | BMW M3 E92 | GTTS4 | 57,845 |
| 35 | Bouche | Estel | | Tatuus FR2000 | D/E 7 | 57,873 |
| 36 | Chretien | Jacques | | Tatuus FR2000 | D/E 7 | 58,172 |
| 37 | Neff | Frédéric | | Porsche 996 Cup | GTTS4 | 58,181 |
| 38 | Louvet | Jean-Jacques | | Norma M20F | CN2 | 58,227 |
| 39 | Lheritier | Hugues | | Norma M20B | CN2 | 58,282 |
| 40 | Noirat | Jérémy | | Tracking RC01 | E2-SH 26 | 58,534 |
| 41 | Donkels | Daniel | | Tatuus FR2000 | E2-SS 35 | 58,566 |
| 42 | Martin | Christian | | Ligier JS53 | CN2 | 58,679 |
| 43 | Serralta | Florian | | BRC CM05 EVO | CM | 58,801 |
| 44 | Christoph | Jérôme | | Tatuus FR2000 | D/E 7 | 58,830 |
| 45 | Werver | Nicolas | | Porsche 997 | GTTS4 | 59,015 |
| 46 | Perez | Pascual | | Norma M20F | E2-SC 32 | 59,145 |
| 47 | Saintmard | Gilles | | Dallara F393 | D/E 5 | 59,182 |
| 48 | Linden | Leon | | Dallara F304 | E2-SS 36 | 59,274 |
| 49 | Chupin | Cyrille | | Silver Car S2F | CM | 59,386 |
| 50 | Chariatte | Alain | | Tatuus Master | E2-SS 35 | 59,487 |
| 51 | Braquet | Roland | | Dallara F308 | E2-SS 36 | 59,560 |
| 52 | Christoph | Régis | | Tatuus FR2000 | D/E 7 | 59,673 |
| 53 | Caumon | Nicolas | | Lamborghini Gallardo GT3 | GTTS4 | 59,844 |
| 54 | Beal | Pierre | | BMW M3 E46 GTR | GTTS4 | 59,918 |
| 55 | Marchione | Canio | | Volkswagen Scirocco | E1 23 | 1:00,145 |
| 56 | Ferstler | Dorian | | Tatuus FR2000 | D/E 7 | 1:00,834 |
| 57 | Dosieres | Francis | | Seat Leon Supercopa | A4 | 1:01,196 |
| 58 | Fade | Pierre | | Caparo Renault | D/E 7 | 1:01,361 |
| 59 | Schilling | Nico | | Subaru Impreza | E1 24 | 1:01,540 |
| 60 | Dumartheray | Alain | | Norma M20F | CN2 | 1:01,583 |
| 61 | Janny | Jérôme | | Seat Leon Supercopa | A4 | 1:01,662 |
| 62 | Marchal | Fabrice | | BMW M3 E36 | A4 | 1:01,716 |
| 63 | Favre | Bertrand | | BMW E30 | E1 24 | 1:01,734 |
| 64 | Houlmann | Fabien | | Peugeot 205 | E1 23 | 1:01,804 |
| 65 | Huguel | Daniel | | Tatuus FR2000 | D/E 7 | 1:01,907 |
| 66 | Valentiny | Charles | | Subaru Impreza | E1 24 | 1:01,976 |
| 67 | Schilling | Cédric | | Mitsubishi Lancer | E1 24 | 1:02,207 |
| 68 | Fath | Thibaut | | Radical SR3 | CN1 | 1:02,501 |
| 69 | Bernard | Rémi | | Seat Leon Supercopa | A4 | 1:02,517 |
| 70 | Haenn | Laurent | | Seat Leon Supercopa | A4 | 1:02,624 |
| 71 | Fra | Bruno | | BMW M3 E36 | A4 | 1:02,757 |
| 72 | Uny | Antoine | | BMW M3 E36 | N4 | 1:03,176 |
| 73 | Schildknecht | Aurélien | | Esyola SA08 | D/E 2 | 1:03,277 |
| 74 | Vallat | Patrick | | Volkswagen Golf | E1 23 | 1:03,533 |
| 75 | Turnel | Jean | | Peugeot 306 | F2000 / 3 | 1:03,948 |
| 76 | Genoud | Alexandre | | BMW 320i WTCC | E1 24 | 1:04,067 |
| 77 | Chariatte | Sylvain | | Volkswagen Golf | E1 22 | 1:04,273 |
| 78 | Jeannel | Gaëtan | | Mitsubishi Lancer EVO X | N4 | 1:04,291 |
| 79 | Deniset | Didier | | Renault 5 TDC | FC4 | 1:04,384 |
| 80 | Kokor | Andreas | | Ford Escort | E1 23 | 1:04,428 |
| 81 | Monnier | Ludovic | | Volkswagen Golf | E1 23 | 1:05,305 |
| 82 | Fade | Guillaume | | BMW M3 E36 | N4 | 1:05,376 |
| 83 | Fritsch | Jean-Luc | | Peugeot 306 Maxi | A3 | 1:05,484 |
| 84 | Morbin | Jean-Pierre | | Ford Escort Cosworth | A4 | 1:05,619 |
| 85 | Cat | Pascal | | Renault Megane RS | N4 | 1:05,867 |
| 86 | Martin | Yannick | | BMW M3 E36 | N4 | 1:05,997 |
| 87 | Fade | Dominique | | Seat Leon Supercopa | A4 | 1:06,060 |
| 88 | Joray | Sébastien | | BMW M3 | E1 24 | 1:06,231 |
| 89 | Hisler | Jonathan | | Norma M20 | CN2 | 1:06,418 |
| 90 | Kruhs | Gino | | Citroën DS3 R3T | GTTS2 | 1:06,514 |
| 91 | Richard | Joël | | BMW 135i | GT2 | 1:06,628 |
| 92 | Schwarz | Thomas | | Renault Clio | F2000 / 3 | 1:06,647 |
| 93 | Lestienne | Jean-Michel | | Mit-Jet | GTTS1 | 1:06,883 |
| 94 | Zysset | Peter | | Volkswagen Golf | E1 23 | 1:07,016 |
| 95 | Haffemayer | Pierre | | BMW M3 E36 | N4 | 1:07,363 |
| 96 | Schaellebaum | Henry | | Citroën Saxo | F2000 / 2 | 1:07,494 |
| 97 | Farine | Benoît | | Volkswagen Golf | E1 23 | 1:07,851 |
| 98 | Soisson | Claude | | Opel Manta | E1 23 | 1:08,246 |
| 99 | Demare | Christophe | | Honda Civic Type-R | N3 | 1:08,520 |
| 100 | Nusbaumer | Marcel | | Fiat Uno | E1 22 | 1:08,644 |
| 101 | Ermann | Luc | | Peugeot 106 | F2000 / 1 | 1:08,751 |
| 102 | Pierrat | Brice | | Renault Clio RS | F2000 / 3 | 1:08,783 |
| 103 | Courtois | Rémi | | Porsche 996 | GT2 | 1:09,085 |
| 104 | Jeannel | Pearl | | Renault Clio | A3 | 1:09,921 |
| 105 | De Saedeleer | Bart | | Fiat 500 VRC | E2-SH 26 | 1:10,994 |
| 106 | Claudepierre | Jean-Noël | | Honda Civic Type-R | N3 | 1:11,001 |
| 107 | Loeber | Valentin | | Renault Clio | N3 | 1:11,776 |
| 108 | Lorillard | Jean-Michel | | Seat Ibiza | F2000 / 3 | 1:12,549 |
| 109 | Staat | Julien | | Renault Clio | F2000 / 3 | 1:12,629 |
| 110 | Ermann | Jimmy | | Peugeot 106 S16 | N2 | 1:12,886 |
| 111 | Ferrando | Jean-Louis | | Simca JLF | FC2 | 1:12,976 |
| 112 | Johann | Olivier | | Citroën AX | F2000 / 1 | 1:13,207 |
| 113 | Becker | Sandra | | Renault Clio Cup II | E1 23 | 1:13,429 |
| 114 | Meyer | Alain | | Volkswagen Golf | E1 23 | 1:13,567 |
| 115 | Terser | Christophe | | Suzuki Swift | N1 | 1:15,820 |
| 116 | Fritsch | Cindy | | Peugeot 206 XS | A2 | 1:15,864 |
| 117 | Schmitt | Adrien | | Citroën Saxo | N2 | 1:16,307 |
| 118 | Demare | Daniel | | Mit-Jet | GTTS1 | 1:17,017 |
| 119 | Limage | Nicolas | | Peugeot 106 S16 | N2 | 1:17,655 |
| 120 | Fend | Denis | | Peugeot 106 Rallye | N1 | 1:18,850 |
| 121 | Becker-Huber | Ivana | | Citroën DS3 | E1 22 | 1:20,273 |
| 122 | Bogard | Cédric | | Peugeot 106 XSi | N1 | 1:20,881 |
| 123 | Goehry | Barbara | | Renault Clio | A3 | 1:24,242 |
29-30/04/2017 – Course de Côte d'Abreschviller – Saint Quirin (VHC)

| Pos. | Last Name | First Name | | Car | Cl. | Final |
| --- | --- | --- | --- | --- | --- | --- |
| 1 | Toupence | Roger Serge | | Martini MK32 | 8-9/C4 | 1:03,521 |
| 2 | Bonnot | Jacky | | Axone 1600 FL | 8-9/B4 | 1:06,262 |
| 3 | Torcat | Michel | | Porsche 911 | 4/B8 | 1:10,305 |
| 4 | Poppe | Thomas | | Mercedes 500SL | 2/C8 | 1:10,620 |
| 5 | Pauli | Walter | | Alpine A110 | 4/B3 | 1:10,747 |
| 6 | Bick | Maurice | | Ford Escort | 2/C5 | 1:11,192 |
| 7 | Ritzenthaler | Michel | | Royale RP24 | 8-9/C4 | 1:12,181 |
| 8 | Riehl | Christian | | BMW 323i | 2/C7 | 1:12,960 |
| 9 | Rolais | Anthony | | BMW 323i E21 | 2/C7 | 1:13,190 |
| 10 | Herrbrecht | Vincent | | BMW 323i | CL | 1:13,897 |
| 11 | Riehl | Nicolas | | BMW 2002 | 2/C5 | 1:13,974 |
| 12 | Debaude | Jean | | Chrysler Hemicuda | 1/B8 | 1:14,137 |
| 13 | Brebant | Philippe | | Alpine A110 | 4/B3 | 1:14,551 |
| 14 | Riehl | Robert | | Opel Ascona | CL | 1:17,210 |
| 15 | Guelpa | Roger | | Porsche 911 | 4/B8 | 1:17,403 |
| 16 | Bick | Maxime | | Volkswagen Golf I GTI | 2/C5 | 1:18,161 |
| 17 | Strohm | Wolfgang | | Opel Ascona | 2/B5 | 1:21,150 |
| 18 | Jene | Ute | | Mini Cooper | 1/B3 | 1:21,396 |
| 19 | Schmitt | François | | BMW 2002 | 1/B5 | 1:24,818 |
| 20 | Dibling | Laurent | | Morris Cooper S | 2/A3 | 1:28,099 |
| 21 | Pierron | Jean-Marie | | Simca 1200S | 4/A3 | 1:28,218 |