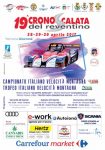 The Italian Hillclimb Championship started this weekend with the Cronoscalata del Reventino. The weather was unpredictable in the toe of Italy this weekend. On Saturday practise had to be ended early because of the poor visibility. On Sunday a rainstorm began right at the end of race 1. Almost one third of the field decided not to start in the rain or had to retire early for other reasons.
The CN pilots were the last to complete race 1 before the rain really started. That is why Achille Lombardi and Luca Ligato were 1 and 2 halfway. Trying to capatalise on his lead in the second race, Lombardi crashed and had to retire. Without his rival Ligato secured class victory and eventually finished fourth overall. Christian Merli received a 10 second time penalty in the first race for arriving late at the start. He set fastest time of the day in the second race but that only put him in third overall. Even without the penalty it would not have been enough to win though. Domenico Scola was only .3 seconds behind Merli in the second race which kept his lead over Merli more than 11 seconds. Omar Magliona split the two Osellas to finish second.
One week after his victory in Austria Lucio Peruggini scored another victory at Reventino. Peruggini not only won the GT Category, he also motivated himself to defeat all the other touringcars too. Marco Iacoangeli debuted his new BMW Z4 GT this weekend. The car was still in circuit specifications but Iacoangeli immediately secured E2-SH victory. Marco Sbrollini was the fastest touringcar driver in the second race, but his time lost in the first meant that he could not pass Peruggini or Iacoangeli in the overall classifications. Still the Lancia Delta driver won the E1 category.

29-30/04/2017 – Cronoscalata del Reventino

| Pos. | Last Name | First Name | | Car | Cl. | Final |
| --- | --- | --- | --- | --- | --- | --- |
| 1 | Scola | Domenico | | Osella FA30 | E2-SS 3000 | 5:48,10 |
| 2 | Magliona | Omar | | Norma M20 FC | E2-SC 3000 | 5:52,69 |
| 3 | Merli | Christian | | Osella FA30 | E2-SS 3000 | 5:59,43 |
| 4 | Ligato | Luca | | Osella P21/S | CN 2000 | 6:08,65 |
| 5 | Peruggini | Lucio | | Ferrari F458 | GT3 +4000 | 6:39,74 |
| 6 | Iacoangeli | Marco | | BMW Z4 GT | E2-SH +3000 | 6:45,18 |
| 7 | Sbrollini | Marco | | Lancia Delta | E1 +3000 | 6:45,40 |
| 8 | Leogrande | Francesco | | Wolf GB08 F1 | E2-SS 3000 | 6:49,94 |
| 9 | Carini | Francesco | | Osella P21/S | CN 2000 | 6:59,41 |
| 10 | Micoli | Vitantonio | | Renault 5 GT Turbo | E1 1600T | 7:00,12 |
| 11 | Chirico | Domenico | | Peugeot 106 | E1 1600 | 7:01,77 |
| 12 | De Gasperi | Diego | | Lola Honda | E2-SS 2000 | 7:03,60 |
| 13 | Tancredi | Carmine | | BMW Cosworth | E2-SH +3000 | 7:07,89 |
| 14 | D'Amico | Salvatore | | Renault Clio RS | A 2000 | 7:12,68 |
| 15 | Rubino | Giuseppe | | Elia Avrio | E2-SC 1000 | 7:14,89 |
| 16 | Alessi | Rosario | | Peugeot 106 | E1 1600 | 7:16,87 |
| 17 | Guzzetta | Angelo Maria | | Peugeot 106 S16 | A 1600 | 7:18,25 |
| 18 | Contardi | Maurizio | | Honda Civic VTI | E1 1600 | 7:19,40 |
| 19 | Iaquinta | Rosario | | Osella P21/S | CN 2000 | 7:23,26 |
| 20 | Ragazzi | Roberto | | Ferrari F458 EVO | GTCUP +4000 | 7:23,90 |
| 21 | Cardone | Antonio | | Opel Astra | E1 2000 | 7:24,20 |
| 22 | Scappa | Antonio | | Mini Cooper JCW | RSTB 1600 | 7:24,52 |
| 23 | Tudisco | Alfio | | Renault Clio Cup | E1 2000 | 7:25,46 |
| 24 | Bevacqua | Francesco | | Renault 5 GT Turbo | E1 1600T | 7:30,26 |
| 25 | Parlato | Paolo | | Honda Civic Type-R | A 2000 | 7:36,42 |
| 26 | Errichetti | Rocco | | Peugeot 106 S16 | N 1600 | 7:39,09 |
| 27 | Pace | Andrea | | Radical Prosport | E2-SC 1000 | 7:39,81 |
| 28 | Fiore | Antonio | | Autobianchi A112 Abarth | E1 1150 | 7:41,66 |
| 29 | Savoia | Francesco | | Mini Cooper JCW | RSTB+ 1600 | 7:42,33 |
| 30 | Cicalese | Francesco Paolo | | Honda Civic | RS+ 1600 | 7:43,84 |
| 31 | Geremia | Renato | | Honda Ciic Type-R | N 2000 | 7:44,14 |
| 32 | Fichera | Antonio | | Citroën Saxo VTS | N 1600 | 7:44,96 |
| 33 | Liuzzi | Giacomo | | Mini Cooper JCW | RSTB 1600 | 7:46,39 |
| 34 | Greco | Mario Alex | | Citroën Saxo VTS | N 1600 | 7:46,64 |
| 35 | Gullo | Claudio | | Volkswagen Polo Kit-Car | E1 1150M | 7:46,64 |
| 36 | Lisi | Giovanni | | Honda Civic Type-R | RS 2000 | 7:47,24 |
| 37 | Romano | Cataldo | | Renault Clio | RS+ 2000 | 7:47,76 |
| 38 | Sisto | Martino | | Renault Clio Williams | PS 2000 | 7:48,18 |
| 39 | Cardone | Angelo | | Renault 5 GT Turbo | E1 1600T | 7:49,17 |
| 40 | Calderone | Marco | | Peugeot 106 | A 1600 | 7:49,95 |
| 41 | Fichera | Salvatore | | Citroën Saxo VTS | A 1600 | 7:51,38 |
| 42 | Urti | Francesco | | Alfa Romeo 147 GTA | A 2000 | 7:52,98 |
| 43 | Scerbo | Rosario | | Renault 5 GT Turbo | E1 3000 | 7:53,60 |
| 44 | "Gabry Driver" | | | Peugeot 106 | E1 1400 | 7:56,45 |
| 45 | Trapasso | Salvatore | | Fiat 127 Sport | E1 1150 | 7:56,82 |
| 46 | D'Acri | Davide | | Peugeot 106 S16 | N 1600 | 7:58,64 |
| 47 | Loconte | Angelo | | Honda Civic Type-R | RS 2000 | 8:00,30 |
| 48 | Tomasello | Tommaso | | Fiat 127 Sport | E1 1150 | 8:02,90 |
| 49 | Palazzo | Andrea | | Mini Cooper JCW | RSTB+ 1600 | 8:07,13 |
| 50 | Secondo | Antonio | | Peugeot 106 S16 | RS 1600 | 8:08,43 |
| 51 | Ferragina | Antonio | | Fiat 500 | BIC 700/5 | 8:10,13 |
| 52 | Livrano | Vito | | Renault Clio Williams | PS 2000 | 8:10,32 |
| 53 | Portale | Daniele | | Fiat 126 | BIC 700/5 | 8:11,68 |
| 54 | Cardetti | Giuseppe | | Renault New Clio | RS 2000 | 8:15,58 |
| 55 | Paola Almirante | Nicola | | Radical SR3 | E2-SC 1600 | 8:16,98 |
| 56 | Porcaro | Rocco | | Peugeot 106 S16 | RS 1600 | 8:17,34 |
| 57 | Magdalone | Marco | | Peugeot 106 | RS 1600 | 8:17,40 |
| 58 | Mercuri | Angelo | | Fiat 500 | BIC 700/5 | 8:20,27 |
| 59 | Morabito | Domenico | | Fiat 500 | BIC 700/5 | 8:24,72 |
| 60 | Eusebio | Arduino | | Volkswagen Polo GTI | RS 1400 | 8:26,20 |
| 61 | Furleo | Teobaldo | | Peugeot 106 | RS 1600 | 8:27,75 |
| 62 | L'Arocca | Luca | | Citroën Saxo VTS | RS 1600 | 8:33,14 |
| 63 | Loschiavo | Pietro | | Citroën Saxo VTS | RS+ 1600 | 8:34,30 |
| 64 | Mercuri | Francesco | | Wolf GB08 F1 | E2-SS 3000 | 8:38,04 |
| 65 | Budano | Domenico | | Peugeot 106 Rallye | N 1400 | 8:38,64 |
| 66 | Cimbali | Massimo Enrico | | Fiat Cinquecento Abarth | RSTB 1400 | 8:39,06 |
| 67 | Fichera | Salvatore | | Citroën Saxo VTS | A 1600 | 8:44,19 |
| 68 | Ciardullo | Ivan | | Volkswagen Polo GTI | RS 1400 | 8:50,12 |
| 69 | Paletta | Mirko | | Fiat 500 | BIC 700/5 | 8:50,96 |
| 70 | Straface | Santo | | Peugeot 106 S16 | RS 1600 | 8:52,64 |
| 71 | Gigliotti | Gioacchino | | Peugeot 106 Rallye | A 1400 | 8:53,63 |
| 72 | Fava | Mariolino Nicola | | Honda Civic Type-R | RS+ 2000 | 8:54,02 |
| 73 | Mercuri | Luigi | | Fiat 500 | BIC 700/5 | 8:54,28 |
| 74 | Sardo | Cosimo | | Peugeot 106 Rallye | N 1400 | 8:54,98 |
| 75 | Bosone | Edoardo Antonio | | Fiat Seicento Sporting | A 1150 | 8:55,49 |
| 76 | Gatto | Valerio | | Peugeot 106 Rallye | N 1400 | 8:56,68 |
| 77 | Annese | Nicola | | Fiat 126 | BIC 700/2 | 8:57,27 |
| 78 | Miceli | Luca | | Fiat Cinquecento Sporting | RS 1150 | 8:57,49 |
| 79 | Tomaselli | Domenico | | Fiat Cinquecento Sporting | RS 1400 | 8:58,71 |
| 80 | Torcasio | Giuseppe | | Fiat 126 | BIC 700/2 | 8:58,84 |
| 81 | Brecchi | Pierluigi | | Citroën Saxo VTS | RS 1600 | 8:59,89 |
| 82 | Mancini | Carlo | | Citroën Saxo VTS | RS 1600 | 9:00,08 |
| 83 | Colosa | Salvatore | | Peugeot 106 S16 | N 1600 | 9:00,18 |
| 84 | Rosati | Antonio | | Peugeot 106 | RS 1400 | 9:00,90 |
| 85 | Semeraro | Fabio | | Honda Civic | RS+ 1600 | 9:01,73 |
| 86 | Di Stefano | Giuseppe | | Peugeot 106 Rallye | A 1400 | 9:03,47 |
| 87 | Narciso | Alfredo | | Peugeot 205 Rallye | PE 1400 | 9:04,42 |
| 88 | Caporaso | Saverio | | Ford Sierra Cosworth | PE +3000 | 9:06,61 |
| 89 | Tiberi | Domenico | | Fiat Cinquecento Sporting | RS 1150 | 9:10,75 |
| 90 | Tropeano | Carmelo | | Rover 114 GTI | RS 1400 | 9:12,34 |
| 91 | Cavalieri | Antonio | | Fiat 126 | BIC 700/2 | 9:12,87 |
| 92 | Perri | Massimo | | Fiat 500 | BIC 700/5 | 9:17,67 |
| 93 | Gigliotti | Pasquale | | Fiat Seicento Sporting | RS 1150 | 9:18,13 |
| 94 | Di Renzo | Markus | | Citroën C1 Honda | E1 1150M | 9:18,18 |
| 95 | Roperto | Fernando | | Fiat Punto JTD | RSD 2000 | 9:22,13 |
| 96 | De Virgilio | Luigi | | Fiat Seicento Sporting | RS 1150 | 9:22,58 |
| 97 | Iantorno | Mario Osvaldo | | Citroën Saxo VTS | RS 1600 | 9:24,58 |
| 98 | Scigliano | Carlo | | Renault Clio Williams | PS 2000 | 9:26,98 |
| 99 | Santoro | Francesco | | Citroën Saxo VTS | RS+ 1600 | 9:27,93 |
| 100 | Mancuso | Luigi | | Fiat Cinquecento Sporting | RS 1150 | 9:27,93 |
| 101 | Pantaleo | Daniele | | Fiat Seicento Sporting | RS 1150 | 9:34,82 |
| 102 | Giummarra | Giorgio | | Citroën Saxo VTS | N 1600 | 9:35,94 |
| 103 | Menza | Michele | | Fiat 126 | BIC 700/5 | 9:38,77 |
| 104 | Butera | Felice | | Fiat 500 | BIC 700/2 | 9:47,34 |
| 105 | Sica | Andrea | | Fiat Seicento Sporting | RS 1150 | 9:47,87 |
| 106 | Garritano | Pietro | | Fiat 126 | BIC 700/2 | 9:56,55 |
| 107 | Garritano | Giuseppe | | Fiat 500 | BIC 700/2 | 10:04,34 |
| 108 | Messina | Alfio | | Fiat 500 | BIC 600/2 | 10:44,05 |
| 109 | Scardamaglia | Giuseppe | | Fiat 126 | BIC 600/2 | 11:28,11 |