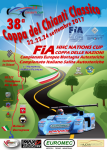 The Coppa del Chianti Classico was the final round of the European Historic Hillclimb Championship and also the Italian Historic Hillclimb Championship. Uberto Bonucci sped to victory and the European Title in category 4. He just missed out on the Italian Title in group 4. Here Piero Lottini takes the title with just 0.5 point advantage. The Peroni family was in excellent form in Chianti. Father Giuliano won Group 5 and finished third overall. His sons also won their groups. Stefano was succesful in group 3 and second overall, Franco was the best of the modern racers.
In Group 1 Harald Mössler was the fastest driver up the 8 kilometres of the Chianti Hillclimb. The Austrian is also the new European Champion in Category 1. Tiberio Nocentini was best Italian driver in Group 1. The Chevron B19 pilot is again the Italian Champion of this group.
The European Championship in Category 2 was still very close before the event. Giuliano Palmieri and Josef Michl were seperated by just a single point before the event. But a brilliant drive saw Palmieri take victory, the European title and also the Italian title.
In Group 3 Stefano Peroni once again obliterated all the opposition. Out of the 10 races competed this year Peroni won 8 of them. He ends the season with more than double the points of his closest rival. In the European Championship Jiri Kubicek won the title. The Czech driver in the little Skoda was quicker than his main rival Gerald Glinzner.
Only misfortune could stop Giuliano Peroni from obtaining the Group 5 title at Chianti. As we have already seen Peroni won the group and obviously the title. Gina Colotto eventually finished second in points but deserves respect for participating in all 10 rounds of the championship. Ondrej Chytil is the new European Champion in Category 5.
23-24/09/2017 – Coppa del Chianti Classico

| Pos. | Last Name | First Name | | Car | Cl. | Final |
| --- | --- | --- | --- | --- | --- | --- |
| 1 | Bonucci | Uberto | | Osella PA9/90 | 4/JR/BC +2000 | 3:22,43 |
| 2 | Peroni | Stefano | | Osella PA8 | 3/IR/BC 2000 | 3:25,02 |
| 3 | Peroni | Giuliano | | Martini MK32 | 5/E3 | 3:34,35 |
| 4 | Lottini | Piero | | Osella PA9/90 | 4/JR/BC +2000 | 3:40,83 |
| 5 | Torre | Ferruccio | | Reynard 893 | 5/E5 | 3:42,25 |
| 6 | Marelli | Walter | | Lucchini SN88 | 4/JR/SN 3000 | 3:48,44 |
| 7 | Turriziani | Roberto | | Osella PA9/90 | 4/JR/BC 2000 | 3:48,62 |
| 8 | Aralla | Emanuele | | Dallara F390 | 5/E5 | 3:51,96 |
| 9 | Palmieri | Giuliano | | De Tomaso Pantera | 2/GTS +2500 | 3:56,68 |
| 10 | Perotto | Massimo | | Porsche Carrera RS | 2/GTS +2500 | 4:00,84 |
| 11 | Motti | Ildebrando | | Porsche Carrera RS | 2/GTS +2500 | 4:02,13 |
| 12 | Mössler | Harald | | Steyr Puch Bergspyder | 1/GR/GTP 1000 | 4:02,95 |
| 13 | Muradore | Rino | | Ford Escort RS | 2/TC 2000 | 4:03,30 |
| 14 | Kubicek | Jiri | | Skoda 130 RS | 3/TC 1000 | 4:03,57 |
| 15 | Tessore | Giorgio | | Porsche 911 Carrera | 3/GTS +2500 | 4:04,45 |
| 16 | Chytil | Ondrej | | MTX 1-03 | 5/E2 | 4:04,67 |
| 17 | Nocentini | Tiberio | | Chevron B19 | 1/GR/BC 2000 | 4:04,82 |
| 18 | Glinzner | Gerald | | Porsche 911 Carrera | 3/GTS +2500 | 4:05,41 |
| 19 | Lavieri | Antonio | | Formula Renault Europa | 5/E2 | 4:06,00 |
| 20 | Zambelli | Fosco | | Alfa Romeo GTV GTAM | 2/TC 2000 | 4:06,45 |
| 21 | Carbone | Tommaso | | Lucchini SN | 4/JR/SN 3000 | 4:07,73 |
| 22 | Morselli | Fernando | | Volkswagen Golf | 3/GTS 1600 | 4:10,66 |
| 23 | Froetscher | Gregor | | Austin Mini Cooper S | 1/F/T 1300 | 4:13,28 |
| 24 | Sala | Mario | | Porsche 906 | 1/GR/BC 2000 | 4:13,55 |
| 25 | Ceccarelli | Mauro | | AMS Sport | 3/IR/BC 1300 | 4:14,09 |
| 26 | Zucchi | Sandro | | Lucchini SN85 | 4/JR/SN 3000 | 4:14,37 |
| 27 | De Angelis | Angelo | | Nerus Silhouette | 1/GR/BC 1600 | 4:16,91 |
| 28 | Bigliazzi | Amerigo | | Alfa Romeo Alfetta GT | 3/TC 2000 | 4:17,77 |
| 29 | Cocchi | Lorenzo | | Volkswagen Golf GTI | 3/TC 1600 | 4:18,98 |
| 30 | Michl | Josef | | Skoda 130 RS | 2/TC 1300 | 4:19,31 |
| 31 | Campogiani | Massimo | | Volkswagen Golf GTI | 3/TC 1600 | 4:19,44 |
| 32 | Gigliotti | Lucio | | Fiat 128 | 2/TC 1150 | 4:19,54 |
| 33 | Vivalda | Guido | | Lucchini SN90 | 4/JR/SN 2500 | 4:19,63 |
| 34 | Rossi | Maurizio | | Formula Alfa Boxer | 5/FA +1000 | 4:19,65 |
| 35 | Tramonti | Gabriele | | Fiat Ritmo 75 | 3/TC 1600 | 4:20,38 |
| 36 | Matusek | Lukas | | Skoda 130 RS | 3/TC 1300 | 4:20,60 |
| 37 | Menichelli | Franco | | BMW M3 | 4/J2/N +2000 | 4:20,72 |
| 38 | Mandelli | Vittorio Maria | | Porsche 911 SC | 2/GT +2500 | 4:21,58 |
| 39 | Zoccali | Luigi | | Peugeot 205 GTI | 4/J2/A 2000 | 4:22,53 |
| 40 | De Rege Di Donato | Guido | | Porsche 911 SC | 3/GTS +2500 | 4:23,97 |
| 41 | Imperatori | Gianluca | | Fiat X1/9 | 3/SIL 1600 | 4:24,93 |
| 42 | Brenti | Roberto | | Renault 5 GT Turbo | 4/J2/N +2000 | 4:25,05 |
| 43 | Bonifati | Giuseppe Antonio | | BMW 318is | 4/J2/A 2000 | 4:25,32 |
| 44 | Bologna | Angelo | | Lucchini SN86 | 4/JR/SN 2500 | 4:27,57 |
| 45 | Rinolfi | Alessandro | | Morris Cooper S | 1/F/T 1300 | 4:28,20 |
| 46 | Viel | Antonio | | Osella PA9 | 3/IR/BC 2000 | 4:28,35 |
| 47 | Colotto | Gina | | Abarth SE033 | 5/FA +1000 | 4:28,95 |
| 48 | Cellai | Alessandro | | Volkswagen Golf GTI | 3/TC 1600 | 4:29,06 |
| 49 | Conti | Claudio | | TVR Griffith | 1/F/GTP +2000 | 4:29,15 |
| 50 | Gelsomini | Davide | | Fiat Giannini 650 NP | 3/SIL 700 | 4:29,50 |
| 51 | Bianchetti | Giancarlo | | BMW 2002 Turbo | 3/SIL +2000 | 4:30,81 |
| 52 | Castagno | Giuseppe | | Osella PA5 | 3/IR/BC 1600 | 4:31,87 |
| 53 | Grasso | Giovanni | | Renault 5 GT Turbo | 4/J1/N 2000 | 4:32,24 |
| 54 | Di Fazio | Antonio | | NSU Brixner | 1/GR/BC 1300 | 4:32,35 |
| 55 | Bellini | Fabio | | Autobianchi A112 Abarth | 2/TC 1000 | 4:32,52 |
| 56 | Carusone | Dino | | Fiat Giannini 650 NP | 3/SIL 700 | 4:32,95 |
| 57 | Riccardi | Gianluca | | BMW 2002 Ti | 1/G1/T 2000 | 4:34,00 |
| 58 | Gragnoli Bellugi | Francesco | | Porsche 928S | 3/GTS +2500 | 4:34,64 |
| 59 | "Leopard" | | | Alfa Romeo Giulia Super | 2/TC 1600 | 4:35,02 |
| 60 | Bianchini | Maurizio | | Ford Escort RS | 3/TC 2000 | 4:35,15 |
| 61 | Maiolo | Antonio | | Fiat Giannini 650 NP | 2/TC 700 | 4:36,02 |
| 62 | Ermini | Franco | | Morris Cooper S | 1/F/T 1300 | 4:36,56 |
| 63 | Riva | Ruggero | | Alfa Romeo GTV | 2/T 2000 | 4:37,58 |
| 64 | Ferrari | Stefano | | Fiat 128 Coupé | 2/TC 1300 | 4:37,66 |
| 65 | Konicar | Vladimir | | BMW 2002 Ti | 1/G1/T 2000 | 4:38,30 |
| 66 | Ronchi | Otello | | Volkswagen Golf GTI | 3/T 1600 | 4:38,80 |
| 67 | Zucchetti | Enrico | | NSU TT | 2/TC 1300 | 4:39,51 |
| 68 | Meggiorin | Stefano | | Volkswagen Scirocco | 3/TC 1600 | 4:39,57 |
| 69 | Petrazan | Marco | | Serem Alfa Romeo | 4/JR/BC 1600 | 4:40,04 |
| 70 | Bergia | Paolo | | Alfa Romeo GTV GTAM | 2/TC 2000 | 4:40,20 |
| 71 | Razzolini | Alberto | | Alfa Romeo GTV GTAM | 2/TC 2000 | 4:40,62 |
| 72 | Covotta | Giuseppe | | Fiat 128 | 2/TC 1300 | 4:40,92 |
| 73 | Roversi | Stefano | | Fiat Giannini 650 NP | 2/TC 700 | 4:41,22 |
| 74 | Indra | Jindrich | | Skoda 110L | 3/TC 1150 | 4:41,91 |
| 75 | Gironi | Sandro | | Alfa Romeo 75 | 4/J2/N +2000 | 4:42,69 |
| 76 | Nobili | Lorenzo | | Fiat Giannini 650 NP | 2/TC 700 | 4:42,88 |
| 77 | Pendini | Vittorio | | Alfa Romeo GTV6 | 3/TC 2500 | 4:43,91 |
| 78 | Cecchini | Gianluca | | Porsche 911 SC | 3/GTS +2500 | 4:43,97 |
| 79 | Giordano | Giovanni | | Fiat 126 | 3/SIL 700 | 4:44,11 |
| 80 | Lelli | Fabrizio | | Fiat Abarth 124 Rally | 2/GT 2000 | 4:44,44 |
| 81 | Iantorno | Francesco | | Volkswagen Golf GTI | 3/T 1600 | 4:44,61 |
| 82 | Cali | Alfredo | | Peugeot 205 Rallye | 4/J2/A 1400 | 4:45,43 |
| 83 | Lavecchia | Antonio | | Fiat Giannini 650 NP | 2/TC 700 | 4:46,24 |
| 84 | Sedanetti | Moreno | | BMW 2002 Ti | 2/T 2000 | 4:46,30 |
| 85 | Bardi | Antonio | | BMW 2002 Ti | 2/T 2000 | 4:46,83 |
| 86 | De Camillis | Gianluca | | Lola T590 Ford | 3/IR/BC 2000 | 4:47,85 |
| 87 | Chianucci | Rosaldo | | Simca Rallye II | 2/T 1300 | 4:48,21 |
| 88 | Sivori | Franco | | Renault 5 Turbo | 3/GTS 2000 | 4:48,81 |
| 89 | Rottanara | Florian | | Fiat Giannini 650 NP | 2/TC 700 | 4:50,14 |
| 90 | Giacometti | Jean-Marc | | Autobianchi A112 Abarth | 3/SIL 1150 | 4:50,31 |
| 91 | Ventura | Graziano | | BMW 2002 Ti | 2/TC 2000 | 4:50,42 |
| 92 | Bartoloni | Stefano | | Autobianchi A112 Abarth | 2/T 1150 | 4:50,50 |
| 93 | Panunzi | Roberto | | Mini Cooper | 2/T 1300 | 4:50,53 |
| 94 | Lorenzi | Gino | | Fiat Giannini 650 NP | 3/SIL 700 | 4:50,62 |
| 95 | Nocci | Walter | | Abarth 695 SS | 3/SIL 700 | 4:51,25 |
| 96 | Aiello | Giuseppe | | Fiat 127 | 3/SIL 1150 | 4:51,61 |
| 97 | Pagni | Massimiliano | | Fiat Giannini 590 GT | 2/TC 600 | 4:53,16 |
| 98 | Novo | Vittorio | | BMW 2002 Ti | 1/G1/T 2000 | 4:53,28 |
| 99 | Davoli | Sergio | | Porsche 911 T | 1/G1/GT 2000 | 4:53,90 |
| 100 | Windsteig | Werner | | Citroën AX Sport | 4/J2/A 1400 | 4:54,01 |
| 101 | "Nessuno" | | | Porsche 911 SC | 3/GT +2500 | 4:54,03 |
| 102 | Petriella | Matteo | | Peugeot 205 Rallye | 4/J2/A 1400 | 4:57,24 |
| 103 | Ricciarelli | Francesco | | Autobianchi A112 Abarth | 3/SIL 1000 | 4:58,03 |
| 104 | Gobbini | Boris | | Abarth 1000 TC | 1/G1/T 1000 | 4:58,04 |
| 105 | Burla | Nazzareno | | Innocenti Mini Cooper | 2/TC 1000 | 4:58,24 |
| 106 | Burzi | Cristian | | Innocenti Cooper | 2/T 1300 | 4:58,31 |
| 107 | Bertinelli | Alvaro | | Autobianchi A112 Abarth | 3/T 1150 | 4:58,84 |
| 108 | Zampieri | Giampiero | | Lancia Fulvia Coupé | 1/G1/T 1300 | 4:59,08 |
| 109 | Amante | Francesco | | Jaguar E-Type | 1/E/GT +2000 | 5:01,11 |
| 110 | Taglietti | Giorgio | | Lancia FM Barchetta | 1/GR/BC 1600 | 5:01,42 |
| 111 | Pastorelli | Lanfranco | | Fiat Giannini 650 NP | 2/TC 700 | 5:01,58 |
| 112 | Piccioni | Cesare | | Fiat Giannini 590 GT | 2/TC 600 | 5:04,60 |
| 113 | Ghini | Enrico | | AMS 176 | 3/IR/BC 1300 | 5:04,74 |
| 114 | Bonfanti | Paolo | | Alfa Romeo Giulia Super | 1/G1/T 1600 | 5:04,85 |
| 115 | Granai | Leonardo | | Alfasud Sprint | 3/T 1600 | 5:05,10 |
| 116 | Andreotti | Eugenio | | Volkswagen Golf GTI | 3/T 1600 | 5:05,40 |
| 117 | Primo | Maurizio | | Alfa Romeo Giulia GT Junior | 1/G1/T 1300 | 5:06,08 |
| 118 | Riccioni | Tommaso | | Fiat Giannini 650 NP | 2/TC 700 | 5:06,77 |
| 119 | Capanna | Dante | | Alfa Romeo 33 QV | 4/J1/N 1600 | 5:07,93 |
| 120 | Biancotti | Marcello | | Alpine A110 | 2/GT 1600 | 5:08,38 |
| 121 | Lyveroulaz | Walter | | Volkswagen Golf GTI | 3/T 1600 | 5:09,18 |
| 122 | Natali | Giorgio | | Fiat Ritmo Abarth 130 | 4/J2/N 2000 | 5:09,33 |
| 123 | Naldini | Franco | | Simca 1200 Coupé | 1/G1/GT 1300 | 5:09,66 |
| 124 | Bonucci | Maurizio | | Peugeot 205 GTI | 4/J2/N 1600 | 5:11,72 |
| 125 | Cocci | Paolo | | Innocenti Mini Cooper | 2/T 1300 | 5:12,06 |
| 126 | Borghi | Remo | | Lancia Fulvia Coupé | 1/G1/T 1300 | 5:15,95 |
| 127 | Zardini | Luigi | | Abarth 695 SS | 1/G1/T 700 | 5:17,93 |
| 128 | Mattii | Alberto | | De Sanctis 850 | 5/FA 1000 | 5:20,22 |
| 129 | Fiorini | Sara | | Autobianchi A112 Abarth | 3/T 1150 | 5:20,42 |
| 130 | Berra | Luigi | | Alfa Romeo Giulia GT | 3/SIL 1600 | 5:20,86 |
| 131 | Cecchi | Roberto | | Fiat Giannini 650 NP | 3/SIL 700 | 5:24,26 |
| 132 | Prugger | Georg | | Alfa Romeo 6C | 1/D/BC +2000 | 5:25,25 |
| 133 | Bartoli | Alvaro | | Abarth 1000 TC | 2/TC 1000 | 5:27,02 |
| 134 | Carli | Velio | | Abarth 595 SS | 2/TC 600 | 5:27,32 |
| 135 | Brogi | Massimo | | Fiat 500 | 2/TC 500 | 5:28,60 |
| 136 | Venanzi | Stefano | | Alfa Romeo Giulia Super | 2/T 1300 | 5:31,66 |
| 137 | Coleschi | Santi | | Renault 8 Gordini | 1/G1/T 1300 | 5:36,32 |
| 138 | Caroni | Giulio | | Giannini 590 Gt | 2/TC 600 | 5:38,31 |
| 139 | Mascolo | Michele | | Fiat Giannini 500 TV | 1/G1/T 500 | 5:41,62 |
| 140 | Sofia | Giuseppe | | Formula Monza Sofia | 5/FA 500 | 5:43,05 |
| 141 | Vegni | Antonio | | Autobianchi A112 Abarth | 2/T 1000 | 5:43,21 |
| 142 | Verniani | Fabrizio | | Fiat 128 | 2/TC 1150 | 5:44,44 |
| 143 | Pagliarello | Giovanni | | Abarth 1000 Bialbero | 1/F/GT 1000 | 5:48,78 |
| 144 | Toti | Paolo | | Mini Cooper | 2/T 1300 | 5:50,37 |
| 145 | Lupi Grassi | Matteo | | Austin Healey Sprite | 1/F/GTP 1000 | 5:54,52 |
| 146 | Macrelli | Giancarlo | | MG B GT | 2/GTS 2000 | 5:59,49 |
| 147 | Bellini | Lorenzo | | Alfa Romeo Giulietta Ti | 1/E/T 1300 | 6:03,32 |
| 148 | Boldrini | Massimiliano | | Lancia Appia Zagatio | 1/E/GT 1150 | 6:45,65 |
| 149 | Rossi | Libero | | Fiat Giannini 590 GT | 2/TC 600 | 8:09,41 |
23-24/09/2017 – Coppa del Chianti Classico (Modern)

| Pos. | Last Name | First Name | | Car | Cl. | Final |
| --- | --- | --- | --- | --- | --- | --- |
| 1 | Peroni | Fabrizio | | Osella PA20/S | CN 3000 | 3:29,07 |
| 2 | Perini | Franco | | Alfa Romeo 155 DTM | E1 3000 | 3:49,94 |
| 3 | Caliceti | Mario | | Osella PA20/S | CN 3000 | 3:53,56 |
| 4 | Passerini | Silvio | | Lotus Exige | GT3 4000 | 4:08,75 |
| 5 | Pulvirenti | Valeria | | Radical SR4 | E2-SC 1400 | 4:14,46 |
| 6 | Pagliai | Giordano | | Renault Clio RS | N 2000 | 4:15,06 |
| 7 | Cancelli | Francesco | | Peugeot 208 R2 | A 1600 | 4:16,61 |
| 8 | Pavan | Lorenzo | | Ford Escort Cosworth | PS 3000 | 4:20,42 |
| 9 | Meiattini | Massimo | | Abarth 500 | A 2000 | 4:32,44 |
| 10 | Larocca | Vito Benito | | Renault 5 GT Turbo | E1 1600T | 4:33,45 |
| 11 | Donori | Giovanni | | Peugeot 106 S16 | N 1600 | 4:36,24 |
| 12 | Aglietti | Riccardo | | Peugeot 205 GTI | A 1600 | 4:40,45 |
| 13 | Brandi | Silvano | | Chevrolet Corvette C5R | E2-SH 3000 | 4:49,83 |
| 14 | Fanetti | Maurizio | | Citroën C1 Cup | E1 1150 | 5:22,60 |