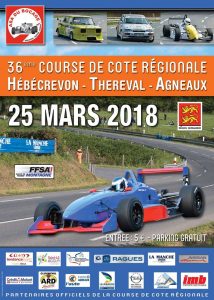 The first hillclimb of the year in Normandie is the Course de Côte de Théreval / Agneaux. The track is a slightly shorter version of the Course de Côte d'Hébécrevon that is part of the French Championship.
So far there are 78 drivers on the entrylist. This is a great entry but at the same time also much smaller than last year.
The top class this Sunday is Formula 3 with 10 drivers entered. All the top drivers from north-western France are entered, such as Bertrand Lassalle, Anthony Gueudry, Etienne Debarre, Dominique Hamel and Fabien Ponchant. In contrast the CN2 sportscars count just four drivers. But with Anthony Le Beller and Sebastien Tourillon also two drivers than can aim for victory.
In the touringcars Julien Dupont will be the first driver in the new A5 class. This class was created for +2 litre turbocharged cars. In other words, to seperate the Seat Leon Supercopa from the regular Group A cars. Duponts strongest opponent for touringcar victory will be Geoffrey Carcreff in the might Scora Maxi.
25/03/2018 – Course de Côte d'Hébécrevon – Thereval – Agneaux

| Pos. | Last Name | First Name | | Car | Cl. | Final |
| --- | --- | --- | --- | --- | --- | --- |
| 1 | Gueudry | Anthony | | Martini MK80 Opel | D/E 3 | |
| 2 | Lebot | Clement | | Dallara F301 | D/E 3 | |
| 3 | Lassalle | Bertrand | | Dallara F300 | D/E 3 | |
| 4 | Hamel | Dominique | | Dallara F308 | D/E 3 | |
| 5 | Renouf | Gaëtan | | Dallara F300 | D/E 3 | |
| 6 | Debarre | Etienne | | Dallara F308 | D/E 3 | |
| 7 | Lapotre | Alban | | Dallara F300 | D/E 3 | |
| 8 | Guerin | Johnny | | Dallara F394 | D/E 3 | |
| 9 | Ponchant | Fabien | | Dallara F302 | D/E 3 | |
| 10 | Billault | Stéphanie | | Dallara F394 | D/E 3 | |
| 11 | Guezet | Roger | | Tatuus FR2000 | D/E 7 | |
| 12 | Beauvoir | Bruno | | Tatuus FR2000 | D/E 7 | |
| 13 | Debarre | Jérôme | | Tatuus FR2000 | D/E 7 | |
| 14 | Janin | Janick | | Tatuus FR2000 | D/E 7 | |
| 15 | Beaufils | Thomas | | Lola T620 | D/E 2 | |
| 16 | Ravenel | Mickael | | Orion FR89B | D/E 2 | |
| 17 | Fremont | Sébastien | | Reynard 923 | D/E 2 | |
| 18 | Tourillon | Sébastien | | Norma M20 FC | CN2 | |
| 19 | Tourillon | Robert | | Norma M20 FC | CN2 | |
| 20 | Le Beller | Anthony | | Norma M20 FC | CN2 | |
| 21 | Lecerf | Eric | | Norma M20 | CN2 | |
| 22 | Nature | Daniel | | Merlin MP23 | CN2 | |
| 23 | Doree | Jean-Yves | | Grc MT14S | CN1 | |
| 24 | Dumont | Olivier | | BRC CM05 EVO | CM | |
| 25 | Jarret | Emmanuel | | BRC CM05 EVO | CM | |
| 26 | Ravenel | Eddy | | Tracking RC01 | CM | |
| 27 | Lusardi | Leonard | | Lotus Elise 111R | GT1 | |
| 28 | Dupont | Julien | | Seat Leon Supercopa | A5 | |
| 29 | Leblanc | Alexis | | BMW 325i | A4 | |
| 30 | Guelle | Sébastien | | Renault Clio RS | A3 | |
| 31 | Lehaut | Henry-Jacques | | Renault Clio RS | A3 | |
| 32 | Moisson | Jean-Marie | | Renault Clio Williams | A3 | |
| 33 | Lefoulon | Mickael | | Renault Clio Williams | A3 | |
| 34 | Bineau | Michel | | Nissan Almera | A3 | |
| 35 | Potet | Vincent | | Peugeot 206 XS | A2 | |
| 36 | Cosnard | Arnaud | | Citroën C2 GT | A2 | |
| 37 | Descamps | Eric | | Citroën Saxo Cup | A2 | |
| 38 | Gallot | Frédéric | | Peugeot 206 XS | A2 | |
| 39 | Gallot | Gerard | | Peugeot 206 XS | A2 | |
| 40 | Pecate | Stephane | | BMW M3 | N4 | |
| 41 | Marie | Francis | | BMW M3 | N4 | |
| 42 | Leclerc | Ludovic | | Mitsubishi Lancer EVO VIII | N4 | |
| 43 | Perrotte | Aurelien | | Mitsubishi Lancer EVO VIII | N4 | |
| 44 | Ledouit | Kevin | | Renault Megane | N4 | |
| 45 | Gasnier | Jonathan | | Renault Clio RS | N3 | |
| 46 | Loton | Ferdinand | | Honda Civic Type-R | N3 | |
| 47 | Loton | Didier | | Honda Civic VTI | N2 | |
| 48 | Carcreff | Geoffrey | | Scora Maxi | FC4 | |
| 49 | Nouet | Mathieu | | Simca Rallye II | FC3 | |
| 50 | Debeauvais | James | | BMW 2002 | FC3 | |
| 51 | Yver | Coralie | | Peugeot 205 GTI | FC3 | |
| 52 | Cordonnier | Antoine | | Simca 1000 | FC2 | |
| 53 | Jacquette | Rodolphe | | Renault 8 Gordini | FC2 | |
| 54 | Jacquette | Arnaud | | Renault 8 Gordini | FC2 | |
| 55 | Pierquin | Claude | | Renault 8 Gordini | FC2 | |
| 56 | Rabec | Yves | | Simca Rallye II | FC2 | |
| 57 | Tourniere | Guillaume | | Simca Rallye II | FC1 | |
| 58 | Le Verne | Frédéric | | Simca Rallye II | FC1 | |
| 59 | Boullenger | Christian | | Renault Clio RS | F2000 / 3 | |
| 60 | Ramus | Patrick | | Renault Clio Williams | F2000 / 3 | |
| 61 | Hue | Dominique | | Renault Megane | F2000 / 3 | |
| 62 | Mesnilgrente | Joël | | Renault Megane | F2000 / 3 | |
| 63 | Vindard | Ludovic | | Renault Megane | F2000 / 3 | |
| 64 | Jeanne | Steve | | Renault Clio Williams | F2000 / 3 | |
| 65 | Mekerke | Christophe | | Renault 5 GT Turbo | F2000 / 3 | |
| 66 | Burnel | Roland | | Peugeot 208 Max | F2000 / 2 | |
| 67 | Corbet | Mathieu | | Peugeot 208 Max | F2000 / 2 | |
| 68 | Jeanne | Sébastien | | Peugeot 205 GTI | F2000 / 2 | |
| 69 | Jeanne | Frédéric | | Peugeot 205 GTI | F2000 / 2 | |
| 70 | Bossard | Vincent | | Citroën C2 | F2000 / 2 | |
| 71 | Langlois | Sébastien | | Peugeot 106 Rallye | F2000 / 2 | |
| 72 | Dubois | Arnaud | | Peugeot 106 Rallye | F2000 / 2 | |
| 73 | Helaine | Quentin | | Peugeot 205 GTI | F2000 / 2 | |
| 74 | Collias | Jérôme | | Citroën Saxo | F2000 / 2 | |
| 75 | Callu | Julien | | Peugeot 106 S16 | F2000 / 2 | |
| 76 | Langlois | Jean-Philippe | | Citroën Saxo | F2000 / 2 | |
| 77 | Marais | Pascal | | Peugeot 106 Rallye | F2000 / 1 | |
| 78 | Durand | Thomas | | Peugeot 106 XSi | F2000 / 1 | |