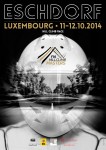 With fewer than six weeks to go until their first edition, the FIA "Masters" really are capturing the interest of the very best of the discipline's drivers. Numerous renowned Champions and specialists have already confirmed their presence.
The competitors still have more than 20 days in which to submit their entry request and the fate of some still depends on the classifications of the national competitions over the coming week-ends (qualifying, in which to earn a ticket to take part in the event). It is already quite evident that the quality of the field of the inaugural FIA Hill Climb Masters is going to be exceptional.
Eschdorf, in the Grand Duchy of Luxembourg, will be providing the backdrop to this international Hill Climb festival, this coming 11 and 12 October. Seven times FIA European Hill-Climb Champion, the Italian Simone Faggioli (Norma M20 FC-Zytek V8) will most certainly be there and will, without a shadow of a doubt, be the man to beat in the chase for the Gold Medal in Category 2, reserved for single-seaters, prototypes and silhouettes conforming to the FIA regulations.
Ultimately, in these competitions held in a single day, no surprises can ever be excluded. Category 2 will bring together a plethora of 2- and 3-litre prototypes and numerous Formula 3000s. Two other gold medals will be awarded during the "Masters", one in Category 1, involving Groups N, A and GT, and the other in Category 3, which promises to be very heterogeneous, including as it does cars from different national championships, and will, therefore, be full of curiosities and uncertainties.
Specifically designed and intended to crown the best drivers in the discipline and to constitute a grand end-of-season finale, the competition will have a very cosmopolitan nature: looking at the drivers who have already announced their intention to participate, 17 countries would be represented (the threshold of twenty might even be reached), fourteen of whom will participate in the Nations Cup! Despite rarely, or perhaps even never, taking part in the European Championship, some of the best drivers from Malta, Romania and Ireland adhere to the concept of the "Masters": of course they go there as competitors, but they also go as ambassadors of their national championship and as visitors with a keen interest on what is going on all across the European continent.
– Visit the web pages of the FIA Hill Climb Masters! please click here
– For the Guide describing the competition, please click here
– Find the Organisers of the FIA Masters on Facebook! please click here