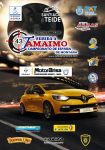 Even in a rented car Javier Villa is the best driver of Spain. At the Subida a Tamaimo Villa drove the BRC B-49 of Francisco Suarez because his own BRC B-52 was too damaged. Of course all the BRC are familiar too Villa but winning with a new trackrecord is brilliant nonetheless. With this victory Villa is also certain of the Spanish Hillclimb Championship Category 1. At Tamaimo Manuel Aviles was second and he is also second in the championship.
In category 2 Jonathan Alvarez had to fend of local driver Javier Afonso. Afonso was the faster driver on Saturday but a great final run on Sunday saw Alvarez slip by with just .7 seconds. Alvarez had also entered the Tenerife Championship to be eligible for an extra trophy. But because the island championship only counted the Saturday results, Afonso was actually the Tenerife winner.
In category 3 José Antonio Aznar was unbeatable this weekend. With his Ginetta G55 GT3 Aznar took a comfortable victory. Like Villa in Category 1, Aznar is now certain of the Spanish Hillclimb Championship Title. Pedro Javier Afonso was the runner-up here and also the fastest Tenerife driver.
17-18/06/2017 – Subida a Tamaimo

| Pos. | Last Name | First Name | | Car | Cl. | Final |
| --- | --- | --- | --- | --- | --- | --- |
| 1 | Villa | Javier | | BRC B-49 | 1/CM+ | 5:27,941 |
| 2 | Aviles | Manuel | | BRC B-49 | 1/CM+ | 5:32,464 |
| 3 | Alvarez | Jonathan | | BRC B-49 | 2/CM | 5:41,179 |
| 4 | Afonso | Javier | | Silver Car S2 | 2/CM | 5:41,946 |
| 5 | Evora | Guillermo | | BRC B-49 | 1/CM+ | 5:43,599 |
| 6 | Rodriguez | Cesar | | Silver Car S2 | 2/CM | 5:43,759 |
| 7 | Perez | Pedro | | BRC CM05 EVO | 1/CM+ | 5:45,570 |
| 8 | Flores | Garikoitz | | BRC B-49 | 2/CM | 5:45,783 |
| 9 | Aznar | José Antonio | | Ginetta G55 GT3 | 3/GTADN | 5:50,263 |
| 10 | Febles | Sergio Carmelo | | Osella PA20/S | 1/E2-SC | 5:53,099 |
| 11 | Afonso | Pedro Javier | | Porsche 997 GT3 Cup | 3/GTR | 5:56,432 |
| 12 | Pañella | Sergi | | Mitsubishi Lancer EVO X | 3/R4 | 6:10,903 |
| 13 | Brito | Nauzet | | Porsche 996 GT3 | 3/GTR | 6:12,852 |
| 14 | Socas | Juan Antonio | | Speed Car GT | 1/CM+ | 6:12,950 |
| 15 | Brito | Felix | | Subaru Impreza WRC | 3/WRC | 6:13,825 |
| 16 | Bello | Angel | | Skoda Fabia S2000 | 3/S2 | 6:13,980 |
| 17 | Diaz | Armando | | BMW M3 | 3/E1 | 6:20,304 |
| 18 | Padron | Victor Manuel | | Seat Leon Supercopa | 3/A2 | 6:23,944 |
| 19 | Alvarez | Eduardo | | Mitsubishi Lancer EVO V | 3/A | 6:27,585 |
| 20 | Suarez | Francisco José | | BRC R-15 | 3/E2N | 6:30,450 |
| 21 | Domenech | Alberto | | BMW M3 E92 GTR | 3/GTADN | 6:32,586 |
| 22 | Padron | Miguel Anyelo | | BMW 323i | 3/E1 | 6:34,003 |
| 23 | Garcia | Alberto | | Renault Clio Sport | 3/E1 | 6:34,045 |
| 24 | Perez | Yeray | | Opel Corsa B | 3/A | 6:36,012 |
| 25 | Blanco | José | | Mitsubishi Lancer EVO IX | 3/N | 6:36,438 |
| 26 | Lugo | Adrian | | Seat Ibiza Turbo | 3/A | 6:37,519 |
| 27 | Hernandez | Carlos David | | Seat 124 | 3/E1 | 6:38,939 |
| 28 | Francisco | Francisco Javier | | Honda Civic | 3/E1 | 6:39,572 |
| 29 | Hernandez | Gilberto | | Volkswagen Golf 17 | 3/H | 6:44,109 |
| 30 | Torres | Nestor | | Volkswagen Golf | 3/E1 | 6:45,477 |
| 31 | Gutierrez | Cristian Yeray | | Honda Civic Type-R | 3/A | 6:50,618 |
| 32 | Diaz | Roberto Jesus | | Citroën Saxo VTS | 3/A | 6:53,425 |
| 33 | Diaz | Fernando | | BMW E30 | 3/E1 | 6:54,503 |
| 34 | Luis | Sergio | | BMW M3 E36 | 3/E1 | 6:57,724 |
| 35 | Gorrin | Juan Tanausu | | Renault Clio | 3/E1 | 6:57,734 |
| 36 | Ramos | Antonio Julian | | BMW E30 | 3/E1 | 6:59,440 |
| 37 | Hernandez | Enoc | | Renault 5 GT Turbo | 3/E1 | 6:59,565 |
| 38 | Agüin | Eduardo | | Citroën Saxo VTS | 3/A | 7:03,103 |
| 39 | Martin | Alexis | | Opel Adam N3 | 3/N3 | 7:06,302 |
| 40 | Martin | Jesus | | Opel Kadett | 3/E1 | 7:06,355 |
| 41 | Rodriguez | Jesus Enrique | | Citroën Saxo | 3/A | 7:10,784 |
| 42 | Gonzalez | José Rayco | | Citroën Saxo VTS | 3/E1 | 7:12,743 |
| 43 | Delgado | Diego Ivan | | Peugeot 106 | 3/E1 | 7:13,299 |
| 44 | Ramos | Christopher | | Peugeot 206 XS | 3/A | 7:16,881 |
| 45 | Lozano | Ruben | | BMW 323i | 3/H | 7:17,550 |
| 46 | Aguilar | Alfredo | | Opel Corsa GSi | 3/E1 | 7:17,988 |
| 47 | Luis | Javier | | Suzuki Swift | 3/A | 7:21,327 |
| 48 | Morales | Miguel | | BMW M3 E36 | 3/E1 | 7:21,547 |
| 49 | Vargas | Alberto | | Volkswagen Golf II | 3/E1 | 7:24,144 |
| 50 | Gonzalez | Arturo Alejandro | | Citroën AX Sport | 3/E1 | 7:24,302 |
| 51 | Herrera | Servando | | Volkswagen Golf III | 3/E1 | 7:24,626 |
| 52 | Llanos | Jonay | | Peugeot 306 | 3/E1 | 7:32,432 |
| 53 | Farrais | Jonay | | Citroën AX GTI | 3/E1 | 7:33,529 |
| 54 | Rodriguez | José Antonio | | Toyota Corolla | 3/E1 | 7:36,039 |
| 55 | Bautista | Yeray | | Toyota Corolla | 3/E1 | 7:36,585 |
| 56 | Darias | Dionisio | | Peugeot 106 Rallye | 3/E1 | 7:42,294 |
| 57 | Hernandez | Oliver José | | Seat Ibiza | 3/E1 | 7:50,172 |
| 58 | Vargas | Antonio | | Seat Ibiza | 3/E1 | 7:55,794 |
| 59 | Gorrin | Juan Francisco | | Seat Leon Cupra R | 3/A | 7:57,916 |
| 60 | Garcia | Juan Antonio | | BMW 325i E36 | 3/E1 | 8:37,574 |