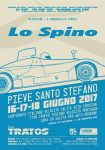 The Cronoscalata Pieve Santo Stefano – Passo dello Spino was the sixth round of the Italian Historic Hillclimb Championship. Stefano Peroni was by far the strongest driver this weekend. The Osella PA8 pilot was once again the fastest in Group 3, but also the fastest overall. In both races he took a 10 second advantage on runner-up Piero Lottini. Although not the quickest overall, Lottini did win Group 4 and remains firmly in the lead of the championship.
Group 5 was also won by a Peroni: Stefano's father Giuliano. The opposition in Group 5 was quite good this weekend. Apart from Peroni, Emanuele Aralla and Antonio Lavieri also finished in the top 10 overall.
Best of the touringcar drivers was Remo Decarli. He participated in Group 3 were he of course had no chance against Stefano Peroni. Tberio Nocentini finally had a trouble-free weekend and drove his Chevron B19 sportscar to victory in Group 1. He also finished ninth overall, once place in fron of Group 2 winner Ildebrando Motti.
The Passo Dello Spino Hillclimb remains popular with the modern racers too. More than 50 entered this weekend, even though the race counted towards no championships. Michele Fattorini and Diego De Gasperi dueled for the honours in their Osella FA30's. Fattorini was the quicker of the two but complained of electrical problems. It was the first De Gasperi drove the Osella and he had no trouble adapting to this quicker machine. Franco Manzoni converted his Osella PA21/S to E2-SC specifications just for this race and finished third.
17-18/06/2017 – Passo dello Spino – Pieve Santo Stefano

| Pos. | Last Name | First Name | | Car | Cl. | Final |
| --- | --- | --- | --- | --- | --- | --- |
| 1 | Peroni | Stefano | | Osella PA8 | 3/IR/BC 2000 | 5:51,52 |
| 2 | Lottini | Piero | | Osella PA9/90 | 4/JR/BC +2000 | 6:12,01 |
| 3 | Peroni | Giuliano | | Martini MK32 | 5/E3 | 6:15,26 |
| 4 | Marelli | Walter | | Lucchini SN88 | 4/JR/SN 3000 | 6:40,36 |
| 5 | Aralla | Emanuele | | Dallara F390 | 5/E5 | 6:41,18 |
| 6 | Decarli | Remo | | Fiat X1/9 Dallara | 3/H2-I/SIL 1600 | 6:48,91 |
| 7 | Lavieri | Antonio | | Formula Renault Europa | 5/E2 | 6:49,85 |
| 8 | Vezzosi | Massimo | | BMW 2002 Schnitzer | 3/H2-I/SIL +2000 | 6:50,42 |
| 9 | Nocentini | Tiberio | | Chevron B19 | 1/GR/BC 2000 | 6:54,40 |
| 10 | Motti | Ildebrando | | Porsche 911 Carrera | 2/G2-H1/GTS +2500 | 6:58,72 |
| 11 | Rossi | Maurizio | | Formula Alfa Boxer | 5/FA +1000 | 7:02,35 |
| 12 | Asta | Salvatore | | BMW 2002 | 3/H2-I/SIL +2000 | 7:09,92 |
| 13 | De Angelis | Angelo | | Nerus Silhouette | 1/GR/BC 1600 | 7:09,93 |
| 14 | Zucchi | Sandro | | Lucchini SN85 | 4/JR/SN 3000 | 7:10,12 |
| 15 | Rossi | Vincenzo | | Porsche 911 Carrera | 2/G2-H1/GTS +2500 | 7:10,56 |
| 16 | Zambelli | Fosco | | Alfa Romeo GTAM | 2/G2-H1/TC 2000 | 7:12,09 |
| 17 | Di Fazio | Antonio | | NSU Brixner | 1/GR/BC 1300 | 7:12,17 |
| 18 | Brenti | Roberto | | Renault 5 GT Turbo | 4/J2/N +2000 | 7:18,72 |
| 19 | Ceccarelli | Mauro | | AMS Sport | 3/IR/BC 1300 | 7:21,10 |
| 20 | Maraldi | Alessandro | | Porsche 914/6 | 2/G2-H1/GTP +2000 | 7:21,27 |
| 21 | Tramonti | Gabriele | | Fiat Ritmo 75L | 3/H2-I/TC 1600 | 7:22,63 |
| 22 | Valzano | Dino | | Porsche 911 Carrera RS | 3/H2-I/SIL +2000 | 7:22,92 |
| 23 | Vincenzi | Roberto | | BMW M3 E30 | 4/J2/N +2000 | 7:24,04 |
| 24 | Mandelli | Vittorio | | Porsche 911 SC | 2/G2-H1/GT +2500 | 7:24,27 |
| 25 | Gigliotti | Lucio | | Fiat 128 | 2/G2-H1/TC 1150 | 7:25,92 |
| 26 | Adragna | Matteo | | Porsche 911 Carrera | 2/G2-H1/GTS +2500 | 7:32,06 |
| 27 | Bertolucci | Umberto | | Alfa Romeo Giulia GTV | 2/G2-H1/TC 2000 | 7:32,23 |
| 28 | Menichelli | Franco | | BMW M3 E30 | 4/J2/N +2000 | 7:33,21 |
| 29 | Bertelli | Michele | | Fiat 500 Giannini | 2/G2-H1/TC 700 | 7:33,24 |
| 30 | Viggiani | Mario Riccardo | | Giannini 650 NP | 2/G2-H1/TC 700 | 7:37,40 |
| 31 | Russo | Alessandro | | Porsche 911 Carrera | 2/G2-H1/GT +2500 | 7:38,67 |
| 32 | Grasso | Giovanni | | Renault 5 GT Turbo | 4/J1/N 2000 | 7:39,59 |
| 33 | Carusone | Dino | | Giannini 650 NP | 3/H2-I/SIL 700 | 7:40,87 |
| 34 | Banchetti | Giancarlo | | BMW 2002 Turbo | 3/H2-I/SIL +2000 | 7:41,55 |
| 35 | Bellini | Fabio | | Autobianchi A112 Abarth | 2/G2-H1/TC 1000 | 7:41,68 |
| 36 | Cali | Alfredo | | Peugeot 205 Rallye | 4/J2/A 1400 | 7:41,96 |
| 37 | Colotto | Gina | | Formula Fiat Abarth | 5/FA +1000 | 7:46,18 |
| 38 | Bologna | Angelo | | Lucchini SN86 | 4/JR/SN 2500 | 7:48,00 |
| 39 | Rinolfi | Alessandro | | Austin Mini Cooper S | 1/F/T 1300 | 7:49,92 |
| 40 | Senesi | Luca | | Autobianchi A112 Abarth | 3/H2-I/TC 1150 | 7:50,63 |
| 41 | Panfili | Aldo | | Formula Italia | 5/FA +1000 | 7:51,21 |
| 42 | "Leopard" | | | Alfa Romeo Giulia Super | 2/G2-H1/TC 1600 | 7:52,20 |
| 43 | Lappani | Gino | | Fiat 127 Sport | 3/H2-I/TC 1150 | 7:53,24 |
| 44 | Baroni | Andrea | | Porsche 911 SC | 3/H2-I/GT +2500 | 7:53,82 |
| 45 | Gragnoli Bellugi | Francesco | | Porsche 928S | 3/H2-I/GTS +2500 | 7:54,15 |
| 46 | Conti | Claudio | | TVR Griffith | 1/F/GTP +2000 | 7:55,45 |
| 47 | Petriella | Matteo | | Volkswagen Polo | 3/H2-I/TC 1300 | 7:57,09 |
| 48 | Riva | Ruggero | | Alfa Romeo GTV | 2/G2-H1/T 2000 | 7:58,16 |
| 49 | Petranzan | Marco | | Serem V845 Alfa Romeo | 4/JR/BC 1600 | 7:59,93 |
| 50 | Zucchetti | Enrico | | NSU TT | 2/G2-H1/TC 1300 | 8:00,78 |
| 51 | Lupi Grassi | Matteo | | Austin Healey Sprite Lenham | 1/F/GTP 1000 | 8:01,62 |
| 52 | Viel | Antonio | | Osella PA9 | 3/IR/BC 2000 | 8:01,70 |
| 53 | Martina | Stefano | | Alfa Romeo QV | 4/J2/A 1600 | 8:02,54 |
| 54 | Volpinari | Piergiovanni | | Lotus Europa TC | 2/G2-H1/GTS 1600 | 8:03,08 |
| 55 | De Rege Di Donato | Guido | | Porsche 911 SC | 3/H2-I/GTS +2500 | 8:05,37 |
| 56 | Donnini | Samuele | | Peugeot 205 Rallye | 4/J2/N 1400 | 8:06,99 |
| 57 | Sivori | Franco | | Renault 5 Turbo | 3/H2-I/GTS 2000 | 8:07,04 |
| 58 | Pastorelli | Lanfranco | | Fiat 500 | 3/H2-I/SIL 700 | 8:08,04 |
| 59 | "Nessuno" | | | Lancia Fulvia Zagato | 1/G1/GTP 1600 | 8:08,29 |
| 60 | Ventura | Graziano | | BMW 2002 Ti | 2/G2-H1/TC 2000 | 8:08,64 |
| 61 | De Camillis | Gianluca | | Lola T590 Erberth | 3/IR/BC 2000 | 8:10,11 |
| 62 | Sedanetti | Moreno | | BMW 2002 Tii | 2/G2-H1/T 2000 | 8:10,58 |
| 63 | Leonardelli | Maurizio | | Fiat Giannini 650 NP | 2/G2-H1/TC 700 | 8:11,53 |
| 64 | Chianucci | Rosaldo | | Simca Rallye II | 2/G2-H1/T 1300 | 8:11,96 |
| 65 | Davoli | Sergio | | Porsche 911 T | 1/G1/GT 2000 | 8:13,12 |
| 66 | Iantorno | Francesco | | Volkswagen Golf 17 | 3/H2-I/T 1600 | 8:13,37 |
| 67 | Aglietti | Massimo | | Fiat 127L | 3/H2-I/TC 1150 | 8:13,44 |
| 68 | Giammaria | Armando | | Peugeot 205 Rallye | 4/J2/N 1400 | 8:14,84 |
| 69 | Roversi | Stefano | | Giannini 650 NP | 2/G2-H1/TC 700 | 8:15,65 |
| 70 | Primo | Maurizio Elio | | Alfa Romeo Giulia GT Junior | 1/G1/T 1300 | 8:16,41 |
| 71 | Lazzeroni | Lorenzo | | Autobianchi A112 Abarth | 3/H2-I/T 1150 | 8:17,65 |
| 72 | Giachi | Silvano | | Autobianchi A112 Abarth | 3/H2-I/T 1150 | 8:17,70 |
| 73 | Bertinelli | Alvaro | | Autobianchi A112 Abarth | 3/H2-I/T 1150 | 8:20,38 |
| 74 | Aiello | Giuseppe | | Fiat 127 Sport | 3/H2-I/SIL 1150 | 8:21,28 |
| 75 | Amante | Francesco | | Jaguar E-Type | 1/E/GT +2500 | 8:21,94 |
| 76 | Panunzi | Roberto | | Mini Cooper | 2/G2-H1/T 1300 | 8:23,93 |
| 77 | La Rocca | Giuseppe | | Alfa Romeo Super | 2/G2-H1/T 1600 | 8:24,77 |
| 78 | Fiorucci | Osvaldo | | Autobianchi A112 Abarth | 2/G2-H1/T 1150 | 8:26,27 |
| 79 | Zampieri | Giampiero | | Lancia Fulvia Coupé HF | 1/G1/T 1300 | 8:26,31 |
| 80 | Frenguellotti | Marco | | Abarth 850 TC | 1/F/T 850 | 8:27,46 |
| 81 | Gobbini | Boris | | Fiat Abarth 1000 TC | 1/G1/T 1000 | 8:29,45 |
| 82 | Bardi | Antonio | | BMW 2002 Tii | 2/G2-H1/T 2000 | 8:30,53 |
| 83 | "Penelope Pit Stop" | | | Triumph TR6 | 1/G1/GT 2500 | 8:30,95 |
| 84 | Barbieri | Gianpietro | | Autobianchi A112 Abarth | 3/H2-I/T 1150 | 8:34,44 |
| 85 | Fazio Tirrozzo | Salvatore | | Fiat 128 Coupé SL | 2/G2-H1/T 1300 | 8:35,54 |
| 86 | Razzolini | Alberto | | Alfa Romeo GTAM | 2/G2-H1/TC 2000 | 8:35,80 |
| 87 | Cocci | Paolo | | Innocenti Mini Cooper | 2/G2-H1/T 1300 | 8:36,55 |
| 88 | Natali | Giorgio | | Fiat Ritmo Abarth 130 | 4/J2/N 2000 | 8:38,67 |
| 89 | Concadoro | Giuseppe | | Simca Rallye II | 2/G2-H1/T 1300 | 8:45,44 |
| 90 | Travagin | Italo | | Giannini 650 NP | 2/G2-H1/TC 700 | 8:48,75 |
| 91 | Biancotti | Marcello | | Alpine A110 | 2/G2-H1/GT 1600 | 8:49,44 |
| 92 | Ghini | Enrico | | AMS 176 Cosworth | 3/IR/BC 1300 | 8:51,53 |
| 93 | Beccari | Ferruccio | | Alfa Romeo GT Junior | 2/G2-H1/T 1300 | 8:52,23 |
| 94 | Andreotti | Eugenio | | Volkswagen Golf GTI | 3/H2-I/T 1600 | 8:55,28 |
| 95 | Naldini | Franco | | Simca 1200 Coupé S | 1/G1/GT 1300 | 8:56,04 |
| 96 | Anselmo | Eros | | Austin Healey Sprite | 1/E/GTP 1000 | 8:58,17 |
| 97 | Coleschi | Santi | | Renault 8 Gordini | 1/G1/T 1300 | 8:59,73 |
| 98 | Manente | Mauro | | Austin Healey Sprite | 1/E/GTP 1000 | 9:01,17 |
| 99 | Brogi | Massimo | | Fiat 500 | 2/G2-H1/TC 500 | 9:01,68 |
| 100 | Fiorini | Sara | | Autobianchi A112 Abarth | 3/H2-I/T 1150 | 9:02,81 |
| 101 | Capanna | Dante | | Alfa Romeo 33 QV | 4/J1/N 1600 | 9:05,79 |
| 102 | Di Felice | Fernando | | Fiat Abarth 1000 SP | 1/GR/BC 1000 | 9:12,18 |
| 103 | Macrelli | Giancarlo | | MG B GT | 2/G2-H1/GTS 2000 | 9:23,25 |
| 104 | Campogiani | Massimo | | Volkswagen Golf GTI | 3/H2-I/TC 1600 | 9:39,54 |
| 105 | Verniani | Fabrizio | | Fiat 128 Berlina | 2/G2-H1/TC 1150 | 9:48,31 |
| 106 | Vegni | Antonio | | Autobianchi A112 Abarth | 2/G2-H1/T 1000 | 9:58,17 |
| 107 | Cecconi | Giuseppe | | Fiat 500 | 3/H2-I/TC 500 | 10:09,66 |
17-18/06/2017 – Passo dello Spino – Pieve Santo Stefano (Modern)

| Pos. | Last Name | First Name | | Car | Cl. | Final |
| --- | --- | --- | --- | --- | --- | --- |
| 1 | Fattorini | Michele | | Osella FA30 | E2-SS 3000 | 5:29,40 |
| 2 | De Gasperi | Diego | | Osella FA30 | E2-SS 3000 | 5:30,55 |
| 3 | Manzoni | Franco | | Osella PA21/S EVO | E2-SC 2000 | 5:50,49 |
| 4 | Peroni | Fabrizio | | Osella PA20/S | CN 3000 | 5:51,70 |
| 5 | Alcidi | Alessandro | | Osella PA21/J | E2-SC 1000 | 6:02,89 |
| 6 | Aralla | Matteo | | Tatuus Renault | E2-SS 2000 | 6:22,10 |
| 7 | Giannini | Daniele | | Gloria B4 | E2-SS 1000 | 6:22,62 |
| 8 | Mercati | Lorenzo | | Mitsubishi Lancer EVO IX | N +3000 | 6:36,88 |
| 9 | Presti | Giuseppe | | Lucchini BMW | E2-SC 3000 | 6:45,79 |
| 10 | Maggiani | Renzo | | Osella PA21/S | CN 2000 | 6:50,72 |
| 11 | Regis | Giovanni | | Peugeot 106 | E1 1400 | 6:51,23 |
| 12 | Bommartini | Fabrizio | | Honda Civic EK4 | A 1600 | 6:52,17 |
| 13 | Mariani | Fabio | | Renault Clio Cup | RS+ 2000 | 6:58,89 |
| 14 | Sandroni | Sauro | | BMW M3 E36 | A +3000 | 6:58,93 |
| 15 | Ricciarini | Cristian | | Renault Clio | A 2000 | 7:01,64 |
| 16 | Filiaggi | Gianlindo | | Opel Calibra | PE 2000 | 7:01,90 |
| 17 | Mocetti | Michele | | Renault Clio RS | RS+ 2000 | 7:06,50 |
| 18 | Ulivi | Marco | | Renault 5 GT Turbo | PS 2000 | 7:06,74 |
| 19 | Paci | Giuseppe | | Opel Astra GSi | PS 2000 | 7:10,14 |
| 20 | Veri | Nicola | | Renault 5 GT Turbo | E1 1600T | 7:14,21 |
| 21 | Gromeneda | Alessandro | | Wolf GB08 | CN 2000 | 7:14,48 |
| 22 | Tacchini | Mario | | Mini Cooper S | RSTB 1600 | 7:15,64 |
| 23 | Giardini | Gabriele | | Citroën Saxo | N 1600 | 7:15,76 |
| 24 | La Rocca | Vito Benito | | Renault 5 GT Turbo | E1 1600T | 7:16,70 |
| 25 | Finestauri | Emanuele | | Peugeot 106 S16 | A 1600 | 7:19,54 |
| 26 | Lapi | Andrea | | Peugeot 106 Rallye | A 1400 | 7:20,83 |
| 27 | Biagini | Davide | | Renault Clio | A 2000 | 7:22,96 |
| 28 | Cippicciani | Stefano | | Renault 5 GT Turbo | PS 2000 | 7:24,38 |
| 29 | Balletti | Roberto | | Renault Clio Williams | N 2000 | 7:28,44 |
| 30 | Acquisti | Luciano | | Peugeot 106 Rallye | N 1400 | 7:30,09 |
| 31 | Bisceglia | Claudio | | Peugeot 106 | A 1400 | 7:36,74 |
| 32 | Acquisti | Giacomo | | Peugeot 106 Rallye | N 1400 | 7:37,17 |
| 33 | Chioccia | Mattia | | Citroën Saxo VTS | N 1600 | 7:37,78 |
| 34 | Batella | Massimiliano | | Alfa Romeo 156 | E1 2000 | 7:38,39 |
| 35 | Polegri | Valentino | | Peugeot 106 Rallye | RS 1400 | 7:41,46 |
| 36 | Meiattini | Massimo | | Abarth 500 | A 3000 | 7:44,81 |
| 37 | Brogialdi | Giulio | | Peugeot 306 | N 2000 | 7:47,56 |
| 38 | Andreini | Mario | | Honda Civic VTI | RS 1600 | 7:49,08 |
| 39 | Flavi | Fausto | | Mini Cooper S | RSTB 1600 | 7:50,16 |
| 40 | Li Gobbi | Federico | | BMW 318 | E1 2000 | 7:50,56 |
| 41 | Mariani | Andrea | | Opel Corsa | A 1600 | 7:52,33 |
| 42 | Pomozzi | Riccardo | | Peugeot 106 Rallye | RS 1400 | 7:52,75 |
| 43 | Andolina | Giuseppe | | Renault Clio RS III | RS 2000 | 7:54,01 |
| 44 | Basile | Nicolò | | Saker Rapx | E2-SC 3000 | 7:54,93 |
| 45 | Olivieri | Gianpiero | | Renault 5 GT Turbo | PS 2000 | 7:57,98 |
| 46 | Tinella | Domenico | | Fiat 500 | BIC 700/5 | 8:11,17 |
| 47 | Gabrielli | Caterina | | Citroën Saxo VTS | RS+ 1600 | 8:23,43 |
| 48 | Bigiarini | Andrea | | Peugeot 106 Rallye | N 1400 | 8:27,33 |
| 49 | Poggini | Gianni | | Renault 5 GT Turbo | E1 1600T | 8:28,07 |
| 50 | Francese | Elisa | | Peugeot 106 Rallye | RS 1400 | 8:32,38 |
| 51 | Casagrande | Simone | | Peugeot 106 Rallye | A 1400 | 8:39,20 |
| 52 | Coppini | Luigi | | Opel Corsa GSi | N 1600 | 8:55,02 |
| 53 | Fanetti | Maurizio | | Citroën C1 Cup | E1 1150 | 9:04,44 |