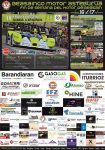 The final hillclimb of the year was the Subida a Erauskin – Cuatro Caseríos. It was a non-championship event but still attracted a number of top drivers. Javier Villa debuted the new BRC BR53 sportscar at the small hillclimb in the Basque Country. His new car is build to E2-SC regulations and is powered by an 1000cc turbo engine which is supposed to give out 400 bhp. At Erauskin Villa had an excellent reference point in Joseba Iraola, who was present with his Norma M20 FC Sportscar.
Although it did not rain the track was not exactly dry either. This made racing very difficult. Javier Villa proved his reputation as Spanish Champion by winning with a large margin. In the end his lead over Iraola was over 5 seconds on the short track. You can find an onboard video of Villas brilliant driving on the trackpage.
Behind the two E2-SC sportscars another new car completed the podium. It was not the debut of the Silver Car S3, but the new reference point in the CM class has not competed in many races. Ibon Arregi steered his new machine to a fine third place overall. Touringcar winner was the surprising Gorka Antxustegi. The Peugeot 208 VTi R2 pilot was quite a lot faster than his more powerful rivals and Antxustegi finished fourth overall.
17/12/2017 – Subida a Erauskin – Cuatro Caseríos

| Pos. | Last Name | First Name | | Car | Cl. | Final |
| --- | --- | --- | --- | --- | --- | --- |
| 1 | Villa | Javier | | BRC BR53 | E2-SC 8 | 1:34,246 |
| 2 | Iraola | Joseba | | Norma M20 FC | E2-SC 8 | 1:39,321 |
| 3 | Arregi | Ibon | | Silver Car S3 | CM7 | 1:44,068 |
| 4 | Antxustegi | Gorka | | Peugeot 208 VTi | R2 3 | 1:44,826 |
| 5 | Olea | Joseba | | Demon Car R2 | CM7 | 1:45,652 |
| 6 | Elortegi | Javier | | Seat 600 JTR | E2 5 | 1:46,473 |
| 7 | Jaio | Txus | | BMW M3 E36 | R5 | 1:48,550 |
| 8 | Villar | Jon | | BMW M3 E46 | E1 6 | 1:49,343 |
| 9 | Olano | Iñaki | | Silver Car EF10 | E2-SC 8 | 1:49,571 |
| 10 | Alkorta | Ioritz | | Opel Corsa GSi | A2 | 1:49,977 |
| 11 | Aranburu | Jon | | Seat Leon Supercopa | A2 6 | 1:50,828 |
| 12 | Yabar | Iñaki | | BMW M3 E36 | R5 | 1:51,182 |
| 13 | Aristi | Antonio | | Seat Leon Supercopa | A2 6 | 1:51,679 |
| 14 | Zendoia | Arkaitz | | BMW M3 E36 | R5 | 1:51,997 |
| 15 | Scherer | Bruno | | Porsche 911 GT3 Cup | GT6 | 1:52,352 |
| 16 | Vazquez | Juan Carlos | | Seat Leon MK1 | FL10 | 1:53,558 |
| 17 | Martinez | Jon Ander | | Citroën Saxo VTS | N1 | 1:53,706 |
| 18 | Goikoetxea | Xabat | | Renault Clio Sport | F2 5 | 1:53,888 |
| 19 | Sanchez | Joseba | | Citroën Saxo VTS | A2 | 1:54,011 |
| 20 | Garmendia | Andoitz | | BMW M3 E36 | R5 | 1:54,064 |
| 21 | Aguirre | Xabier | | Renault Clio Sport | A3 | 1:54,549 |
| 22 | Berastegi | Mikel | | Renault Clio Sport | N2 | 1:54,667 |
| 23 | Ibañez | Koldo | | Fiat Punto Abarth | N3 | 1:55,333 |
| 24 | Insausti | José Antonio | | Opel Kadett Turbo | FL10 | 1:55,356 |
| 25 | Arnaiz | Aitor | | Renault 5 GT Turbo | FL10 | 1:56,796 |
| 26 | Alustiza | Iñigo | | BMW M3 E30 | R4 | 1:56,825 |
| 27 | Lizaso | Aritz | | Seat Leon Cupra | FL10 | 1:59,063 |
| 28 | Castro | Gustavo | | Seat Leon MK1 | A2 6 | 2:01,303 |
| 29 | Oyarbide | Oier | | BMW 325i | FL10 | 2:01,333 |
| 30 | Arriolbengoa | Martin | | Opel Astra GSi | R3 | 2:02,211 |
| 31 | Aizpurua | Ekain | | BMW 325i | R4 | 2:02,574 |
| 32 | Telleria | Mikel | | Citroën Saxo VTS | A2 | 2:02,815 |