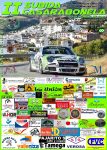 The Subida a Casarabonela was the final hillclimb of the year in Andalucia. Like all the other events in this region the race was contested over two seperate Fases. The difference was that this time both Fase A and Fase B were competed on Saturday. It was the end of a very long season and it showed in the entrylist. Just 30 drivers were present at Casarabonela.
Winner of the event was the new sportcar champion Francisco José Aguilar. José Sequera crashed in practise which left his car seriously damaged for the rest of the day. Still he finished second overall in the championship.
Winner of the touringcars in Fase A was Juan José Ruiz. The Citroën AX driver retired in Fase B but still finished second in the championship. Francisco Javier Guzman was second in Fase A and Ruiz' misfortune promoted him to first place in Fase B. He also finished third overall in the championship. Humberto Janssens was already certain of the title before the event and was not present in Casarabonela.
08-09/12/2017 – Subida a Casarabonela

| Pos. | Last Name | First Name | | Car | Cl. | Fase A | Fase B |
| --- | --- | --- | --- | --- | --- | --- | --- |
| 1 | Aguilar | Francisco José | | Silver Car S2 | CM16 | 2:58,403 | 2:53,609 |
| 2 | Cabezas | Carlos | | Silver Car S1 | CM17 | 3:02,909 | 2:58,332 |
| 3 | Ruiz | Juan José | | Citroën AX Sport | IV/13 | 2:58,646 | |
| 4 | Guzman | Francisco Javier | | Peugeot 205 GTI | V/14 | 3:01,657 | 3:02,434 |
| 5 | Garcia | Juan | | Citroën AX | IV/13 | 3:03,000 | 3:33,563 |
| 6 | Ruiz | Pedro | | Renault Clio Sport | II/7 | 3:04,573 | |
| 7 | Jimenez | Jesus | | Citroën AX | IV/13 | 3:14,657 | 3:06,045 |
| 8 | Galvan | Juan Antonio | | Peugeot 205 GTI | V/14 | 3:09,755 | 3:08,220 |
| 9 | Pacheco | David | | Renault Megane | V/14 | 3:10,185 | 3:11,019 |
| 10 | Cabello | José | | Renault Clio Sport | II/7 | 3:19,921 | 3:12,105 |
| 11 | Gonzalves | Paulo | | Seat Leon Supercopa | III/12 | 3:20,025 | 3:12,398 |
| 12 | Prado | José Luis | | Renault Clio Sport | II/7 | 3:17,984 | 3:13,458 |
| 13 | Huertas | Diego | | Peugeot 205 Rallye | IV/13 | 3:13,530 | 3:15,859 |
| 14 | Romero | Jaime | | Seat Ibiza | II/8 | 3:13,794 | 3:13,785 |
| 15 | Galvan | Francisco | | Seat Ibiza | V/14 | 3:16,050 | 3:14,647 |
| 16 | Gomez | Juan | | Seat Ibiza GTI | V/14 | 3:17,559 | 3:15,596 |
| 17 | Cabalga | Moises | | Peugeot 205 Rallye | IV/13 | | 3:16,021 |
| 18 | Ortiz | Antonio | | Peugeot 205 GTI | V/14 | 3:16,590 | 3:17,729 |
| 19 | Lucena | German | | Peugeot 205 GTI | V/14 | 3:20,525 | 3:21,932 |
| 20 | Lopez | Alejandro | | Renault Clio | V/14 | 3:24,463 | 3:20,739 |
| 21 | Garcia | Francisco | | Citroën Saxo VTS | I/2 | 3:28,523 | 3:21,171 |
| 22 | Zambrana | Antonio | | Citroën AX GT | IV/13 | 3:24,077 | 3:22,301 |
| 23 | Capet | Juan | | Citroën AX GT | IV/13 | 3:31,125 | 3:24,732 |
| 24 | Cano | Ismael | | Ford Sierra XR4 | V/14 | 3:34,433 | 3:25,063 |
| 25 | Ortiz | Diego | | Citroën ZX | V/14 | 3:28,385 | 3:29,028 |
| 26 | Sequera | José | | Demon Car | CM17 | 4:33,939 | 4:02,631 |