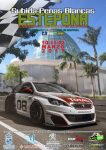 The first national hillclimb championship to begin in 2017 is the Spanish. In exactly two weeks time the Subida a Estepona – Peñas Blancas in Andalucia hosts the opening round of the season. The track has changed somehwat from previous years as both the start and finishline were moved downhill. With 7,6 kilometres it is still the longest hillclimb in the Spanish Championship.
Entries are still open for another week, but a small provisional entrylist is already available. Current Spanish and Andalucian champion Humberto Janssens will not defend his titles this year as he is recovering from surgery.
— Update 01/03: 8 new names added to the entrylist
— Update 09/03: Final entrylist published
Entries close March 5th and the final entrylist will be published a few days later.
Timing Saturday 11 March
12:30 – First Practise
14:30 – Second Practise
16:30 – First Race
Timing Sunday 12 March
9:00 – Third Practise
10:30 – Second Race
12:30 – Third Race
11-12/03/2017 – Subida a Estepona – Peñas Blancas

| Pos. | Last Name | First Name | | Car | Cl. | Final |
| --- | --- | --- | --- | --- | --- | --- |
| 1 | Ariete | Toni | | BRC B-49 | 1/CM+ | |
| 2 | Villa | Javier | | BRC B-52 | 1/CM+ | |
| 3 | Vilariño | Andrés | | Norma M20 FC | 1/E2-SC | |
| 4 | Perea | Esteban | | Silver Car EF10 | 1/E2-SC | |
| 5 | Aviles | Manuel | | BRC B-49 | 1/CM+ | |
| 6 | Flores | Garikoitz | | BRC B-49 | 2/CM | |
| 7 | Alvarez | Jonathan | | BRC B-49 | 2/CM | |
| 8 | Cazorla | Bartolome | | Speed Car GT | 2/CM | |
| 9 | Ordoki | Arkaitz | | BRC B-49 | 2/CM | |
| 10 | Rodriguez | Cesar | | Silver Car S2 | 2/CM | |
| 11 | De Los Rios | Antonio | | Silver Car S2 | 2/CM | |
| 12 | Aguilar | Francisco José | | Silver Car | 2/CM | |
| 13 | Ramirez | Gonzalo | | Outeda Racing Pro KW | CM17 | |
| 14 | Muñoz | Juan Antonio | | Demon Car Kart-Cross | CM16 | |
| 15 | Garcia | Cristobal | | Porsche 997 GT3 Cup | 3/GTR | |
| 16 | Ruiz | Luis | | Nissan 350Z | 3/GTR | |
| 17 | Aznar | José Antonio | | Ginetta G55 GT3 | 3/GTADN | |
| 18 | Domenech | Alberto | | BMW M3 E92 | 3/GTADN | |
| 19 | Lopez-Fombona | José Antonio | | Lamborghini Huracan Supertrofeo | 3/A2 | |
| 20 | Rodriguez | Carlos | | Alfa Romeo 147 | 3/A2 | |
| 21 | Navarro | Antonio | | Renault Clio Cup III | 3/A2 | |
| 22 | Calero | Cristina | | Seat Leon | 3/A2 | |
| 23 | Perez | Fernando | | Peugeot 207 RC Cup | 3/A2 | |
| 24 | Nieto | Manuel Ramon | | Peugeot 207 RC Cup | 3/A2 | |
| 25 | Tineo | Salvador | | JTR S600 | 3/E2N | |
| 26 | Perez | David | | Mitsubishi Lancer EVO X | 3/R4 | |
| 27 | Medina | Pedro | | Ford Fiesta R2 | 3/R2 | |
| 28 | Duran | José | | Renault Twingo Sport R2 | 3/R2 | |
| 29 | Jimenez | Francisco | | Mitsubishi Lancer EVO X | 3/N | |
| 30 | Lirola | José Carlos | | Mitsubishi Lancer EVO VIII | 3/N | |
| 31 | Arrabali | Bernardo | | Mitsubishi Lancer EVO VIII | 3/N | |
| 32 | Blanco | José | | Mitsubishi Lancer EVO IX | 3/N | |
| 33 | Albendea | Juan Carlos | | Volkswagen Golf II | 3/H | |
| 34 | Clemente | Miguel Angel | | Seat 1430 | 3/H | |
| 35 | Miranda | Javier | | Ford Sierra Cosworth | 3/H | |
| 36 | Rodriguez | Andres | | Seat 1430 | 3/H | |
| 37 | Gonzalez | Vicente | | Fiat Cinquecento | 3/E1 | |
| 38 | Lopez | Alejandro | | Renault Clio | 3/E1 | |
| 39 | Fernandez | Juan Carlos | | Volkswagen Polo Coupe | 3/E1 | |
| 40 | Ortiz | Antonio Jesus | | Citroën ZX | 3/E1 | |
| 41 | Llinares | Paco | | Peugeot 107 | 3/E1 | |
| 42 | Sanchez | Antonio | | Peugeot 306 Maxi | 3/E1 | |
| 43 | Garcia | Luis | | Fiat Punto Kit-Car | 3/E1 | |
| 44 | Marcos | Manuel | | Renault Clio | 3/E1 | |
| 45 | Garcia | Alberto | | Renault Clio Sport | 3/E1 | |
| 46 | Pichaco | Samuel | | Citroën Saxo VTS | 3/E1 | |
| 47 | Jaen | Amador | | Renault 5 GT Turbo | 3/E1 | |
| 48 | Rodriguez | Antonio Luis | | Lancia Delta Integrale | 3/E1 | |
| 49 | Davies | Tony | | Lancia Delta Integrale | 3/E1 | |
| 50 | Cabello | José | | Renault Clio Sport | 3/E1 | |
| 51 | Gutierrez | Esteban | | Renault Clio Sport | 3/E1 | |
| 52 | Gonzalez | Diego | | Citroën Saxo VTS | 3/E1 | |
| 53 | Pacheco | David | | Renault Megane | 3/E1 | |
| 54 | Palomo | Francisco | | BMW M3 E36 | 3/E1 | |
| 55 | Serrano | Juan de Dios | | BMW 320 | 3/E1 | |
| 56 | Ortigosa | Alejandro | | BMW 323 TI | 3/E1 | |
| 57 | Diaz | Javier | | Citroën ZX | 3/E1 | |
| 58 | Guzman | Francisco Javier | | Peugeot 205 Rallye | 3/E1 | |
| 59 | Lobato | Miguel Angel | | Volkswagen Golf GTI II | 3/E1 | |
| 60 | Huertas | Diego | | Peugeot 205 Rallye | 3/E1 | |
| 61 | Ruiz | Juan José | | Citroën AX Sport | 3/E1 | |
| 62 | Garcia | Juan Pedro | | Citroën AX Maxi | 3/E1 | |